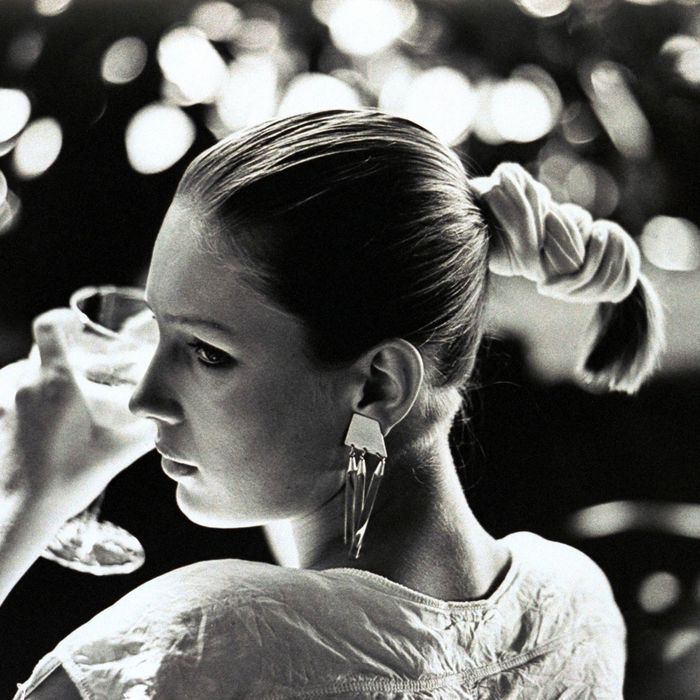 Photo: Arthur Elgort/Contour Style by Getty Images
Odds are, at one point or another, you're going to want to pull your hair out of your face, especially if you're currently wearing a way-too-grown-out quarantine cut. But a surprising amount of the hair ties on the market will actually do your hair more harm than good. Some ponytail holders will trap and break dry or fine hair. Others will leave creases on thick, kinky hair. Use the wrong hair tie and your stylist will most likely be able to spot the breakage and damage at a glance. "A major issue with common hair ties is that your hair gets stuck in the fibers, and when you pull them out, you're pulling out hair," says Dominick Pucciarello, a New York hairstylist. So to find the best hair ties — the kind that'll treat your precious strands with kid gloves — for all kinds of hair, we asked 11 hairdressers to share their favorite elastics, ties, pins, and bands.
Best overall hair ties
Three of the eleven stylists we talked to recommended coil-style hair ties, which have become popular in the past couple of years and look like pieces of old-school telephone cord. Despite appearing slightly intimidating and like they'd be sure to tangle your hair, they will not, our stylists confirm, saying they are ideal for people who want to sleep in hair ties or just wear them without rumpling hair too much. Two of our experts specifically mentioned these Invisibobble ties. "This doesn't pull the hair and isn't likely to leave a crease," Pucciarello says. Andrew Fitzsimons, a stylist in New York, agrees: "The traceless hair ring leaves no dents or bumps in your hair, is comfortable to sleep in, and is durable enough to hold any texture." And if you're more of a scrunchie person, the brand just launched some with its trusty coiled hair tie sewn in.
Best (less expensive) coiled hair ties
For the same price as the Invisibobble hair ties, you get eight of these Kitsch ones, and Tiffany Hunter, owner and master stylist at Damn, Glam!, swears by them. "These are such a classic for me, and they work on every hair type," she says. She uses a lot of Kitsch's products but calls these the "MVP" of her kit. "They're designed to not pull the hair or be too tight on the head, yet they still do the job seamlessly," she adds. The brand offers smaller packs, in case you don't want eight of them, but this is a particularly good deal at just $1 per coil.
Best colored coiled hair ties
Beth Weber, hairstylist and founder of Refuge Hair, recommends this set of eight coiled hair ties from Anthropologie because they're more affordable than Invisibobble and come in charming pastel colors with a matte finish. They have a slightly smaller coil than the Invisibobble or Kitsch hair ties, but that doesn't impact how well they work, Weber promises.
Best hair ties for all hair types
Two of the stylists we talked to agree that Scünci No-Slip Grips are great for basically all types and textures of hair. "Whether you have heavy hair or fragile, finer hair, No Slip Grip holds hair in place without any damage," says Laura Polko, a Los Angeles hairstylist. Liana Zingarino, a stylist at Serge Normant by John Frieda Salon in New York, confirms that they work well for wavy and curly types, too. "They have the same sleek, anti-breakage appeal as Scünci's traditional no-damage ties but are made of a thicker, anti-slip material to keep curls in place," she says.
Best hair ties for curly hair
While Cassandra Normil, New York City–based session hairstylist, says these could work well for any hair type, she thinks they're "especially amazing for anyone who has thick, natural, and curly hair." She has naturally coily/kinky hair, and these work well for her because they "don't snag or break and are very flexible." These are Gimme's thickest style, meant for very thick and curly hair, but if the style appeals to you and you don't need such a heavy-duty tie, Gimme offers "different sizes of hair ties based on your hair density," which Normil thinks is one of the perks of this brand. You can get a fine fit, long fit, and "any fit" for medium hair types, and Gimme offers different colors. For those not sure which option will work best for them, there is a "fitting kit," which is a mix of four different hair-tie types.
Best hair ties for damaged or processed hair
According to two of our stylists, damaged, processed hair probably benefits most from the revival of the scrunchie trend, since those don't expose hair strands so directly to elastic. If that's not appealing or scrunchies still make you think of Kelly Kapowski from Saved by the Bell, Marissa Robinson, a stylist in Washington, D.C., suggests Silke Hair Ties by Silke London, which are basically a scrunchie–hair tie hybrid. "They offer great hold without snagging the hair, and they're all the accessory you need," she says.
Best hair ties for fragile strands
This set of smooth-surfaced hair ties came recommended by Nelson Vercher, a senior stylist at Rita Hazan in New York City who calls them ideal for "delicate, easily broken strands," saying, "They're very smooth, so they won't snag on hair." Vercher also likes that they come in a wide variety of colors.
Best adjustable-tension hair ties
Fitzsimons is a huge fan of the Snappee Hair Ties for women with natural texture hair, braids, or dreadlocks "because they don't use the traditional elastic tension found in common hair ties," he says. "Plus, the soft texture of these doesn't create frizz, and they can be customized to fit your hair's thickness while snapping back into shape after use." You can also combine two Snappee hair ties should you need extra length.
Best bungee hair ties
Weber told us that she loves using these ponytail holders with hooks on the ends for her own hair as well as on clients. Weber says the hooks "help you adjust tension as needed." Because they're literally open-ended, these elastics, which fasten with little hooks, can be worn as tightly or as loosely as you like. That flexibility, in turn, reduces stress on the hair.
Celebrity hairstylist and licensed cosmetologist Jasmine Burnside prefers the bungee-style hair ties from Kitsch. While they only come in black and they're not a bulk buy like the others, Burnside says these also allow you to "get a really tight or 'snatched' ponytail look with ease that will hold all day" because it won't slip out or cause that extremely tight feeling some hair ties will.
Best color-matching hair ties
"My absolute favorite hair ties are the Goody Ouchless elastics," says Felix Fischer, a hairstylist in New York. "They're perfect for every texture because they'll never pull on the shaft, which is great for hair that needs some extra TLC," he adds. These are also nice because they're available in black, brown (seen here), and blond, so that the colors help the tie blend seamlessly into strands.
Best no-crease hair elastics
Along with her recommendations for coiled, silk-wrapped, and adjustable hair ties, Weber suggested trying knotted elastics that, like the ones from Emi-Jay — which are actually also a favorite of Suzanne Somers — can be purchased online or, if you're crafty, can easily be made at home. Weber likes them because they're both "gentle on your hair and gentle on your budget." If you're thinking of making your own, her advice is to buy several yards of spandex elastic ribbon, cut it into about two-inch-long strips, and then simply tie a knot in the end. Because of how thick yet flat the elastic is, they don't leave a crease, so if you're the type of person who switches up your hair throughout the day, these might be a good choice for you.
Best silicone hair ties
Normil recommends silicone hair ties because they're "easy to clean" with "no drying time" — "yes, all hair ties need to be washed, clean, and dry," she adds. They're much easier to maintain, and you don't have to toss them once they get dirty, as you would other elastic hair ties. These from Mia Beauty "give you an all-day hold with no slip and slide," and Normil thinks they work for "any hair type and density."
Best elastic hair ties