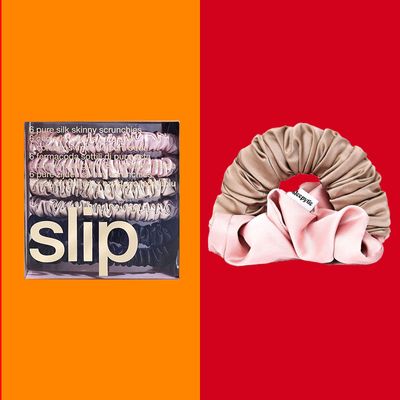 Photo-Illustration: The Strategist; Photos: Retailers
Hair ties seem innocuous enough, but a surprising number of those on the market will actually damage your hair. Some ponytail holders will trap and break dry or fine hair. Others will leave creases on thick, curly hair. As a teenager, I used the wrong hair ties and didn't even realize the damage I was causing until a hairstylist pointed out a line of breakage in a hand mirror right where I would tie my ponytail. "A major issue with common hair ties is that your hair gets stuck in the fibers, and when you pull them out, you're pulling out hair," says Dominick Pucciarello, a New York hairstylist. So to find the best hair ties — the kind that will treat your precious strands with kid gloves — for all kinds of hair, I asked Pucciarello and seven other hairdressers to share their favorites so you can avoid the mistake I made.
While all hair ties serve a similar purpose (keeping your hair up and out of your face), you want to choose a style that is best for your particular hair type. A traditional elastic is an affordable, all-purpose option that works for most, while coil styles are great if you often style your hair and don't want any creases, dents, or bumps. If you have damaged, fine, or processed hair, I suggest a scrunchie. And bungee or snap-style ties are great for natural texture, braids, locs, or for those who want to adjust the tension of their ties as needed.
In addition to the style of hair tie, the material is important. Choosing a traditional elastic material is great if you like a tight hold, while softer materials such as polyester, microfiber, and stretch are best if you are trying to reduce frizz or tension. And those with more fragile hair should almost always opt for silk.
Best overall hair ties
Style: Scrunchie | Material: Silk
Slip, a brand well known for its silk pillowcases, also makes excellent hair ties using the same mulberry silk. If you're looking for the most gentle hair tie on the market, "The Slip silk skinny scrunchies are the way to go," says Normil. Not only do they look nice, but the silk is great for your hair because the slippy material glides over your hair without snagging it, reducing breakage and lost hair. It also keeps the hair's moisture and the natural oils intact. After experimenting with a few different brands, these are the only ones I now swear by, because they keep my fine-textured (easily breakable) hair damage free.
Best (less expensive) overall hair ties
Style: Scrunchie | Material: Silk
If you're looking to spend a bit less, I also love the silk scrunchies from Crown Affair, which also happens to make my favorite hair towel. They retail for five bucks a piece, compared to the $6.50 per tie the Slip scrunchies go for above. Though they aren't quite as soft, they still do a good job protecting my hair and I especially love the way the neutral-but-still-sophisticated sage-green color looks against my brown hair. If you'd rather keep it classic, they also come in black.
Style: Traditional hair tie | Material: Elastic
If you prefer a good old-fashioned elastic, two of the stylists we talked to agree that Scünci No-Slip Grips are great for basically all types and textures of hair. Whether you have thick, heavy hair or fragile, finer hair, No Slip Grip holds hair in place without any damage, promises Laura Polko, a Los Angeles hairstylist. Liana Zingarino, a stylist at Serge Normant by John Frieda Salon in New York, confirms that they work well for wavy and curly types, too. And while these have the same anti-breakage appeal as Scünci's traditional no-damage ties, they are made of a thicker, anti-slip material to keep curls in place.
Best coil-style hair ties
Style: Coil style | Material: TPU (thermoplastic polyurethane)
Two of the seven stylists I talked to recommended Invisibobble coil-style hair ties, which have become popular in the past couple of years and look like old-school telephone cord. Andrew Fitzsimons, a stylist in New York, promises that they're durable enough to hold any texture. They're ideal for those who want a hair tie that won't leave any dents or bumps in the hair or for people who want to sleep in hair ties. These were the ties I tried first after I decided to upgrade my hair ties. I was impressed with the hold they offered without leaving any creases and personally didn't notice any pulled-out hair when I'd take them out at night, but it is possible for hair to get caught in the zig-zags. And if you're more of a scrunchie person, the brand just launched some with its trusty coiled hair tie sewn in.
Best hair ties for curly hair
Style: Traditional hair tie | Material: Microfiber
While Cassandra Normil, a New York City–based session hairstylist, says these could work well for any hair type, she thinks they're especially amazing for anyone who has thick, natural, and curly hair. These are Gimme's thickest style, meant for very thick and curly hair, but if the style appeals to you and you don't need such a heavy-duty tie, Gimme offers a variety of hair ties based on your hair density, which is one of the perks of this drugstore-staple brand. You can get a fine fit, long fit, and "any fit" for medium hair types, and Gimme offers different colors. For those not sure which option will work best for them, there is a "fitting kit," which is a mix of four different hair-tie types.
Best hair ties for fragile hair
Style: Traditional hair tie | Material: Rayon-elastic
This set of rayon-elastic hair ties came recommended by Nelson Vercher, a senior stylist at Rita Hazan in New York City, who calls them ideal for "delicate, easily broken strands" because they're very smooth, so they're guaranteed to not snag. They also come in a wide variety of colors. In addition to the black shown, there are 28 other multisets in a range of palettes from pastel to rainbow.
Best adjustable-tension hair ties
Style: Snap-style hair ties | Material: Nonelastic, stretch material
Fitzsimons is a huge fan of the Snappee Hair Ties for women with natural texture hair, braids, or locs because they don't use the traditional elastic tension found in common hair ties, he says. The softer texture also helps reduce frizz. The snap-style closure means they can be customized to fit your hair's thickness while snapping back into shape after use. You can also combine two Snappee hair ties should you need extra length.
Best bungee hair ties
Style: Bungee-style hair ties | Material: Polyester
Weber told us that she loves using these ponytail holders with hooks on the ends for her own hair as well as on clients. Weber says the hooks "help you adjust tension as needed." Because they're literally open-ended, these elastics, which fasten with little hooks, can be worn as tightly or as loosely as you like. That flexibility, in turn, reduces stress on the hair.
Best silicone hair ties
Style: Traditional hair ties | Material: Silicone
Normil recommends silicone hair ties because they're "easy to clean" with "no drying time." (She adds that yes, all other hair ties should be regularly cleaned and dried.) They're much easier to maintain, and you don't have to toss them once they get dirty, as you would other elastic hair ties. And while you might think silicone ties would slip and slide, Normil promises they provide an all-day hold and work for any hair type and density.
Best elastic hair ties
Style: Traditional hair ties | Material: Elastic
If you don't want the ponytail holder to show, try these clear elastics that Burnside says are great for achieving styles that need lot of tension, like tight ponytails, without pulling or snagging the hair. They're flexible yet durable, so they won't break on you.
Best elastic hair ties for shorter hair
For short cuts, braid ties, or any other smaller twist, Polko swears by Polybands, which slide easily on and off and come in five compact sizes, which tend to work better for smaller ponytails or buns. The clear, reusable hair elastics disappear even into the most intricate of styles. "Always Polybands. Always," she says.
Best no-crease hair ties
Style: Knotted hair tie | Material: Elastic ribbon
Along with her recommendations for adjustable hair ties, Weber suggested trying knotted elastics that, like the ones from Emi-Jay (which are also a favorite of actress Suzanne Somers). Because of how thick yet flat the elastic is, they don't leave a crease in your hair, so if you're the type of person who switches up your style throughout the day, these might be a good choice for you. Weber likes them because they're both "gentle on your hair and gentle on your budget," since they can be purchased online or, if you're crafty, can easily be made at home. If you're thinking of making your own, her advice is to buy several yards of spandex elastic ribbon, cut it into about two-inch-long strips, and then simply tie a knot in the end.
Best hair tie for overnight wear
Style: Double scrunchie | Material: Satin polyester
Sleepy Ties are designed to be worn overnight (hence the name) to prolong your blowout or other dry styling. The design reminds me of some DIY overnight heatless hair-styling hacks I've tried in the past combined with a scrunchie. As the how-to guide explains, I first put my hair in a ponytail at the top of my hair, then I wrap my hair around the arch, before twisting the scrunchie into a figure-eight shape and using it to secure the bun. I first used Sleepy Ties the night I got a haircut, and they definitely kept the blow-dry looking fresh for an extra day, but I also like to wear them to reduce bedhead and frizz. It comes in three sizes (small, medium, and large) for different hair length and thickness.
Best overall scrunchie
Style: Scrunchie | Material: Silk
In addition to the thinner Slip scrunchies above, I also love their thicker style. I find that the elastic inside the scrunchie is strong, while the silk protects my fine, highlighted, damage-prone hair from tension breakage. Plus, the silk has a good amount of slip in it so there is never any pulling. I always have one either in my hair or on my wrist. While they are a little pricey, I've found that they last years without the elastic getting too lax.
Best scrunchie for wet hair
Style: Scrunchie | Material: Microfiber
Your hair is at its most fragile when wet, which makes it difficult to know what to do when you get out of the shower and want it out of the way. Burnside calls these scrunchies "perfect," for getting ready when you get out of the shower because they remove excess moisture without overdrying or damaging your hair. Due to the microfiber, towel-like material, they'll help dry your hair and won't leave a crease as it dries.
Some more Strategist-approved hair accessories
• Jasmine Burnside, celebrity hairstylist and licensed cosmetologist
• Andrew Fitzsimons, hairstylist
• Cassandra Normil, New York City–based session hairstylist
• Dominique Pariso, Strategist writer
• Laura Polko, hairstylist
• Dominick Pucciarello, hairstylist
• Nelson Vercher, senior stylist at Rita Hazan
• Beth Weber, hairstylist and founder of Refuge Hair
• Liana Zingarino, stylist at Serge Normant at John Frieda in New York
Additional reporting by Chloe Anello, Liza Corsillo, and Rachel Jacoby Zoldan
The Strategist is designed to surface the most useful, expert recommendations for things to buy across the vast e-commerce landscape. Some of our latest conquests include the best acne treatments, rolling luggage, pillows for side sleepers, natural anxiety remedies, and bath towels. We update links when possible, but note that deals can expire and all prices are subject to change.
Every editorial product is independently selected. If you buy something through our links, New York may earn an affiliate commission.