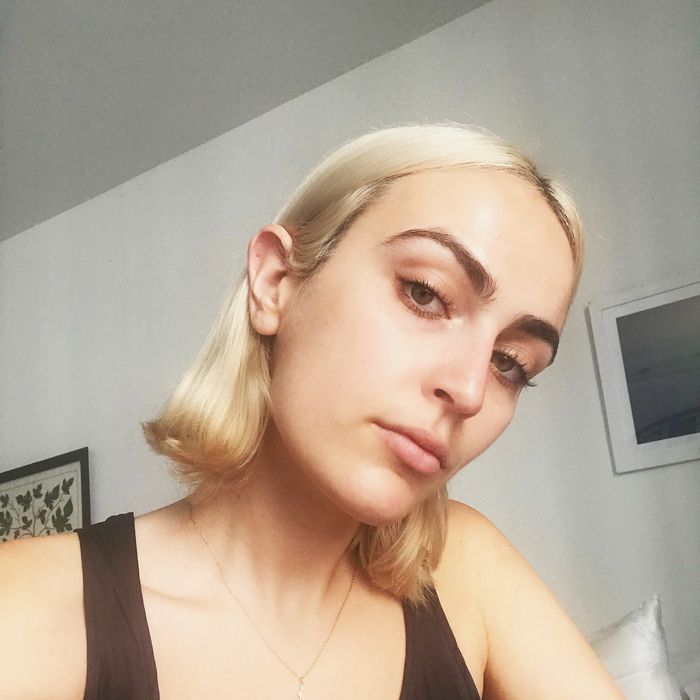 Rio and her frizzless bleached hair.
Photo: Rio Viera-Newton
Even before I transitioned to a double-process bleach blonde, my naturally smooth brunette locks would go berserk during the month of August. My baby hairs would stick out like I'd been electrocuted, and the rest would puff up angrily. Needless to say, the dye job did not help matters: This summer, my bob is thirstier, frizzier, and generally more pissed off than ever before.
Naturally, I harassed my hairstylist (and scoured the internet) for product recommendations. Her advice? Don't use straightening irons and hair oils as a quick fix. Instead, she said, focus on deeply moisturizing products. The healthier my hair, she said, the less likely it would be to respond to the miserable humidity. Since then, I've been on the lookout for products that nourish and tame my frizzies without weighing my hair down or making it feel sticky. And after much trial and error, I feel like I finally have my stubborn, bleached baby hairs under control. In light of this current heat wave, and inevitably hot weeks ahead, my hair and I are finally prepared to fight it.
When I was complaining about my summer hair frizz, a hair-colorist friend of mine asked me if I had silk pillows, and then literally scoffed when I said no. This has been the most immediately helpful product I've integrated into my daily routine. Silk pillows reduce friction on your hair, therefore ensuring your tresses will stay soft and smooth all night, which then makes daytime hair softer and smoother as well.
A few people recommended this mask to me and it has truly saved my hair this summer. I like sitting in this mask for about an hour or two while I watch TV. Afterward, when I've washed it out, my hair feels soft, smooth, and light. It's the perfect way to get some nourishment into your locks without having your hair feel overly bouncy and big.
Photo: Pixelate
I hate how hair oils can sometimes make your hair feel super heavy. I've talked about how helpful aloe vera can be for skin, and it honestly has an equally amazing effect on my hair. I use this on both wet and dry hair as a moisture boost in the morning — it sinks deep into my hair, immediately gets rid of any stubborn frizzes, and never makes my hair feel sticky or heavy. I also like to use it as a detangler right before I comb my hair out.
If you are suffering from frizzy summer hair, a leave-in conditioner is an absolute must to make sure your hair is getting enough TLC and nourishment. This milk from Reverie is so incredible. It's lightweight, contains nice-smelling coconut, almonds, and olives, and gives your hair all the moisture it needs so that it doesn't puff out before you hit the hot-as-hell summer streets.