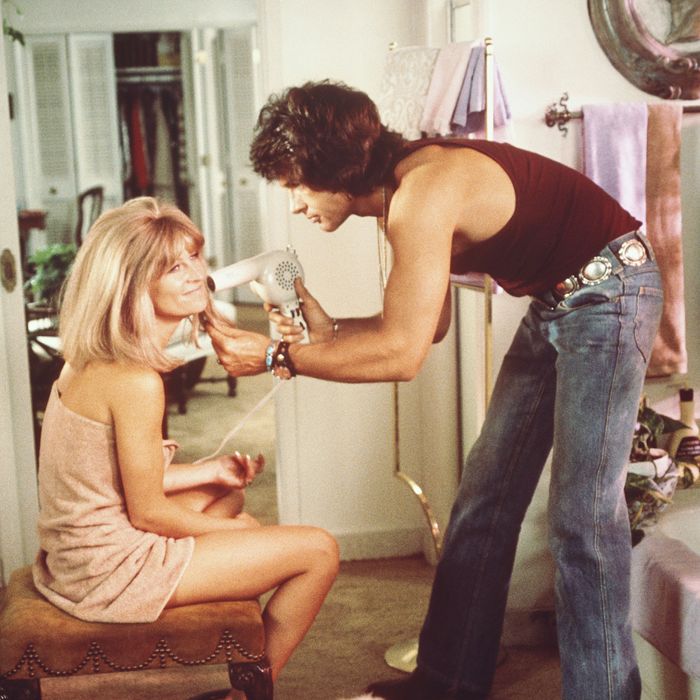 Salon results no matter where you go.
Photo: Silver Screen Collection/Getty Images
I first tried this hair dryer while staying at a friend's house in London years ago. My friend was dating a top hairstylist at the time (he leads hair teams for runway shows in London, New York, and Paris, etc.) who'd recommended it to her as a semi-professional blow dryer that even non-hairstylists would love. It is bar none the finest hair discovery I've — or she's, I guess — ever made.
For a start, it's megapowerful. Its 2,000-watt motor (that's more than the 1,875 watts of the Harry Josh and the 1,600 watts on the widely beloved Dyson) delivers a blow-strength that cut my drying time in half. It's not whisper-quiet, but not nearly as loud as you'd expect for something this strong. The heat travels so fast that it gives my hair a smooth glossiness I thought only genetics or a salon treatment could give me — I'm convinced that Meghan Markle uses one.
And even though it delivers a more powerful punch than the dryers at most salons, it's terrific for home use because it's shorter, and much easier to maneuver. I find "professional" hair dryers so long that I tend to hit myself in the head with them when trying to reach certain spots. It's called a "super compact," which may conjure a visual of those pathetic, pointless hair dryers you'll find in hotel bathrooms, but I wouldn't say it's that small. At just over a pound, though, I travel everywhere with mine. The nine-foot-long cable means that I'm not leashed to the outlet, either.
The thing isn't cheap, though it's more affordable than the Harry Josh or Dyson, but what you spend in upfront payments, you more than reap every time you use it. Much like I discovered it through a friend, now my other friends who borrow it while we're traveling gush about how great it is and immediately buy one for themselves. They're all blown away.
Rio Viera-Newton told us about her mom's gorgeous curly hair, which elicits comments almost anywhere she goes. Her preferred blow-dryer is the Elchim: "I like to use my Elchim hair dryer on hot, low pressure, with the Elchim bi-diffuser attachment. It dries the hair while allowing it to maintain the curls and hold onto the still-absorbing L'Oreal oil and Oribe gloss."
Looking for something ultracompact? The Cut's beauty director Kathleen Hou fell in love with this Harry Josh: "When I tried it, I found that my shoulder-length hair dried in less than ten minutes. The dryer didn't strain my wrists and the heat didn't work my hair into a puffy, frizzy frenzy. It smoothed my hair even though I didn't use a brush, and it added volume when I focused the air at the roots. I could see how this is a slam dunk for professional hairstylists — and a wise investment for those who blow-dry their hair every day."
Looking for another quick dryer? The Cut's senior beauty editor Ashley Weatherford recommends the Bio Ionic: "The brand claims that the water molecules are actually absorbed by the hair, thereby providing a level of hydration. That sounds silly to me, but then again, my hair feels especially soft and healthy each time I make use of the dryer. And it's straight, too."