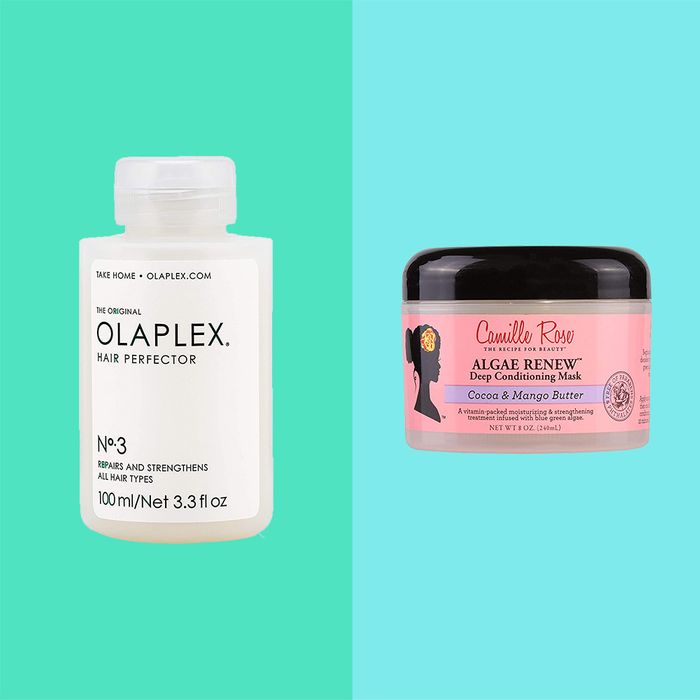 Photo-Illustration: The Strategist; Photos: Retailers
Whether your curls are feeling dry or your highlights are looking a little dull, a hair mask can very well be the solution — they restore moisture and softness and even brightness to your locks, often in a matter of minutes. Consider a skin-care analogy: If daily conditioner is akin to your lightweight body lotions, hair masks are more of a body butter, explains Ash Fritzler, master stylist at the Bird House salon, "like a richer version of your regular lotion." And they're recommended for everyone, regardless of hair type. "Hair masks are key to healthy hair, no matter the texture," says celebrity stylist Danielle Priano, whose clients include Hailey Bieber and Jennifer Lopez.
To find the best masks for all kinds of hair types (at all kinds of price points), we talked to 14 experts, including salon owners and stylists. Although, according to Shirley Hagel, an advanced creative stylist at Parlor Hair Salon, "hair type" isn't always the most important guiding factor in this context. "For me, choosing a mask isn't so much about whether hair is thick or thin," she says. Rather, her most important consideration is "what the hair needs" — whether that be hydration, damage-repair, nutrient replenishment, etc. And before we dive into the specific brands that Hagel and our other experts turn to for those varying needs, here is some general advice that emerged from the group: Aim to use a mask about one to two times a week (in place of your usual conditioner), leave it on for about 10 to 15 minutes, and rinse with cold water to enhance shine.
Best overall hair mask
We first heard about the benefits of Olaplex's products when we talked to hairstylists about the best shampoo for color-treated hair, and the line's "repairing treatment," which works like a mask, is no exception. "If my clients have a color service with me, I'm sending them home with Olaplex No 3," Fritzler says. But it's not only for the color-treated among us: "Whether they have thin hair or curly hair," Fritzler says she's seen the transformation this formula can bring to her clients with just one use a week. Maria Elizabeth, the founder of Salon deZEN, says Olaplex will "visibly strengthen hair, reduce breakage, and truly improve the overall look and feel of the hair." She, like others, also appreciates how well it works on a variety of hair types. "It's so versatile, I would definitely recommend it to anyone who feels like their hair is compromised in any way" (and, by the way, "even pollution exposure can compromise hair integrity," Fritzler adds). It also works on "natural textures that tend to feel coarse or dry, and even perfectly healthy hair that is seeing a seasonal change in hair health can benefit from this smoothing product," says Jessica O'Keeffe, a stylist at Hawthorne Studio. Developed by chemists, Olaplex uses a patented bond-building technology that is said to reconstruct the hair at the strand level, meaning the products don't just soften your hair but actually help rebuild the damaged parts (though the sulfate- and paraben-free formula can certainly make all hair types softer and shinier, too). And while a mask that can do all of that might sound intense, "it's not overly aggressive," says O'Keeffe, noting that it doesn't have an excessive amount of protein in it. Dhiran Mistry of the David Mallett salon recommends the mask as a general powerhouse: "It will help reform shattered hair bonds," as he puts it.
Best indulgent hair mask
If you're willing to splurge, this Leonor Greyl mask comes recommended by both Mistry and Cohen. "It's expensive, but it's so good," says Mistry, who says that the rare ingredients — cupuaçu and manketti nut oils, both known for their moisturizing and restructuring properties — "promote fancy looking and really hydrated hair." (Turn to pretty much any red-carpet image for what he means by "fancy-looking.") It also combats frizz, is silicone- and paraben-free (meaning that it won't cause buildup on the scalp), and color-safe. And one final bonus, according to Cohen: "I love the way it smells" — a "subtle exotic scent," as the brand's CEO Caroline Greyl has previously put it.
Best (somewhat less expensive) indulgent hair mask
Dianna Cohen, founder of the new hair-care line Crown Affair, says that her "favorite hair mask of all time" is this one from Christophe Robin. She calls it "the most universal hydrating mask," and says that you would just use a dime-sized amount if you have finer hair, and more if you have thicker or curlier hair. Cohen says she uses it about twice a week, and though the price is still steep (though about a hundred dollars less steep than the Leonor Greyl), ingredients like the Prickly Pear seed oil, which is rich in vitamin E, make it worth the cost. "From an antioxidant perspective, vitamin E is better for restoring the protein and keratin of your hair, and makes it shinier and silkier while not clogging your scalp or causing buildup," says Cohen (she notes that masks can often cause buildup if you use them too close to your scalp). She leaves the mask on for about 15 minutes, and then rinses it out with cold water. If you want to truly luxuriate with your hair mask, Cohen told us the ingredients in the Christophe Robin mask take well to heat — apply it under a shower cap, and then put a hot towel on top.
This mask from R+Co's couture line BLEU is a favorite of celebrity hairstylist and self-proclaimed mask enthusiast Clariss Rubenstein. She has several favorites, but this is the one formula she always keeps in rotation for general reparative purposes and dry hair. "It's thick and intense but doesn't leave the hair weighed down. It just solves the problem," she says. Like Olaplex, this one claims to work from the inside out. The brand's Bleu Molecule Complex is said to "deliver active ingredients to weightlessly repair and strengthen all hair types and textures from the inside out." Some of those ingredients include tananu, argan and maracuja oils, blood orange and primrose extract, and nettle. Rubenstein says hair masks need to be hydrating or moisturizing, and this is both. "Hydration refers to adding essential elements that penetrate the innermost layer of the hair," she says, which in this case is the Bleu Molecule Complex, and "moisture refers to treating the outer layer of the hair," which she said can be done with oils like the above to "seal all the good stuff into the hair."
Best lightweight hair mask
"This is our tried and true that works with nearly every hair texture, from straight to wavy to curly," says Stephanie Louis, founder of Stylebox Salon in Prospect Heights. "It's not sticky and it's super light." Louis says that Verb's Ghost line is generally reliable for healthy-feeling hair (she's previously recommended the Ghost shampoo) and that it will also help restore a healthy look for those who have dry hair from chemical processing or coloring. Like all of Ghost's products, the mask is paraben- and sulfate-free, meaning it won't dull color-treated hair; it also contains glycerin, which has a softening effect. Moringa seed oil, meanwhile, which is derived from the moringa tree and known for its nutritional compounds, including fats and proteins, works to add back that moisture. Louis notes that because the formula is so light, those with curlier hair textures may not see immediate improvement after using the mask — but give it two to three months of regular use.
Best starter hair mask
Considering its reasonable price point and the fact that it can be used for all hair types (even those with finer hair), according to Fritzer, R+Co's Television Perfect Hair Masque is "a really good starter mask." The formula includes hydrating snow mushroom extract, emollient murumuru butter, and pequi oil, which is meant to lock in moisture — and in addition to all of the ingredients that will give your hair softness and shine, the mask has a nice scent, too, with notes of cardamom, tangerine, and lavender.
Best hair mask for wavy to curly hair
Priano says anyone with thick, coarse, curly, dry, or damaged hair should look for a mask with oils like macadamia, jojoba, coconut, Moroccan, or argan. This mask, which she loves for her wavy to curly haired clients, has macadamia and jojoba oil in it, as well as protective keratin and hydrating Japanese bamboo. "It delivers just enough without making the hair feel heavy," Priano told us. "The macadamia nut oil in the mask smooths and provides nutrients, and the sunflower seed extract always adds a nice touch of shine." And while you may be tempted to keep a mask on overnight, Priano advises against it. "Sometimes overdoing the mask can have reverse effects," she says, explaining that some masks have keratin properties, which can lead to "an imbalance, dry and brittle feeling, or even breakage." Instead, she suggests getting the most out of your mask by combing it through while in the shower. "It helps penetrate the product deeper into the hair shaft and seals the cuticle in the process."
Best masks for curly hair
This isn't technically a mask, but Dailey Greene, the owner of H2 Salon in Brooklyn, likes using this best-rated conditioner as a treatment on her clients in the salon, where she mainly works with thicker textures. Compared to Olaplex No 3, our top-rated mask, this conditioner has all the same bond-repairing technology, but she says the viscosity of this formula feels a little more condensed, "so for people with really curly-kinky hair, it really gets in there," Greene told us. She says it also leaves wavy and chemically relaxed hair supersoft. Brooke Jordan, co-owner and master stylist at Gowanus salon the Bird House, says, "I have found it to be absolutely amazing when used in moderation — it can be heavy if you use it every day, so use it no more than once a week." When you do use it, consider using heat with it. "Heat is a way to break down one of the bonds," Greene explains. "There are three bonds in hair. One is a water bond. One is a heat bond. One is a chemical bond. Those are the three layers of bondage in the hair. So the water will break down one layer and then heat will break down the second." If heat isn't an option, she says putting it on with a shower cap for 20 minutes to seal in the moisture works just fine.
"This is indisputably the very best deep conditioner-type mask ever created on this planet for tightly curled or tightly coiled hair. Period," says Louis. "Of all the products I've ever recommended in my life, this is the one I'm most passionate about — I personally use it and it really does exactly what it says it will do immediately." The mask comes in three formulas — for dry hair, damaged hair, and dull hair — and is all natural, which Louis says does mean it is perishable and best stored in the freezer between uses, but is still "so worth it." The main ingredient in each formula is avocados, which Louis says are "stock full of Vitamin B and E, and work to repair any scalp damage that may be causing dry hair at the root, while helping to lock in moisture along the hair shaft so your hair is much softer and easier to detangle and manage." (Another ingredient is tea tree oil, which, it's worth noting, can have a tingly sensation on the scalp.) Since the mask is so moisturizing, Louis acknowledges that it may be too heavy for certain textures. But again, for those with tight curls, this is the way to go: hair can become softer and more manageable after just a few uses (Louis says to apply it every two weeks, "religiously").
Fritzler also recommended this product from Luxju, which is technically a hair cream, but she promises it's rich enough to use as a mask. "Luxju Nourishing Hair Creme is the jack-of-all-trades when it comes to intense moisture and repair for natural hair — I love it as a prewash moisturizing treatment, a deep-conditioning mask after shampooing and/or a curl-defining moisturizer and leave-in treatment," says Fritzler. "It's a must-have for us curly girls." The cream is also a favorite of celebrity hairstylist Monae Everett, who recommended it when we asked her about the best products for curly hair. "I love that you can use less if you have finer hair and more if you have thicker hair," said Everett.
Best hair mask for dry curly hair
Ouidad makes products specifically for curly hair, and this mask is particularly great for repairing dry and damaged curls. "The formula's CR-4 Repair Complex — with nutrient-rich mafura butter and kalahari melon seed oil — envelops the hair shaft with a cushiony coating of concentrated fatty acids vital to rebuilding, nourishing, and protecting hair," according to the brand. Myleik Teele confirms their claims. She's tested thousands of products as the founder of CURLBOX, a subscription service for curly hair products, and says that this one is the best on the market. "It literally melts down into the hair and you can instantly see and feel the difference in your hair," she says.
Best vegan hair mask for curly hair
Teele loves this hair mask for tight curls and coils because of the mango butter, which not only moisturizes the hair, but also seals in the moisture, she says. The other main ingredient, blue algae, helps prevent breakage and strengthens the hair. Teele recommends this mask for anyone conscious of the ingredients that go into their products, as this is a vegan hair-care line.
Best (less expensive) mask for curly hair
This is not only the least expensive mask for curly hair on this list but also the cheapest overall. (And, no, it's not a sample size either.) Teele says it "can go toe-to-toe with any other high-priced mask when it comes to performance," and that she'd be "shocked if someone said they didn't like this," because of how moisturizing it is. It has shea butter in it to moisturize, while the Moroccan clay helps to clean the hair. It's also heat activated, so if you have access to a hooded dryer at home, now would be the time to use it.
Best mask for coarse hair