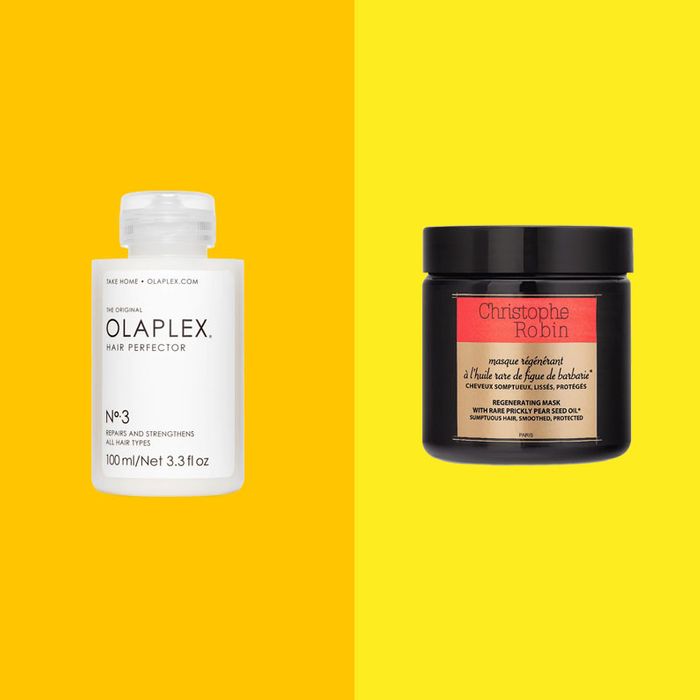 Photo-Illustration: The Strategist
Whether your curls are feeling dry or your highlights are looking a little dull, a hair mask can very well be the solution — they restore moisture, softness, and even brightness to your locks, often in a matter of minutes. Consider a skin-care analogy: If daily conditioner is akin to your lightweight body lotions, hair masks are more of a body butter, explains Ash Fritzler, master stylist at the Bird House salon. "Hair masks are key to healthy hair, no matter the texture," says stylist Danielle Priano, whose clients include Hailey Bieber and Jennifer Lopez.
Contrary to popular belief, according to Shirley Hagel, an advanced creative stylist at Parlor Hair Salon, "hair type" isn't always the most important guiding factor in this context. "For me, choosing a mask isn't so much about whether hair is thick or thin," she says. Rather, her most important consideration is what the hair needs — whether that be hydration, damage repair, or nutrient replenishment. To find the best masks for all kinds of hair types (at all kinds of price points), I talked to 12 experts, including salon owners and stylists. And before we dive into the specific brands that our experts turn to for those varying needs, here is some general advice that emerged from the group: Aim to use a mask about one to two times a week (in place of your usual conditioner), leave it on for about 10 to 15 minutes, and rinse with cold water to enhance shine.
Best overall | Best for dry hair | Best (less expensive) for dry hair | Best for aging hair | Best for fine hair | Best for color-treated hair | Best for heat-damaged hair | Best for coarse hair | Best for wavy hair | Best for curly hair | Best for breakage-prone hair | Best for scalps
What we're looking for
Ingredients: The most important thing about hair masks is the active ingredients they are formulated with. Make sure you're giving your hair what it needs most, whether that's oils for hydration, bond rebuilders for damage repair, or vitamins and antioxidants for health.
Sulfate-free: Like shampoo and conditioners, some hair masks are formulated with sulfates and others are not. While many hair types can tolerate sulfates, those with sensitive skin or who have hair that is damaged or color treated should try to steer clear and opt for a sulfate-free option instead.
Size: I'm also keeping an eye on the total ounces of hair mask you're getting per dollar.
Best overall hair mask
Olaplex, bis-aminopropyl diglycol dimaleate | Sulfate-free | 3.3 oz 
We first heard about the benefits of Olaplex products when we talked to hairstylists about the best shampoo for color-treated hair. The line's "repairing treatment" (effectively a mask) is no exception. "If my clients have a color service with me, I'm sending them home with Olaplex No. 3," Fritzler says. But it's not only for the color-treated among us: Regardless of hair texture, Fritzler says she's seen the transformation this formula can bring with just one use a week.
Maria Elizabeth, founder of Salon deZEN, also appreciates how well it works on a variety of hair types, calling it a versatile product she recommends to anyone with hair that feels compromised (and, by the way, "even pollution exposure can compromise hair integrity," Fritzler adds). It also works on "natural textures that tend to feel coarse or dry, and even perfectly healthy hair that is seeing a seasonal change in hair health," says Jessica O'Keeffe, a stylist at Hawthorne Studio. Developed by chemists, Olaplex uses a patented bond-building technology that is said to help rebuild the damaged parts inside each strand. And while a mask that can do all of that might sound intense, O'Keeffe notes that that it doesn't have an excessive amount of protein in it, so it's not aggressive on the hair. Hairstylist Dhiran Mistry recommends the mask as a general powerhouse: "It will help reform shattered hair bonds," as he puts it. Olaplex No. 3 is a favorite of hairstylist Michelle Cleveland as well, but she reminds us to follow the directions to get the best results.
Best hair mask for dry hair