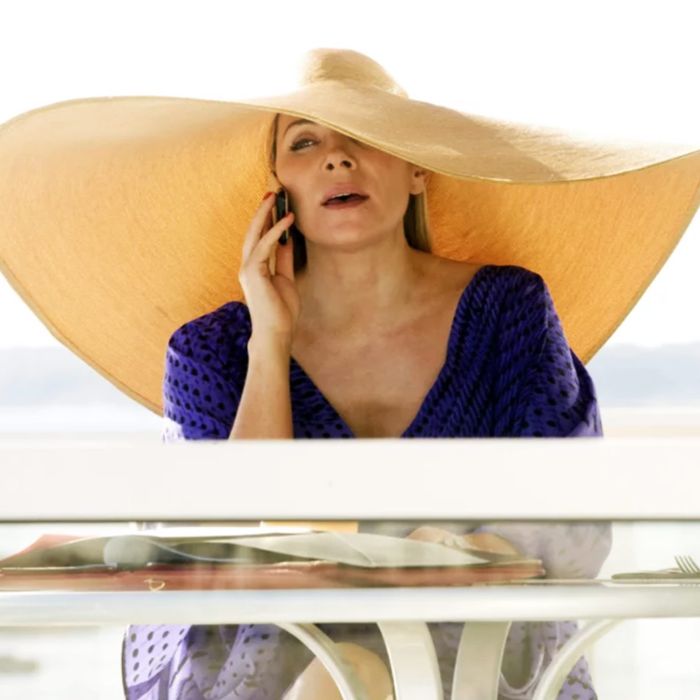 A sun hat, at its essence, is a hat that shields your face from the sun. As we've written before, though, a good, non-mortifying hat can be hard to find. But if you know where to look — or the right people to ask — you'll see that there are some really good hats out there that fulfill their purpose of providing ample sun protection and make you look more stylish than silly. To find actually good sun hats, we spoke to 13 women (and a couple of men) with exceptional taste about their favorites, then combed our archives for any standout options. From resort-worthy straw hats to on-trend bucket hats to classic baseball caps, the 16 sun hats below include something for most everyone and every budget. Speaking of budget, we've organized the hats by price, beginning with a slew of under-$50 options that include one hat beloved by multiple Strategist editors that's less than $20. Each section begins with any hats that came up more than once — and even after you've found the perfect sun hat, we should remind you to never leave the house for a day outside without applying sunscreen.
Best under-$50 sun hats
Two Strategist editors — features editor Katy Schneider and senior editor Simone Kitchens — own this simple, super-affordable cotton hat that Kitchens found on Amazon. Schneider, in fact, owns two of them and told us a friend of hers recently ordered one, too. "It's just a nice, simple sun hat," she says. Kitchens appreciates the fact that the brim is constructed with supportive wiring, "so you can shape it and it won't flop down." She adds that the hat is easy to care for, too — something she can "sweat in and fold up and wash easily."
Photo: Retailer
Baggu's Packable Sun Hat was all the rage when it first debuted in May. As the Cut wrote then, "The hat looks like a bonnet for a giant toddler or a car-size sun visor you can wear." Like the brand's bags, the magic of its cotton hat is that it folds up into a convenient "instant clutch," despite having a brim diameter of almost 20 inches. The Cut's associate fashion editor Devine Blacksher writes that wearing it "makes me feel like Zorro: The brim of the hat is so massive and the way I can tie it under my chin into a cute bow makes me feel like a superstar/superhero." Blacksher adds that the hat is also great for travel. "I was traveling around Mexico for three weeks and it was the perfect hat for the trip," she says. "It was easy to pack in my carry-on and go. It opens easily and isn't too wrinkled. Literally the perfect travel hat." While all of this means the hat is often sold out, some colors, like the Adobe shown, are still available (at least at the time of publication), and the brand can notify you via email when others are restocked.
Sonia Patel, a chief pharmacist of Capsule, told us that she wanted a sun hat that not only shields her face from rays, but is made with UPF fabric that actually helps block them from filtering through. She found her ideal style in this hat from Coolibar — a brand we've written about before — which has a UPF rating of 50-plus (meaning that roughly one-fiftieth of UV radiation will pass through the fabric). As Patel explains, "Sunscreen has limits on its effectiveness against preventing sun damage, so people should avoid relying on it as their sole protection from sun exposure." The wide-brim hat is also reversible: One side is solid-colored while the other features a contrasting white stripe.
Those with larger noggins might want to check out this unisex gorpcore hat that Strategist associate editor Daniel Varghese recommends. "I have been looking for a good floppy hat for a long time, but I couldn't find one that fit my head until this summer," he says, noting he wears the L/XL size (in khaki), which fits perfectly. Varghese says the hat's brim "has a really nice structure to it and you can shape it exactly how you want." Made of nylon and lined with a merino wool blend, it comes with a drawcord chin strap and also has vents that Varghese says "make it more breathable so you won't sweat through it."
A less expensive gorpy option would be this "cooling" bucket hat that Chris Black told us about after discovering it at a gas station in New Mexico. He explains that the unisex hat's material contains "water-activated cooling crystals that dissolve into a cool gel to help regulate temperature when you wet it." While the hat dries fast, the gels stay wet longer, which means you'll feel cool for longer, too. Plus, it comes with a cooling neckband that uses the same technology.
For another style of cooling hat, consider this one that folds into a fan. Strategist contributor Alice Gregory keeps it in her bag from May through October, calling it "the most perfectly engineered product ever made." She explains how it works: "You open the fan further and further until the bamboo slats begin to strain, and then right before you think the contraption is about to break in half, you — very quickly — hook both sides to one another, closing the circle. The miraculous hat that emerges has a wickerlike top and structured cloth brim."
Perhaps, like fashion illustrator Annie Reeds, you'd prefer to hide from the sun under a simple baseball cap. Her go-to is this extremely affordable hat from Dalix, which she says is "chic, lightweight, branding-free, and cheap to replace." It's also available in more than 20 solid colors. As for Reeds's favorite shades, she says, "This year I've been partial to dark green, but I always have black, navy, khaki, white, and dark brown on deck. And a few times this month, I've gotten mad that I don't have light blue in my lineup."
If you want something just as easy but a little breezier, consider a visor. Emily Mandagie, a photographer, writer, and the co-founder of travel website The Mandagies, wears this polyester one on days she doesn't want to wear a baseball cap. She says the visor "can be easily rolled up and stuffed into a bag," making it great for backpacking, hiking, or camping trips. It also gives her the "freedom to wear hairstyles like high ponytails" that she says are harder to pull off in a baseball cap. "It keeps my head cool and hairstyles fresh on the trails," Mandagie concludes. For those who prefer a more natural look, there's also a straw version of the visor, but it can't be rolled up.
Best under-$100 sun hats
The New York Times Magazine editor Iva Dixit told us she wanted a "massive, impractical hat as big as my entire torso." Dixit says she dug through pages of Google searches to find such a hat that wouldn't make her look like "a dairymaid in the Swiss countryside or a rich grandmother going to church." Unimpressed by many designer options and wary of cheaply made knockoffs, she kept hunting until she discovered this hat from San Diego Hat Company "purely by accident, on page seven or eight of Google shopping." Plenty wide with an eight-inch brim, she bought it and is "happy to report I do not look like a beekeeper in it." Dixit says the hat is solidly made — "hefty" is the word she used to describe it — and that "it came in a massive square hatbox, not rolled up and squished." Shown in a color called toast, it comes in nine others, including white, black, citron, and hot pink.
San Francisco–based makeup artist Jeanne Y. Sun swears by this straw hat she found on Etsy and bought for a recent vacation to Hawaii. "I love how wide the brim is and that it has a ribbon to tie around your neck in case of wind," she says. "The exaggerated shape gives just the right amount of drama to even the simplest of outfits."
"After years of throwing it carelessly in my carry-on, beach bag, and back seat, this thick canvas hat still holds up," writer Alexis Cheung says of her go-to sun hat from Colorado-based Hatters. Made of canvas with a bit of an unfinished hem around the brim, she describes it as "lightweight and funky-looking — strong Hogwarts-Sorting-Hat-but-for-the-beach vibes," adding that it is "inherently wearable in any setting, from the sand, to an outdoor market, to your garden."
Best splurge-worthy sun hats
The largest cotton sun hat on our list, Beklina's Voluminoso is owned by both Kitchens and this writer (Lauren Ro). Its supersize floppy brim provides full coverage for both your face and shoulders and a thick chin sash offers added security, in case that brim gets caught in a gust of wind. Kitchens says its floppiness makes the hat a bit "stunty," but likes how stitching along the brim helps it hold its shape when you roll the hat up. This writer (Ro) adds that its lightweight material makes it easy to pack up and toss in a beach or weekend bag.
A few of the stylish women we spoke to mentioned Freya and its selection of on-trend hats. Minneapolis-based stylist Ravena Kerur discovered this bucket hat from the brand at her neighborhood boutique Idun. "I love how its thick material protects my head from the summer sun," she says. The hat has an asymmetrical brim that's broader on one side and shorter on the other, which means it can be worn two ways. "I love the way I can manipulate the material to make it look like the kind of hat that I want to wear each day," says Kerur, who told us the hat is great for "hiding under and tuning out." Like other hats on this list, this one is also reversible: One side is Kerur's favorite color (ginger) and the other an olive-toned sage.
"I get all my hats from Lack of Color because they have a wide variety that come in large sizes," says stylist Soraya Augustin, who owns three different hats from the Australian brand. Her favorite (right now) is the Sierra, a wide-brimmed boater made of wool that's trimmed in a subtly patterned vintage ribbon. Augustin says the hat not only protects from the sun, but makes any outfit feel a bit more luxe, whether you're wearing it "with your favorite linen pants and an oversized shirt for a walk on the beach" or "a fun mini-sundress for an outdoor brunch."
Those looking for a sun hat with a silhouette different from most might want to invest in this bell-shaped style that ILYSM founder Alice Wang recommends. "I like hats with high crowns, which this one certainly has," she says. "It folds up easily and has a unique shape that people often comment on." The hat is made from hand-crocheted heavy cotton, which Wang says is "dense enough that it protects from overhead sun," even though its brim isn't that wide. The higher crown gives the hat another perk: "It pulls down really far over your eyes so you don't need sunglasses," Wang adds.
Eva Lee, the head of newsroom operations at BuzzFeed News, has had this Helen Kaminski hat for close to a decade. She says it's worth the price because "it gets better with wear and holds its shape thanks to the raffia, which is really soft and flexible." Thoughtful details include "a neoprene band inside that makes it super comfortable" — and stay on her head. Lee also loves that the hat is foldable and, importantly, has a wide brim that provides great sun protection. Plus, she adds, "it's not as tightly woven, so the hat promotes nice airflow."
The Strategist is designed to surface the most useful, expert recommendations for things to buy across the vast e-commerce landscape. Some of our latest conquests include the best acne treatments, rolling luggage, pillows for side sleepers, natural anxiety remedies, and bath towels. We update links when possible, but note that deals can expire and all prices are subject to change.