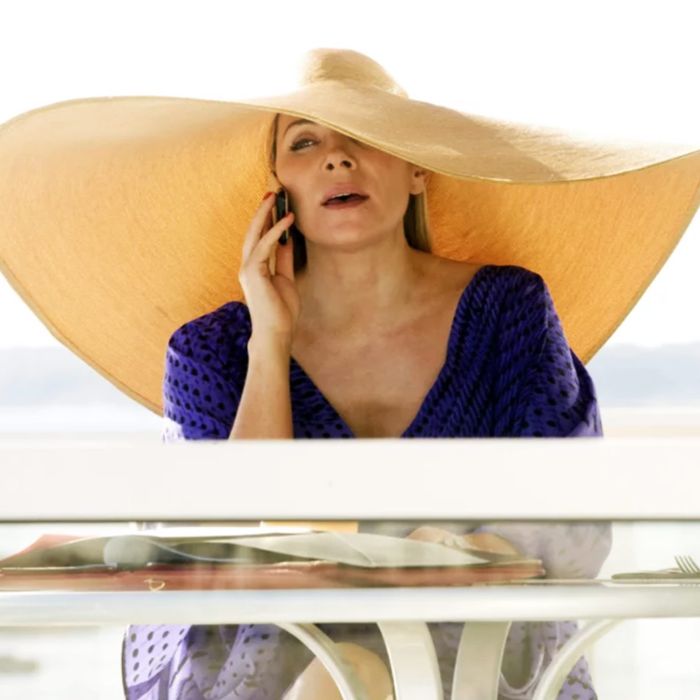 A sun hat, at its essence, is a hat that shields your face from the sun. As we've written before, though, a good, non-mortifying hat can be hard to find. But if you know where to look — or the right people to ask — you'll see that there are some really good hats out there that fulfill their purpose of providing ample sun protection and make you look more stylish than silly. To find actually good sun hats, we spoke to 13 women (and a couple of men) with exceptional taste about their favorites, then combed our archives for any standout options. From resort-worthy straw hats to on-trend bucket hats to classic baseball caps, the 16 sun hats below include something for most everyone and every budget. Speaking of budget, we've organized the hats by price, beginning with a slew of under-$50 options that include one hat beloved by multiple Strategist editors that's less than $20. Each section begins with any hats that came up more than once — and even after you've found the perfect sun hat, we should remind you to never leave the house for a day outside without applying sunscreen.
Best under-$50 sun hats
Two Strategist editors — features editor Katy Schneider and senior editor Simone Kitchens — own this simple, super-affordable cotton hat that Kitchens found on Amazon. Schneider, in fact, owns two of them and told us a friend of hers recently ordered one, too. "It's just a nice, simple sun hat," she says. Kitchens appreciates the fact that the brim is constructed with supportive wiring, "so you can shape it and it won't flop down." She adds that the hat is easy to care for, too — something she can "sweat in and fold up and wash easily."
Photo: Retailer
Baggu's Packable Sun Hat was all the rage when it first debuted in May. As the Cut wrote then, "The hat looks like a bonnet for a giant toddler or a car-size sun visor you can wear." Like the brand's bags, the magic of its cotton hat is that it folds up into a convenient "instant clutch," despite having a brim diameter of almost 20 inches. The Cut's associate fashion editor Devine Blacksher writes that wearing it "makes me feel like Zorro: The brim of the hat is so massive and the way I can tie it under my chin into a cute bow makes me feel like a superstar/superhero." Blacksher adds that the hat is also great for travel. "I was traveling around Mexico for three weeks and it was the perfect hat for the trip," she says. "It was easy to pack in my carry-on and go. It opens easily and isn't too wrinkled. Literally the perfect travel hat." While all of this means the hat is often sold out, some colors, like the Adobe shown, are still available (at least at the time of publication), and the brand can notify you via email when others are restocked.
Sonia Patel, a chief pharmacist of Capsule, told us that she wanted a sun hat that not only shields her face from rays, but is made with UPF fabric that actually helps block them from filtering through. She found her ideal style in this hat from Coolibar — a brand we've written about before — which has a UPF rating of 50-plus (meaning that roughly one-fiftieth of UV radiation will pass through the fabric). As Patel explains, "Sunscreen has limits on its effectiveness against preventing sun damage, so people should avoid relying on it as their sole protection from sun exposure." The wide-brim hat is also reversible: One side is solid-colored while the other features a contrasting white stripe.
Those with larger noggins might want to check out this unisex gorpcore hat that Strategist associate editor Daniel Varghese recommends. "I have been looking for a good floppy hat for a long time, but I couldn't find one that fit my head until this summer," he says, noting he wears the L/XL size (in khaki), which fits perfectly. Varghese says the hat's brim "has a really nice structure to it and you can shape it exactly how you want." Made of nylon and lined with a merino wool blend, it comes with a drawcord chin strap and also has vents that Varghese says "make it more breathable so you won't sweat through it."
A less expensive gorpy option would be this "cooling" bucket hat that Chris Black told us about after discovering it at a gas station in New Mexico. He explains that the unisex hat's material contains "water-activated cooling crystals that dissolve into a cool gel to help regulate temperature when you wet it." While the hat dries fast, the gels stay wet longer, which means you'll feel cool for longer, too. Plus, it comes with a cooling neckband that uses the same technology.
For another style of cooling hat, consider this one that folds into a fan. Strategist contributor Alice Gregory keeps it in her bag from May through October, calling it "the most perfectly engineered product ever made." She explains how it works: "You open the fan further and further until the bamboo slats begin to strain, and then right before you think the contraption is about to break in half, you — very quickly — hook both sides to one another, closing the circle. The miraculous hat that emerges has a wickerlike top and structured cloth brim."