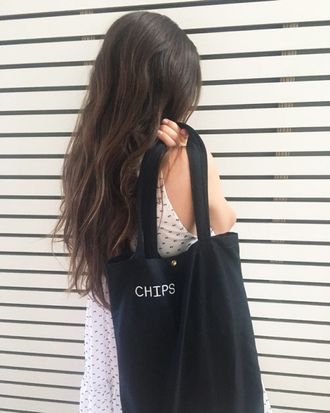 The writer's hair, post–New Wash.
Photo: Courtesy of the writer
Describing a shampoo as "cult" is like describing a laundry start-up as "revolutionary," or a Katy Perry outfit as "iconic." The adjective mocks its own premise. I understand this. But I am going to write about a cult shampoo anyway, because "cult" is the only way to describe this bottle of enigmatic, white goo.
The brand is Hairstory, and the product is called New Wash. It's not actually a shampoo, but a shampoo replacement. It is also a conditioner replacement. If you are inherently suspicious of two-in-one shampoo-conditioner blends, join the club. But New Wash is a different beast than the jumbo drugstore bottles you're envisioning. For one thing, it is developed by the founder of Bumble and Bumble. (Cred.) More important, it is free of the silicone agents that two-in-one formulas use to soften hair (and which build up over time).
The experience of using New Wash is disorienting at first. It does not lather, and in order to use it, you will need to coax yourself out of the belief that suds equals cleanliness. The scent is faint — a hint of peppermint — so you will also need to divest yourself of the notion that clean hair is fragrant hair. And the method is strict. You must massage the product into your scalp like crazy. If your arm muscles aren't sore, you have not massaged enough.
But the results are wild. My long hair air-dries perfectly, with no "squeaky" texture. It is shiny and falls in loose waves, like it did when I was a kid. I don't need to blow-dry it. My chronic flaky scalp (sorry!) is gone forever. I customarily wash my hair every three days. With New Wash, once a week. When friends remark that my hair looks nice, it's fun to say, "I haven't shampooed in six months." Which is technically accurate.
True, the Hairstory branding is extremely millennial, and the price is high ($40), but the results make it possible to rationalize both of these things. Your inner minimalist will be pleased to reduce the clutter in your shower to one bottle. You can subscribe to get 20-ounce refill sacks. And a little goes a long way.
A $6 dry shampoo beloved by beauty writer Hannah Morrill. After using it, she writes, her hair doesn't feel "heavy or chock full of product, it feels clean and smooth, not unlike, well, if I'd actually bothered to wash it."
Don't take our word for it … Batiste is the best-reviewed dry shampoo on Amazon.
The best option for the curly-haired among you, according to our resident curly-haired editor Lauren Schwartzberg, who writes: "People with curly hair should not use shampoo. It dries out the curls when the thing they need most is moisture (hence all the oils I used to rub into my hair). But for everyone who feels weird about never washing their hair, Devachan has created No-Poo, a shampoo that doesn't lather or contain any of the sulfates regularly found in shampoo that dry out curls. In fact, amazingly, it's a shampoo that still moisturizes."
Every editorial product is independently selected. If you buy something through our links, New York may earn an affiliate commission.