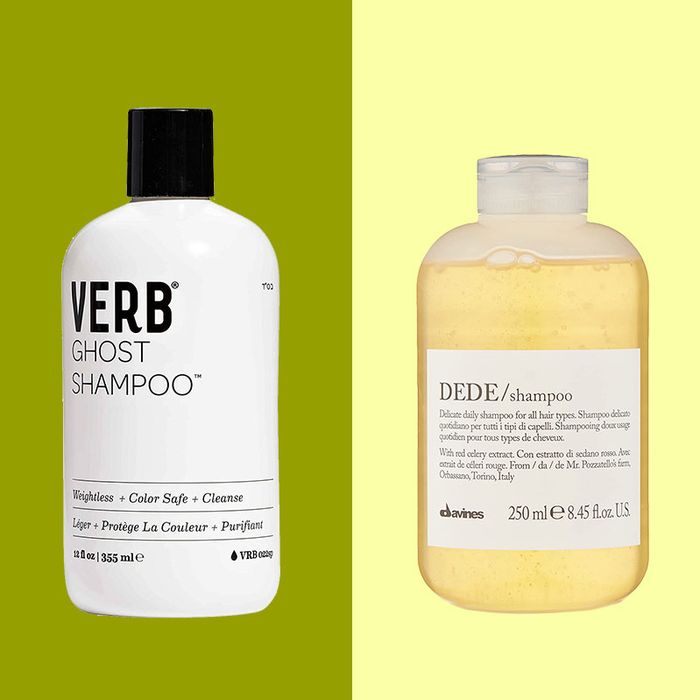 Photo-Illustration: retailers
The negative reputation of sulfates is fairly well known by now, with reports noting that some can irritate your skin and eyes. But derivatives of the sulfuric-acid-based salts, like sodium lauryl sulfate, can still be found in many popular shampoos. That's because, despite what has been said about how they can harm our bodies, sulfates are highly effective at cleaning your hair and scalp — and they give shampoo that lather that's synonymous with a thorough cleanse. Even so, Brooke Jordan, a co-owner of and master stylist at the Bird House salon in Gowanus, says sulfates' ability to clean is just not worth their potential negative side effects. "The scoop on sulfates," she explains, "is that they're detergents in the surfactant family, and although there are types of surfactants that are completely safe for us, sulfates in particular are generally known to be unsafe." Fiona Guidice, the owner of eco-friendly hair salon Fiona Hair NYC, adds that sulfates are "an incredibly aggressive abrasive that dries and damages hair" and can often cause split ends. Shirley Hagel, a color specialist at Spoke and Weal salon, puts it a little more bluntly: "Sodium lauryl sulfate, which is the harshest of the sulfates, is the same ingredient used in Dawn dish soap."
So if you wouldn't wash your hair with Dawn, it's probably best to find a shampoo without SLS or any other kinds of sulfates. Luckily, there are tons of sulfate-free shampoos on the market, ranging from bottles you can find at your local drugstore to luxe salon-grade brands. What's more, sulfate-free shampoos are out there for all hair types, too. To find the best sulfate-free shampoos, we spoke to 15 hairstylists and salon owners (then combed through our archives for any others that we've written about before). The options below include shampoos for specific hair types, others that can be used universally, and even some that will deliver the lather of their sulfate-filled cousins (just without the harmful ingredients).
Best overall sulfate-free shampoo
Stephanie Louis, the owner of Brooklyn's Stylebox Salon, emphatically recommends Verb Ghost as a universal sulfate-free shampoo that "works for EVERYBODY." (Emphasis hers.) She adds that "it's probably the best shampoo we've ever worked with" because, "no matter the hair texture or type, it detangles with ease, moisturizes immediately, and doesn't leave hair feeling heavy with product." Louis also told us this versatile shampoo won't bleed out color if you're using it on color-treated hair. She's not the only one who loves it — Verb Ghost is among the best-rated shampoos at Sephora, according to some 900 hyperenthusiastic reviewers, one of whom wrote that "it feels almost magical when it lathers." This is a not-insignificant detail because, as we noted above, sulfates are often what makes shampoos foam up, so it can be harder to find a sulfate-free one with lathering properties, let alone "almost magical" ones. (Another Sephora reviewer raved that Verb Ghost "basically gave me shampoo-commercial hair.") Louis's emphatic endorsement of Verb as a sulfate-free shampoo safe for any hair type, coupled with the Sephora reviewers' praise for it (and its reasonable price tag), helped it earn its place at the top of this list. "It's really amazing, top-shelf stuff," Louis promises.
Best (less-expensive) sulfate-free shampoo
For less than half the price of Verb Ghost, you can get this (same-size) bottle of sulfate-free shampoo from Monday, a popular New Zealand–based hair-care line that recently became available in the States. Hair stylist Jenna Perry, the founder of Jenna Perry Hair Studio (which caters to clients including Bella Hadid, Emily Ratajkowski, and Chloë Sevigny), particularly likes the brand's Smoothing Shampoo for its frizz-battling formula that she says "smells great." It's one of several sulfate-free shampoos offered by the brand: Others include a moisturizing shampoo for dry hair and a volumizing shampoo for fine hair (which one of the writers of this story, Dominique Pariso, bought back in February and now swears by). So, as Perry puts it, there is a formula that "doesn't break the bank" for most anybody.
Best drugstore sulfate-free shampoo
Louis says this sulfate-free shampoo carried by most drugstores is the one to grab if you're doing a quick CVS or Duane Reade run. She notes that "even though it says it is for 'extremely dry, brittle hair,' it really is for any hair type." Plus, she says the Shea Moisture shampoo can double as a conditioner in a pinch: "It's really good at leaving the hair super-moisturized even without conditioner." If you're looking for something that delivers even more hydration, you could try Shea Moisture's sulfate-free Protein Strong Treatment, which Strategist contributor Shammara Lawrence says her dry curls "drink up." (Lawrence also told us she notices that she sheds less hair after using it.)
Best sulfate-free shampoo for daily use
While Hagel told us you really need to wash your hair only once or twice a week, some people may find it hard to give up their daily habit. If that sounds like you, this Davines shampoo formulated for all hair types is the only one on the list specifically formulated to be gentle enough to use seven days a week. "Davines shampoos are a favorite of mine," says Jordan, who notes that they are also organic. "They use disodium laureth sulfosuccinate as their surfactant, which is considered to be very safe for humans because the molecules are larger than other surfactants and can't penetrate the skin."
Best sulfate-free shampoo for natural hair
According to our beauty writer Tembe Denton-Hurst, "Since its launch a few months ago, Bread has instantly become a favorite of 'lazy naturals,' people with curly hair who want a simplified, low-maintenance approach to hair care." The shampoo is also a favorite of Erica Smith, a beauty writer for our sister site the Cut. "It gets you the thorough cleanse of a shampoo, with the gentle, hydrating feeling of co-washing, which I love," Smith says. "It left my 3C curls completely content: clean but not crispy; moisturized but not weighed down; soft, while still embracing all my natural frizz."
Best (deep-cleaning) sulfate-free shampoo for natural hair
In the Strategist's guide to taking care of natural hair, hairstylist Nigella Miller, the owner of Nigella Hair Studio, says that those looking for a deeper clean from a sulfate-free shampoo should check out SashaPure Healing Shampoo. "It really removes buildup," she promises of the product, which is also color-safe.
Best sulfate-free shampoo for 4C hair
Denton-Hurst has written that while sulfate-free shampoo "is relevant for all hair textures, it's even more important with 4C hair, which is particularly prone to dryness and tangling." Hairstylist Stasha M. Harris, the owner of Magic Fingers Studio, likes this shampoo from Design Essentials for 4C hair, telling us "it cleanses all buildup as well as softens the texture," which, when used with the accompanying conditioner, makes hair easy to detangle and prevents breakage when combing through it.
Best sulfate-free shampoo for fine hair
For those with fine hair who need something to give their locks oomph, Dhiran Mistry, a stylist at the David Mallett salon, says Living Proof's sulfate-free Full Shampoo is "great for creating more volume." It does so, he explains, by "removing residue and product buildup on hair and scalp, leaving the roots fuller and less weighed down."
Best sulfate-free shampoo with UV protectant
On top of being sulfate-free, this shampoo is also vegan and contains a protectant to shield hair from UV rays, which can be damaging. Guidice says it's particularly good for those with fine locks, promising that the shampoo creates "incredibly touchable hair" with a lot of natural body.
Best sulfate-free shampoo for double-processed hair