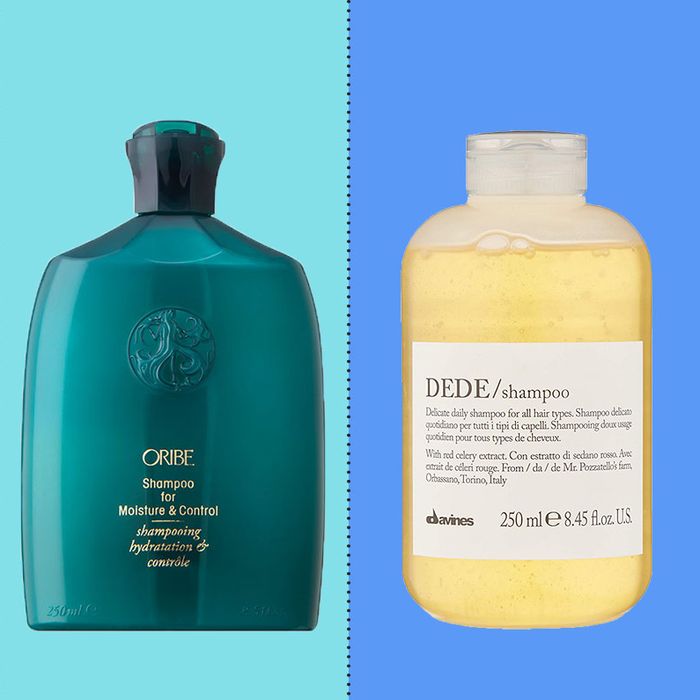 Photo: courtesy of the Retailers
The negative reputation of sulfates is fairly well known by now, with reports noting that some can irritate your skin and eyes. But derivatives of the sulfuric-acid-based salts, like sodium lauryl sulfate, can still be found in many popular shampoos. That's because, despite what has been said about how they can harm our bodies, sulfates are highly effective at cleaning your hair and scalp, and they give shampoo that lather that's synonymous with a thorough cleanse. But according to Brooke Jordan, co-owner and master stylist at the Bird House salon in Gowanus, sulfates' ability to clean is just not worth their potential negative side effects. "The scoop on sulfates," she explains, "is that they're detergents in the surfactant family, and although there are types of surfactants that are completely safe for us, sulfates in particular are generally known to be unsafe." And as Shirley Hagel, an advanced master stylist at Parlor salon, points out, "Sodium lauryl sulfate, which is the harshest of the sulfates, is the same ingredient used in Dawn dish soap."
So if you wouldn't wash your hair with Dawn, it's probably best to find a shampoo without SLS or any other kinds of sulfates. Luckily, there are tons of sulfate-free shampoos on the market, ranging from bottles you can find at your local CVS to luxe salon-grade brands. What's more, sulfate-free shampoos are out there for all hair types, too. To find out which sulfate-free shampoos work best for different hair types, we spoke to six hairstylists and salon owners. Read on for their picks, which include shampoos for specific hair types, others that can be used universally, and even some that will deliver the lather of their sulfate-filled cousins (just without the harmful ingredients).
Best overall sulfate-free shampoo
Stephanie Louis, the owner of Brooklyn's Stylebox Salon, emphatically recommends Verb Ghost as a universal sulfate-free shampoo that "works for EVERYBODY." She adds that "it's probably the best shampoo we've ever worked with; no matter the hair texture or type, it detangles with ease, moisturizes immediately, and doesn't leave hair feeling heavy with product." Louis told us this versatile shampoo won't bleed out color if you're using it on color-treated hair. She's not the only one who loves it — the inexpensive Verb Ghost is among the best-rated shampoos at Sephora, according to some 307 hyperenthusiastic reviewers, one of whom wrote that "it feels almost magical when it lathers." This is a not-insignificant detail because, as we noted above, sulfates are often what makes shampoos foam up, so it can be harder to find a sulfate-free one with lathering properties, let alone "almost magical" ones. (Another Sephora reviewer raved that Verb Ghost "basically gave me shampoo-commercial hair.") Louis's emphatic endorsement of Verb as a sulfate-free shampoo safe for any hair type, coupled with the Sephora reviewers' praise for it (and its affordable price tag), helped it rise to the top of the list. "It's really amazing, top-shelf stuff," Louis promises.
Best drugstore sulfate-free shampoo
Louis says this sulfate-free shampoo carried by most drugstores is the one to grab if you're doing a quick CVS or Duane Reade run. She notes that "even though it says for 'extremely dry, brittle hair,' it really is for any hair type." Plus, she says, the Shea Moisture shampoo can double as a conditioner in a pinch: "It's really good at leaving the hair super-moisturized even without conditioner." If you're looking for something that delivers even more hydration, you could try Shea Moisture's sulfate-free Protein Strong Treatment, which Strategist contributor Shammara Lawrence says her dry curls "drink up." (Lawrence also told us she notices that she sheds less hair after using it.)
Best sulfate-free shampoo for daily use
While Hagel told us you really need to wash your hair only once or twice a week, some people may find it hard to give up their daily habit. If that sounds like you, this Davines shampoo formulated for all hair types is the only one on the list specifically formulated to be gentle enough to use every day. "Davines shampoos are a favorite of mine," says Jordan, who notes that they are also organic. "They use disodium laureth sulfosuccinate as their surfactant, which is considered to be very safe for humans because the molecules are larger than other surfactants and can't penetrate the skin."
Best sulfate-free shampoo for added shine
Dhiran Mistry, a stylist at the David Mallett salon, says that if you're looking to get some extra radiance from your wash, the good-for-all-hair-types Clean Shampoo from Ouai "will enhance hair's natural shine." He adds that the "gentle and detoxifying" formula contains "smart keratin, which bonds with the hair cuticle to repair and smooth it."
Best keratin-safe sulfate-free shampoo
While the Ouai shampoo is formulated with keratin, it doesn't promise to protect keratin-treated hair the way Oribe's sulfate-free, "keratin-safe" shampoo does. According to Nicole Mouyal, the manager of Davida Salon, sulfate-free shampoos are generally the best option for keratin- or color-treated hair, and Oribe products are her most-trusted favorite. "Oribe products have no sulfates, no parabens, and no salt, which are the three factors that can reverse a keratin treatment," Mouyal told us. "Keratin is an expensive service, and if you're investing that much in your hair, you should also invest in products that will care for it."
Best sulfate-free shampoo for dry hair
If you're looking for a sulfate-free shampoo that will seriously hydrate brittle strands, Louis says "this is an amazing product." She notes that it's totally worth the higher price because "nothing beats this at clearing up dandruff and introducing moisture back to the hair shaft. It has that refreshing tingling feeling, plus it leaves your hair feeling super-duper clean." It's not the first time we've heard good things about Eufora shampoo either — Angela Taormino of Union Beauty Salon named Eufora's Curl'n Enhancing Shampoo as her favorite to use on fine curly hair, and Louis praises Eufora's Volumizing Shampoo as her go-to product for strengthening thinning hair.
Best sulfate-free shampoo for thinning hair
Speaking of thinning hair, Hagel first told us about Aveda's Invati line when we asked about the best products to treat the condition. She uses the brand's three-part system (shampoo, conditioner, and scalp spray) to treat her own thinning hair but explains that you can buy just the shampoo if you're looking for a sulfate-free option specifically for thinner hair. Beyond the general benefits of going sulfate free, Hagel says it's a particularly good idea to do so if you've got thinning hair, because harsh sulfates won't help the already sensitive state of your strands.
Best sulfate-free shampoo for fine hair
For those with fine hair who need something to give their locks oomph, Mistry says Living Proof's sulfate-free Full Shampoo is "great for creating more volume." It does so, he explains, by "removing residue and product buildup on hair and scalp, leaving the roots fuller and less weighed down."
Best sulfate-free shampoo for tightly curled hair
Photo: Retailer
Louis says this product is like her favorite Verb Ghost shampoo "but is incredibly effective for tightly curled hair." When hair is super-curly, you usually have to rely on a conditioner to do the "heavy lifting" of detangling, she explains. But "you won't have to worry about that if you use this," she says. Like the Verb Ghost, this shampoo is also color safe.
The Strategist is designed to surface the most useful, expert recommendations for things to buy across the vast e-commerce landscape. Some of our latest conquests include the best acne treatments, rolling luggage, pillows for side sleepers, natural anxiety remedies, and bath towels. We update links when possible, but note that deals can expire and all prices are subject to change.