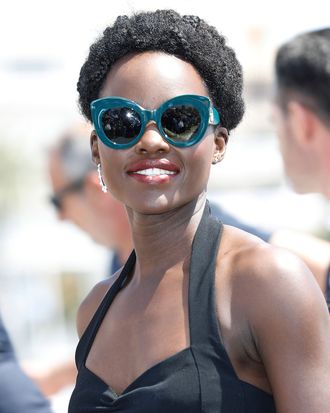 Photo: John Rasimus/Barcroft Media via Getty Images
Of all the hair types, 4C has the tightest curl pattern — it grows in a tight coil that resembles a Z. When it comes to taking care of 4C hair, according to Michelle Dixon, a hairstylist at the Chicago-based Maxine Salon, there are two important things to remember: keeping it moisturized and making sure the ends are trimmed. It's also vital to remember, she says, that curl pattern isn't the only determining factor when it comes to assessing what products your hair will respond best to: It's also important to consider thickness, density, and porosity, and to keep in mind that one head of hair can often include a wide range of textures. All of this basically just means that it might take trying a few different products and methods before you figure out what works best. One way to hasten that process is to find someone who has a similar texture to yours, and see what works best for them.
We spoke with eight stylists and hair influencers who have 4C hair about the very best products and tools for taking care of 4C hair — from the brush almost every single person recommends to the macadamia-infused gelée that one hairstylist says manages to hold curls without making them crunchy.
Best shampoos for 4C hair
All of the stylists we spoke to agreed that sulfate-free shampoo is a must, as sulfates can be stripping and drying on the hair. While this is relevant for all hair textures, it's even more important with 4C hair, which is particularly prone to dryness and tangling. Hairstylist and owner of Magic Fingers Studio Stasha M. Harris likes this one from Design Essentials, which she says makes caring for 4C hair "a breeze." "It cleanses all buildup as well as softens the texture," she says, which, paired with the accompanying conditioner, makes it easy to detangle and prevents breakage when combing through your hair.
For 4C hair, Dixon recommends shampooing every other week, to help offset the dryness that can come with shampooing more frequently. When wash day comes, she recommends this shampoo from Oribe, which she uses on herself and her clients. Infused with amino acids and panthenol (this helps to hydrate and condition), it's formulated to help combat damaged hair, but works well to impart an extra dose of moisture into 4C strands.
If you want to wash your hair more frequently, Dixon recommends using a cleansing cream like this one during the weeks you aren't using shampoo to help maintain moisture. "It has lemon and orange (natural astringents), and caffeine to help stimulate the scalp and balance the natural oils," she says, noting that ingredients like coconut oil and artichoke-leaf extract (rich in vitamin A, B, and C) help to replenish moisture and soften the hair.
For a more affordable option, Dixon likes this shampoo from TGIN, which she says is "high quality, but affordable." Another sulfate-free shampoo, it contains aloe vera, which cleanses hair without stripping its natural oils. It also has vitamin B5, a go-to ingredient for reducing breakage and adding even more moisture to hair.
Another gentle option is this one from BREAD Beauty Supply, which takes its inspiration from milky sensitive skin cleansers and has an almost melted-marshmallow texture. "It's super gentle on my hair and scalp but still gives me a nice, soft cleansing lather," says founder Maeva Heim. It also uses aloe to cleanse, along with lemon to soothe the scalp and argan oil, which is rich in vitamin E, to deeply moisturize the hair.
Content creator LaVondra Shinholster swears by this sulfate-free shampoo from Black-owned, D.C.-based MICHE Beauty. "It just gives my hair so much life," she says of the formula, which contains botanical extracts like ginseng, white willow bark, and hibiscus, which work together to stimulate the scalp and gently exfoliate. "Even though Miche is for every hair type, I can't help but think that it benefits type 4 hair the most."
Best clarifying cleanser for 4C hair
"My clients with thick hair really struggle with cleansing all the way down to the root and rinsing their products all the way out," says celebrity stylist Monae Everett, who says this can cause product to go rancid in your hair and clog your pores. To get a superclean scalp, Everett recommends using this cleansing and stabilizing treatment in lieu of shampoo post–protective styling or whenever you feel like your hair needs a really deep clean — it cleanses the hair of product buildup and dirt without stripping it.
Best conditioners for 4C hair
Almost everyone we spoke to recommended skipping typical conditioners in favor of deep conditioners and hair masks, which are more intense and moisturizing. "I would prefer to just skip the conditioner and go for the mask every time," says Dixon, "because our hair needs the maximum hydration." Dixon is a fan of this one from TGIN Naturals, which conditions using raw honey, along with jojoba and olive oil, and does everything from lock in moisture to reducing shedding and breakage.
Content creator Claire Ateku has a wash day every three to four weeks and deep conditions every time. She swears by this mask from Aunt Jackie's, a restorative treatment that uses ingredients like shea butter, extra-virgin olive oil, and keratin to strengthen hair. The mask uses a mix of humectants and emollients to moisturize and keep moisture locked in the hair.
Best deep conditioner for strengthening 4C hair