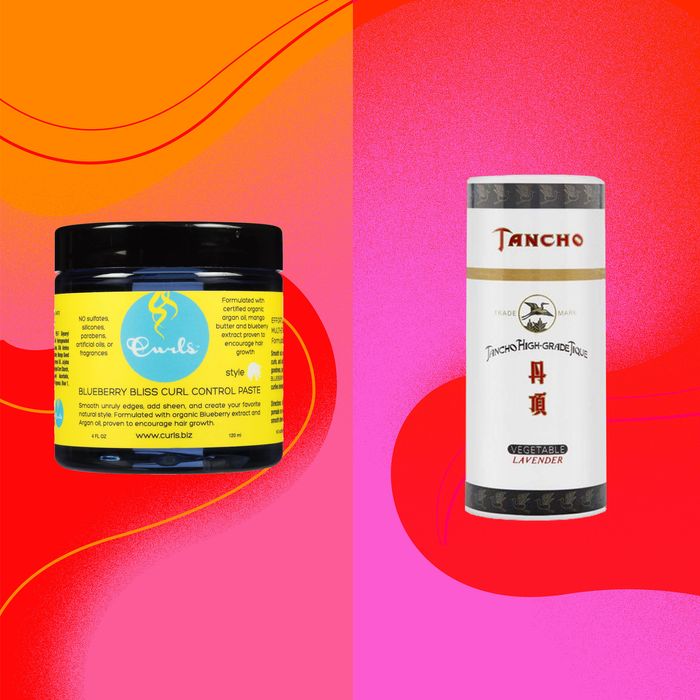 Illustration: Jordan Moss; Photos: Retailers
Editor's note: This article first appeared on the Strategist in April 2020, and the products are still some of our favorites for laying edges. So we're republishing it today as part of Natural-Hair Week (and check out our roundup of the best edge brushes, too).
"My hairstyle is not complete if my baby hairs are not snatched," says stylist Myss Monique. "Snatched," "laid," "slayed" are all terms used to describe baby hair — the short, finer hair around your hairline that is also referred to as the edges — that have been properly slicked down and styled. Edge styling has a long history, one that can be traced back to Josephine Baker and her spit curls in the 1920s, and it's been a staple in the black and Latinx communities ever since. Originally, it was used to tame the hair, but today, it's seen as a sign of healthy hair and used as a form of expression. "It's not about being neat or conforming to anything. It's really just a decoration and an homage to this technique," says Shannon Kennard, creative director of Mama Tress. And while the technique of laying edges is still very much a learned skill, a good edge control is the best place to start.
There are two main types of edge controls: oil-based and water-based. Our experts say that water-based is preferred, but if you're straightening your naturally curly hair and then laying your baby hair, experts recommend staying away from water-based edge controls or your hair will revert. Beyond that, using an alcohol-free formula with castor oil somewhere on the ingredient list, which helps to control frizz, will set you on the right path. We asked Kennard, Monique, and three other hairstylists about their favorites and broke them down by hair texture below.
Best overall edge control
Not every edge-control product is for everybody, but there's at least one option our experts think suits almost all hair types: Hicks Total Transformations Edges Styling Gel. "It'll hold a coarser texture or a looser texture down well," Kennard says. Ro Morgan, who has worked with Joan Smalls, Naomi Campbell, and Precious Lee, agrees, noting, "It has no problem taming 4C edges." And even though the first ingredient is water, Kennard says it's "not so watery" that it would make your hair curl up, especially if the goal is to keep it straight and sleek.
Best water-based edge control for fine hair
"Certain hair textures don't require much product," says Emmy-nominated stylist Ray Christopher. If your hair is fine and more straight or wavy than curly but you still want it slicked down, he recommends OSiS Session Label Crystal Gel. It's not very heavy, so it won't lead to too much buildup. He likes "to use it on hair that's going to be dry and styled normally but I also want the hold and shine." A word of warning: If your hair does have a curl to it and you've blow-dried or straightened your hair, this water-based gel will turn your hair curly again.
Best oil-based edge control for fine hair
Tancho High Grade Tique Vegetable Lavender Pomade is a stick formula, and it's one of the most natural products on this list. It's oil-based, made with castor oil, beeswax, and candelilla wax and topped off with a "calming lavender scent" that Monique likes. She recommends it for fine hair because it both holds definition and adds texture because of the oils. If the goal is to slick down your style, add "a small amount when taming flyaways, leaving a classic sheen on the hair," she says.
Best edge control for curly hair
When it comes to styling medium-textured curly hair, Christopher likes this product gel. "The key to a good edge control is if it lasts all day and is also movable later," he says, adding that with this stuff, "you're able to comb it out a little bit and change the style of the hair." Plus, it's not greasy and won't leave a film on the hair.
Best edge control for natural hair
This edge tamer is free of harsh ingredients, making it great for natural hair, according to Monique. "It has no parabens, no paraffin, and no mineral oil, which is essential for maintaining healthy natural hair," she says. Instead, it contains almond and avocado oils, along with honey and shea butter, all of which help keep hair moisturized. Even with all the added oils, Monique says "it delivers a nongreasy, long-lasting, firm hold without any buildup or flakes."
Best edge control for styling