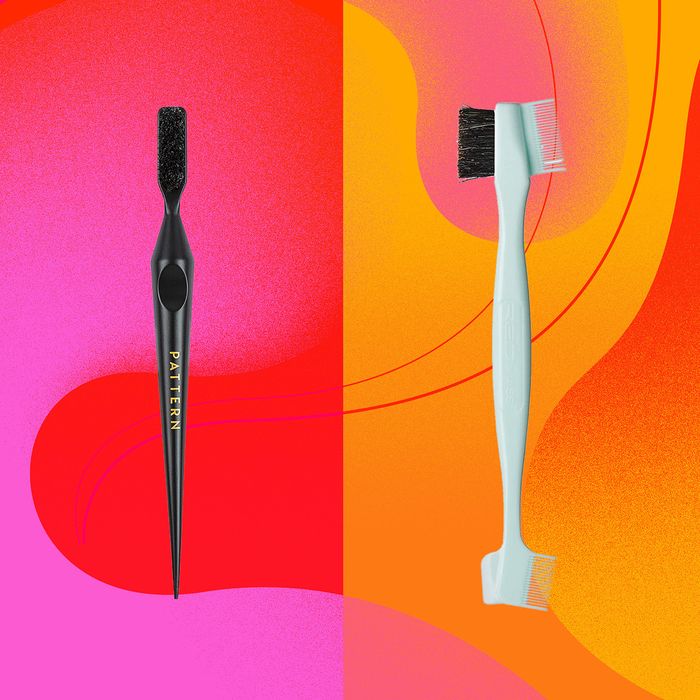 When it comes to styling baby hair, many of us have made do with our favorite edge-control gel and a toothbrush. But it doesn't have to be that way. In recent years, tools designed specifically for edge styling have entered the market — and upgraded many a hair routine. As stylist Koni Bennett explains, "Edge brushes are made specifically with the customer's hair in mind," while toothbrushes are made for your teeth. Architecturally, she adds, your Oral-B might suffice, but the brushes that Bennett and three other experts recommended to us below are all engineered to style edges, and they'll do a much better job than the average tooth polisher. "When looking for an edge-control brush, one should look for a firm brush side made of boar bristles, a comb side made up of fine teeth, and an easy-grip handle for application," says stylist Ro Morgan. Bennett adds that the bristles on the brush end should also be even straight across "so that when you lay it flat against your hair, you get a flawless stroke." (My soft toothbrush could never achieve something close to flawless, so maybe they're on to something.) Ahead are the six made-for-hair edge brushes our experts swear by.
Best overall edge-control brush
We've written a lot about Baby Tress, the aesthetically pleasing edge styler that's appeared in our other natural-hair guides. Meena Harris is also a fan, and Elisa Johnson has raved to us about it, naming it one of the few products she believes works on all textures. "All Black women know that our hair comes in different textures, which means some products just don't work for everyone," she says. "But I am convinced that Baby Tress's Edge Styler has universal appeal." It's a three-in-one tool, which Mika English, a stylist at Ursula Stephen The Salon, appreciates. "One side is a comb, the other side is a brush, and then there's a pick at the bottom of the handle," English explains. "We use the comb part first to section the hair and part the baby hair out, and then the brush side to smooth. If you want to do wavy or slicked-back edges, you use the brush part, and for the point at the bottom of the brush, you can use that for designs, like different swirlies." English says the Baby Tress has everything she looks for in a good edge brush. "On the comb side, the teeth should be really close together, and the brush side should have a thick, thick base and a lot of bristles," she explains, adding that the pick at the bottom should have a metal or plastic tip. This checks all the boxes. The boar bristles are firm, and the small triangular head has over 50 teeth. Trust me, I counted — I actually own several Baby Tress stylers, and as someone who has only started paying attention to her baby hair in the last couple years, I like how easy this tool is to use as a beginner. My favorite part is that it comes with a plastic cover for the brush and comb. In the Before Times, it was easy to throw in my bag along with edge control so that I could touch up my edges for anything I had going on after work.
Best vegan edge-control brush
Many of the edge-control brushes on this list use boar bristles to create their firm brush side, but this one from Tracee Ellis Ross's hair-care line, Pattern, is made from vegan synthetic boar bristles. Like the Baby Tress, it's a three-in-one styling tool with a brush and comb attachment on one end and a plastic point on the opposite side. But there's one key difference between the two: According to Strategist writer Tembe Denton-Hurst, who has used both brushes, this one is slightly bigger, which she prefers. She gave up her regular boar-bristle brush for the Baby Tress when she wanted to achieve a more detailed look, but found the triangular head to be "almost too small." After she was sent this one from Pattern, "I realized that it was my favorite that I'd tried, well, ever." She likes that the bristles "are tightly packed" and says it's "stiff without being too rough." Finally, Denton-Hurst adds, it's "great for edges, and the pointed end is ideal for separating my hair." This one comes with a case as well, so you can keep your edges laid on the go. Kadeisha Placide, the owner of Classic Beauty Studio salon in Brooklyn, is also a fan of this brush and agrees with Denton-Hurst: While size matters, there's a sweet spot. "The size of the brush should be between 0.75 and 1.25 inches," she says. "The small model helps to shape those small pieces of hair at the hairline."
Best edge-control brush for parting
In addition to bristles that "are firm enough to make even the curliest hair sleek," this brush stands "apart from other edge-control brushes because it has a boar brush, comb, and a pintail for easy parting of the hair," says Morgan. The tapered end on the other three-in-one stylers might be sufficient for adding a swirl to your sideburn, but the tip is a little thick for parting the rest of the hair. The perfectly straight, fine metal tip on this one makes it even more of an all-around styler. Not only can it be used on the edges, but it makes the cleanest parts around the rest of your head.