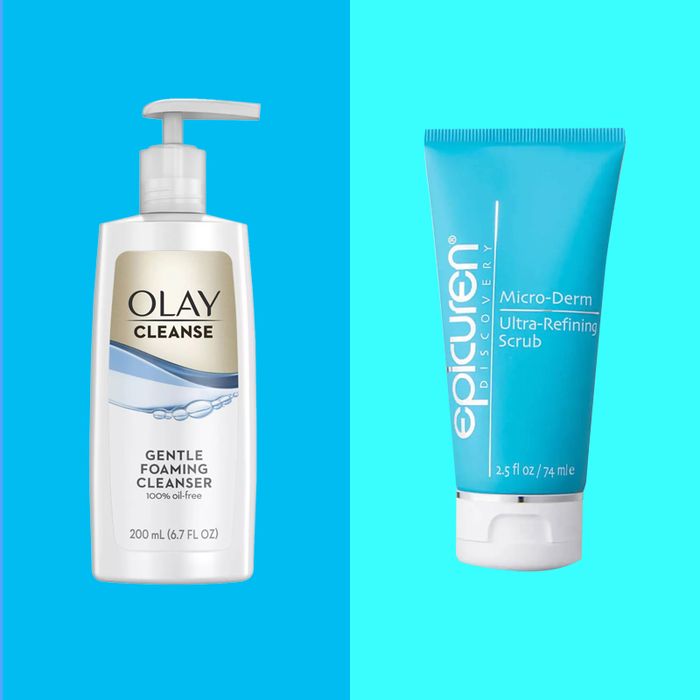 Photo: Courtesy of the retailers
You probably know it all too well — there's a thin line between a glowing and a greasy face. And while eradicating all traces of oil is tempting, it can actually make the situation worse. "The biggest mistake people with oily skin make is overdrying their skin," explains Dr. Heidi A. Waldorf of Waldorf Dermatology Aesthetics in Nanuet. "In fact, it can lead to worsening acne and skin quality, as the dryness will send a signal to the skin to make even more sebum to compensate, leading to even oilier skin," says Dr. Michelle Park of Washington Square Dermatology. No thank you.
The culprit of oily skin is sebum, which comes from the body's oil-producing sebaceous glands — while it protects and hydrates and is essential for healthy skin, "too much sebum can lead to oily skin, clogged pores, and acne," explains Dr. Gretchen Frieling, a board-certified dermatopathologist in Boston. And unfortunately, whether you have oily skin or not has to do with your family tree — so, yes, you can blame your parents for this one. Although the amount of oil your skin generates is dependent on your genes, "you can minimize the appearance of oily skin by using specific skin-care products," according to Dr. Joshua Zeichner, director of cosmetic and clinical research in dermatology at Mount Sinai Hospital.
That's true of the moisturizer you use, too — excessive oil might be your skin's cry for help. When it comes to a face wash, folks with oily skin should avoid oils, which will just compound the problem — so no avocado, apricot, mineral, almond, or coconut oils, for example, according to Dr. Debra Jaliman, a board-certified dermatologist who runs her own practice. That's also a sentiment shared by Dr. Rosemarie Ingleton of Ingleton Dermatology and board-certified dermatologist Dr. Hadley King.
A few of the experts we talked to recommend looking for ingredients like salicylic acid, which is common in skin care for acne-prone skin (which usually goes "hand in hand" with oily skin, Ingleton points out), and glycolic acid. Dr. Jennifer MacGregor of Union Square Laser Dermato­logy recommends trying light peeling agents like glycolic acid and salicylic acid to help with oil production. "For those with oily skin that tend to get blocked pores, I love gentle glycolic cleansers," she says. You'll want to avoid harsher washes, which "can strip the necessary lipids and proteins that make up the brick-and-mortar structure of a healthy skin barrier," Waldorf advises. "After washing, the skin should feel supple and soft, not dry and tight." That means refraining from a routine that includes an anti-oil wash plus a toner plus an astringent plus an exfoliant: "The combination may be too much especially when people mix and match," according to Waldorf.
For oil-controlling (but not skin-stripping) face washes, we asked dermatologists and makeup artists for their recommendations.
Best overall face wash for oily skin
When choosing a face wash, Park says to look for something "gentle and foaming, so it can gently remove oil and impurities." She adds that it should also be oil-free and noncomedogenic (i.e., won't clog pores). She, King, Ingleton, and Frieling all recommend CeraVe's Foaming Facial Cleanser, which Park says is safe for all skin types, including oily skin. It's a "basic, effective, easy-to-find option," according to Ingleton."I love this product because the formula has three essential ceramides to cleanse the skin without stripping it in the process," says Frieling. Ceramides, she adds, help skin rebuild and repair the protective barrier to make it more resilient against future damage and signs of aging. It also contains hyaluronic acid, which provides moisture, and niacinamide, which soothes and calms the skin, while sodium lauroyl lactylates give the cleanser its foaming consistency, which helps loosen skin impurities.
King mentions that this "well-formulated" foaming cleanser can help "remove oil without drying out the skin." Park notes that, because foaming washes get deeper into your pores than creamier solutions to remove dirt, oil, and makeup, it has the potential to leave the skin feeling dry. If you find a foaming cleanser too drying, she advises experimenting with different ones to find one that works for your skin. "And it's important to remember to continue to moisturize the face," she adds.
Other foaming cleansers
Zeichner also recommends a foaming face wash for his patients who have oily skin, saying that they "more effectively remove oil as compared to cleansing lotions or balms." He recommends this gentle daily foaming cleanser from Neutrogena because it contains "hydrophobically modified polymers," which he says "effectively cleanse and remove dirt and oil without disrupting the outer skin layer."
Here's another foaming recommendation from Park, and it also contains ceramides, which maintain the skin barrier, as well as niacinamide, which can lower sebum excretion rates.
If you find a foaming cleanser too drying, makeup artist Shara Strand recommends trying a cleansing gel, like this one from Mario Badescu. "Any gel is great for oily skin, as gel is really cooling, and it has moisturizing elements to balance out oily skin," she explains. This particular cleanser includes fruit enzymes and alpha hydroxy acids that gently exfoliate impurities from the skin. Strand suggests starting with micellar water on a cotton pad to remove makeup, then washing with the gel, then following up with a lightweight moisturizer. According to Strand, "The less product you use on your face, the less oily your skin will be."
Another foaming cleanser to consider for your skin-care shelf, this one comes courtesy of Jaliman, who calls out the glycerin specifically in its ingredient list. "Glycerin is a moisturizing agent," she says. "It works to pull water from the air into your skin." But the best part of this cleanser? It's gentle enough for those who also use stronger acne products with ingredients like retinoids — the more mild, the less of a chance of drying out, Jaliman explains.
Face washes for acne-prone oily skin
According to Park, having an excess of sebum can lead to clogged pores from dead skin cells sticking to the sebum, which results in acne. If you are prone to breakouts, she recommends looking for a face wash that can gently exfoliate the skin to get rid of impurities, dirt, and oil. "Products that contain low amounts of benzoyl peroxide or salicylic acid will achieve this without being too harsh," says Park. Dr. Tara Rao of Schweiger Dermatology Group agrees that those two ingredients can help reduce some of the oil buildup that occurs on the skin throughout the day. Park recommends Neutrogena's Oil-Free Acne Wash — whose active ingredient is salicylic acid — as a reliable option for a face wash that's gentle yet effective. It's one of King's picks as well for similar reasons — she particularly likes the Pink Grapefruit version since it "feels more fun, less clinical, and has a refreshing scent." Jaliman also points out that this wash features aloe, which is soothing to the skin.
Zeichner also recommends products with salicylic acid "if you are very oily, or have acne breakouts." Salicylic acid, he explains, is a beta hydroxy acid "that effectively removes oil along with dead cells on the surface of the skin to mattify the skin and keep the pores clear." He recommends two: one a "gentle lathering cleanser" (i.e., foaming) from Aveeno that is effective even on sensitive skin, and an acne-targeting wash from Clean and Clear.
Waldorf also recommends Aveeno's Clear Complexion collection, including the foaming cleanser that has Zeichner's stamp of approval. But for her patients, she starts them off with the cream version of the cleanser, which has a slightly higher concentration of salicylic acid — she would choose the foam for those with dry acne-prone skin and the cream for those with oily acne-prone skin.
[Editor's note: The Clean and Clear cleanser is currently only available through a third-party seller on Amazon. You can, however, buy the scrub version of this cleanser directly from Target.]
Dubbed the best cleanser for hyperoily skin by dermatologists in our guide to the best face washes for acne, this foaming cream helps loosen dead cells to unveil newer-looking skin, according to dermatologist and co-host of The Doctors Dr. Sonia Batra. But the acids in the cleanser "work to rid skin of common acne concerns such as oiliness, pimples, and blackheads," Batra added.
Clay cleanser for oily skin
Clay, along with aloe and cucumber, can be a soothing ingredient in a face wash, makeup artist Clara Rea previously explained in our guide to the best face washes. Frieling recommends this clay cleanser from Dermalogica, which contains kaolin, bentonite, and green clays, which she says "banish excess oil and impurities to deep-cleanse the skin." To balance out these ingredients, it's infused with menthol, sage, cucumber, and milk proteins, which Frieling says also help with calming the skin.
[Editor's note: While this cleanser is currently out of stock, Dermalogica offers the similar-sounding Active Clay Cleanser, which features kaolin clay and charcoal and which the brand says is designed to help downplay the look of pores. It's also $39.]
This cult product is made of 100 percent calcium bentonite clay (which you mix with apple cider vinegar or water to create a mask) — and a much cheaper alternative to the Dermalogica clay cleanser. Makeup artist Melissa Bedi swears by it: "I love Aztec Secret Indian Healing Clay mask to draw out impurities and tighten pores."
Charcoal cleanser for oily skin
"Charcoal is another commonly used ingredient for oily skin because it is highly absorbent and attaches to and removes oil from the skin," says Zeichner. He recommends this warming gel cleanser from Boscia that contains both activated charcoal and vitamin C to help remove oil and refine skin texture.
Face-wash alternatives for oily skin
Bedi chooses to forego face washes (which she says "are filled with chemicals and are drying to the skin") altogether, instead using this witch-hazel facial toner from Thayers to cleanse her face. She likes that it's "gentle and hydrating" and uses it on cotton pads to clean her face, even when she's wearing makeup. (She takes off her eye makeup with a separate eye-makeup remover first.)
To exfoliate, Bedi uses this scrub every two to three weeks to slough away dead skin. The physical exfoliant has crystals that, according to Bedi, "are perfectly round and roll on the skin, and so will not microscopically tear pores and enlarge them."
This recommendation from Waldorf is a favorite of her patients — it can be used after cleansing or on its own two to three times a week. It's made with clay, which helps absorb any superficial oil (and can have a mattifying effect), and also acts as a mild exfoliator, Waldorf explains. Along with clay, the mask includes sage, which serves as an anti-inflammatory (for redness), and glycerin, which "pulls in and holds moisturizer like a sponge," according to Waldorf. It's this combination of ingredients that helps maintain the skin's moisture when it comes to this mask, she says.
The Strategist is designed to surface the most useful, expert recommendations for things to buy across the vast e-commerce landscape. Some of our latest conquests include the best acne treatments, rolling luggage, pillows for side sleepers, natural anxiety remedies, and bath towels. We update links when possible, but note that deals can expire and all prices are subject to change.