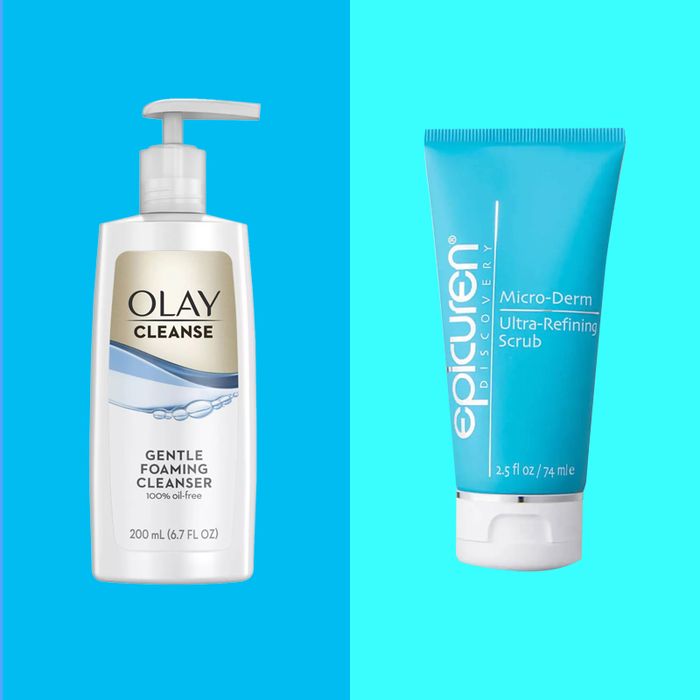 Photo: Courtesy of the retailers
You probably know it all too well — there's a thin line between a glowing and a greasy face. And while eradicating all traces of oil is tempting, it can actually make the situation worse. "The biggest mistake people with oily skin make is overdrying their skin," explains Dr. Heidi A. Waldorf of Waldorf Dermatology Aesthetics in Nanuet. "In fact, it can lead to worsening acne and skin quality, as the dryness will send a signal to the skin to make even more sebum to compensate, leading to even oilier skin," says Dr. Michelle Park of Washington Square Dermatology. No thank you.
The culprit of oily skin is sebum, which comes from the body's oil-producing sebaceous glands — while it protects and hydrates and is essential for healthy skin, "too much sebum can lead to oily skin, clogged pores, and acne," explains Dr. Gretchen Frieling, a board-certified dermatopathologist in Boston. And unfortunately, whether you have oily skin or not has to do with your family tree — so, yes, you can blame your parents for this one. Although the amount of oil your skin generates is dependent on your genes, "you can minimize the appearance of oily skin by using specific skin-care products," according to Dr. Joshua Zeichner, director of cosmetic and clinical research in dermatology at Mount Sinai Hospital.
That's true of the moisturizer you use, too — excessive oil might be your skin's cry for help. When it comes to a face wash, folks with oily skin should avoid oils, which will just compound the problem — so no avocado, apricot, mineral, almond, or coconut oils, for example, according to Dr. Debra Jaliman, a board-certified dermatologist who runs her own practice. That's also a sentiment shared by Dr. Rosemarie Ingleton of Ingleton Dermatology and board-certified dermatologist Dr. Hadley King.
A few of the experts we talked to recommend looking for ingredients like salicylic acid, which is common in skin care for acne-prone skin (which usually goes "hand in hand" with oily skin, Ingleton points out), and glycolic acid. Dr. Jennifer MacGregor of Union Square Laser Dermato­logy recommends trying light peeling agents like glycolic acid and salicylic acid to help with oil production. "For those with oily skin that tend to get blocked pores, I love gentle glycolic cleansers," she says. You'll want to avoid harsher washes, which "can strip the necessary lipids and proteins that make up the brick-and-mortar structure of a healthy skin barrier," Waldorf advises. "After washing, the skin should feel supple and soft, not dry and tight." That means refraining from a routine that includes an anti-oil wash plus a toner plus an astringent plus an exfoliant: "The combination may be too much especially when people mix and match," according to Waldorf.
For oil-controlling (but not skin-stripping) face washes, we asked dermatologists and makeup artists for their recommendations.
Best overall face wash for oily skin
When choosing a face wash, Park says to look for something "gentle and foaming, so it can gently remove oil and impurities." She adds that it should also be oil-free and noncomedogenic (i.e., won't clog pores). She, King, Ingleton, and Frieling all recommend CeraVe's Foaming Facial Cleanser, which Park says is safe for all skin types, including oily skin. It's a "basic, effective, easy-to-find option," according to Ingleton."I love this product because the formula has three essential ceramides to cleanse the skin without stripping it in the process," says Frieling. Ceramides, she adds, help skin rebuild and repair the protective barrier to make it more resilient against future damage and signs of aging. It also contains hyaluronic acid, which provides moisture, and niacinamide, which soothes and calms the skin, while sodium lauroyl lactylates give the cleanser its foaming consistency, which helps loosen skin impurities.
King mentions that this "well-formulated" foaming cleanser can help "remove oil without drying out the skin." Park notes that, because foaming washes get deeper into your pores than creamier solutions to remove dirt, oil, and makeup, it has the potential to leave the skin feeling dry. If you find a foaming cleanser too drying, she advises experimenting with different ones to find one that works for your skin. "And it's important to remember to continue to moisturize the face," she adds.
Other foaming cleansers
Zeichner also recommends a foaming face wash for his patients who have oily skin, saying that they "more effectively remove oil as compared to cleansing lotions or balms." He recommends this gentle daily foaming cleanser from Neutrogena because it contains "hydrophobically modified polymers," which he says "effectively cleanse and remove dirt and oil without disrupting the outer skin layer."
Here's another foaming recommendation from Park, and it also contains ceramides, which maintain the skin barrier, as well as niacinamide, which can lower sebum excretion rates.
If you find a foaming cleanser too drying, makeup artist Shara Strand recommends trying a cleansing gel, like this one from Mario Badescu. "Any gel is great for oily skin, as gel is really cooling, and