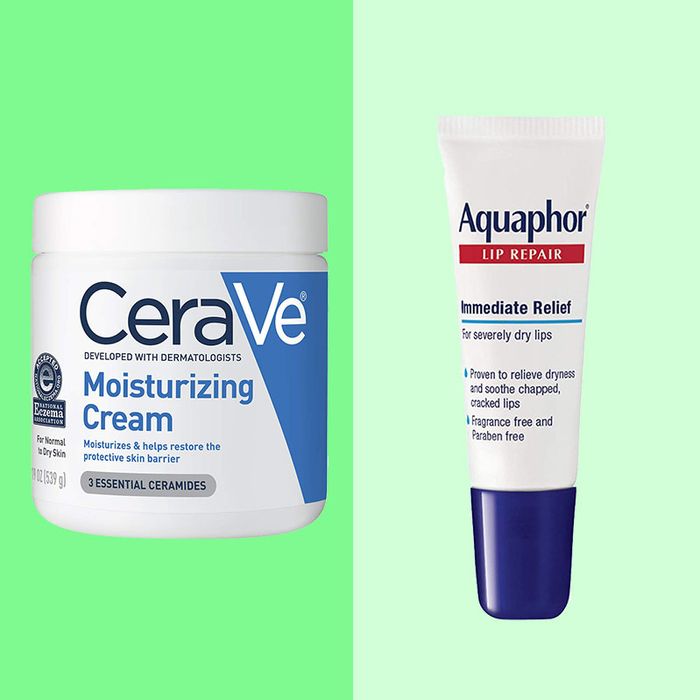 Photo-Illustration: Courtesy of the retailers
For acne sufferers who haven't seen results from over-the-counter or prescription topicals, the vitamin A derivative isotretinoin (commonly known by the brand name Accutane) is pretty much a miracle drug. According to Yunyoung Claire Chang, a dermatologist at Union Square Laser Dermatology, taking the medication — which is usually administered over the course of several months — "leads to reduction in oil production and shrinking of the oil glands." Many patients find that their acne never returns.
But because it's so powerful, it comes with some unpleasant side effects. There's the potential to cause severe birth defects and changes in cholesterol and liver enzymes (which is why it's important to not get pregnant while on the medication and to have your doctor perform regular blood tests), and Accutane can also be extremely drying — which is often a new problem for acne patients. "Many products that patients may be using already to treat acne can further irritate the skin," says Chang. "I recommend discontinuing products that include drying or irritating ingredients, including benzoyl peroxide, salicylic acid, glycolic acid, and retinoids."
Since those ingredients probably make up most of the typical acne patient's skin-care arsenal, going on Accutane requires a total routine revamp. We asked Chang and six more dermatologists and skincare experts what products Accutane users should stock up on.
Best overall product for Accutane users
According to Chang, more than 90 percent of Accutane users experience chapped lips, so if you add one thing to your routine while on the medication, make it a soothing balm that treats painful dryness and cracking. A cult favorite among Accutane users, Aquaphor — an occlusive that locks in moisture — is likely your best bet. It was raved about by Chang, Jenny Liu — a board-certified dermatologist who blogs at DermTalk — and dermatologist Cybele Fishman. It's also the "go-to" balm for dermatologist David Colbert, founder and head physician of New York Dermatology Group, who calls it "a simple and very effective product," as well as dermatologist Natalie Moulton-Levy who appreciates that it's a "a thick emollient" that's very hydrating. It's rich in moisturizers like cosmetic-grade petroleum jelly, glycerin, and shea butter. Dr. Carlos A. Charles is also a fan: "I tend to recommend simple occlusive agents," he says. "It's an excellent moisturizer."
Best cleansers for Accutane users
All of the dermatologists we spoke with advise Accutane users to steer clear of harsh and drying cleansers that strip the skin of its natural oils. To prevent further irritating dry skin, Chang says to "look for cleansers that are fragrance-free and hypoallergenic." She likes that CeraVe's cleanser "contains ceramides and hyaluronic acid to add moisture to the skin." Liu, who also recommends the CeraVe cleanser, explains that ceramides are important as they're "natural lipids often missing in dry skin." Plus, she likes that it's fragrance-free and contains minimal preservatives so it's gentle enough for sensitive skin.
For oilier patients, dermatologist Marisa Garshick recommends the CeraVe foaming cleanser. "It helps to remove excess oil," she says of the cleanser, which, similarly to the hydrating cleanser, contains ceramides and hyaluronic acid. It's also formulated with niacinamide, which helps to support the skin's barrier, reduce inflammation, and even out skin overall.
"Every person in my office who is on Accutane gets a recommendation for Vanicream gentle cleanser," says dermatologist Corey L. Hartman, founder of Skin Wellness Dermatology. "We keep it simple, we keep it cheap." This affordable, gentle cleanser is formulated specifically for sensitive skin and is free of parabens, sulfates, and fragrances.
If you're looking for an affordable drugstore staple, Chang and Liu also like Cetaphil's basic cleanser, which is free of the most common irritating ingredients.