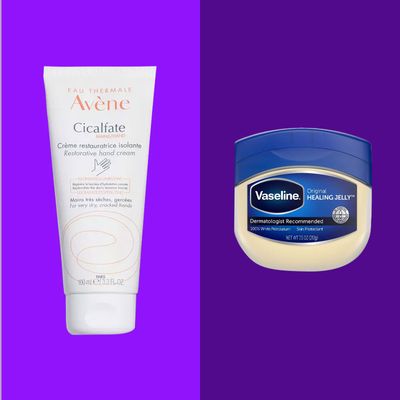 Photo-Illustration: Courtesy of the retailers
Accutane is a brand name for the vitamin-A derivative isotretinoin (Accutane itself was discontinued in 2009 in part because of the rise of brands with similar formulas, but isotretinoin treatments are still colloquially called Accutane). The oral medication is, says New York–based dermatologist Joshua Zeichner, the closest thing we have to a cure for acne. "While it can't promise completely clear skin forever, it does offer permanent and significant improvement in the overwhelming majority of people," he says. It was originally — and is still most often — prescribed for those with the most severe nodulocystic acne (think deep, large, inflamed cysts), but nowadays it's also doled out more liberally for anyone who is getting scarring from acne or whose acne is resistant to other available treatments.
Although proven to be extremely efficacious in treating acne and acne scarring, something demonstrated in randomized, double-blind clinical studies, the decision to go on isotretinoin can be, for some, a weighty one because of the medication's potential risks and side effects. It can increase cholesterol, cause muscle aches and headaches, and affect the liver, which is why patients should be mindful of their alcohol intake. There have been, says Zeichner, questionable associations between isotretinoin and the worsening of inflammatory bowel disease and depression, though large studies have not shown a causal relationship. "A 2017 study published in JAAD shows that isotretinoin does not appear to be associated with an increased risk of depression. Moreover, the treatment of acne appears to ameliorate depressive symptoms," adds New York dermatologist Shari Marchbein.
While your skin will experience a dramatic transformation with isotretinoin, your skin-care routine will likely also have to undergo a dramatic overhaul to support said transformation. All products with any acne-fighting ingredients (like topical retinoids, benzoyl peroxide, and alpha and beta hydroxy and salicylic acids) should be paused. "They're too irritating," says dermatologist Michele Green. Same goes for both physical and chemical exfoliants. Rishi Chopra, a dermatologist at UnionDerm, recommends refraining from all products with any active ingredients (even vitamin C). "Less is more, both with respect to the ingredients and the number of different products in your rotation," she says.
While on isotretinoin, you will, almost certainly, experience dryness; it occurs in 90 percent of patients. "One of the ways isotretinoin works is by reducing the size and activity of sebaceous glands and thus our skin's natural production of oil," says Chopra. "This dryness is an indicator that the medication is working!" With that in mind, we asked dermatologists for their recommendations for the top products that an isotretinoin user needs to combat the side effects of the acne-busting skin care.
Best overall product
The most name-checked product by dermatologists for isotretinoin users is good old Vaseline. "It's simple, it's pure petroleum jelly, it's occlusive, inert, and cheap," says dermatologist Nava Greenfield of New York's Schweiger Dermatology Group. Dermatologist Caroline Robinson, founder of Tone Dermatology in Chicago, counts herself "a huge fan because the triple-purified petroleum jelly is one of the most hypoallergenic ingredients on the market."
For dry lips, Chopra recommends that all his patients carry it with them and routinely reapply throughout the day to prevent moisture loss. It also, Marchbein points out, doesn't have lanolin, so it's ideal for anyone who might be sensitive to the ingredient. Dermatologist Marisa Garshick calls the drugstore favorite "tried and true" for its ability to create an effective barrier, "helping to protect the skin from external irritants," and loves to recommend slathering it on at bedtime. She's also a fan of the Vaseline All-Over Body Balm stick, which is more portable.
Best balm for extreme dryness or cracking
You will be dry from your head to your toes — literally (feet suffer the drying effects too). This dense cream, says Garshick, is especially good for the dry, rough patches that tend to show up on the elbows, hands, and feet. "In addition to oils and beeswax, which serve as an occlusive to lock moisture in, it also contains calendula and chamomile to soothe the skin," she adds.
Best lip treatments
"Aquaphor Lip Repair is perfect," says New York dermatologist Daniel Belkin, who recommends the drugstore buy for lubricating the lips. The vitamin-E and shea-butter-packed ointment is proven to seal in moisture and repair chapped, cracked lips, says Green.
Louisiana-based dermatologist Mamina Turegano loves that "in addition to petrolatum (the more purified version of petroleum), it also has lanolin and bisabolol, which are both soothing." For really dry, cracked lips, Chopra will have some patients amp up the hydrating effects by layering it over Neutrogena's Hydro Boost Hyaluronic Acid Serum.
Dermatologist Corey L. Hartman, based in Birmingham, Alabama, recommends this medicated lip balm for those on isotretinoin because "it contains emollients and a low concentration of hydrocortisone to ease irritation and dryness." (Hydrocortisone is known for working wonders on rashes and eczema.) Turegano agrees, saying that the combo of petrolatum, beeswax, and one-percent hydrocortisone goes far in calming inflammation on very irritated lips.
Best hand cream
Besides lips, hands are another frequently dry area and can also be prone to "an increased risk of eczema-type rashes," adds Turegano. This cream is her go-to protectant. "It contains sucralfate, which helps restore and protect damaged skin, and this copper-zinc-sulfate complex that allows damaged skin to heal," she says. "Despite being very rich, it is fast-absorbing, nongreasy, and nonsticky."
Best body cleanser
Sometimes one must embrace being basic. "Dove Sensitive Skin white bar soap is always the best gentle option for the body," says Belkin. Dermatologist Rebecca Marcus agrees, adding that it's also fragrance free, which is key because fragrances are a common cause of irritation.
"Also, it does not dry the skin," adds Chopra. Garshick also recommends Dove's Deep Moisture Body Wash for those who are averse to bar soap as it provides a "gentle cleanse and improves the moisture barrier for a full 24 hours."
Best face and body moisturizer
"Since the protective lipid layer is responsible for keeping moisture in and bacteria and irritants out, dry skin often presents with redness, flaking, and itching," says Marchbein, adding that those on isotretinoin should focus on the skin barrier. "A moisturizer with ceramides (molecules that keep the skin strong) as well as humectants such as hyaluronic acid and glycerin can quickly repair the skin barrier."
Her picks, which she recommends using twice a day on the face and body, are CeraVe and Cetaphil's moisturizing creams. Santa Monica–based dermatologist Sonia Batra agrees; CeraVe and Cetaphil creams are her favorite moisturizers for isotretinoin users because they are scent and dye free and do not clog pores.
Isotretinoin shuts down sebaceous glands — extreme decrease in oil production can cause dry skin all over the body. La Roche-Posay's velvety body moisturizer "contains shea butter and glycerin to keep skin hydrated and niacinamide to reduce inflammation," says Chopra.
Turegano also calls out the prebiotic thermal water and "ceramide 3 to help retain moisture and maintain a healthy barrier." It's rich but doesn't leave a greasy film on the skin, and, Turegano points out, it can be used for skin on the body and face, "which also makes it economical."
Best gentle cleanser
The best cleansers for skin on isotretinoin do not lather and are scent and dye free, says Batra. "The skin is already dry and sensitive, and harsh or irritating cleansers can worsen this," she adds. CeraVe's Hydrating Facial Cleanser is her most frequent recommendation. Chopra likes that it contains hyaluronic acid and ceramides, both of which help to moisturize.
"This cleanser effectively gets rids of dirt and buildup without leaving the skin feeling dry," says Garshick. "It's a great option for all skin types but especially for those dealing with dry skin on isotretinoin."
Hartman recommends Vanicream Gentle Facial Cleanser (and the Vanicream lotion) for protecting the skin barrier — the brand's a longtime derm favorite. "It's been a go-to cleanser recommendation by dermatologists for years for anyone with sensitive skin," adds Turegano. Anyone dealing with eczema, extra dryness, or skin allergies should try it, she says.
Best face moisturizer
La Roche-Posay's Double Repair Face Moisturizer is full of skin-strengthening ceramides. "Niacinamide has soothing properties that support and calm, and glycerin replenishes moisture," says Garshick. Chopra, who is also a fan, says that for those who also want to tone down shine, he recommends the brand's Toleriane Double Repair Matte.
A combination of lipids, peptides, shea butter, and hyaluronic acid, the cream is also fragrance free and noncomedogenic. "It contains three lipids naturally found in the skin barrier, so it really helps to protect and repair compromised skin," Marcus says.
Best balmlike moisturizer
"When it comes to skin care, I tell isotretinoin patients to really focus on using thick moisturizers," says Turegano. La Roche-Posay's Cicaplast, a blend of panthenol, shea butter, and glycerin, is one of the densest around. Belkin loves that it's "thick and bland with skin protectants like dimethicone and zinc to prevent water loss." He adds, "We often recommend it post-laser, so it is perfect for sensitized isotretinoin skin."
Best cleansing water
A mild cleansing option when the temperature rises, Zeichner likes this micellar cleanser for removing excess oil on the face and body in the humid months. "It contains tiny oil droplets called micelles that trap and remove dirt from the skin" and has "skin-hydrating aloe and hyaluronic acid," he says.
Best hydrating serum
"Hyaluronic acid is a great ingredient to look out for" in products for isotretinoin users "as it promotes moisture retention and restores the skin's natural moisture barrier," says Green. Marchbein likes to recommend a hydrating booster serum with hyaluronic acid, such as the Isdin HA Concentrate (or, for a more economical option, Neutrogena's Hydro Boost) — always layered under a moisturizing cream, never solo.
Best gel moisturizer
For those with facial hair who are using isotretinoin, the thicker, more occlusive moisturizers may leave a noticeable film. A gel, on the other hand, won't. "CeraVe Ultra-Light Moisturizing Gel has hyaluronic acid, ceramides, and glycerin and can easily be used by those with facial hair," says Marchbein. Greenfield also likes Neutrogena's Hydro Boost moisturizing gel cream, "which is lightweight and noncomedogenic but hydrating and well priced."
Best sunscreen
Isotretinoin can make the skin significantly more sun sensitive, so constant sunscreen wear (and frequent, thorough reapplication) is important. EltaMD's UV Clear is specifically formulated for acne-prone skin, making it ideal for isotretinoin users, says Marcus, who adds that niacinamide in the formula helps fight redness and inflammation.
Garshick likes that the broad-spectrum coverage is also oil free and noncomedogenic and, as the name suggests, will not leave a white cast on the skin. Greenfield does caution that isotretinoin users should not rely on sunscreen alone while on the medication. "Because of sensitive skin and higher likelihood of burn, hats and clothing should be used as well for protection," she says.
Belkin often recommends mineral (instead of chemical) sunscreens for his isotretinoin patients as they tend to have broader-spectrum coverage and less risk of hypersensitivity. "Alastin's is especially mild and nonirritating, even for compromised skin," he adds.
Plus it's slightly tinted, which Marchbein happens to be personally obsessed with because it provides light coverage (that can often take the place of makeup) while also protecting against UVA/UVB rays and blue light. Cosmetically elegant, it also contains antioxidants and anti-pollutants.
Best moisturizer with SPF
Zeichner echoes the need for sunscreen. Because isotretinoin thins out the outer skin layer, it really increases the risk of sunburn, he emphasizes. His favorite everyday protection option for isotretinoin patients is this moisturizer with SPF by RoC, which "delivers hyaluronic acid to hydrate the skin barrier along with broad-spectrum UV protection."
Best for eye and nose dryness
The skin is not the only area impacted by isotretinoin's drying effects. "Dryness is always most extreme at mucosal surfaces like lips, eyes, and nostrils," says Belkin. That's because, he says, those surfaces do not have a cornified layer to help prevent water loss from the skin. Belkin recommends that patients always carry around eye drops (Systane's are extremely hydrating, even for very sensitive eyes) and nasal spray (Arm & Hammer's also does double duty for allergy sufferers) in addition to a great balm for the lips.
The Strategist is designed to surface the most useful, expert recommendations for things to buy across the vast e-commerce landscape. Some of our latest conquests include the best acne treatments, rolling luggage, pillows for side sleepers, natural anxiety remedies, and bath towels. We update links when possible, but note that deals can expire and all prices are subject to change.
Every editorial product is independently selected. If you buy something through our links, New York may earn an affiliate commission.