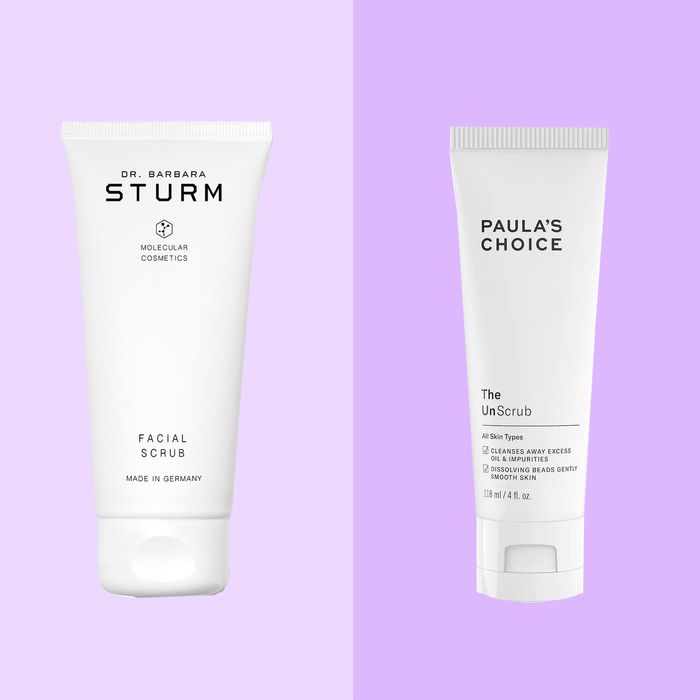 Face scrubs are probably the most satisfying products in any skin-care routine. Once you rinse, your face looks luminous, like you just slathered on a serum. Scrubs work "through physical debridement," explains San Diego–based dermatologist and cosmetic surgeon Dr. Melanie Palm. "They mechanically remove dead cells by rolling particles to lift them off." Dead skin cells gather on the surface of our skin (even more as we age) — leading to dullness, flakes, breakouts, and uneven texture. "Exfoliating speeds up the process of shedding dead cells and loosens keratin plugs so that new, healthy skin cells can replace them," explains Dr. Deanne Mraz Robinson, a dermatologist in Westport, Connecticut, and co-founder of Modern Dermatology. "It also helps prevent clogged pores, milia, blackheads, and whiteheads." Other benefits: Scrubs boost circulation, improve makeup application, and buff away any remaining gunk left on a post-cleansed face.
But overexfoliation has consequences. "Exfoliating too often or scrubbing too hard can strip the skin's natural protective barrier and remove the essential oils present that provide hydration and healthy skin," says cosmetic dermatologist Dr. Michele Green. "This can lead to redness, inflammation, hyperpigmentation, dryness, or infection." Her advice is to start slow and build up to a frequency. Several dermatologists tell us that you should only use a scrub once or twice a week. And you should always moisturize after a scrub. "The scrub can remove scale to make skin look and feel smoother and softer; however, that will not last if it isn't moisturized immediately afterward," says dermatologist Dr. Heidi A. Waldorf.
We've learned the OG St. Ives Apricot Scrub might not be the best for skin — but what exfoliant is? What should we look for in a quality scrub? Perfectly spherical beads (ideal because they're less likely to micro-tear and scratch skin) as well as soothing ingredients like oatmeal and jojoba, says Joanna Czech, a celebrity facialist in New York and Dallas. Robinson and Palm also like the addition of chemical exfoliants like lactic acid (or glycolic acid, Green also points out) and fruit enzymes for a two-pronged approach. A good place to start: our expert-approved picks, below.
Best overall face scrub
Four dermatologists and an esthetician recommend Dermalogica Daily Microfoliant, a rice-based powder that you mix with water to form a paste and blends both physical and chemical exfoliation, as the best scrub for most of us. "Rice powder is among the most gentle manual exfoliators used in skin-care products, while enzymes like papain dissolve connections between dead cells on the surface of the skin," explains Dr. Joshua Zeichner, director of cosmetic and clinical research in dermatology and an associate professor at Mount Sinai Hospital. Esthetician Taylor Worden echoes that rice powder is among the most gentle of manual exfoliators.
"The formula also brightens with phytic acid, white tea, and licorice extract, while protecting and maintaining healthy skin-barrier function with colloidal oatmeal and allantoin," Zeichner adds. Dermatologist Dr. Marisa Garshick says those ingredients also brighten and help even out skin tones. Plus, she personally uses it. Green points out that the salicylic acid in the micro-foliant cleans and unclogs pores to stop future whiteheads and blackheads from forming. Robinson especially loves the formula for irritable skin types, which are typically asked to avoid scrubs. "It's important to not be too rough on skin that is already inflamed with acne, rosacea, or eczema, so I love that because you activate it with water you can customize the concentration you're using based on how your skin is doing." She also notes that because it's so easy on skin it's a safe one to use on a daily basis.
Best (less expensive) overall face scrub
The Paula's Choice BHA Liquid Salicylic Acid Exfoliant, a chemical exfoliant, is a Strategist favorite — our beauty contributor Rio Viera-Newton loves it for its consistent blackhead-busting abilities. So, unsurprisingly, the brand's scrub makes our list here — courtesy of Green. There are two important ingredients in it: jojoba beads and glycerin.
"Jojoba beads are pressure-sensitive and naturally dissolve with gentle massage to avoid micro-tears in the skin," Green says. And jojoba beads are more environmentally friendly than plastic microbeads found in some scrubs, she adds. To help with scrubbing, glycerin acts as a moisturizing agent — so it pulls water into the outer layer of skin from the air to hydrate it, Green tells us. The combination of jojoba beads and glycerin prevents skin from feeling dry and tight afterwards. "The physical exfoliation with jojoba beads helps slough off dead skin cells to reveal a smooth skin, while glycerin provides moisture for a glowing, hydrated skin," Green explains.
Best (even less expensive) overall face scrub
Garshick describes this polish as "a great multitasking product" because of its well-rounded list of ingredients. She mentions the formula's shea nut shell powder, which effectively eliminates dead skin, and willow bark extract that improves the appearance of pores. The two help improve the overall look of your skin. But they are gentle enough to use on all skin types, she adds. Other standout ingredients include soothing shea butter and colloidal oatmeal, alongside complexion-improving licorice root, feverfew, and white-tea extracts, she tells us.
Best splurge-worthy face scrub
In a business where your job is to know the best skin-care products, product loyalty can be rare, but Danuta Mieloch, an esthetician and founder of Rescue Spa, has been using Valmont's Face Exfoliant for years. "The ultra-creamy texture and micro quartz particles make it the perfect scrub for everyone," she says, adding that you can mix it with your cleanser or a drop of micellar water to create a polish (and perhaps make it last longer since it's whopping $95 per 1.7-ounce jar). The high-end scrub also got facialist and founder of La Suite Skincare Rhea Souhleris Grous's vote, who calls the texture "elegant" and appreciates the rose-infused "distinct Valmont aroma."
Best face scrub for oily and acne-prone skin
If you have oilier skin, you might assume a stronger scrub will get rid of pore-clogging sebum. But Palm, Green, and Garshick recommend this milder cleanser instead. Palm likes the scrub because it blends light physical exfoliation, via super-gentle jojoba beads, with chemical exfoliation. Green says that the combination helps clean out clogged pores and prevents future breakouts. "It contains several forms of alpha hydroxy acids, including glycolic, lactic, and malic," Palm says, as well as breakout-busting salicylic acid, a beta-hydroxy acid "that is attracted to the hair follicle-oil gland unit, where acne starts.'' What's more, the inclusion of chemical exfoliants allows products to "interact with more metabolically active layers of skin, increasing their effectiveness," Palm adds. In other words, you're more likely to get your money's worth out of your fancy serums and creams after using it.
Best (less expensive) face scrubs for oily and acne-prone skin
Garshick's top pick for acne-prone skin is SkinMedica for its ability to unclog pores. But this scrub does an exceptional job, especially for its price. For oily skin, the 2 percent salicylic acid in the formula helps remove excess oil while also exfoliating, she explains. This also helps prevent blackheads, but it won't leave the skin feeling dry and tight. A scrub that overly dries the skin can actually cause excess oil production — which can lead to more acne, says Garshick.
This scrub includes the same percentage of salicylic acid as the above Clean & Clear's, but it's notable for using charcoal. The ingredient works well for oily skin as it absorbs excess sebum, says dermatologist Dr. Hadley King. The combination of salicylic acid and charcoal is like a one-two punch for clogged pores. It has a grittier texture that provides just enough physical exfoliation, she explains.
Best fragrance-free face scrub
Avoid unevenly shaped particles like smashed shells, fruit pits, and volcanic rocks, says Czech. These can cause micro-tears in the skin. One of her go-tos is the refreshingly unscented Dr. Barbara Sturm Facial Scrub. Its impressive ingredient list includes purslane, an ingredient that she says "stimulates the production of collagen and helps to calm inflammation," along with vitamin A, "which promotes cell regrowth and keeps skin firm and healthy." Those with sensitive skin can spot-treat with the scrub, she advises, focusing on dry, dehydrated patches instead of using it all over your face.
Best face scrub for congested pores
Robinson's top tips for using face scrubs: Scrub with gentle pressure and "wash your face first to remove makeup, oil, and dirt," she says. "That way, as you open the pores and expose new skin, it's clean." She recommends the extra-scrubby Dr. Brandt Skincare Microdermabrasion Skin Exfoliant, an at-home version of a microdermabrasion treatment. "It's great for people who wear a lot of makeup and athletes that often have sweat on their skin," she says. "The aluminum oxide crystals exfoliate, lactic acid softens, and a blend of chamomile, jojoba, and aloe-vera calm." Waldorf similarly points out that these botanicals help ensure the skin isn't tight, dry, or stingy after use. Worden agrees, adding it leaves the skin moisturized and supple. "With using this one time, you notice a huge difference," she adds.
Best face scrub for dry skin
"For dry skin types, the main concern surrounding a face scrub is retention of necessary facial oils," Green explains. This Shiseido exfoliator doesn't strip the skin of the essentials to stay healthy while simultaneously providing an effective exfoliation, she tells us. Green adds that the scrub's soy extract does the double duty of cleansing and moisturizing.
Best (less expensive) face scrub for dry skin
Tula So Polished Exfoliating Sugar Scrub is another one of Robinson's picks. The scrub "uses sugar granules in tandem with fruit enzymes of papaya and pineapple to chemically exfoliate skin." She adds that it won't leave your face feeling stripped or tight and also has probiotics, which soothe and hydrate skin.
Best face scrubs for polishing skin