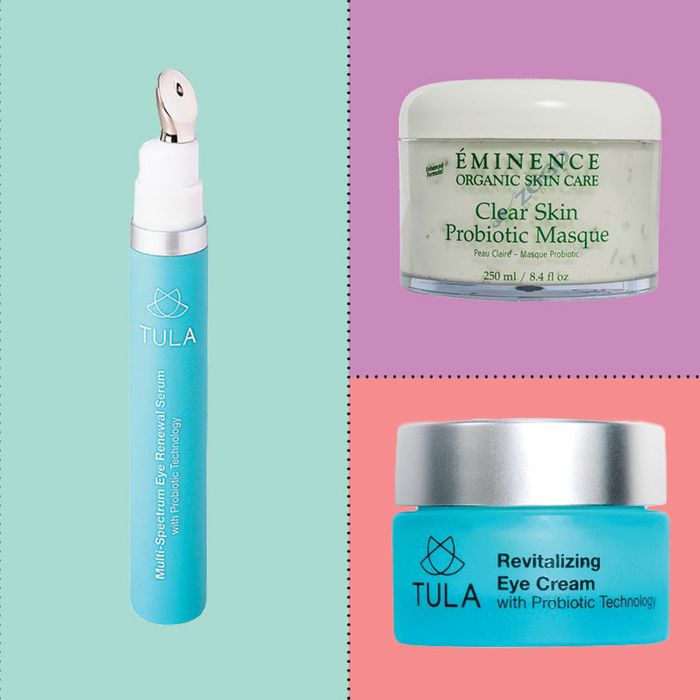 My new favorite topical probiotic products.
Photo: Courtesy of the retailers
Probiotic-infused skincare is everywhere: from store shelves (seemingly every product at Dermstore has it) to every beauty website (see here, and here, and even here) to my mom's bathroom cabinet in Los Angeles — it's that widespread.
I myself have been a longtime fan of oral probiotics (when I'm consistently taking probiotic supplements my skin looks more glow-y, and my immune system is definitively stronger; the Cut's former senior editor Isabel Wilkinson feels the same way), but topically? For a long time, I thought it was just a clever marketing technique until a couple of months ago, when I spoke on panel at the Strategist's pop-up shop with Dr. Roshini Raj, a gastroenterologist and the founder of probiotic skin-care line Tula. Raj noted that there are many scientific studies proving that skin responds as well to probiotics as the gut does (like this one, for instance, from NCBI, which found that — bear with me —topically applied lactic acid bacterium increased the ceramides in the skin). Put more simply: In the same way that probiotics help feed the good bacteria in your gut, they can also nurture the good bacteria on your skin.
Fairly convinced, I started testing out a bevy of probiotic-infused products, and, not three months later, am totally and completely hooked. Below, my favorite probiotic-infused products that have helped me maintain optimal glowiness during these cold, drying winter months.
This cream had actually been an OG favorite of mine, long before the probiotic craze hit the market. I'm obsessed. This moisturizer is nourishing without at all being sticky or pore-clogging, and it penetrates deeply to make skin look brighter, and even more healthy. Any time I'm dealing with inflammation or acne, this moisturizer is my go-to for combatting that horrible creeping redness. A lot of my moisturizers, like my Cosrx Hyaluronic Acid, are amazing at protecting me from harsh winter weather, but don't necessarily improve my skin's overall appearance. This moisturizer does both: It calms, soothes, and makes my skin look brighter.
If you have oily skin and are looking for a lighter-weight probiotic moisturizer, you must try this one from Biossance. It's made with a combination of probiotics and squalane (an oil that our body produces naturally), which means it is extremely moisturizing. But the best part about this is how insanely quickly it absorbs into your skin; the gel-y texture means that seconds after you apply it, you can't even tell you've put on moisturizer in the first place.
If you're interested in a deeper treatment, try this mask from Éminence. While not all Éminence products are infused with probiotics, this mask is —it's meant to combat uneven texture, blemishes, redness, and even wrinkles. What I particularly like about the formula is that it also incorporates tea tree and clay (which help combat oiliness, acne, and clogged pores), plus shea butter, cucumber, and marigold, all of which are moisturizing ingredients. I like using this mask around my time of the month — it helps stave off the hormonal breakouts I tend to get otherwise. I typically use this once every few weeks as an intensive treatment to combat my breakouts.