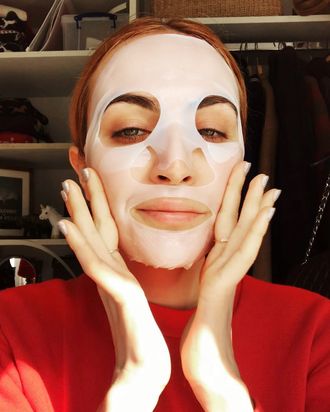 This may be stating the obvious but: winter weather means incredibly dry, miserably dehydrated skin. If your face isn't red, blotchy, broken-out, and tight during these frozen months, you are some sort of superhuman and this article does not apply to you. This is the time of year when I'm forced to call in the big guns. In any other season, these products would make my skin look insanely greasy, but in the dead of New York City January, my skin slurps them up — and looks calmer, more nourished, and generally happier. Below, my all-time favorite frozen-weather skin-care products. I've put everything in the order in which I apply them, but if you want more information on the best way to layer products, here's my favorite guide.
Cleansers
In the dead of winter, I like to start off my skin-care routine with a more-hydrating-than-usual cleanser. This one, from Dr. Loretta, isn't exfoliating, nor is it going to actively combat acne with salicylic acid — it's just a completely neutral cleanser that'll get your base clean and plump, making it a very good choice for winter skin. Many cleansers — like Cosrx's Good Morning Cleanser — strip your face; this will absolutely not do that. As a bonus: it has this jelly-like texture that I find makes it great for getting my makeup off.
Alternatively, I like this one, from Dr. Roebuck. The lightweight, creamy formula of this cleansing milk — which is packed with green tea, echinacea, arnica, and jojoba — is exactly the kind of thing my skin seems to require after taking a beating out in the freezing cold. After using this, my skin feels fresh and ready for the rest of my routine. This cleanser is more hydrating than the above, but isn't quite as efficient at taking off makeup. My recommendation: if you're wearing makeup, go in with some Bioderma first to get all your mascara and concealer off.
Serums / Ampoules
This ampoule (which I've written about before — it's essentially just a supercharged serum) is amazing for calming down irritation and soothing any facial redness. It won't feel sticky or tacky on your skin — rather, it's light and milky, and will quickly absorb into your skin and calm any winter-related angriness. I use this after exfoliating (I stick to my standard P50 year-round) and before moisturizing.
For people who don't like layering products, and just want one thing to make their skin look better this winter: This serum, which is infused with a blend of hyaluronic acid and antioxidants, is brightening and hydrating and an all-around wonder-product. My skin drinks it up; it leaves my complexion looking radiant, even-toned, and moisturized. It's on the pricey side, but my skin loves it so much I'm positive I will never stop buying it. If my skin is very irritated, I use this in combination with the above, but if it's just a little dry, I'll use it on its own after exfoliating.
Moisturizer
I've written about this moisturizer a zillion times, but it's January and if you don't have this, you need to pull the trigger and get it. It's the thickest, most nourishing moisturizer on the planet for combatting scaly winter skin. I can't imagine surviving a winter without it. It's insanely dense and hydrating, so it can initially make your skin appear a little on the greasy side, but I promise, as soon as you walk out the door and into the cold, it will sink right in and you'll be grateful you put it on. I can't guarantee much — everyone's skin is different — but I can guarantee that.
SPF
Yes, you should still wear sunscreen in the winter! On top of protecting your skin from still-harsh-even-though-you-can't-see-them UV rays, this sunscreen's formula includes a mild essence (a lightweight hydrating serum), which means that it does double duty as a moisturizer (I still apply it after using my Cosrx moisturizer, though). Even better — no white cast, so you won't look chalky, and it's never, ever made me break out. So, yes: it's a good one.
Sheet Masks