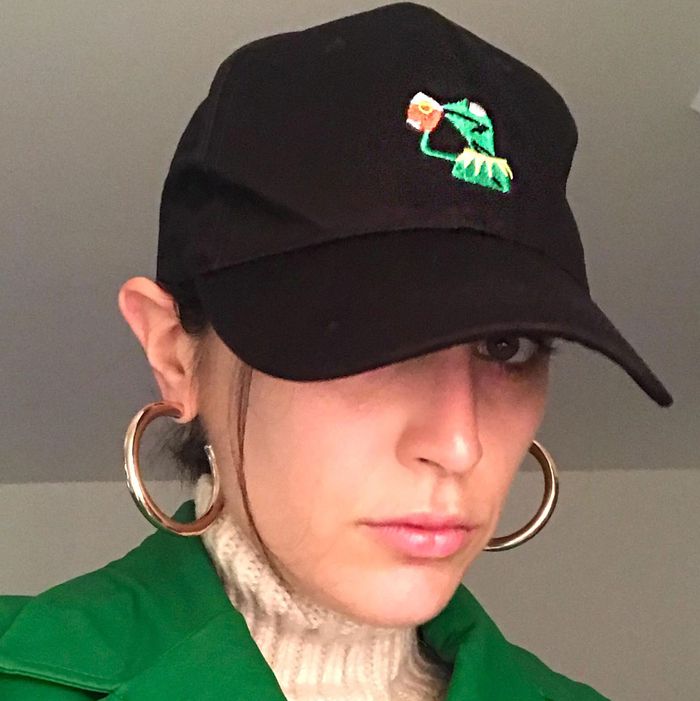 The author gearing up to answer all your toughest questions.
Photo: Rio Viera-Newton
My Instagram DMs have become a hub for my beauty world community. I get to both communicate with like-minded beauty obsessives and answer all the questions I get about the products listed in articles here at the Strategist. The latter is actually one of my favorite parts of the job, but I've noticed recently that a lot of people out there have the same questions (Will product X work for my skin? What order do I apply these things in?). So I've been saving up my answers for a minute, all in order to compile a definitive FAQ outlining exactly what gets talked about when other beauty lovers slide into my DMs.
What are the best beauty brands for a great all-around skin-care routine? Which ones would you always go back to and think they have a good all-around set of face wash, toner, creams, serums, etc?
If I had to use one brand and one brand only it would probably be Cosrx. I don't know what it is, but all of their products are so healing and moisturizing. I've found it really hard to find products that are both hydrating and help with my acne. Almost every Cosrx product targets dry, acne-prone skin so I never feel crusty or flaky from their stuff. The Cosrx exfoliant, snail essence, moisturizer, vitamin C serum, and sleeping packs are staples of mine.
Hyperpigmentation is a bitch. Any tips and tricks to get rid of it?
I get tons and tons of questions about hyperpigmentation because I think it's a skin issue that virtually everyone is trying to combat. For me, it's vitamin C for days. I use a few different kinds and currently I'm testing out the one from Circumference beauty, which is really helping with some pesky dark spots. But Drunk Elephant C-Firma is my first love. The girls at oo35mm in Chinatown also recommended rice as an ingredient to get into when you're combatting hyperpigmentation, and I really like the rice sheet mask from Innisfree.
Who is your favorite beauty influencer on Instagram?
I follow a ton of different beauty gurus on Instagram, it's honestly kind of overwhelming to chose one. I'm obsessed with Katie Jane Hughes's Instagram Stories — she does these really in-depth tutorials via Stories where she dispenses advice on how to make your skin makeup look as natural and glowy as possible. I also really love following Sarah and Christine of Glow Recipe — they always post these videos of them sheet masking at the office or in Ubers and I find it really inspiring.
What's your favorite highlighter, in either cream, liquid, or powder?
I use so many different highlighters. Right now I've really been liking this highlighter stick from Make Beauty — it's super creamy and blendable. At first I thought it looked too intense but I actually really like it for everyday. Liquid, I must say, that's Marc Jacobs Dew Drops. It's insane and I don't often use them during the day but if I'm trying to slay an evening glam, they're my go-to. Powder highlight I don't do too often but when I do I use Charlotte Tilbury's Filmstar Bronze & Glow.
It's getting hotter and dryer and my skin is becoming dirtier, rough, and spotty. What types of exfoliators do you use for face and body?
This is a tough question. When it comes to getting all that dirt and grime off my face, I really love Biologique Recherche's P50, but it can make your skin really sensitive so it's important you wear sunscreen. On my body, my eczema and psoriasis is actually too bad to even exfoliate, so I just wash thoroughly with my Cicabiafine Cleansing Balm.
Sunscreen over moisturizer? Or moisturizers that have SPF? Do priming moisturizers like Glossier go over sunscreen? I'm so confused!
I actually have been using the It Cosmetics Your Skin But Better foundation with SPF in it. So I put that on over my moisturizer. But on days where I'm just throwing on some regular concealer, I put SPF on immediately after my moisturizing. So: moisturizer, sunscreen, makeup is how I do it.
What's your diet and exercise?
I run on the treadmill (slowly and with bad form) once a week and do my best to eat healthy. Chicken, brown rice, broccoli, that kind of thing. But I am genuinely addicted to ice cream from the ice-cream trucks around Washington Square Park and eat one probably once every two days. I don't know, man, it's a work in progress.
What are the best sunscreens for your face?
Right now I've been using the Supergoop SPF setting powder. But I wouldn't wear it on a beach day or anything — for that I'd probably use the Cosrx aloe sunscreen.
Is there a facialist you can recommend for any favorite skin spa treatment you like to treat yourself to once in a while?
Sofia at Aida Bicaj in New York is my queen. I really can't recommend her enough. She's straight up saved my skin on multiple occasions. I'll have full crazy extractions and still walk out looking glowy and so much better than I did when I walked in. She's super gentle but effective. However, she's really expensive so I only go when I'm having serious skin problems, or when I've historically gotten a Christmas bonus.
I'm thinking about purchasing Biologique Recherche's P50 for the first time. What version do you buy? Also, any hot tips for how to introduce it into a routine? Especially when one is already using other chemical exfoliants?
I personally use Biologique P50 1970. However, everyone's skin is different and responds to P50 in a unique way. If I'm being honest, I would buy it in person by finding a spa where they do Biologique facials and have them look at your skin and recommend the one for you. But! There's also a great guide on Into the Gloss.
This one's sort of weird: I have a twitch and it makes me compulsively pull out my eyelashes. (It sounds creepy but it's very common, I swear.) Could you recommend a mascara that doesn't make your lashes brittle, crunchy, and basically pull-out-able? This might be an impossible feat, but if anyone could find one I think it's you?
I totally get hating that feeling. I recently tried the new Lash Slick from Glossier and love it. It doesn't give me any clumpy grossness and it keeps my lashes looking cute and fluttery.
Is the order of your products actually important based on pH?
Yes, you can very much make your products milder or more intense based on the pH level of your products and how you apply them. It is, admittedly, very confusing but here is an amazing pH guide from Snow White and the Asian Pear that can help you understand it.
I have a pretty extensive morning skin routine that I am usually very happy with. But maybe once a week after I apply all my products and before my makeup my face gets these red splotches all over. It's really strange because I don't switch up my products and it only happens every so often. My question is, is there a product you can recommend that will immediately calm my skin?
Ah, a fellow spontaneously allergic person. A pleasure to make your acquaintance. When I was on the podcast Glowing Up, I wanted to make my skin look really good for Esther and Caroline so I tested out a new mask. Never test out new masks before an event! I got crazy-huge weird rashes and hives. Nightmare. I took a Claritin and I lathered my face in this aloe vera gel from Nature Republic. Voilà! Disappeared in about 45 minutes. For allergies, anything with aloe will help soothe and calm your skin.
Do you have a favorite daily moisturizer for under $40?
I'm very dry, so for all my dry ones out there, Cosrx Hyaluronic Acid Moisturizer is my jam.
Best self-tanner for the face? That won't break me out!
Okay, so I don't really use tanner on the face. I personally prefer to just warm my skin up with bronzer when I want to look more than. However, a friend of mine swears by Tan Luxe's The Face Illuminating Self-Tan Drops.
What do you use Weleda Skin Food for?
I don't use it as a daily moisturizer, but I do like putting it on any particularly dry patches (on my body as well as my face). I also like using it on my under-eyes to prep for under-eye concealer and on the high points of my face as a super-natural highlight.
The Strategist is designed to surface the most useful, expert recommendations for things to buy across the vast e-commerce landscape. Some of our latest conquests include the best women's jeans, rolling luggage, pillows for side sleepers, ultra-flattering pants, and bath towels. We update links when possible, but note that deals can expire and all prices are subject to change.
Every editorial product is independently selected. If you buy something through our links, New York may earn an affiliate commission.