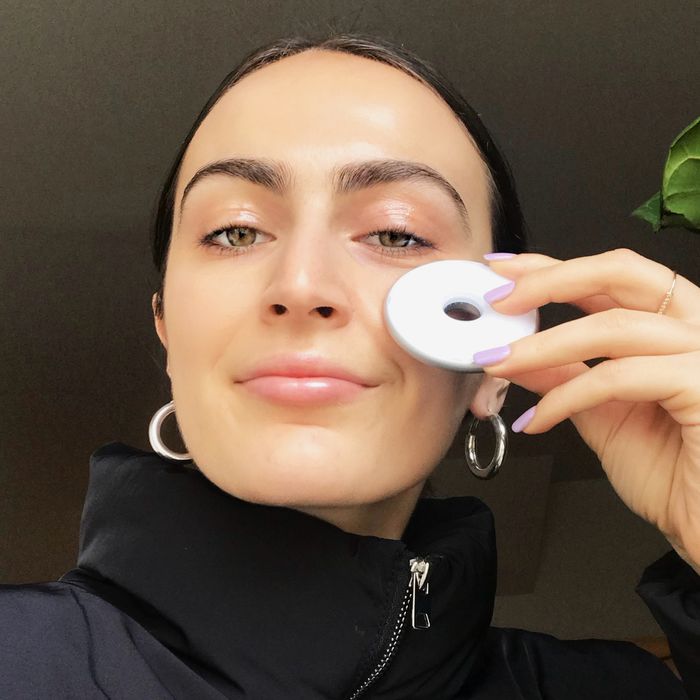 The author and her Wayskin device.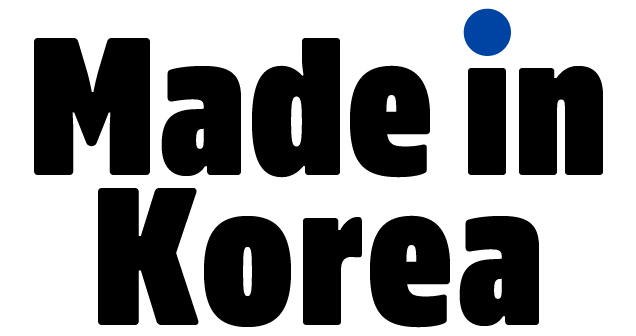 Yes, the Olympics are underway in Pyeongchang, and with all the feats of skill and speed and artistry on display in South Korea, now felt like an appropriate time to celebrate all of the delightful things that originated in the country. From miracle-working beauty products and addictive snacks to Ultra HD electronics and the world's best dishwashing gloves. Welcome to Made in Korea week on the Strategist.
Buzz around beauty gadgets and devices tend to come and go quickly — articles get written, sponsored posts show up on your timeline, YouTubers use them once in a tutorial, and then they vanish. I assumed this would be the case with the Wayskin, a Korean skin analyzer that calculates your skin's moisture levels and sends the results to your phone through Bluetooth. But it seems I was wrong. I first noticed the Wayskin around a year ago, and have continued to notice it pop up around my Explore page and in my group chats ever since. Unlike other beauty technology — like the Clarisonic brush or the NuFace — the Wayskin is a measuring device, telling you straight away how well your products are moisturizing your skin.
I was hesitant to try the gadget for several reasons. For one, it retails for $80, and unless you test it out at a beauty counter (something I've never been able to do despite actively searching for it), there's no way to test it before you buy. The Wayskin website claims that the device will track your moisture levels — but doesn't do a great job of breaking down their definition of moisture — which left me skeptical as to whether the Wayskin would be able to differentiate T-zone oiliness from nice, dewy moisture.
But this winter, as my dry, chapped winter skin kicked into full effect, I thought of the Wayskin and finally took the plunge. I used the device every day for a week, monitoring my skin's alleged moisture levels before and after applying several of my most trusted day-to-day moisturizers, and recorded the results for you below.
The first time I used the Wayskin, it was 3 p.m., and the only thing on my skin was my Klairs Blemish Supple cream — a new B cream a friend of mine had suggested for light coverage and redness reduction that, she claimed, provides a subtle glow to the skin.
I did look glowier, but my test results were 31 percent, meaning "very dry." I admittedly found that a little disturbing. But, I figured, considering the extreme heated climate of my office and the slapdash, I'm-late-to-work skin-care routine that I had done that morning, it wasn't all that bad.
Followed up by the Klairs calming cream. I then waited a few hours and tried the Wayskin again.
My skin registered at 64 percent — "normal." Not as great as I would have hoped — I had always been sure that these were some of my most moisturizing products — but certainly an improvement from my previously parched-skin percentage.
After days of using the snail mucin and Klairs Midnight Calming cream in the mornings and evenings and obsessively chugging water, I was frustrated to find that my percentage was staying basically the same — I was stuck in the dreaded "normal" range of 62 to 65 percent. At this point, I was hoping to figure out how to get my percentage above average, so I decided to incorporate some different products into my routine to see if they might drastically help me moisten my skin. In my evening routine, I went hard: I started with Clean It Zero.
I followed that with my SK-II Facial Treatment Essence.
I then put on my trusty Benton Snail Bee Mask.
Lastly, I put on my Cosrx Hyaluronic Acid Intensive Cream.
To my surprise, the following morning (typically my driest time of day), my skin was at 72 percent. After days of my normal routine keeping my skin moisture stagnant, I was amazed by these results.
On a Saturday morning, with extra time to give to my skin, I decided to go all-out with my routine to see how some of the products I typically don't have time to include in my everyday, prework routine would hold up on my Wayskin. I washed my face with Cosrx's Good Morning cleanser, then piano-ed (when you lightly tap a product into your skin as if you are tapping piano keys) on snail mucin.
I also tapped on some Grow Hyal B5 Ampoule.
I finished by slapping on my ultrahydrating Double Effect healing mask.
When I tested the cheekbones of my face, I had a whopping 80 percent hydration level — the highest I'd had all week. I was floored! And while I'm convinced that the double mask had a lot to do with this, you better believe I meticulously followed this routine for a few days after.
After a week of closely checking the efficacy of my day-to-day routine with the Wayskin, I felt both convinced of the device's value and impressed with my own ability to force an upward trend in my moisture levels. Using it really forced me to consider just how hydrating my day-to-day products really are. I also just found the device really, really fun to use — after dedicating so much time to working on improving my skin, there is something particularly satisfying and rewarding about seeing pseudoscientific results and numbers telling me how well I'm doing. It's really cute-looking — she kind of looks like a robot doughnut — and I love having her in my purse to pull out and show people.
I will say, however, that on day seven of my experiment — after raving about my experience — I tested the Wayskin on my friend's cheekbone, and her always glowy, dewy skin received a 10 percent, "very dry, seek immediate treatment"! This certainly had me rocked, and left me with some doubts about the Wayskin's accuracy. So, my takeaway: While the thing might not always be 100 percent accurate, I found it very helpful for checking in on my extremely dry skin and product choices. And I literally cannot wait to try it while airborne.
The Strategist is designed to surface the most useful, expert recommendations for things to buy across the vast e-commerce landscape. Some of our latest conquests include the best women's jeans, rolling luggage, pillows for side sleepers, ultra-flattering pants, and bath towels. We update links when possible, but note that deals can expire and all prices are subject to change.
Every editorial product is independently selected. If you buy something through our links, New York may earn an affiliate commission.