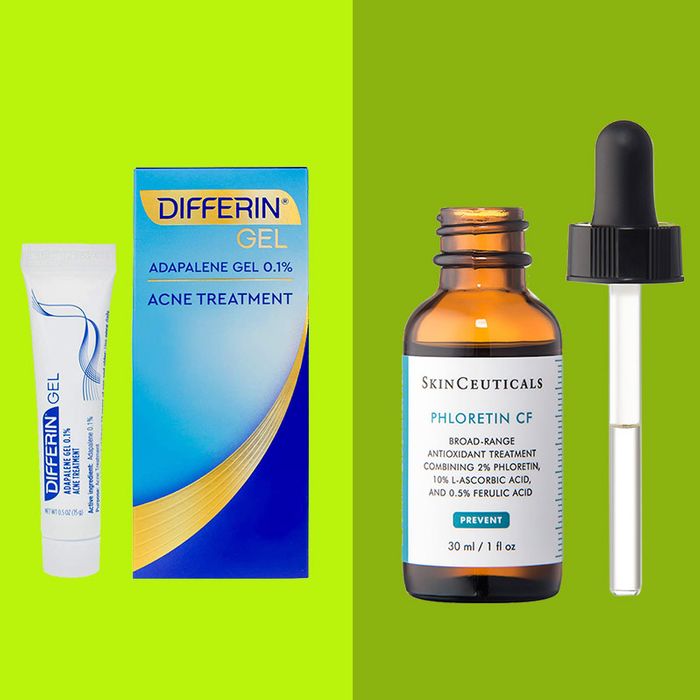 Photo-Illustration: Courtesy of the retailer.
Cystic-acne sufferers know that a cyst is not the same beast as your garden-variety pimple. While whitehead pimples sit on the surface of the skin (which, though unsightly, means they're easier to treat and conceal), cysts can linger under the surface of the skin like oil-filled balloons, growing bigger and more inflamed over time. The scarring can be severe, too, making skin appear pockmarked and fissured, which is why dermatologists approach it with a powerful combination of topical treatments and antibiotics, moving on to scorched-earth methods like Accutane or a hormonal drug like Spironolactone only if those fail.
Milder cases can benefit from some topical over-the-counter treatments, too, but dermatologist Noelani Gonzalez, the director of cosmetic dermatology at Mount Sinai West, notes that "OTC options should be limited to when you have only one or two cysts." Otherwise, she says, "you should go see your dermatologist sooner than later to avoid any scarring." When it comes to OTC options, we asked Gonzalez and nine other dermatologists about the most effective cystic-acne treatments to use at home, and share their suggestions below. Before we begin, though, we should note that none of the derms we spoke to recommend using all of the items on this list because many contain potent actives like retinoids, acids, and benzoyl peroxide. Rather, they suggest pairing products that contain stronger actives with gentler, nonirritating ones. With this in mind, the below list begins with the most-recommended product by our derms, before continuing to note their other recommendations as you'd use them in any skin-care routine, starting with cleansers and sunscreen and ending with nightly spot treatments, to help you determine which things may work best for you.
Best overall cystic-acne treatment
Four of the dermatologists we spoke to say that integrating a retinoid into your skin-care routine is essential to preventing cysts. Retinoids, which we've touched on before, are beneficial for exfoliating the skin and purging your pores of dirt and oil, which is why Dr. Joshua Zeichner, the director of cosmetic and clinical research in dermatology at Mount Sinai Hospital, says they're helpful for cysts, too. He recommends Differin, the only prescription-strength retinoid that's available over the counter. "Differin should be the first OTC product someone with cystic acne should use," adds Dr. Samer Jaber, the founder of Washington Square Dermatology. Differin gel contains Adapalene, a medication that decreases inflammation, prevents new acne from forming, improves blackheads, and helps improve discoloration, he explains. Zeichner says you can use a pea-size amount and start applying it every other night as your skin gets adjusted to it. Dr. Debra Jaliman, an assistant professor of dermatology at Mount Sinai's Icahn School of Medicine, also recommends Differin but stresses that since retinoids make your skin more sensitive to the sun, applying an SPF in the morning is a must if you are going to use it.
Best facial cleansers for cystic acne
Differin also has a benzoyl peroxide face wash that comes recommended by Dr. Y. Claire Chang of Union Square Dermatology. "It contains 5 percent benzoyl peroxide to offer the power of maximum-strength benzoyl peroxide but is gentle and typically well-tolerated," she says. The benzoyl peroxide helps to reduce inflammation and kill acne-causing bacteria, which is helpful to both treat and prevent new breakouts.
Two dermatologist name-checked this cleanser from La Roche-Posay, including Dr. Corey L Hartman, founder of Skin Wellness Dermatology. Unlike some salicylic acid cleansers, which can be drying, this one delivers the actives via a hydrating vehicle that cleanses without drying out your skin. For best results, Hartman recommends leaving the cleanser on after you work it in. "The longer a cleanser is allowed to have contact with the skin, the more effective it will be," he says. He does warn, however, that too long can increase the chances of dryness and irritation, and suggests letting it sit for about 30 seconds.
Unlike salicylic acid, benzoyl peroxide doesn't exfoliate, but it does have other acne-fighting properties including anti-bacterial powers, making it a great treatment for both comedonal and inflammatory acne, explains board certified dermatologist Dr. Hadley King. She describes AcneFree's Oil-Free Acne Cleanser as "an excellent benzoyl peroxide product," because while it is "strong enough to be effective," it is still gente on the skin because it contains micro-benzoyl peroxide (which is less irritating to the skin than typical benzoyl peroxide) and hydrating ingredients such as glycerin.
If you're looking for a mild option but still want something with salicylic acid, Hartman recommends this cleanser from Aveeno, which is oil-free, noncomedogenic, and contains glycerin to help reduce dryness. It also has soy extracts, which helps to reduce discoloration and helps with overall tone.
If your routine already includes lots of topical products with active ingredients like retinoids or benzoyl peroxide, a milder cleanser may be a better choice in order to prevent further skin irritation, according to Dr. Marisa Garshick, a clinical assistant professor of dermatology at NYP-Cornell. "For those who suffer from oily skin but can't tolerate salicylic acid, this foaming wash helps to reduce excess oil without drying out the skin," she says, due to it's non-comedogenic, non-acnegenic, and oil-free formula that has ingredients like oil-reducing zinc oxide.
Board-certified dermatologist Dr. Smita Ramanadham says this cleanser from ZO Skin Health is the most effective one she's found so far for treating cystic acne. She likes its combination of chemical exfoliation (from salicylic acid) and physically exfoliating jojoba beads.
Best serum for cystic acne
Garshick told us that, regardless of skin type, having a potent antioxidant serum in your routine to protect the skin from free-radical damage is a good idea. "Many patients with cystic acne are also concerned about discoloration and brown spots that occur from the breakouts, and this vitamin C serum can also help to improve the skin tone," she says, adding that this is a great option that won't cause additional breakouts. While Skinceuticals CE Ferulic is typically considered the holy grail of vitamin C serums, Phloretin CF is a much better choice for oily skin types. It contains L-ascorbic acid and ferulic acid, but does not contain pore-clogging vitamin E. Dr. Marina Peredo of Skinfluence NYC agrees about vitamin C, saying it "helps build collagen, brightens the skin, and reduces hyperpigmentation." To get the most of its free-radical-fighting benefits, a vitamin C serum should be applied in the morning in conjunction with SPF.
Best moisturizers for cystic acne
When it comes to hydrating the skin, Jaliman says patients should stay away from any creams that contain heavy oils. Dr. Morgan Rabach, a dermatologist and co-founder of LM Medical NYC, agrees and notes that using an oil-free water-based moisturizer will keep skin hydrated while preventing breakouts. She recommends this one from Neutrogena, which contains hyaluronic acid to keep skin supple and moisturized. It is also dye- and fragrance-free.
"This oil-free moisturizer is a great option for those with acne because not only will it hydrate the skin without clogging the pores, but it also contains ceramides," says Garshick. Ceramides help to strengthen the skin barrier, which allows it to better tolerate active anti-acne ingredients. This moisturizer also is formulated with niacinamide, which can help to reduce redness and inflammation that can go along with acne breakouts, she explains. Garshick notes that the company makes a similar version with SPF called La Roche Posay Toleriane UV Double Repair Moisturizer.
Best sunscreen for cystic acne
Speaking of sunscreen, Jaliman loves Elta MD UV Clear SPF 46 — a longtime Strategist favorite — because "it's lightweight, oil-free, and suitable for those who are prone to acne." Not only does it protect from UV damage, but it is also specifically formulated to treat acne simultaneously. It contains niacinamide and B3, which will fade hyperpigmentation; hyaluronic acid, which will moisturize; and lactic acid, which will clear pores and reduce shine.
Best exfoliator for cystic acne
Using an effective chemical exfoliator is super-important to aid cell turnover and unclog pores, which will hopefully keep cysts from forming in the first place. Harsh physical scrubs should be avoided since they typically only cause more damage long-term. Morgan loves this cream from SkinMedica, which contains a combination of alpha-hydroxy acid and beta-hydroxy acid to improve skin texture. She also has this advice for patients to keep breakouts from getting worse: "Avoid oily cosmetics, sunscreens, and hair products, stay away from harsh products and abrasive tools, and do not pick or squeeze blemishes."
Best mask for cystic acne