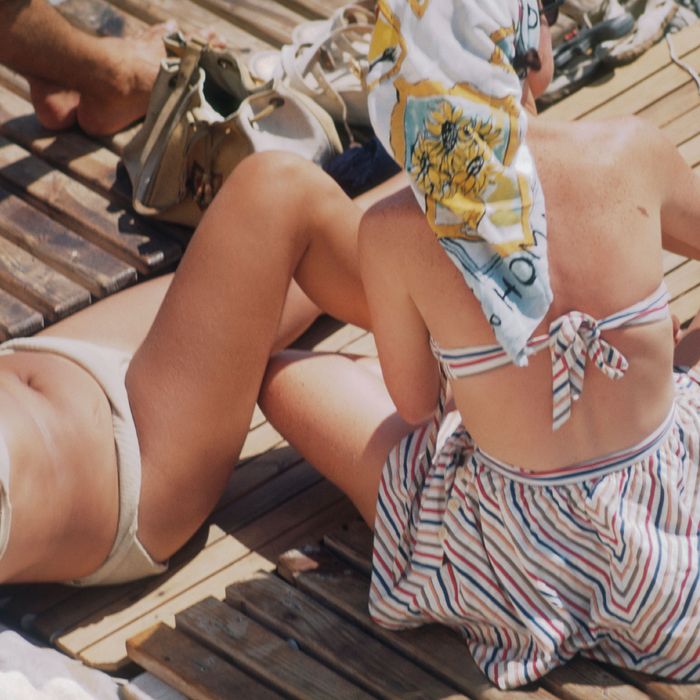 Photo: Michael Ochs Archives/Getty Images
While we might all be curious about the best plunger or probiotic tampon or cold-sore remedy, it can be difficult to discuss these more personal items. That's why we're tackling Things We Don't Talk About, a series in which we track down the best hygiene-, sex-, and bodily function–related things we all need but might be too embarrassed to ask about. In this installment, we talked to skin experts about how to get rid of body acne.
Summer, for many people, is also unofficially "bacne and body acne, season" — a time when even the most enviably clear skin might start sprouting inflamed red bumps here and there beneath a bra band or arm strap. American Academy of Dermatology spokesperson Debra Jaliman, M.D., says this is because in the summer, it's hot, you're sweating, possibly exercising more, and there's generally an uptick in bacteria levels due to the warmer weather. "It's sort of like keeping milk outside. If you left your milk outside in winter without a refrigerator, it probably wouldn't spoil very easily, but in summer, it will spoil very quickly, so a lot of it's related to the temperature."
Treating bacne is also a bit trickier than treating pimples on your face because it covers a lot more surface area. Anything from your sheets to your workout clothes to the actual fibers in said clothes could be causing breakouts, which is why Jaliman suggests cleaning more — specifically your yoga mat, your workout bag, and sheets — and wearing clothes with natural fibers that breathe better. But because you probably also want to slap something on your skin to get rid of that cluster of zits, we talked to Jaliman plus two other skin experts — dermatologist Heidi Waldorf, M.D., of Waldorf Dermatology Aesthetics, and aesthetician Veronika Astashonok, of the Acne Clinic NYC — about how to clear and prevent body acne with cleansers, sunscreens, and topical treatments, too.
The first step to preventing acne is cleansing your skin of sweat and dirt regularly, which my experts recommended that you be conscientious about doing immediately after a sweaty activity like a workout. Waldorf says even on your busiest days, if you don't have time for a shower, you could "wipe down acne-prone areas with a premoistened towelette like Simple Oil Balancing cleansing wipes that have zinc as an antibacterial agent."
Of course, a shower with an exfoliating bodywash is preferred, and all of my experts recommended ones containing salicylic acid over benzoyl peroxide — to avoid staining your clothes. "Salicylic acid is attracted to the oil in the follicles or pores and helps loosen up the skin cells," Waldorf explains. Both Waldorf and Jaliman are fans of Aveeno washes and Neutrogena Body Clear Body Wash in particular.
If you have sensitive skin, for example, Jaliman says the Aveeno Positively Radiant Exfoliating Body Wash is a little milder. "Let's say you just have mild body acne. It's a nice one because it has walnut-shell flour and soy complex, which helps with discoloration, but it doesn't have the sal acid because some people don't like sal acid."
Or, if you want something that's balanced — hydrating and deep cleansing at the same time — there's Neutrogena's Body Clear Body Wash Pink Grapefruit. Jaliman says, "It has a really nice scent, but it also has 2 percent salicylic acid and glycerin. So it's not drying because it has the glycerin, but it has the salicylic acid, too, to unclog the pores."
She recommended this Murad Acne Control Body Wash for the same reason — it contains moisturizing glycerin and one percent salicylic acid — which Waldorf says you can follow up with something like the Murad Acne Control Clarifying Body Spray before bed.
With sunscreen, Jaliman says you're better off using a spray because the light liquid formulation is better for acne-prone skin than a creamy formula which might block your pores. She recommends Supergoop SPF 50 Sunscreen Mist because of the added antioxidants, and EltaMD UV Broad-Spectrum SPF 45.
"What's nice about this one, which I use myself because I'm acne-prone, is that it's 9.3 percent transparent zinc oxide, so it contains fewer chemicals, and noncomedogenic (so it's formulated to prevent clogging your pores)," says Jaliman.