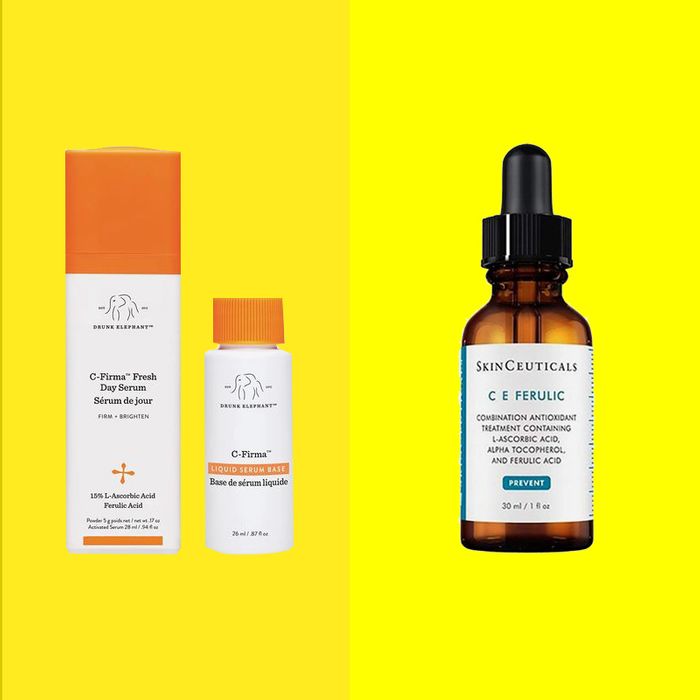 Photo-Illustration: Courtesy of retailers
As someone with a fairly minimal skin-care routine, it's difficult to convince me to add a new product or step. But vitamin C is one of those actually necessary ingredients. The antioxidant promises everything from fading dark marks to fighting free radicals (which break down collagen) to diminishing fine lines and wrinkles. It's incredibly effective at all of this, which is why so many people use and recommend it. It's also why there are so many products to choose from. But alas, nothing's perfect. Despite its efficacy, vitamin C is notoriously unstable and can quickly go from a hyperpigmentation-zapping wonder ingredient to a $60 bottle of smelly serum. That's why it's important to find the right formulation — one that makes vitamin C as stable as possible while also delivering it effectively to the skin.
To find the best of the best, I spoke to dermatologists, aestheticians, and Strategist staffers who moonlight as skin-care enthusiasts, and tested a bunch myself. Our picks — organized by skin needs — are below.
Best overall | Best less-expensive | Best budget | Best extra-strength | Best for oily skin | Best for acne-prone skin | Best for sensitive skin | Best for hyperpigmentation
Ingredients: Of all the vitamin-C options, our experts generally recommend looking for serums that contain ascorbic acid, also known as L-ascorbic acid, which is the most active and purest form of vitamin C. L-ascorbic acid is water soluble. While incredibly effective, it can be irritating for some people and even cause acne. If you fall into that category, are just starting out, or have sensitive skin, you can try vitamin-C derivatives, which Dr. Karan Lal says are "less irritating and more tolerable and more stable" forms of vitamin C. "L-ascorbic acid is the most active form of vitamin C, whereas the derivatives are inactive. They have to be converted to the active form and are less potent than the pure, active ingredient." The difference between pure vitamin C and vitamin-C derivatives is similar to retinols and retinoids: Both work, but one is more concentrated and thus more effective. One of the most popular derivatives is tetrahexyldecyl ascorbate (often called THD-ascorbate), which is marketed as a more tolerable alternative that offers similar results. Unlike L-ascorbic acid, which is water soluble, THD-ascorbate is oil soluble and can be easily added into an oil-based product. The vitamin-C derivatives also easily penetrate the skin because the skin has a lipid barrier (think: oil dissolves oil), so there's not as much resistance to the ingredients as something water soluble (like L-ascorbic acid). In recent years, products have come out containing both L-ascorbic and an accompanying derivative, which combines the unstable formulation with a more stable formulation — offering the best of both worlds.
Formulation: All of our experts agree: Formulation is paramount to vitamin C's stability. The more stable, the better, because you reap all of the glow-inducing benefits. "A product must be formulated carefully to enable sufficient delivery to the skin," Dr. Kenneth Howe of the Wexler Dermatology Group explains. As for how much vitamin C should be in a given formulation, Lal recommends at least 10 percent. Less than that and you don't get the full benefit of the product, and over 20 percent, you don't get any additional benefits and are more likely to experience irritation. However, this doesn't really mean much when it comes to derivatives because, according to Lal, once the derivatives hit the skin, a 10 percent concentration is much closer to 3 or 4 percent.
Packaging: Your vitamin C should come in a dark or opaque bottle. This helps prevent oxidation, which happens when it is exposed to sunlight or isn't kept in an airtight bottle. It will be obvious that this is happening because the formula will darken in color. To prevent this, our experts recommend keeping it away from sunlight and storing it somewhere dark, along with closing the bottle tightly.
Best overall vitamin-C serum
Contains L-ascorbic acid, ferulic acid, and vitamin E | 15 percent vitamin C | Translucent amber bottle
Four of our dermatologists recommend SkinCeuticals C E Ferulic, which they (and our editors) hail as the gold-standard vitamin-C serum and is suitable for all skin types. "I think it's the best out there," declares Howe. He says it has a light, non-greasy feel, while still delivering "the maximum amount of its active ingredients to the skin." I've also used C E Ferulic off and on for the past few years and can confirm its light consistency. It sits seamlessly underneath my other skin care and even layers well under makeup. It is expensive but worth the price due to its super-stable, patented formula. Its main active ingredient is L-ascorbic acid (it comprises 15 percent of this serum) and despite the high concentration of pure vitamin C, it is both stable and easily penetrates the skin. Part of this serum's patented formula includes a pH level higher than those of its competitors, meaning it won't cause the redness and sensitivity that serums with a lower pH can. As Dr. Julie Russak, founder of the Russak Dermatology Group, puts it, this serum "delivers vitamin C through the top layer without disrupting the protective barrier of the skin."
Whatever vitamin-C serum you choose, Howe suggests applying it in the morning. "That way a reservoir of active vitamin C is present in the skin during the daylight hours, when ultraviolet radiation is strongest," he explains.
Best less-expensive vitamin-C serum
​​Contains L-ascorbic acid, ferulic acid, and vitamin E | 15 percent vitamin C | Opaque bottle
For a more affordable option, two of our dermatologists recommended Drunk Elephant's C-Firma Day Serum. Because it contains a similar formula to the SkinCeuticals C E Ferulic, you get all the skin-brightening benefits at "half the cost," according to Dr. Noelani Gonzalez, a dermatology specialist at Mount Sinai Health System. But unlike SkinCeuticals, Drunk Elephant's serum is cruelty-free. Its formula contains L-ascorbic acid as well as pumpkin-ferment extract and pomegranate enzyme, which attack dead surface skin cells and help to exfoliate, explains Dr. Deanne Mraz Robinson, a co-founder of Modern Dermatology of Connecticut and skin-care company PURE BioDerm. Plus, the serum's packaging is both airtight and completely opaque — things Gonzalez says you should look for when choosing a serum, because packaging like this helps to keep the vitamin C from exposure to water, light, and oxygen (all of which degrade it). The only thing that makes it a less desirable option than the OG SkinCeuticals is the consistency — it can be a bit sticky, which makes it a little more difficult to layer with other products.
Best budget vitamin-C serum
​​Contains L-ascorbic acid, ferulic acid, hyaluronic acid, and vitamin E | 15 percent vitamin C | Translucent amber bottle
For a more budget-friendly option, there's Maelove's Glow Maker, which has been touted as a C E Ferulic dupe. This serum has long been a cult favorite, beloved by everyone from the Cut's Kathleen Hou to skin-care vloggers to Opening Ceremony employee Bettina Cho, whom Hou says "has a knack for discovering beauty products." It also comes recommended by Russak, who likes that it has a "straightforward formula" that nourishes the skin. In addition to containing L-ascorbic and ferulic acids, it contains vitamin E (great for hyperpigmentation) and hyaluronic acid, which helps the skin to hold onto hydration. According to Hou, it's also a bit thinner and less sticky, which makes it easier to spread and even more seamless under makeup or other skin-care products.
Best extra-strength vitamin-C serum
If your skin has been proven to handle high amounts of vitamin C without irritation, then this lightweight serum from PCA Skin is a good next step. It contains 20 percent L-ascorbic acid along with pure vitamin E and other antioxidants that help with aging and free radicals. Despite the high concentration of active ingredients, it's very lightweight and nourishing. Dermatologist Dr. Elizabeth Tanzi loves the PCA Skin C&E Advanced Serum because the lightweight serum can "easily integrate into a skin-care regimen" and doesn't "cause irritation."
Best vitamin-C serum for oily skin
If you've got oily skin, Russak recommends trying this often-overlooked sister product of our best overall serum. Its formula is similar to C E Ferulic and contains L-ascorbic acid and ferulic acid, but does not contain pore-clogging vitamin E, "making Phloretin CF the better choice for oily skin types." Phloretin CF is also good for those with melasma, a common skin pigmentation disorder, because the light serum is especially effective at combating "increased pigment production, which usually occurs due to UV exposure," according to Russak.
Best vitamin-C serum for acne-prone skin
This Clinique serum is a good option if you're acne-prone — and also worried about your vitamin C degrading. It contains salicylic acid, which is a known acne fighter, and comes in a powdered form. Vitamin C is more stable as a powder, says Gonzalez, and is less likely to be degraded by light or oxygen. This one is a bit more DIY than any of the others on this list, because there are two components: The first is a powder cleanser that you combine with water and gently massage into the skin and then rinse off. The second is a serum designed to be mixed with whatever daily moisturizer you use. Both contain 10 percent L-ascorbic acid — which is the minimum recommended concentration and good for someone who is new to the ingredient.
Best vitamin-C serum for sensitive skin
Despite all its benefits, vitamin C can be sensitizing due to the active ingredients. That's where lower-strength formulas, or formulas with added soothing ingredients, come in. This vitamin-C serum from CeraVe comes highly recommended by Lal, who says it's his go-to: "It's good for people who have dry skin or get irritation from vitamin C; this is a great product." It's formulated with 10 percent L-ascorbic acid, which is the recommended minimum for a formula to still be effective. Like all CeraVe products, this serum contains ceramides, which help to restore and maintain the skin's barrier. It also contains vitamin B5, which is soothing and helps the skin hold onto moisture.
Best vitamin-C serum for hyperpigmentation
Dr. Rita Linkner of Spring Street Dermatology swears by this vitamin-C serum from Revision, which has been previously recommended by dermatologists for fading acne scars and combating hyperpigmentation. Linkner in particular is a fan of its lightweight feel. It has a high concentration of THC ascorbate, rather than L-ascorbic acid, which tends to be easier to tolerate. It's highly concentrated at 30 percent, so there still might be an adjustment period for your skin. "It often takes a few days for skin to calibrate, but this is a great product to use in tandem with your SPF every morning," says Linkner. It also uses vitamin E and the brand's patent-pending MelaPATH technology, which helps with fine lines and protects the skin against free radicals.