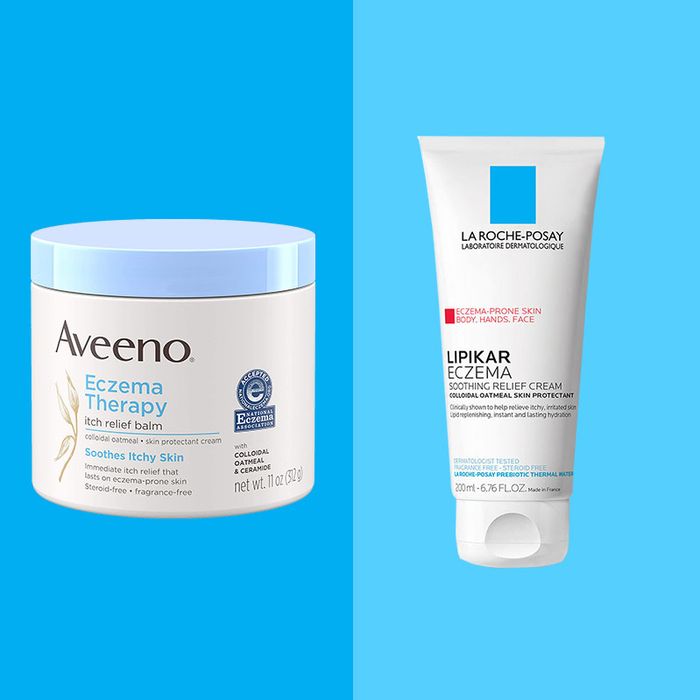 Photo-Illustration: Courtesy of the retailer
Eczema, an inflammatory condition of the skin also known as atopic dermatitis, is a highly visible, touch-and-go skin-care issue that causes skin on the face and body to become red and itchy at the slightest triggers: stress, sweating, dry conditions (like central heating in winter), irritants in skin-care products, and even steamy showers. Little adjustments can help: All of the experts we consulted recommended five-minute showers with lukewarm water and switching to products that are fragrance-free, hypoallergenic, and clear of harsh chemicals. Serious cases of eczema will require prescription treatments, but some patients can get by with an over-the-counter treatment filled with "emollient, humectant ingredients like ceramides, petrolatum, shea butter, glycerin, hyaluronic acid, and squalene," which will rehydrate and restore any dry, cracked skin caused by eczema, according to Dr. Corey L. Hartman, founder of Skin Wellness Dermatology in Birmingham, Alabama. "For eczema-prone skin, hydration is the name of the game," he says. And since eczema is essentially just inflammation to the skin, products with additional ingredients like colloidal oatmeal and petroleum will soothe and protect the skin from further damage or irritation.
Because reading ingredient lists can be mind-numbingly difficult sometimes, especially if most are completely unpronounceable, we did the dirty work for you by having seven dermatologists tell us their favorite and most-recommended lotions, creams, and balms for eczema-prone skin. Most of them have received a seal of acceptance from the National Eczema Foundation, so they won't exacerbate the condition, and they'll keep your flare-ups at bay.
Best overall eczema treatment
Half of the dermatologists we spoke to brought up Vanicream, which we've already ranked as our best moisturizer for dry, sensitive skin, as a particularly good treatment because it's essentially free from anything that could irritate your skin, including fragrance, lanolin, parabens, formaldehyde, dyes, and more. "It tends to be well-tolerated by even those with particularly dry, sensitive skin," says Hartman. As a notoriously finicky condition, eczema can flare up easily with just one wrong ingredient — and take a while to go back to normal — so our dermatologists think it's better to be cautious with your creams and stick to a completely hypoallergenic product. Marisa Garshick, an assistant clinical professor of dermatology at Cornell, New York Presbyterian Medical Center, recommends the lotion version, too, which is also "free of the most common allergens that can worsen eczema." It has a thinner texture than the cream, so it'd be much better for the summer when you can settle for something a little less heavy-duty, since cold weather wreaking havoc on your skin is less of a factor.
Best everyday eczema treatment
Because this cream (that we've written about many, many, many times before) contains ceramides, which Hartman calls "the building blocks of a healthy skin barrier," it will provide your dry, itchy skin the protection it needs to stay hydrated. Hartman also particularly likes the ointment-like texture that's "non-greasy" and thinks it "should be a part of every eczema treatment plan." Thanks to the hyaluronic acid and glycerin, too, it'll be exceptionally hydrating, keeping your skin soothed for longer stretches of time.
Best ointment for eczema
For something a bit thicker and heavier during particularly harsh flare-ups, Garshick suggests using CeraVe's ointment, instead of the cream. Like the cream, the ointment contains an ample amount of ceramides to protect your skin's barrier, and Skelsey points out that it's lanolin-free and unscented too, but it has a higher percentage of petrolatum than the cream, so it'll feel more like Vaseline being rubbed in rather than a creamy-texture that blends right away.
Best eczema treatment for flare-ups
And then there's always the "cult favorite" Aquaphor, which Hartman calls "the most matte, most elegant of the petrolatum products on the market." Because it contains a high percentage of petrolatum, mineral oil, glycerin, and panthenol, Aquaphor will protect the skin as well as "trap in moisture better than most," as Hartman explains. It's a heavy-duty product, so this would be great to keep around for any severe flare-ups.
Best eczema treatment for itchy skin
"The dryer skin gets, the more likely the eczema flares," says Maral Skelsey, the director of the Dermatologic Surgery Center of Washington. It's why your first line of defense for eczema-prone skin should be a thick, gentle moisturizer. She likes this itch-relief balm from Aveeno (which we've covered before) because it's "fragrance-free, hypoallergenic, and has colloidal oatmeal, which helps heal skin" and stops the incessant itching that eczema sometimes causes. As an added bonus, she mentions that the added soy helps fade dark spots that eczema can leave behind.
Best lotion for eczema
While it would behoove you to keep a thicker cream or ointment on deck for flare-ups and year-round maintenance, sometimes warmer weather warrants a lighter lotion, and Hartman likes this soothing lotion from Cetaphil. Yes, it is technically formulated for babies, but Hartman thinks that's a good thing, because after all, they are "the most vulnerable among us." It offers a gentle base with no fragrance or harmful ingredients, and unlike some of the heavier ointments on this list, you won't need to rub it in much to melt into your skin, which might also do your skin a favor in the long run.
Best lightweight cream for eczema
For something lightweight and fast-absorbing, but still effective, Garshick suggests this La Roche-Posay Lipikar cream with added colloidal oatmeal for the itch. "It contains a high concentration of prebiotic water, which may have a role in improving the skin microbiome that's linked to inflammation and irritation of the skin." Niacinamide is another ingredient in it that can be helpful for calming redness and inflammation.
Best hydrocortisone treatment for eczema
If you aren't using a prescription-strength hydrocortisone for curbing inflammation, your next best bet is a cream with added steroids in it — though Emma Guttman, director of Mount Sinai's Center for Excellence in Eczema, says they're not nearly as effective. This Aveeno anti-itch ointment (with one percent hydrocortisone in it) came recommended by Garshick as a spot treatment for eczema: "In addition to the hydrocortisone, it contains a soothing triple oat complex."
Best eczema treatment for the face
For a face moisturizer, Garshick suggests First Aid Beauty (a favorite moisturizer of our eczema-prone beauty writer Rio) because it contains colloidal oatmeal for calming inflammation and itchy skin, shea butter to protect the natural skin barrier, and ceramides.
Best eczema treatment for hands
New York–based dermatologist Dhaval Bhanusali offered this tidbit about hand creams: "Neutrogena Norwegian Hand cream is pretty much universally loved by all dermatologists" because it has its skin soothers. The formula is slightly different from other hand creams in that it's rich in glycerin, an ingredient he says is ideal for eczema-prone skin since it's gentle, calming, and a humectant that draws water from the air to moisturize.
Best luxury treatment for eczema
Photo: Courtesy of Vendor
Dr. Lily Talakoub, founder of Mclean Dermatology and beauty app Derm to Door, calls the Augstinus Bader body cream "one of the most soothing creams I have tested for eczema." It's pricey, to be sure, but we've made a case for the rather exorbitantly priced brand numerous times before (the Cut has called its face cream "the secret to rich-person skin"), and it works: The exceptionally creamy texture, jam-packed with shea butter and natural oils, "helps repair the natural barrier of the skin and hold moisture in the skin." It's free of sulfates, mineral oil, fragrance, parabens, phtalates, silicone, and petrochemicals, so it'll be gentle on your finicky skin.
The Strategist is designed to surface the most useful, expert recommendations for things to buy across the vast e-commerce landscape. Some of our latest conquests include the best acne treatments, rolling luggage, pillows for side sleepers, natural anxiety remedies, and bath towels. We update links when possible, but note that deals can expire and all prices are subject to change.
Every editorial product is independently selected. If you buy something through our links, New York may earn an affiliate commission.