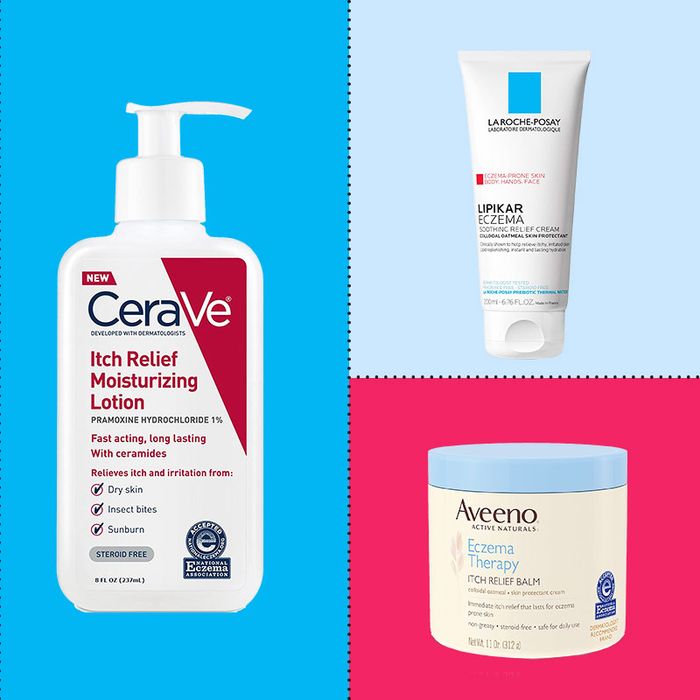 Photo: Courtesy of the retailer
Eczema is a highly visible, touch-and-go skin-care issue that causes skin on the face and body to become red and itchy at the slightest triggers: stress, sweating, dry conditions (like central heating in winter), and even irritants in skin-care products and steamy showers. Little adjustments can help: All of the experts I consulted recommended five-minute showers with lukewarm water and switching to products that are fragrance-free, hypoallergenic, and clear of harsh chemicals. Serious cases of eczema will require prescription treatments, but for over-the-counter solutions that can help, we spoke to four dermatologists – including Emma Guttman, director of Mount Sinai's Center for Excellence in Eczema — for their recommendations on everything from creams to laundry detergents. Most of them have received a Seal of Acceptance from the National Eczema Foundation, but for more options, here's the organization's complete list.
Lotions and ointments
"The dryer skin gets, the more likely the eczema flares," says Maral Skelsey, the director of the Dermatologic Surgery Center of Washington. It's why your first line of defense for eczema-prone skin should be a thick, gentle moisturizer. She likes this itch-relief balm from Aveeno (which we've covered before) because it's "fragrance-free, hypoallergenic, and has colloidal oatmeal, which helps heal skin." As an added bonus, she mentions that the added soy helps fade dark spots that eczema can leave behind.
Generally, the thicker the topical cream, the better for eczema-prone skin, and dermatologist Marisa Garshick — an assistant clinical professor of dermatology at Cornell, New York Presbyterian Medical Center — says for this reason ointments (rather than lotions) are your best best. Garshick says creams like CeraVe that contain an ample amount of ceramides, a fat molecule that helps restore the skin barrier and retain moisture, are ideal. This CeraVe healing ointment is one Skelsey likes: It's lanolin-free, unscented, and contains ceramides.
And in the lotion category, this itch-relief CeraVe formula is specifically suited to help with the itch, thanks to a calming ingredient called pramoxine hydrochloride. Writer Alexia LaFata says it's the only thing that's helped with the itch: "Whenever I feel like I'm about to claw myself, I grab it, and in under two minutes, I'm no longer itchy. Because there's no hydrocortisone in the CeraVe, I slather it on at will without fear of developing a dependency."
For something lightweight and fast-absorbing, but still effective, Garshick suggests this La Roche-Posay Lipikar cream with added colloidal oatmeal for the itch. "It contains a high concentration of prebiotic water, which may have a role in improving the skin microbiome that's linked to inflammation and irritation of the skin." Niacinamide is another ingredient in it that can be helpful for calming down redness and inflammation.
Another popular brand for sensitive skin is Vanicream because it's free of fragrances, parabens, formaldehydes, and other irritating ingredients. Garshick recommended it for someone with especially reactive skin, since it's "free of the most common allergens that can worsen eczema."
If you aren't using a prescription-strength hydrocortisone for curbing inflammation, your next best bet is a cream with added steroids in it — though Guttman says they're not nearly as effective. This Aveeno anti-itch ointment (with one percent hydrocortisone in it) came recommended by Garshick as a spot treatment for eczema: "In addition to the hydrocortisone, it contains a soothing triple oat complex."
For a face moisturizer, Garshick suggests First Aid Beauty (a favorite moisturizer of our eczema-prone beauty writer Rio) because it contains colloidal oatmeal for calming inflammation and itchy skin, shea butter to protect the natural skin barrier, and ceramides.
New York–based dermatologist Dhaval Bhanusali offered this tidbit about hand creams: "Neutrogena Norwegian Hand cream is pretty much universally loved by all dermatologists" because it has its skin soothers. The formula is slightly different from other hand creams in that it's rich in glycerin, an ingredient he says is ideal for eczema-prone skin since it's gentle, calming, and a humectant that draws water from the air to moisturize.
Cleansers
Across the board, liquid soaps (as opposed to bar soaps) were recommended for bathing, since they're less irritating and less likely to strip moisture from skin. Skelsey says the Cetaphil Pro Gentle Wash works well for eczema because it cleanses the skin without causing unnecessary dryness or irritation. "It has a filaggrin complex in it that is important for skin moisturizing, along with super-emollient shea butter. It also contains niacinamide, which helps with inflammation."
For face cleansers, the same logic applies: the gentler, the better. Two leading derms recommended this Neutrogena daily cleanser recently for red, sensitive skin, which makes it a good option for eczema sufferers as well.