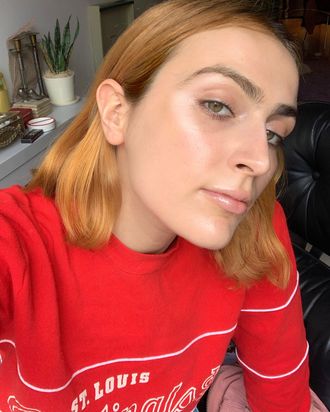 Would you like to know something I truly hate about February in New York City? The beloved bronzers that I use daily in the spring, summer, and fall begin to look plainly fake. It's simply too cold, too cloudy, and too all-around grim out to look naturally tanned. Fortunately, I've figured out a fix. Instead of trying to force my pale, dried-out skin to look sun-kissed, I focus on making it look healthy, well-rested, and hydrated. Glowy, in other words, instead of bronzed. So you can, too, I've created a list of radiance-enhancing products — from dewy concealers to brightening primers — that'll make you look like you just left a spa (instead of a Planet Sun).
Prep
All face oils give you that glowy, glazed-doughnut effect when you first put them on. But this face oil from Aussie brand Luma (created by supermodel Jess Hart) gives you a bright, radiant effect that lasts all day long. This oil contains complexion-fixing ingredients like primrose and rose-hip oil, plus crushed pearl powder that makes your face beam. I use this serum before I put on makeup; it makes foundation go on super easy and makes me look shiny and radiant.
What I love most about this priming cream from K Beauty brand Eborium is that it's intensely glowy, without being at all shimmery. It's called a cream, but really it's a primer, which means it blurs out any imperfections and creates the perfect base for your foundation or concealer. If you're getting your picture taken, this is what you're going to want to apply, it just gives a flawless finish that's second to none.
This product is a cult classic for a reason — it's one of the best in the game for faking that perfect (almost blinding) lit-from-within glow. While it's described as a strobing moisturizer, I tend to use this product on top of my moisturizer and primer on the high points on my face, before I go in with foundation or concealer. It's intensely glowy, without being glittery, and it is so lotiony and creamy that it can also be used on your body (I love using it on my collarbones and shoulders). It looks fairly natural if used alone; if you're looking for an ultra-blinding highlight, you can add another highlighter (like Marc Jacobs's Dew Drops or Maybelline's Face Studio) on top of it. If you're a fan of cream highlighters, this is a must, must, must-have.
Foundations and concealers
When I first tried Glossier's stretch concealer as a straight-up concealer, I wasn't obsessed. But then I saw Katie Jane Hughes using it in a tutorial as a kind of solid tinted moisturizer. I gave it a go and now it has become an everyday staple. I use a big, foundation brush to swipe it across my whole face (after priming my skin with Eborium's Glow Cream and applying Mac's Strobe Cream on the high points of my face), which gives off the most beautiful, ultradewy, and super-natural finish. This product is the ultimate light-to-medium coverage foundation that keeps your face looking radiant and dewy all day long.
I tried this drugstore foundation on a whim and fell in love with it. Who would have thought?! This super-creamy, super-hydrating foundation instantly hides any kind of dark spots or imperfections. I personally found this to be a dupe for one of my all-time favorite foundations ever, NARS Sheer Glow — they both give you that medium yet breathable coverage with a light, glowy finish. I typically only use this in the evenings, as it is a touch more coverage than I like to wear during the day.
Cream and liquid highlighters
For a more dramatic highlight, these have been my go-to for some time now. When used as a straight-up highlighter, these Dew Drops give off the most beautifully blinding, beaming highlight — perfect for photographs and faking healthy skin. But I also love mixing it in with my foundation to create that maximum dewy brightness in my foundation. For nights out, this highlighter is an absolute staple of mine.