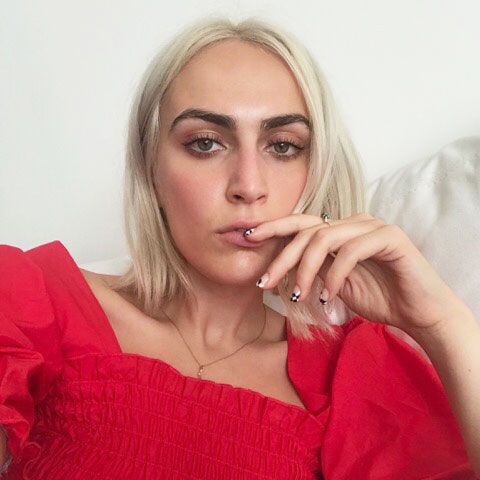 The author, looking rosy.
I recently tried out the new Questions Stickers on Instagram Stories, to see what beauty-related questions my followers had for me. Turns out, they had quite a few! What sunscreen won't make me break out? Is P50 worth it? Have I tried Milk's Kush Mascara? (Cosrx Aloe Vera Sunscreen, yes, and yes.) But the question I saw the most — by a multitude of ten — was about my favorite cream blush.
As an avid cream-blush fan, I am very excited to answer this question for you. But first, I wanted to briefly address the difference between powder and cream blushes. I use powder, typically, for nights out, or for superhot days: I like the way that it blends softly into set skin, making my cheeks look airbrushed and rosy, even when I'm sweaty. And there are a few powder blushes that are all-time makeup Holy Grails; Estée Lauder's Sensuous Rose, and Too Faced's How Deep Is Your Love? to name two I couldn't imagine getting glam without. But creams are admittedly my all-around favorite type of blush: I love how they melt into my skin, giving off a very natural, I-was-caught-in-the-sun flush. I also love how most cream blushes can be used on cheeks, lips, and eyelids, which makes for a nice subtle-yet-cohesive makeup look.
But to achieve that look, you must pick the right cream blush — one that blends seamlessly, doesn't fade easily, and doesn't look greasy. I've tried dozens over the years, and have a few on my roster that I'd happily use every day. Below are my six all-time favorites.
I'm going to start with perhaps the most confusing product on the list. But I promise that once you master the technique required to make it work, this stick is everything. When you first look at this product, it appears light and pale. Same goes for when you first apply it; it looks like no pigment it rubbing off on your skin, only a faint pinky tone. That is normal. Your instinct will be to keep applying more in the hopes of some color finally showing up — resist the urge. Instead, just start rubbing your cheeks with your fingers. The more you rub this product in, the more the pigment starts to appear on your cheeks. It is amazing for giving your cheeks the most natural flush. I've been told more than once while wearing this that I looked like I just got home from the beach.
For people out there with really dry skin, who typically veer away from any kind of blushes at the risk of looking flaky and cakey throughout the day, look no further. This berry-colored blush from Olio E Osso is definitely the most hydrating due to its balmy texture. It's definitely also the most subtle blush I own. For someone who is interested in achieving the most natural blush for a "no-makeup makeup" look, this product is the one for you. It glides onto your skin and will truly give you the most subtle, warm tint to your cheeks. I wear this all the time when I'm too lazy to throw on foundation or concealer, but want a touch of something on my skin to make me look a tad more awake and alive. You can wear it on your lips, too — it won't feel too dry.
This blush is certainly not cheap, but I am so in love with how nicely it blends right into my skin. The other best thing about this is that it will stay put all day long — when I check out my face in the mirror at night after having applied it in the morning, it is always right there where I left it (on my cheeks). The packaging feels really expensive (it's really heavy and very pretty) and is reusable, which means that when you run out, you can order more of the product (for half the price) and it'll fit right into the old packaging.
I wrote a very lengthy review of just how much I adore this product — but if you're looking for the perfect creamy, blendable, buildable berry blush, this one is definitely worth trying. For more information, here's a link to the article.
I honestly really love all of the colors of Jillian Dempsey's Cheek Tints, but I especially like the shade Poppy. When I'm quite tan, I like using more orangey shades because I feel like it enhances my natural caught-in-the-sun glow. This Poppy shade is the perfect not-too-bright, but healthy, shade. It's a really nice, smooth formula and doesn't move around.