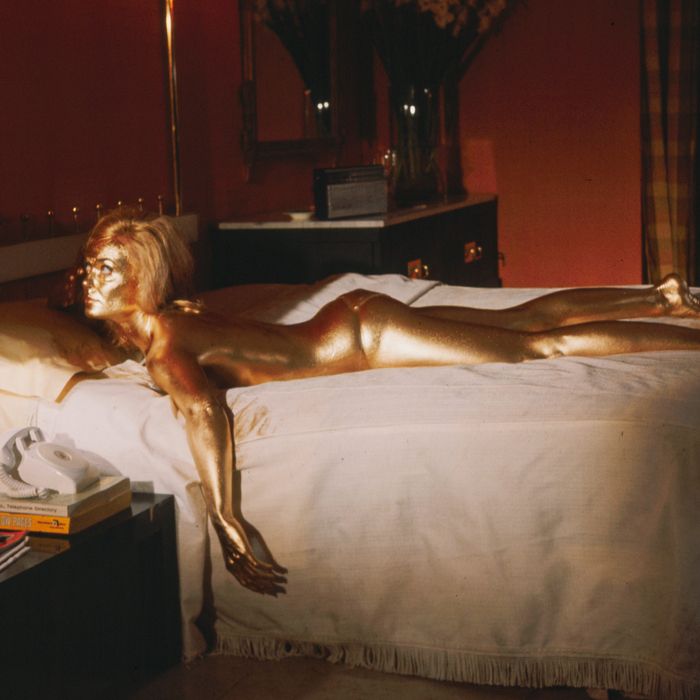 Photo: Popperfoto/Popperfoto/Getty Images
Depending on what you're going for on Halloween, your makeup look might require a casual trip to Sephora — or a deeper dive into some Amazon rabbit holes. Once you start considering the full-body-makeup route, though, you may as well go all-in (how else to be a red devil?). To find the best pigmented makeup and paint for Halloween that will last you the night without chipping or flaking, we turned to the on-set makeup artists and special-effects experts who would know. And if you're looking for good face makeup to finish your look, we found that, too.
If you're into special-effects makeup at all, you've probably heard the name Mehron. That's because Mehron Makeup is the de facto standard for special effects and performance makeup for both body and face: It's a fixture on Instagram among fanatics that go to extreme lengths to perfect their full-body skeletons and Frankensteins. Professional makeup artist Rebecca Perkins of Rouge NY (it was her job to make corpses look real on Law & Order: SVU) considers Mehron's Liquid Makeup the next best thing to getting yourself professionally airbrushed. And for first-timers: She says it's simple enough for even amateurs to dabble with.
"Mehron has such a wide color range — you really can get whatever you want in black, blue, purple, and red — and if you want to achieve something specific, you can buy a few and mix them to your preference, too (which you can do because they're so affordable). It's also very buildable, which means that you can layer it on without having it turn cakey-looking — perfect if you want to get a super deep green for a witch effect or a rich crimson for a devil costume. Just put on a layer, let it set for a few minutes, then smooth another on. I once did the makeup for an all-nude production of Measure for Measure at the Public Theater in which every actor was a corpse. If these paints can hold up through a three-hour Shakespearean ghoul fest, they'll be fine for Halloween."
Makeup artist Cass Lloyd, who specializes in prosthetics and special FX makeup, prefers Mehron Makeup's Paradise Makeup collection (they come in water-activated palettes versus liquid paints) because she likes the colors and how pigmented they are. "The Paradise paints are extremely long-lasting, and a little amount of product goes a long way! I use black and white a lot while creating my looks to lighten or darken any shade I want."
The Paradise collection is another favorite of makeup artist Lisa Prather (a former M.A.C makeup artist who specializes in bridal and Halloween looks — "this will be my fourth consecutive year booked solid for Halloween events"). She says that the Pro Face Paint Palette, while pricey, is the best if you're looking for a long-wearing paint, though you can buy them individually, too. "The color range is pretty spectacular." Here, the individual paints.
And a whopping 30-shade palette for diehards who want to experiment with color.