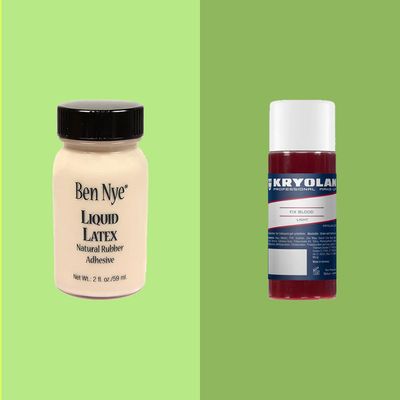 Photo-Illustration: The Strategist; Photos: Retailers
Some Halloween looks don't need much in the makeup department — if you're going for A League of Their Own, a vermilion pout is enough to get Greta Gill's grin just right. But if you're planning on something slightly more involved — like a powdered pre-Revolution Marie Antoinette, a smoky-eyed Robert Pattinson-as-the-Batman, or Stranger Things' Vecna sipping a venti-size cold brew — cosmetics can take your costume to the next level. Doing a full face of Halloween makeup can feel daunting, however, which is why what you use is as important as how you use it. You shouldn't put just anything on your face. That means no literal paint — please, think of your skin. And avoid the cheap stuff you sometimes see in your local pop-up Halloween shop. The wrong products can be a nightmare to remove, plus they can cause irritation and dryness that, depending on your skin type, may take some time to clear up. To find the best skin-friendly options, we asked seven special-effects makeup artists for their top recommendations.
Best overall face makeup for Halloween
Almost every expert we talked to name-checked Mehron, the nearly century-old makeup label founded in New York City's Theater District. Don't let Mehron's reputation for professional-quality products scare you — they're still beginner friendly. This Liquid Makeup is a tried-and-true staple in the kits of makeup artist Elly Supalo and Morgan Wells, the founder of Jane Doe Makeup. Supalo praises its performance — the paint is designed to be smudgeproof and long-lasting — while Wells compliments its water-based formula. "Once it's dry, it's set," she explains. This paint contrasts with cheaper alternatives that contain alcohol-based ingredients, which dry out your skin more than any other makeup, Wells adds. Mehron's colors are very workable, meaning you can add as many layers as needed. This isn't the first time we've heard about the brand's Liquid Makeup. In our guide to the best Halloween body paint, Rebecca Perkins of Rouge NY (fun fact: She was tasked with making corpses look real on Law & Order: SVU) told us she considers it the next best thing to professional airbrushing. Perkins even used it for an all-nude production in which every actor was a cadaver. "If these paints can hold up through a three-hour Shakespearean ghoul fest, they'll be fine for Halloween," she says.
Best cream makeup for Halloween
Aria Ferraro, a makeup artist working in TV and film, favors Mehron's collection of Fantasy FX paints. "They literally look like painting tubes," she says, adding that the colors are quick-drying when applied in thin layers. Since it sets fast, you'll want to be swift with your application. It's "buildable but with some care," Ferraro explains — for areas where you want a thicker coating of paint, you want it to still feel fresh as you go in. "Be mindful that the thicker you make the color, the more likely you will have some cracks," she says. The big bonus of this paint, compared with the Mehron Liquid Makeup above, is that you have more control over how much you're using (especially because of its creamy texture). The formula is water-based (a note from Ferraro: If you sweat a lot, a retouching session may be in order), so no setting powder is needed, and you can simply wash it off with soap and water once trick-or-treating is over.
Best makeup palettes for Halloween
Mehron really does reign supreme: The company's Paradise paints earned three shout-outs — from content-creator–slash–cosplayer Dakota Alexandra, Supalo, and Wells. If you don't want to mess with liquid makeup, this palette features paints that are water activated; dry within their respective pans, they come alive when wet with a tool of your choice. Alexandra's tip is to play around with different applicators — a fine brush will give you more precision, while a sponge (like a Beauty Blender) works well for creating bruises and splatters. She also likes the versatility in the paints' consistency. Depending on how much water you add, there are "endless possibilities" to what you can do, she says. Supalo seconds this, saying these paints are "very vibrant" when applied. And Wells points out that everyone from body painters to clowns and pro makeup artists relies on them. That's in no small part because of how easy the paints are to wash off. "You walk away from the night with your face intact and not left with 50,000 colors when you remove it," Wells adds.
Ben Nye Sr. worked as 20th Century Fox's makeup director before creating his eponymous makeup company. Supalo recommends the brand's Master Creme Palette, which includes 12 of the line's most popular shades and contains the standard color wheel's worth of hues, and then some, to provide a full range. The formula is "buildable upon application," so you can easily blend even more shades, Supalo adds. There's a built-in mixing palette on the inside of the lid to do so. To apply, Supalo says you can use any makeup brush or even a paintbrush (a blending sponge will do the trick too). Once you're done, you can set your look with some powder (like this Ben Nye option that Perkins previously recommended to avoid flaking from sweat) to make sure it won't budge.
Best makeup base for Halloween
Although this cream is marketed to clowns and mimes, it makes for an eerie base. Marlena Orlowska, a makeup artist with the Paul Labrecque Salon & Spa, often starts with white face paint before brushing on the more elaborate elements of her Halloween looks. This ensures that every other color she applies looks its best. The cream "helps to make any color put on top of it pop," she explains. It's velvety in texture and acts as a foundation if you're trying to be a cat or vampire for the night. And the coverage is top tier, she adds, lasting up to ten hours before it starts to dry out. To get the best finish, Orlowska says to prep your skin with a not-too-heavy moisturizer. "We still want to make sure our skin will not get red by using any paint, but at the same time we want the makeup to stay on and not look cakey," she says.
Best metallic makeup for Halloween
If you're going for gold (or silver, copper, or metallic lavender), photographer and body painter Michae E. Allen approves of these powders from Mehron. Not only are they perfect for finishing touches — maybe you would like that moon near your brow to be slightly more sparkly — they also work for bold, full-body looks. The powder can be applied wet or dry, Allen explains, and clients have always been satisfied with the effect. While you could use it all on its own, Mehron suggests combining the powder with its Mixing Liquid for an intense liquid-metal look. (Makeup artist Lisa Prather previously told us you can use Mehron's Mixing Liquid with other paints to make them grippier and more water resistant.)
Best kids' makeup for Halloween
Stacy Chen, co-founder of the kids' face-painting company Silly Cheeks, cautions parents against using markers or craft paint they already have at home: These contain harsh chemicals that can irritate children's sensitive skin. Instead, go for makeup that's organic, like Go Green's paints, which are also vegan. You don't need water to apply them; the paints are ready to put on from the moment you twist open their caps. And you can choose from sets of colors, including one with a princess theme that features hot-pink and royal-blue shades.
Best setting spray for Halloween
Once you've finished your Halloween makeup, Alexandra recommends misting on Mehron's Barrier Spray, which will seal the paint in place and keep the colors from transferring onto the collar of your costume. You can also put it on pre-paint — as the spray's name suggests, it creates a barrier between you and your cosmetics. This is helpful if you're using skin-staining reds and pinks, Alexandra says. Just be sure to spray onto a clean, dry face if you're applying beforehand.
Best liquid latex for Halloween
Those who plan on going all out to alter their appearance — say, by wearing a crooked nose for a wicked witch or adding a gaping cut to their forehead to resemble a Walking Dead extra — should turn to this Wells-endorsed Liquid Latex from Ben Nye. It functions as both an adhesive and a blending tool. "That's your best bet when applying a prosthetic," she says. The latex is a better alternative to the cheap adhesives — usually spirit gum — that typically come with these kinds of props, as they're "not fun to put on and not fun to take off."
Best fake blood for Halloween
Like Mehron, cosmetics company Kryolan has been around for the better part of a century (it was founded in 1945), and that history explains why it makes two appearances on this list. The first comes courtesy of actress Chloe Cherry, who gave us an insider tip: This is the same blood used on the set of Euphoria. Cherry is no stranger to fake blood — she has seen it on sets and incorporated it into her own Halloween costumes — but Kryolan's is the best of the best. "It doesn't really come off; it stains your skin for a day," she says. A little scrubbing (and patience) will take care of that, though.
Or turn to this tube that Orlowska likes to use, especially on the lips. The blood will drip down, drying in a couple of minutes. Since you just have to squeeze the tube — similar to a lip gloss — it's meant to be less messy than others.
Best tear stick for Halloween
On the hunt for a look so haunting it'll bring you to tears? You don't have to conjure up the emotions yourself. Use this lipsticklike tube of tears (it's really just menthol, as in peppermint) under your eyes and wait for the waterworks. Performer Annie Hamilton introduced it to us, explaining that the tear stick is there "when you need or want to cry and know you have the feelings but are scared the actual tears won't come." So you get an effect that's less Casper the Friendly Ghost and more Moaning Myrtle. "It's great for parties when no one's paying attention to you," Hamilton adds.
Best detailing makeup for Halloween
Several of the makeup artists we talked to shared a similar sentiment: "It's important to remember you can also do a lot with things you already have," says Alexandra. That includes colorful eyeliners and lip liners, which (when shaded just right) can be used for realistic detailing, as in mock wounds. ColourPop's products are favorites of hers. The brand's Lippie Stix are in the "realm of wound coloring," including deep browns and vivid purples (there's even an intense black shade). Alexandra also advises adding a little white (like the company's "Exit" eyeliner) to the edges of any fake wound to give it dimension and depth. I'm another ColourPop convert — I use the brand's gel liners like crayons for my eyes because of their creamy consistency. A combination of buildability and pigmentation means each shade gets richer with every layer you put on, making them doubly great for creating dramatic Halloween designs. And they're not hard to remove — some cleanser and a splash of water will rinse the liners right off.
The Strategist is designed to surface the most useful, expert recommendations for things to buy across the vast e-commerce landscape. Some of our latest conquests include the best umbrellas, steak knives, rolling luggage, and yoga mats. Note that all prices are subject to change.
If you buy something through our links, New York may earn an affiliate commission.