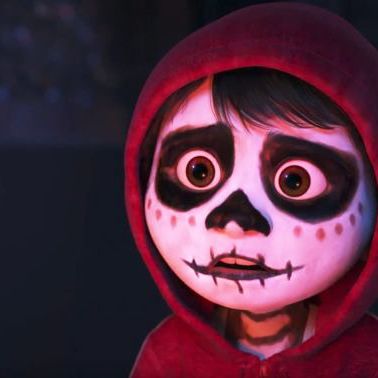 Photo: Pixar/Walt Disney Studios
Even if your daily makeup routine is minimal — or nonexistent — you may want to dial it up for Halloween. Whether you're going green to transform into a wicked witch, bright blue for becoming a Na'vi creature, or dark red to match your devil ears, a vividly pigmented face paint helps bring your costume to life. But not all Halloween makeup are created equal, and some of the lower-quality products out there can be drying or damaging to your skin. To find the best skin-friendly options, we asked three makeup artists —including a kids' specialist and a full-body statue-style painter — for their top picks. We also asked experts for the best body makeup for Halloween, too.
Best overall face paint
Nearly every makeup artist we spoke with mentioned Mehron, a professional-quality product that's user-friendly enough for the rest of us, as the leader in face and body paints. "With water-based makeup, once it's dry, it's set." Morgan Wells, founder of Jane Doe Makeup, likes that Mehron's paints, unlike some cheaper alternatives, are free of any alcohol-based ingredients, which, she says, "will dry out your skin more than any other makeup." The colors are also buildable, so you can add as many layers as you need to get the perfect shade.
Runners-up
Other Mehron products also got top marks from makeup artists, including these water-activated face paints recommended by Wells. "A wide range of people use these," she says, "from body painters to clowns and pro makeup artists." And because the paints easily wash off with water, Wells likes that "you walk away from the night with your face intact, and not left with 50,000 colors when you 'remove' it."
If you're going for gold (or silver, copper, or even metallic lavender) photographer and body painter Michael E. Allen likes Mehron's powders for both detailing and bold, full-body looks. "It goes on dry [or] wet, and it stays," he says. "I've never had any complaints from clients I've used it on."
Best for kids
When it comes to children's sensitive skin, Stacy Chen, artist and co-founder of kids' face-painting company Silly Cheeks, cautions that "parents should avoid using markers or arts-and-craft paint that they already have at home. These are not meant to be used on the skin and have harsh chemicals." Instead, she recommends choosing organic makeup, like these paints from Go Green, which are hypoallergenic, vegan, and free of fragrances and parabens.
Best for applying prosthetics
If you're "enhancing" your appearance with a crooked witch nose or a gaping wound, Wells advises against using the cheap adhesives — usually spirit gum — that typically come with props, as, she says, they're "not fun to put on, and not fun to take off." Instead, she likes Ben Nye's liquid latex, which is both an adhesive and a blending tool. "That's your best bet when applying a prosthetic," she says.
The Strategist is designed to surface the most useful, expert recommendations for things to buy across the vast e-commerce landscape. Some of our latest conquests include the best umbrellas, steak knives, rolling luggage, and yoga mats. Note that all prices are subject to change.
If you buy something through our links, New York may earn an affiliate commission.