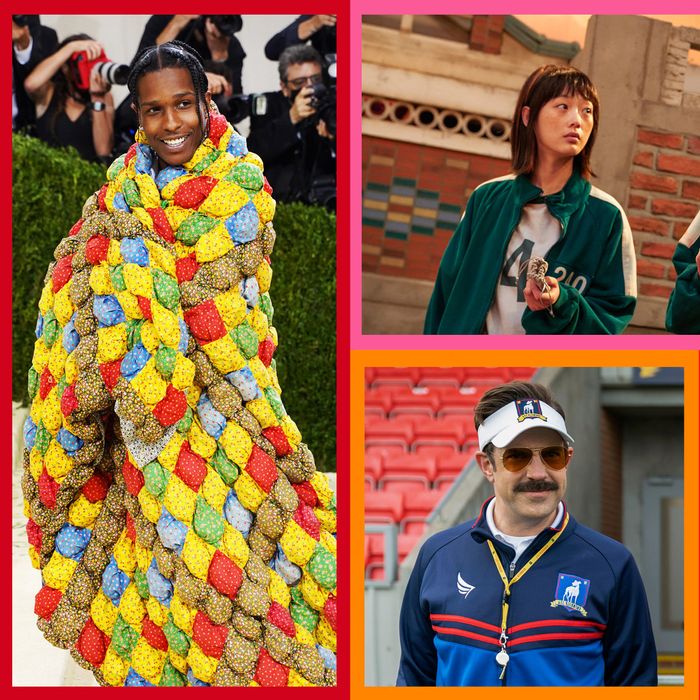 Photo-Illustration: The Strategist. Photos: Getty Images; Netflix; Geffen Records; Apple TV+
With more than half the U.S. population fully vaccinated, we are edging closer and closer to what you might call a normal Halloween. Because it's largely celebrated outdoors (and because you can easily incorporate masks), Halloween is a pretty safe holiday even for kids who aren't yet eligible for the vaccine. Dr. Anthony Fauci himself says people should enjoy trick-or-treating this year — preferably with masks and lots of hand-washing if possible. But many of us are out of practice because of the pandemic and could use a few creative but not-too-difficult costume ideas. As we do every year, we curated a list of our favorite extremely-of-the-moment 2021 Halloween costumes that you can easily put together yourself with a few online purchases. As ever, don't dillydally: As Halloween approaches, shipping times get tighter, so be sure to check the estimated ship date before you buy. And don't be afraid to shop around. A lot of the items we've linked to below are just one of many available on Amazon and Etsy.
Squid Game
The ultrapopular Netflix series Squid Game has all the ingredients of a fantastic and easy Halloween costume. It's gory, pretty much everyone has heard of it, and multiple characters wear the same outfit. You could pull this off with any tracksuit and some cut-out numbers, or you could buy one of the many teal-and-white Squid Game tracksuits for sale on Amazon and Etsy. This costume works equally well for one person or as a group costume worn by you and five to 30 of your closest friends.
Ted Lasso
A tracksuit would also work well as the base layer of a Ted Lasso costume. To get the full "midwestern nice guy navigating life across the pond" look, you'll also need a white visor, an AFC Richmond patch or two, a mustache (if you can grow one in time), and enough corny jokes to last you through the night.
Tony Soprano
The Sopranos obviously didn't come out this year, but the show did see a pretty bonkers resurgence in popularity in terms of both Twitter chatter and people actually committing to watch the whole six seasons. Like Ted Lasso and the cast of Squid Game, Tony Soprano is known for his tracksuits, especially the velour ones. This ensemble is a close match for the one Tony wears on the show, and it's also extremely soft. Wear it with a white undershirt to complete the look.
Mare Sheehan
If you're not interested in spending another Halloween night shivering in a sexy Flintstones costume, we suggest going a different direction by dressing as Mare Sheehan, the titular Mare in Mare of Easttown. All you need to channel the small-town Pennsylvania detective is a flannel shirt, a waxed-cotton jacket, and a reference to Wawa, cheesesteaks, or vaping.
Booster-shot baby costume
This one is a bit more complicated to explain, but hear us out: This stainless-steel funnel looks enough like a needle, and the set comes with three sizes so at least one will probably fit most babies' heads (we think). Then all you need is a light-blue onesie and a Sharpie to turn your baby's body into the syringe. Draw milliliter lines down the front of the onesie, and your baby is a booster shot! (You can dress up as Fauci.)
Two Nicole Kidmans
Nicole Kidman starred in two popular TV series in the past year, both of which styled her in iconic hair and wardrobe. The Undoing was almost more talked about for Kidman's coats than it was for the plot, and Nine Perfect Strangers has her dressed like a spooky yoga angel. Why not use Halloween to honor both these characters in double Kidman costumes? First, find a friend who likes wearing wigs and is approximately the same height as you. Second, pick your roles: The Undoing Kidman gets a red wig and a green velvet coat, and the Nine Perfect Strangers one gets a long white tunic, a blonde wig, and a prayer-bead necklace.