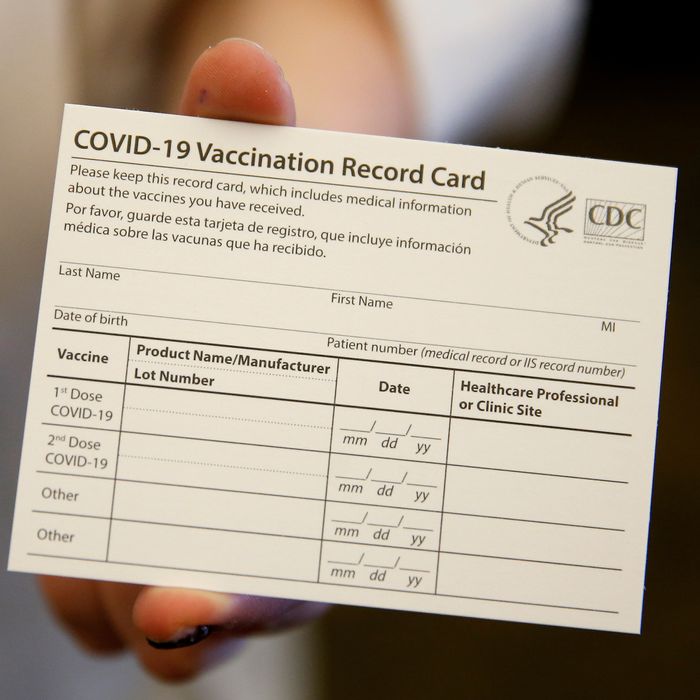 Photo: Jessica Rinaldi/Boston Globe via Getty Images
I got my COVID-19 vaccination at the Javits Center in Manhattan on March 14. Like many of my friends and family, I found the experience to be surreal and emotional. I had to hold back the urge to hug the nurse who gave me the shot as she handed me my brand-new vaccination card. Unaware of my swelling affection, she told me to carefully check all the information on the card and to keep it safe. "If you like to travel like I do, you're going to need to show this card a lot," she said. I followed her instructions and then, in all of my excitement, I got up and started to walk away, almost leaving it behind on the table.
I quickly realized my mistake and went back for the card. And I'm glad I did. Dr. Amesh Adalja, senior scholar at the Johns Hopkins Center for Health Security, says keeping your COVID-19 vaccine card safe is important because it could be used to record a booster shot in the near future. Plus, recent events have made proof of vaccination very important: In response to the rapidly spreading Delta variant, Mayor Bill de Blasio announced on August 3 that New York City will require it for a number of activities, including indoor dining, gyms, and movie theaters. You often have the option of using an app to prove your vaccination status, but even so, you'll still want to hold on to the paper card.
Dr. Stacy De-Lin, a family-medicine specialist in New York City, says there's plenty of precedent for having to show proof of vaccination for work or travel. "I've traveled to places in Africa where I have to show a yellow-fever card just to get into the country and in order for me to enter hospitals to work as a doctor," she says. "I've had to show proof of my MMR vaccination and my flu vaccine. It just makes sense that in the time of a virus that's so deadly and so widespread we would require the same." Both De-Lin and Adalja think that some sort of digital proof of vaccination makes more sense than (and will probably replace) the paper cards that aren't very durable and are potentially easy to forge. For now, though, De-Lin recommends that people scan or photograph both sides of their cards and keep a digital copy somewhere that's easily accessible. If you're like me and want to protect the card itself, I spoke to multiple experts — doctors, professional organizers, and an archivist who works specifically with valuable works on paper — on the best ways to do it. Here, what they recommend.
Should you laminate your vaccination card?


Several people, including professional organizers Daniel Loya of Spaces Transformed and Brennan Reid of Aristotle Organizing, as well as an employee at the site where one Strategist senior editor got his vaccine, recommend laminating vaccine cards. Loya says that after your final shot, laminating the card is a smart idea. "I have family photos my grandfather took me to laminate when I was a child, and they are still perfectly preserved decades later," he says. Reid also thinks laminating your card is a good idea, but warns people to make sure that the lamination is non-reflective, so that you can still easily read the card.
This personal-sized laminator has over a thousand positive reviews, comes with lamination pouches, and is currently on sale.
Conversely, Carolyn Frisa, owner and head conservator at Works on Paper, says she generally steers people away from laminating paper items because the plastics and adhesive used can do long-term damage to the items they're trying to protect. She adds that you might want to keep your card unlaminated in case it needs to be used down the line for booster shots. "It's still unclear whether a new card would be issued for subsequent vaccinations (or whatever else we end up needing to record on the card), and laminating it would make it impossible to add this new data to the original card," she says. According to De-Lin, all three vaccine manufacturers in the U.S. have already talked about developing a booster. "We now know that a lot of vaccines have really good performance against the variants. The concern is we might see more variants in the future, which don't respond as well to the vaccine."
Some other ways to keep your vaccine card safe


Instead of laminating it, Frisa recommends putting the card in a clear plastic sleeve that is sealed on three sides so it's protected but can still be easily removed if additional information needs to be added. She says any traditional plastic lanyard sleeve that's readily available from office-supplies stores is fine, but for her own card she'll use something a little fancier. "When I get my card next week, I will be putting it in a Melinex or Mylar sleeve — the clear plastic choice of conservators because it will never harm the paper," she says.
Frisa also mentioned that there are a number of Etsy sellers offering custom COVID vaccine card holders. Many of them are extremely cutesy (and some are printed with the words "I got my Fauci Ouchie"), but these red, blue, and black ones are fun without going overboard.
Here are some colorful leather holders that come with a key ring you can attach to your bag.
If you're planning to get on a plane soon, this travel wallet is a good choice. It has space for your passport and boarding pass, and a clear window for your vaccination card.
Even in a holder, the vaccine card is still pretty small — and so, still pretty easy to misplace. That's why Reid recommends keeping it with the rest of your important medical documents in a folder. "A good place for it is wherever you store your passport and birth certificate or any important documents like that. That could be in a filing cabinet, as long as the papers all live within each other and are labeled. I have a folder for important documents and that's where I keep mine," he says. These oxford folders have pockets to keep small items from falling out, and they are color-coded to help you stay organized.
Reid's partner has a different system. She keeps her vaccine card organized with her jewelry so it's always close at hand and she knows exactly where it is at all times. This jewelry box from a company we've written about before is stylish and has a bottom drawer that's the perfect size for a vaccine card in its plastic sleeve.
What should you do if your card gets lost or destroyed?


If, despite your best efforts, you still manage to lose your card, Adalja says it's not that big a deal. According to him, every state keeps track of who has been vaccinated. His advice: "Just go back to the place where you got your vaccine and they might be able to fill out a new card for you. The information is not tracked on a federal level, but it definitely is on a state level and on an individual vaccine center level as well."
The Strategist is designed to surface the most useful, expert recommendations for things to buy across the vast e-commerce landscape. Some of our latest conquests include the best acne treatments, rolling luggage, pillows for side sleepers, natural anxiety remedies, and bath towels. We update links when possible, but note that deals can expire and all prices are subject to change.