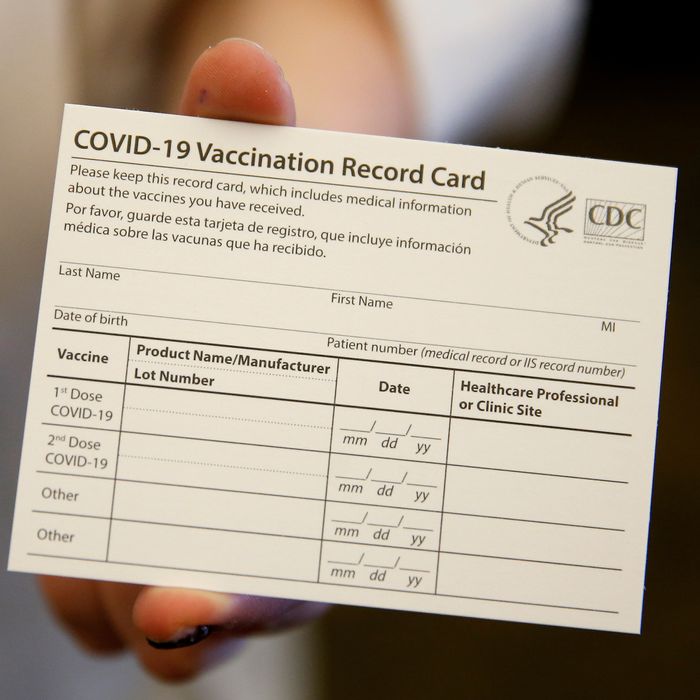 Photo: Jessica Rinaldi/Boston Globe via Getty Images
I got my COVID-19 vaccination at the Javits Center in Manhattan on March 14. Like many of my friends and family, I found the experience to be surreal and emotional. I had to hold back the urge to hug the nurse who gave me the shot as she handed me my brand-new vaccination card. Unaware of my swelling affection, she told me to carefully check all the information on the card and to keep it safe. "If you like to travel like I do, you're going to need to show this card a lot," she said. I followed her instructions and then, in all of my excitement, I got up and started to walk away, almost leaving it behind on the table.
President Biden announced this week that all adults in the United States will be eligible for the COVID vaccine starting April 19. Which means quite a few of us will soon be responsible for storing what feels like our (unfortunately rather flimsy) magic tickets back to regular life. What happens if we lose it? Or accidentally spill coffee on it? Or put it through the wash? And what is the best way to protect this incredibly important four-by-three-inch card? To answer all these questions and more, I spoke to doctors, professional organizers, and an archivist who works specifically with valuable works on paper.
Dr. Amesh Adalja, senior scholar at the Johns Hopkins Center for Health Security, says that keeping your COVID-19 vaccine card safe is important for a few reasons. First of all, it's an appointment reminder. If you're getting a two-dose vaccine, the nurses or doctors administering it will often write the date of your second dose on the card. It's also a quick way to prove your vaccination status, which could come in handy when you travel and when things like offices, sporting events, weddings, or concerts open back up again. Cruise ships are already saying that they will require proof of vaccination when they launch again. Adalja's solution is to keep the card with his other important documents. "I actually just put it inside my yellow fever vaccine card with a paper clip, and I stick the fold-up yellow vaccine card inside my regular passport."
Dr. Stacy De-Lin, a family-medicine specialist in New York City, says that there's plenty of precedent for having to show proof of vaccination whether for work or travel. "I've traveled to places in Africa where I have to show a yellow fever card just to get into the country and in order for me to enter hospitals to work as a doctor, I've had to show proof of my MMR vaccination and my flu vaccine. It just makes sense that in the time of a virus that's so deadly and so widespread we would require the same," she says. Both De-Lin and Adalja think that some sort of digital proof of vaccination would make more sense than (and will probably replace) the paper cards that aren't very durable and potentially easy to forge. For now, there is no federal program to digitize COVID-19 vaccine cards, and some states have even gone so far as to ban businesses from requiring any kind of so-called vaccine passport. But several states have embraced the idea, including New York, which was the first in the country to launch its own app, called the Excelsior Pass. For now, though, De-Lin recommends that people scan or photograph both sides of their cards and keep a digital copy somewhere that's easily accessible.
Should you laminate your vaccination card?


Several people, including professional organizers Daniel Loya of Spaces Transformed and Brennan Reid of Aristotle Organizing, as well as an employee at the site where one Strategist senior editor got his vaccine, recommend laminating vaccine cards. Loya says that after your final shot, laminating the card is a smart idea. "I have family photos my grandfather took me to laminate when I was a child, and they are still perfectly preserved decades later," he says, noting that Staples stores will laminate vaccine cards for free from now until May 1. (OfficeMax and Office Depot are doing the same.) Reid also thinks laminating your card is a good idea, but warns people to make sure that the lamination is non-reflective, so that you can still easily read the card.
Conversely, Carolyn Frisa, owner and head conservator at Works on Paper, says she generally steers people away from laminating paper items because the plastics and adhesive used can do long-term damage to the items they're trying to protect. She adds that you might want to keep your card unlaminated in case it needs to be used down the line for booster shots. "It's still unclear whether a new card would be issued for subsequent vaccinations (or whatever else we end up needing to record on the card), and laminating it would make it impossible to add this new data to the original card," she says. According to De-Lin, all three vaccine manufacturers in the U.S. have already talked about developing a booster shot. "We now know that a lot of vaccines have really good performance against the variants. The concern is we might see more variants in the future, which don't respond as well to the vaccine."
Some other ways to keep your vaccine card safe


What should you do if your card gets lost or destroyed?


If, despite your best efforts, you still manage to lose your card, Adalja says it's not that big a deal. According to him, every state keeps track of who has been vaccinated. His advice: "Just go back to the place where you got your vaccine and they might be able to fill out a new card for you. The information is not tracked on a federal level, but it definitely is on a state level and on an individual vaccine center level as well."
The Strategist is designed to surface the most useful, expert recommendations for things to buy across the vast e-commerce landscape. Some of our latest conquests include the best acne treatments, rolling luggage, pillows for side sleepers, natural anxiety remedies, and bath towels. We update links when possible, but note that deals can expire and all prices are subject to change.