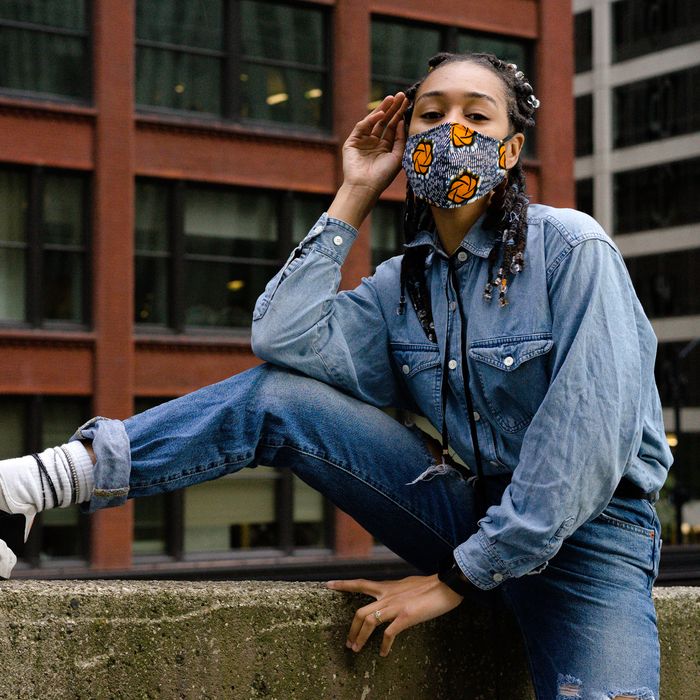 In order to help stop the spread of the coronavirus, the CDC recommends everyone wear a face mask in public. This is especially important in settings where social distancing can be difficult, like grocery stores, pharmacies, and subways, and buses. According to Dr. Sten Vermund, an infectious-disease epidemiologist and dean of the Yale School of Public Health who published a study on the subject, "many types of masks can essentially block droplet transmission. If you aerosolized the virus, it might seep through a lot of masks, but when most people cough, the aerosol released is a small volume and the droplet is a large volume. So if you block the droplets, you may substantially reduce exposure."
Studies have shown that somewhere between 25 to 50 percent of infectious people are either presymptomatic or asymptomatic. "So if we have widespread or near-universal mask use, then those people are limiting their spread to others," Vermund says. In addition to limiting the spread of the virus from infectious (and potentially unaware) people, recent data indicates that masks are also effective for protecting the wearer. Dr. Stacy De-Lin, a family medicine specialist in New York City says "for people who did contract COVID while wearing a mask, the viral load that they were exposed to was much less. And so while they did become infected, in certain cases, their symptoms were much less because we know that viral load is tied to the severity of the disease." Still, Vermund warns that face masks are not a silver bullet and work only when combined with other public-health measures, including washing your hands, remaining at home as much as possible, avoiding large gatherings, and staying at least six feet away from others when out in public.
But what kind of face mask is best? And if you're looking to order some, where can you buy them right now? We asked Vermund and Dr. Scott Segal, chairman of anesthesiology at Wake Forest Baptist Health, for insight into those questions and a few others.
Because there is a shortage, and because they are among the most at risk, health-care workers like doctors and nurses should be one of the few groups of people wearing N95 masks. That leaves fabric and disposable masks (we've rounded up the best of those, too) for the rest of us. Segal conducted a study on the efficacy of different materials used for homemade masks and says you want to look for thick, tightly woven cotton like the kinds used for quilting or batik. These are better at filtering small particles close to the size of a virus (0.3 to 0.5 microns). "Our general guidance is to do a quick light test," Segal says. If you can see light passing through the material when you hold it up to bright light or the sun, it's less likely to be a good filter. (Soon consumers will have a lot more than the number of layers, type of material, and the light test to go by when picking a mask. A division of the CDC is working with ASTM International to create a set of filtration standards for masks. Once the standards become public, companies will be able to have their masks tested at a third-party lab and, if the masks pass, carry labels saying so.)
Segal and Vermund also note that your mask should be both comfortable and fit tightly to your face, but it obviously shouldn't be so tight or so thick as to impede your breathing. To help find the right face mask for you, we tested 72 of them (so far) on the basis of fit, breathability, style, and whether they pass Segal's light test. Below are our favorites. We will continue to update this article with new information and edit the list as new masks are wear-tested.
The best fabric masks to buy online
As we enter into a second wave of the virus, you may want to consider putting aside your lightweight summer masks in favor of an upgrade. A new materials study conducted by four scientists out of Virginia Tech shows the importance of an additional filter layer sandwiched between two layers of tightly woven cotton. Many of the fabric masks you can buy now feature a pocket for such an additional filter. In addition to mask filters you can buy (which we wrote about here), Dr. Laszlo Mechtler, professor of neurology and neuro-oncology at SUNY Buffalo, says a coffee filter, a section of a non-fiberglass HEPA vacuum bag, a swatch of flannel, a few tissues, or any other material that passes the light test but does not restrict your breathing would make a viable added filter.
In terms of handling, Segal says, "try to handle it by the ties or ear loops, not the fabric front. Wash your hands after taking it off, and then either hang the mask up to dry out, or wash it before the next use." And if you're buying your masks online it's a good idea to wash them before wearing for the first time. (Here are some directions on how to clean your face mask.)
Baggu
Photo: kabir fernandez
We love Baggu's original masks because they look good, feel good, and stay put, and now the brand is offering masks with adjustable ear loops instead of ties in a bunch of cool prints and solid colors, too. The masks are machine washable and made from 100 percent–organic quilter's cotton, which is very effective at blocking respiratory droplets. They also feature an adjustable nose wire and a pocket for an extra filter insert. For every pack of masks sold, a portion of the proceeds will be donated to organizations on a rotating basis. Currently, Baggu is contributing to the Black Voters Matter Fund, the Center for Disaster Philanthropy, and Community Alliance With Family Farmers.
What we think: For those of us who like the original Baggu masks but don't have the patience to tie and untie the straps over and over again, the launch of these new masks is a true blessing. They stay in place just as well, are just as adjustable, feel just as substantial, and are just as fitted as the tied masks but are much easier to use. They're also more flattering because of their rounded design and won't mess up your hair. And they're more comfortable, since you can't accidentally tie them too tight. While other masks, both flat and accordion style, tend to sit right against your skin, Baggu's envelope design and sturdy cotton keep the mask slightly off your face, which helps it feel less hot and sweaty. And these do pass the light test. Plus, die-hard Baggu fans can now match their mask to their favorite tote or reusable shopping bag, as these masks are made in three of the brand's simple, easily coordinated colors.
Availability: Now.
We first heard about Mamask when we included its cute kids masks in our children's-masks roundup. Then Strategist writer Louis Cheslaw gave its masks his seal of approval. The company made jackets, suits, and other clothing for some of Korea's top fashion brands before the pandemic, and it now produces an assortment of masks for both adults and children, including sport masks and these thicker fall/winter masks. The fall/winter masks are made of two layers of 100 percent cotton with a bendable nose strip and adjustable ear elastics. They also come with a free copper-ion fabric filter included.
What we think: These masks are breathable but sturdy enough to block the wind on chilly winter days. They come in multiple sizes and fit both me and my fiancé well, thanks to the adjustable ear loops. The thick cotton outer layer makes them feel durable, and the contrasting piping gives them just the right amount of pizzazz. (My fiancé isn't a fan of most decorative masks.) We wore them out sledding in Prospect Park, and they kept our noses and cheeks warm and cozy. The included filter feels substantial enough to make me confident about wearing these on the subway or in other crowded spaces.
Availability: Now.
NxTSTOP
These dual layer adjustable face masks feature a wire insert above the nose for a tighter fit.
What we think: These use adjustable ear loops, a bendable wire nose strip, stretchy fabric, and an added lower section that hugs your chin to create a tight but comfortable fit on many different face shapes. They're well made, pass the light test, and seem like they will last a long time, plus the navy fabric and black piping is a nice change from all the craft shop patterns we have been seeing out in the world. The fabric isn't heavy but they are only average in terms of breathability. NxTSTOP also carries a more breathable version of its mask, made for working out. It has the same fit and number of layers, but the fabric is designed to cool you as you run, hike, or deadlift 200 pounds.
Availability: Orders ship 2 to 3 business days from purchase.
Buck Mason
Sasha Koehn and Erik Allen Ford, co-founders of Buck Mason, make masks using three layers of the heavyweight cotton they usually use to make T-shirts. Initially they were planning to donate the masks to nonmedical essential workers at grocery stores and warehouses in their community. But so far the biggest request has actually come from health-care workers. "The medical community is requesting them for things like sending patients home and going to and from work," Koehn says. The brand's original goal was to sell and donate 100,000 masks. They have already sold double that number and have set a new goal of 1 million.
What we think: Buck Mason's masks are very soft and comfortable on a cool day. They also pass the light test thanks to three layers of fabric. Strategist writer Lauren Ro loves how soft and breathable they are. She also likes that they have ear loops and a tie, which makes them easy to keep on and also hang from your neck if you need to take the mask off for a moment.
Availability: Now.
Vistaprint
Vistaprint's masks are made to ensure proper filtration, breathability, and comfort. Their masks feature adjustable ear straps. For every mask you buy, they'll give 10 percent to support local small businesses impacted by the coronavirus.
What we think: Of the dozens of masks we tested for this story, Vistaprint's are among our favorites. Adjustable ear loops, a bendable wire nose strip, stretchy fabric, and an added lower section that hugs your chin make this mask fit several different face shapes securely and comfortably. It doesn't feel constricting or heavy and it looks cute enough and is really well made. The fabric is synthetic but moisture wicking, so it feels a little hotter than a lightweight 100-percent cotton mask but it didn't make us sweat — even after wearing on a hot day. These masks pass the light test on their own, but Vistaprint also sells replaceable filters in packs of 10, which easily slide into the mask's inner pocket.
Availability: Estimated arrival is between 1 to 2 weeks from purchase.
Hedley & Bennett
One of the first brands to start making fabric masks, Hedley & Bennett added these two-ply cotton face masks to their collection of very stylish, well-crafted aprons and chef's gear. With each purchase, they will donate a mask to essential workers in need.
What we think: Now in their third round of design, Hedley & Bennett's masks have a metal nose strip and a longer body so, according to Strategist Writer Nikita Richardson, they won't ride up as much when you're talking. They also feature easily adjustable ear loops. The masks come in 8 different colors, all of which pass the light test.
Availability: Ships 1 to 3 business days from purchase.
Vida