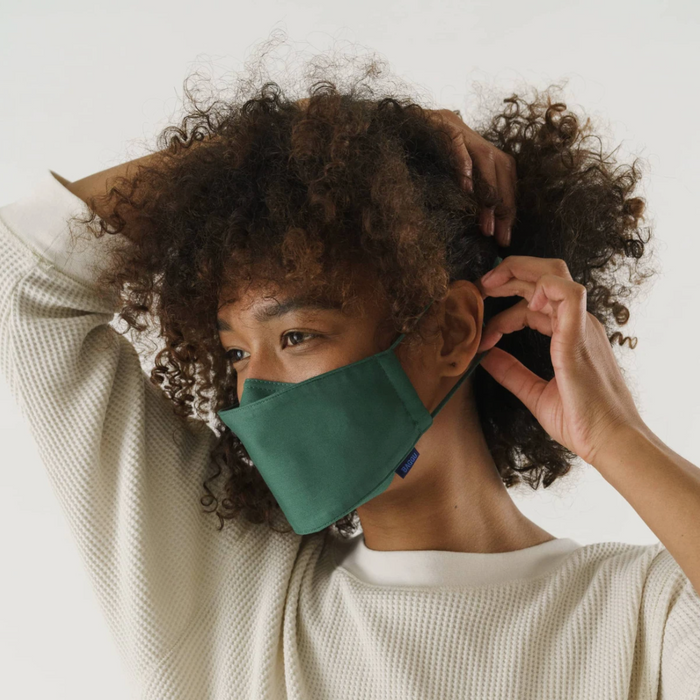 In light of the Omicron variant and at the urging of public-health experts, the CDC has updated its mask guidelines. The agency's new standards stress that fabric masks are the least protective against COVID-19, whereas well-fitting N95, KN95, and KF94 masks — which use special nonwoven materials with an electric charge to block tiny aerosol particles — do a much better job of stopping the virus's spread. Of course, any mask is better than no mask, but we've talked to doctors, scientists, and public-health experts to help you find the best and most protective of the bunch. So whether you're looking for a comfortable N95 you can wear on a plane, a child-size KF94, KN95 masks your teenager can wear to school, or advice on double masking, we can help.
Even with over 60 percent of eligible Americans vaccinated, booster shots available to anyone over 18 years of age, and new federal vaccine mandates in place, the coronavirus is still spreading. The Omicron variant is now the dominant variant of the virus in the United States. There's still a lot unknown about the new variant, but with COVID surges happening around the country, it's a good idea to have a face mask on you at all times. That's especially true if you're taking any form of public transportation, where face masks are still required in many cities and states. Right now, given how contagious the Omicron variant is, Dr. Purvi Parikh, an immunologist with NYU Langone Health, recommends people opt for medical-grade masks or double-masking over fabric masks alone. "Even though this variant may be milder, it spreads much more easily (70 times faster replication in airways), and in unvaccinated and high-risk individuals, it can still be very dangerous," Parikh says.
Outdoors continues to be safer than indoors, but you should still wear a mask outside if you are unvaccinated or if you're hanging out with a large group of people whose vaccination status is unknown, and you should continue to social distance. "We say six feet as the general marker, but we've seen evidence that the virus can spread at ten feet or 12 feet," says Dr. Purvi Parikh, an immunologist with NYU Langone Health who was involved in two COVID-vaccine trials. For times when you can't avoid spending more time indoors with other people, like in a crowded store, on a plane, or at a doctor's appointment, doubling up on masks is an easy way to lower your risk. Most of the fabric masks below would work well in combination with a surgical style mask to increase the filtration of your mask — double-masking should not be done with a KN95 or a KF94, as it can mess with the tight seal those masks create, making them less effective.
We asked Vermund and Dr. Scott Segal, chairman of anesthesiology at Wake Forest Baptist Health, for insight into choosing the best mask for you. The very best masks, of course, are N95 masks — the gold-standard pandemic masks, approved by the National Institute for Occupational Safety and Health (NIOSH), which filter out 95 percent of airborne particles. These are closely followed by the disposable surgical masks worn by doctors and other health-care professionals, which are cleared by the FDA as meeting certain standards. While it's still not a good idea to hoard N95 or medical masks, which might keep them from getting into the hands of professionals, it is wise to keep one or two around for especially high-risk occasions, like a plane ride or spending a long period of time in a crowded enclosed space.
For most other situations, that leaves fabric and disposable masks (we've rounded up the best of those, too) as the best choice. Segal conducted a study on the efficacy of different materials used for fabric masks and says you want to look for thick, tightly woven cotton like the kinds used for quilting or batik. These are better at filtering small particles close to the size of a virus (0.3 to 0.5 microns). "Our general guidance is to do a quick light test," Segal says. If you can see light passing through the material when you hold it up to bright light or the sun, it's less likely to be a good filter.
Segal and Vermund also note that your mask should be both comfortable and fit tightly to your face, but it obviously shouldn't be so tight or so thick as to impede your breathing. To help find the right face mask for you, we tested 82 of them (so far) on the basis of fit, breathability, style, and whether they pass Segal's light test. Below are our favorites. We will continue to update this article with new information and edit the list as new masks are wear-tested.
The best fabric masks to buy online
As we continue to fight the virus and its more contagious strains, you may want to consider putting aside your lightweight masks in favor of an upgrade. A materials study conducted by four scientists out of Virginia Tech shows the importance of an additional filter layer sandwiched between two layers of tightly woven cotton. Many of the fabric masks you can buy now feature a pocket for such an additional filter. (We wrote about the best mask filters you can buy here.)
In terms of handling, Segal says, "try to handle it by the ties or ear loops, not the fabric front. Wash your hands after taking it off, and then either hang the mask up to dry out, or wash it before the next use." And if you're buying your masks online it's a good idea to wash them before wearing for the first time. (Here are some directions on how to clean your face mask.)
Baggu
We love Baggu's ear loop masks because they look good, feel good, and stay put. The masks are machine washable and made from 100 percent–organic quilter's cotton, which is very effective at blocking respiratory droplets. They also feature an adjustable nose wire and a pocket for an extra filter insert.
What we think: While other masks, both flat and accordion style, tend to sit right against your skin, Baggu's envelope design (similar to a KF94 disposable mask) and sturdy cotton keep the mask slightly off your face, which helps it feel less hot and sweaty. Compared to the brand's original tie-on masks, these adjustable ear loop masks stay in place just as well, are just as adjustable, feel just as substantial, and are just as fitted, but they're much easier to use (and they don't mess up your hair). Both versions pass the light test. Plus, die-hard Baggu fans can match their mask to their favorite tote or reusable shopping bag.
Under Armour
Under Armour's Sportsmask has sold out multiple times thanks to a unique structured design that keeps it off your face and mouth for added breathability and comfort. The outer layer is water-resistant, and the inner layer is treated to be anti-microbial to help keep the mask fresh even when you're working out. To protect you from the sun it also features a built-in layer of UPF.
What we think: Compared with other masks Strategist senior writer Karen Iorio Adelson has tried running in, the Under Armour Sportsmask is "easily the most comfortable and best fitting," she says. It's also the running mask of choice of Amir Muhammad Figueroa, co-founder of Harlem Run and senior research associate with Lyell Immunopharma. "This is hands down my favorite sports mask, and I've tried a lot," he says. Both of them love that it's slightly tented over the face so it doesn't cling to your mouth on the inhale when you're breathing heavily. It comes in five sizes, so you can really get a close fit, and it works in hot weather just as well as it does on cold, windy days. "I've run up to 12 miles with it on, and even then, it's surprisingly easy to forget I'm wearing a mask at all," she says.
Under Armour just launched an even lighter-weight and sleeker version of its Sportsmask. We haven't tested it yet, but the brand claims it's more breathable, cooler, and stretchier for a more molded fit. The updated Sportsmasks are selling out fast, though, so don't dillydally.
NxTSTOP
These dual layer adjustable face masks feature a wire insert above the nose for a tighter fit.
What we think: NxTSTOP masks use adjustable ear loops, a bendable wire nose strip, stretchy fabric, and an added lower section that hugs your chin to create a tight but comfortable fit on many different face shapes. They're well made, pass the light test, and seem like they will last a long time. The fabric isn't heavy but they are only average in terms of breathability. NxTSTOP also carries a more breathable version of its mask, made for working out. It has the same fit and number of layers, but the fabric is designed to cool you as you run, hike, or deadlift 200 pounds.
Vistaprint
Vistaprint's masks are made to ensure proper filtration, breathability, and comfort. Their masks feature adjustable ear straps, bendable nose strip, inner filter pocket, and an added fabric panel that hugs the chin for a more snug fit.
What we think: Of the dozens of masks we tested for this story, Vistaprint's are among our favorites. They don't feel constricting or heavy and they look cute enough and feel really well made. The fabric is synthetic but moisture-wicking, so it feels a little hotter than a lightweight 100 percent cotton mask but it doesn't make us sweat — even after wearing it on a hot day. These masks pass the light test on their own, but Vistaprint also sells replaceable filters in packs of 10, which easily slide into the mask's inner pocket.
Uniqlo