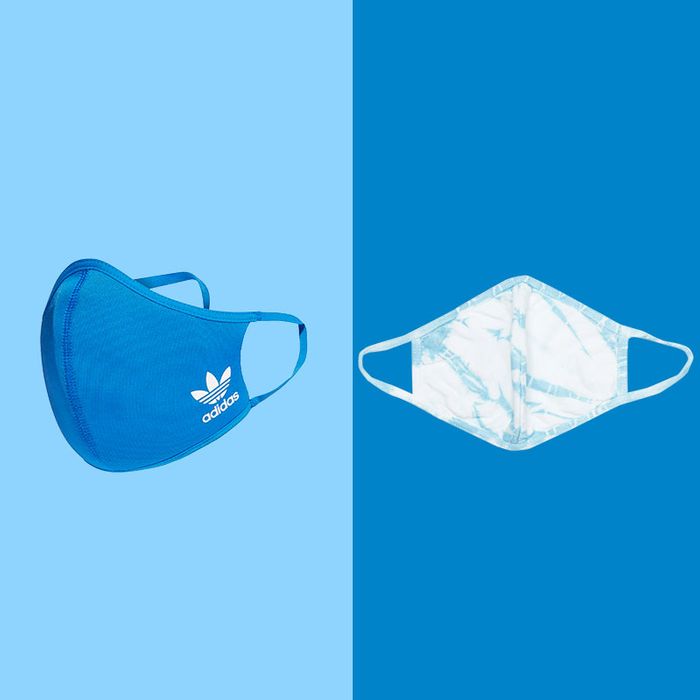 Photo-Illustration: retailers
If you follow our monthly Strategist Haul, you're familiar with the idiosyncrasies of our editors' and writers' shopping habits. While we think of those as the highlights, there are plenty of other, less glamorous things we buy — and love — on the regular too. So whether you've wondered about the work bags we tote around or the underwear we're most loyal to, this is the Stuff We Buy Ourselves. In this edition, the fabric face masks our editors and writers are wearing to help stop the spread of the coronavirus. For expert medical advice about face masks (along with recommendations), check out our article on where to buy face masks online and our exhaustive guide to everything we've learned about masks over the last six months.
Note: We asked each writer to subject their mask to the light test — a simple (but not foolproof) way that doctors taught us to determine a mask's relative efficacy. When you hold it up to the sun or another bright light source, you don't want much of that light to come through. The more you see, the more droplets are likely to pass through the material.
Jenna Milliner-Waddell, junior writer
These masks were sent to me by Caraa, and I am very grateful since, before I got them, I was using bandanas, tied in a kind of Coachella-desert-vibes way, which would slip down and untie, or give me a headache mid–grocery store run. The Caraa masks are far more comfortable. They go around my ears with soft elastic that doesn't pinch, and the metal strip in the nose bridge helps me get a snug fit that's not restrictive. I even wore one on a six-mile walk with no complaints. (Fellow writer Chloe Anello is also a fan of Caraa masks.)
Light test: I can see the shadow of my fingers when I hold each mask up to a light. The thin, lightweight material that causes that is probably also the reason they're so comfortable to wear. I'm not too concerned now, but as things start to open up and I do more socially distanced activities, I will probably invest in a thicker mask that's hopefully just as comfortable.
Chloe Anello, junior writer
I recently wrote a story about my obsession with checkerboard prints. After talking to Primecut founder, Lizzie Everson, for the story, I really wanted to buy the brand's masks. I bought a three-pack of mixed paterns that included tie-dye, black, and checkerboard — I wear the checkerboard one the most (shocker!). Now it's my favorite mask, and not just for the pattern. Primecut masks come in three different adult sizes and one kids' size (I bought the adult medium), so it's easier to find your best fit than with those that come in one size fits all. It has a wire on the nose for a custom fit, and it's extremely comfortable. It comes up a bit high on my face, so wearing oversize glasses doesn't work that well — I wear contacts if I'll be wearing it for an extended period of time — but it hasn't actually fogged up my glasses yet. I also find it to be extremely breathable, even though it's very thick.
Light test: pass
Jill was my favorite housewife when she was on The Real Housewives of New York — maybe it's because I'm also a Jewish redhead, who's to say? — so I was intrigued by her line of masks. Honestly, these masks are really good. They're light and breathable, don't fog up my glasses, and fit underneath my lenses comfortably. They're on the expensive side, but so worth it because they're some of the only masks I can wear with my glasses. I feel really cute in them. And they can also be thrown in the washing machine instead of having to hand-wash them, which is such a treat.
Light test: They fail but not by much. Only tiny slivers of light peek through.
Lauren Ro, writer
The masks my husband and I bought earlier on in the pandemic got too hot for warmer weather, so we started trying a bunch of different ones, including the Baggu, which, while supercute, is really tricky to put on and a bit too bulky. Our new favorites are masks from Buck Mason and Vida. I personally love how soft and breathable the Buck Masons are. They have ear loops and a tie, which makes them easy to keep on and also hang from your neck if you need to take the mask off for a moment. They have wide coverage and always stay on, and they're ideal for workouts or runs outside.
We got a bunch of Vida masks in a variety of colors. My favorites are the pastel-y ones with white trim (the ones with black trim remind me of American Apparel underwear too much) because they're actually cute. I like that they're easy to put on, thanks to their adjustable ear loops and the fact that they come with filters (though we've yet to try them) and a wire nosepiece. I did notice that they're maybe slightly too short because, when I'm talking a lot, I have to keep pulling them up to stay on my nose, but it's generally fine. They also get a bit wrinkly in the wash, but you're technically supposed to hand-wash them, so that's probably my fault.
Maxine Builder, managing editor
At the beginning of April, my dad shipped me a pack of face masks from Hyperlite Mountain Gear, based in Biddeford, Maine. The company specializes in beautifully crafted, super-lightweight backpacks and tents. Unsurprisingly, its face masks are also very lightweight, made of two layers of water-resistant polyester. My biggest complaint is that they kind of look like a pair of underwear on my face. But they're about as breathable and comfortable as a mask can (or should) be, with a flexible metal band to secure it on my nose, and they have worn well in the washing machine, though I do air-dry them. They're also a very reasonable price. They've become my go-tos for hiking, since they're secure enough to stay on during activity and light enough to be comfortable (especially in the white, though it does get dirty).
Light test: Pass.
As soon as we featured these face masks from MOCA in our column Don't Dillydally, I grabbed the one that's printed with Andy Warhol's "Flowers," and not only does it look great (and I'm actually sort of excited to wear it), but I like the construction so much that I'm planning on getting a couple more (and even going to Citizens of Humanity, which manufactures them to get a less expensive non-MOCA-printed version). It absolutely passes the light test, and there's a pocket for a filter, but it's still a fairly lightweight construction that fits comfortably over my entire nose and chin. This is my first mask that uses a tie rather than elastic ear loops, and I'm pleased to find it feels so much more secure, because the string doesn't stretch out like elastic does and I can tighten it as much as I need. The flip side is that it takes longer to put on properly, but that also makes me feel a touch more safe.
Light test: Pass.
Not only do the Food52 face masks look darling, but they've turned out to be the sturdiest masks I own. The description says there's a wire insert around the nose, but mine seems to be missing it. It doesn't matter, though, because it fits snugly. There's a pocket between two layers of cotton canvas for a filter, and the ear loops are easy to adjust with the tug of elastic. So my mask is never at risk of slipping down or falling off, and if I do have to tighten it up while wearing it out, I don't have to bring my fingers close to my face. The canvas has shrunk after a few rounds of washing in the washing machine and air-drying, so I would recommend only hand-washing for best results.
Light test: Pass.
Nikita Richardson, writer
Hedley and Bennett, best known for making stylish, well-crafted aprons, was one the first brands I noticed that went into the mask-making market back in April. Getting a mask from them at the time was pure chaos, because they were selling some of the most attractive masks and everyone wanted one, including me. The mask I ordered then was pretty good, but most definitely a work in progress. It seems like the company has figured it out now: Not only are masks shipping in one to three days (it took me three weeks to get my first!), but they now have a metal strip so you can secure the mask around the bridge of your nose; the mask is a bit longer at the bottom, so it won't ride up as much when you're talking; and the little pocket where you can place a filter is properly layered now, which means it doesn't open up during use. The fabric is a wee-bit thick, but the construction is so sound that I don't mind at all. Best of all, you can choose your mask colors now, and I've finally got the beautiful red mask that made me want to purchase from H&B in the first place.
Light test: With a filter in, they pass.
Louis Cheslaw, writer
After Lisa Lucas recommended this face mask to us, I was instantly attracted to its adjustable ear straps and her claim that, when wearing them, "you can breathe!" I bought two for fall, thinking I'd have to wait until October to wear them, but after trying one on when they arrived in mid-August, I haven't taken them off — and have kissed good-bye to my blue surgical masks. They're incredibly comfortable, and while relatively thick, the design means you have a pocket of air to breathe in while wearing it (as opposed to masks that you suck in and out of your mouth as you breathe). The colors are really fun, they're machine washable, you can insert a filter in, AND, as a bonus, the company's sales team is lovely: After my package was held up, the team instantly put two more in the mail for me for free. It's great that I have so many now, though they do keep disappearing into my girlfriend's jackets and bags.
Light test: Pass.
Karen Iorio Adelson, senior writer
Masks with elastic ear loops tend to be a little too big on me, so I decided to try these out. The string ties make getting a tight fit easier, and I like that the mask is pleated so you can extend it to cover your whole face. They're thick enough to be protective, but not so thick as to be hot or uncomfortable. And the stripes are actually kind of chic.
Light test: Pass.
Hilary Reid, writer
I ordered a couple of these masks from Katherine Hanes after hearing good things about them from my best friend, and so far have been happy with the purchase. In pre-COVID days, Hanes made lovely block-print table linens, and is now using those same fabrics for masks. Each one is made of double-layer 100 percent cotton, and has a different pattern on each side. Mine are in "Sweet Green" (lol) and "Climbing Rose," and feel substantial without being suffocating. They really cover the lower half of my face, which feels secure, but still bearable on warmer days. The elastic ear straps fit pretty comfortably, too — and if they're too big, you can just tie a small knot to shorten the length.
Light test: Only a very small amount of light comes through when you hold them up to the window.