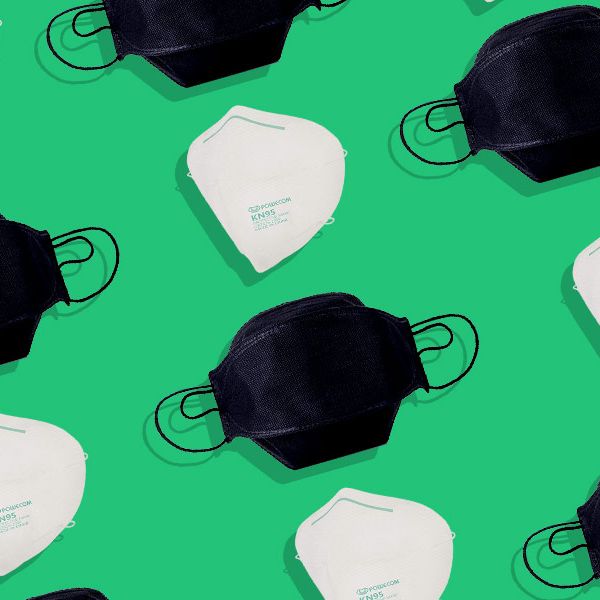 Photo-Illustration: retailers
Keeping track of which masks we should wear to protect ourselves and the people around us from COVID-19 is a dizzying task, especially now that the exponentially more transmissible subvariant BA.2.12.1 is spreading quickly throughout the United States. It is 25 percent more contagious than the BA.2 variant, which was 30 percent more contagious than the Omicron variant. It is also potentially undeterred by early-stage Omicron immunity. Earlier in the pandemic, when N95 masks were in short supply and recommended only for medical professionals, more and more people turned to two other popular mask types, KN95 and KF94, since they both come very close to the level of filtration found in an N95 mask. With case counts on the rise, people are again seeking out these expert-approved face masks. But what's the difference between the two? And which one is better?
Dr. Ravina Kullar, an infectious-disease specialist, epidemiologist, and spokesperson for the Infectious Diseases Society of America, says the "KF" in KF94 stands for "Korean filter," and the "94" indicates a 94 percent filtration efficacy. "It is the South Korean equivalent to the N95 mask, with a few differences. It combines elements of an N95 mask with those of a cloth mask, contouring close to the face with an adjustable band around the bridge of the nose." Many people like them because the tentlike shape creates a little pocket of extra space between your mouth and the mask. KN95 masks, however, look more like a bird's beak and stick out farther off the face. They are considered the Chinese equivalent to N95 masks and, according to Kullar, "are made of the same synthetic material and [also] filter out and capture 95 percent of particles in the air."
You might assume that, because of the one percent difference in efficacy rates, KN95 masks do a better job. But "there are no head-to-head trials [between the two]," says Dr. Aaron Glatt, chief of infectious diseases and hospital epidemiologist at Mount Sinai South Nassau. He says what matters more is how tightly each mask fits your particular face shape and size. "The critical factor for these masks is the face seal. Without a good seal, they are almost all the same, since air will just go out (and come in) through the open spaces on the sides of the mask." Because of this, Kullar says KN95s and KF94s are more effective when worn by adults rather than children — even if kids are wearing the appropriate size. That's because children are much more likely to touch their masks a lot, a habit that breaks the all-important seal around the nose and mouth. (We've gathered the best masks we've found for children here.)
That said, as the highly contagious new Omicron variants spread, experts say some of the masks that got us through the early part of the pandemic may not offer enough protection. Dr. Purvi Parikh, an immunologist with NYU Langone Health, says we should all put aside fabric masks in favor of those that offer higher filtration, like KN95s, KF94s, and N95s, regardless of vaccination status. "This variant is very contagious even in vaccinated individuals," she says. Among the options, Glatt says that three-ply surgical masks are "probably fine," but that the "KF94 or KN95 [are] theoretically better, if the seal is good." His preference, if he were to choose between the two, would be to take "the one that fits his face best and make sure it's not a knockoff."
Certain KN95s and KF94s are approved by the FDA, but a good way to know if you are getting legitimate KF94s is by checking that they are indeed made in South Korea. For KN95s, it can be a little more difficult since "there is no regulatory agency that actually ensures that a manufacturer actually meets the KN95 standard," according to Michael Chang, MD, an assistant professor of pediatrics with McGovern Medical School at UTHealth Houston. Both Chang and Aaron Collins, a mechanical engineer with a background in aerosol science who has spent the pandemic testing hundreds of masks he purchased online, suggest buying only from reputable sources. "In general, don't buy random brands from Amazon/eBay," Collins says. "My recommendation is ProjectN95, BeHealthyUSA, KollecteUSA, or, if using Amazon, verify that you are purchasing from the brand's 'official' store." Be wary, too, of any companies that say they are "FDA registered": "This term just means that the company has paid a registration fee to the FDA so that they can produce masks for marketing in the U.S.," Chang says. "It doesn't tell you anything about the quality of the mask."
To check if your mask provides a tight seal, put it on and look at yourself in the mirror. You should not be able to see any gaps around your nose, cheeks, or under your chin. If the ear loops are too big, you can tighten them by tying knots or adding toggles or a strap that connects the loops behind your neck. To help you predict which one might fit your face best we tested both types. Here's what we found.
Fit test
Three Strategist staffers tested several types of KN95 and KF94 masks: writer Lauren Ro, senior vice president of e-commerce Camilla Cho, and me. In general, we all found that KN95s fit tighter with fewer gaps at the sides. Ro says, "The KN95s fit more snug all around, but they feel kind of small. The KF94s are better for a more customizable fit." She uses a small clip to tighten the fit and hold the ear loops together off her ears and behind her head. Cho has tested a few versions of both kinds, and prefers KF94 masks over KN95. "They are just much easier to breathe in since there's that space between your nose and mouth and the inside of the mask," she says.
Best KN95s and KF94s for adults
We recommended these KN95 masks in our roundup of the best disposable masks, because they are included on the FDA's list of approved emergency PPE and readily available. They are my go-to mask for wearing alone or layering with a fabric mask on top, because they're soft on the skin and create a tight seal all the way around, from the bridge of the nose to the underside of the chin.
These are Cho's favorite KF94 masks because of their adjustable ear loops. "Basically pulling on the little front loop adjusts the tightness around the ears, nose, and sides," she says, adding that these masks also pass her glasses test, which tells her it's a good seal because there's no fogging.
[Editor's note: These masks go in and out of stock frequently, so check back often. If you buy these on Amazon, double-check the seller. It should be LG Household & Health Care.]
Cho is also a fan of this mask, saying it's so lightweight and comfortable that she almost forgot she was wearing one. Though this isn't technically a KF94, it was tested by the FDA in 2020 and found to have 94 percent filtration efficiency. They also come with a soft silicone strap that helps tighten the mask's ear loops without any pinching or pressure on your ears.
[Editor's note: You can buy these on Amazon, but the seller isn't always the same, so we've linked to Air Queen directly too.]
Best KN95s and KF94s for kids
Finding masks that fit kids can be more challenging. This smaller version of Powecom's adult KN95 comes recommended by Collins, who included them on his widely circulated public spreadsheet of face masks for kids. In his testing, he found this mask to have a filtration efficiency of 97.3 percent and best for children ages 7 through 12, depending on face size.
If the fit and shape of a KN95 mask aren't comfortable for your child, have them try a KF94 instead. They open up a bit like an envelope (Collins refers to the shape as a boat) and sit slightly off the face, giving the wearer more room to talk and breathe. These were also tested by Collins, who found them to have a filtration efficiency of 99.3 percent.
Dr. Puri KF94 masks come in three sizes, the smallest of which is recommended by Collins for children ages 6 through 9. Of the consistently in-stock KF94s he has tested, these have one of the highest filtration efficiencies: 99.4 percent.
The Strategist is designed to surface the most useful, expert recommendations for things to buy across the vast e-commerce landscape. Some of our latest conquests include the best acne treatments, rolling luggage, pillows for side sleepers, natural anxiety remedies, and bath towels. We update links when possible, but note that deals can expire and all prices are subject to change.