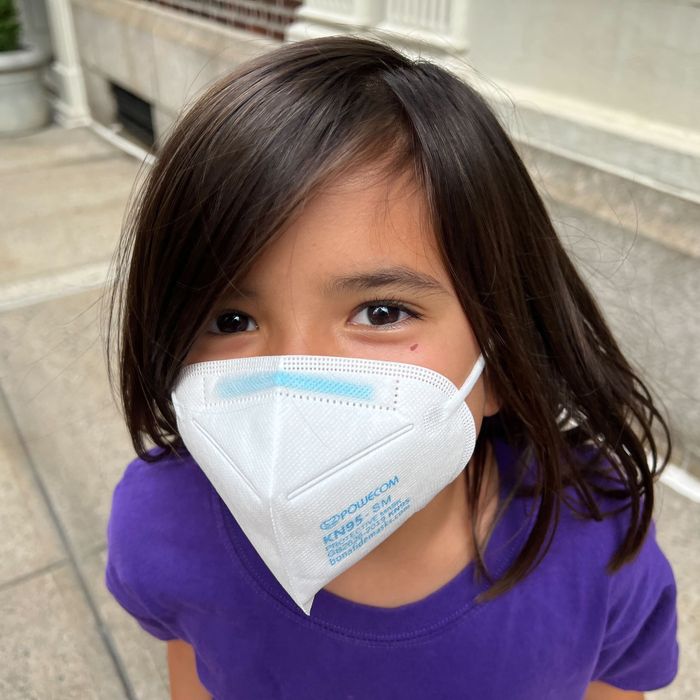 Since the pandemic started, the CDC has recommended that children over the age of 2 wear face masks in public to slow the spread of the coronavirus. With the newest and most contagious Omicron variants — BA.4 and BA.5 — dominating new cases in the U.S., masks are as important as ever. Despite most schools planning to keep masking optional this fall, the CDC recommends that all students, teachers, staff, and visitors wear face masks in K–12 schools in communities with medium to high levels of COVID-19 infections. In addition, CDC guidance stresses that fabric masks are the least protective against COVID-19, whereas well-fitting N95, KN95, KF94, and surgical masks — which use special nonwoven materials with an electric charge to block tiny aerosol particles — do a much better job of stopping the virus's spread.
Dr. Michael Chang, an assistant professor of pediatrics with McGovern Medical School at UTHealth Houston says that at this point, "knowing the true incidence of SARS-CoV-2 infection in the United States is basically impossible given the rise of at-home testing." But anecdotally, he told us that according to wastewater surveillance in his area of the country, last week, COVID positivity was 30 percent which suggests that possibly almost 1 in 3 people were infected. Because of how contagious the new variants are — almost as contagious as the measles, says Chang — he recommends that individuals at high-risk for severe illness and their close contacts continue to wear medical-grade masks when indoors regardless of vaccination status. He also says that family members who want to minimize their risk of Omicron BA.5 infection, would benefit from having their child wear a mask to school. Since there are no NIOSH-approved N95 masks for kids, that leaves KN95s (the Chinese equivalent of an N95), KF94s (the South Korean equivalent), and surgical masks.
An added complication is the mask industry is a little bit like the Wild West right now — a phrase I've heard from nearly every expert I've talked to about masks — with a large number of companies making claims without providing evidence to back them up. That's why I find the work of Aaron Collins so refreshing. Collins is a Minneapolis-based mechanical engineer with a background in aerosol science who does comparative testing of children's masks and how well they filter out potential viral droplets and aerosol particles, assessing them from a bathroom in his home. He uses a Total Inward Leakage test to measure the filtration efficiency and breathability (or pressure drop) of different masks, meaning he tests them while wearing them, which gives him more accurate results than other tests that don't factor in how fit affects filtration. He isn't an accredited lab, but his data has shown agreement with other published data, and his public Google spreadsheet and YouTube videos have become a lifeline for overwhelmed parents, teachers, and concerned citizens.
Though the FDA has finally authorized vaccines for children under 5, it will likely take a while for significant numbers of young children to be fully vaccinated, especially since the Pfizer vaccine for little kids requires 3 shots over the course of several months. If your child is not yet fully vaccinated and too young to wear a mask, Chang recommends that family and friends keep up with their vaccinations and booster shots so that they can "cocoon" people in their circles who are more at risk. You can also cocoon your young ones by asking guests to mask indoors and, as Parikh recommends, doing rapid tests prior to getting together indoors. If you're unsure where to buy the best at-home rapid tests, consult our guide here.
To help you find the best masks your children will actually wear, we rounded up a bunch of effective and comfortable KN95s, KF94s, and surgical masks for kids that align with the recommendations of Collins, Parikh, Chang, Cui, and Dr. Aaron Glatt, chief of infectious diseases and hospital epidemiologist at Mount Sinai South Nassau. We've also included our top pick for the best fabric mask if you choose to double up and layer one on top of a surgical mask — you shouldn't double-mask with a KN95 or a KF94 as that can mess with the seal they create, making them less effective.
Best overall | Best KF94 | Best KN95 with adjustable ear loops | Best for preschoolers | Best for preteens | Best colorful and recyclable KN95 | Best surgical | Best for double-masking