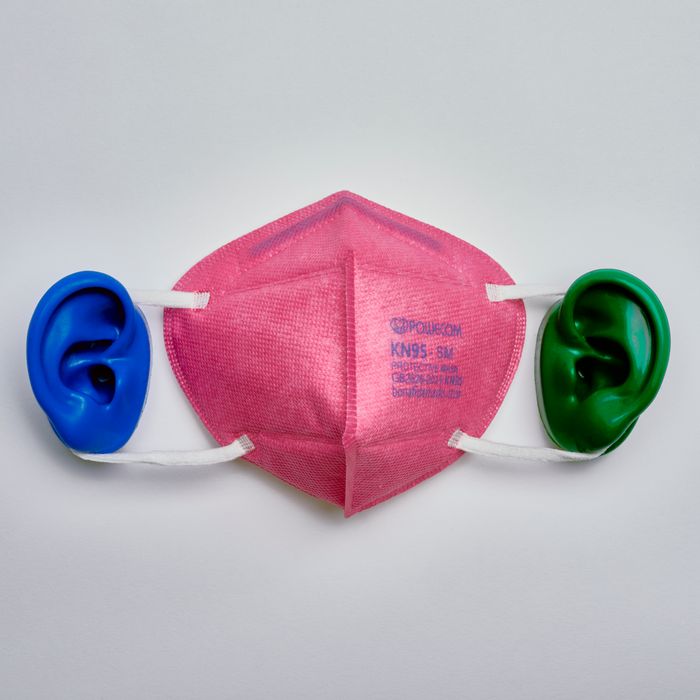 While masking is optional for children in most schools across the country, the CDC still recommends "universal indoor masking in schools" in communities with high levels of COVID-19 infections. In addition, CDC guidance stresses that fabric masks are the least protective against COVID-19, whereas well-fitting N95, KN95, KF94, and surgical masks — which use special non-woven materials with an electric charge to block tiny aerosol particles — do a much better job of stopping the virus's spread.
As we've seen in the past, infections tend to spike in the winter and around the holidays when people are more likely to travel and spend a lot of time socializing indoors. And even if you're fully vaccinated, Dr. Ravina Kullar, an infectious-disease specialist, epidemiologist, and spokesperson for the Infectious Diseases Society of America, says that the newest COVID variants of concern are "capable of substantial immune evasion," meaning your last booster shot may not be as effective as it was in the past. Not to mention the recent surge of other respiratory viruses like RSV and influenza, with very young and very old people at the highest risk for serious illness. Mask-wearing, and other infection-prevention strategies like handwashing, are still the simplest defense against getting sick.
Dr. Michael Chang, an assistant professor of pediatrics with McGovern Medical School at UTHealth Houston, says that, unfortunately, "knowing the true incidence of SARS-CoV-2 infection in the United States is basically impossible given the rise of at-home testing." If you're worried about increased risk or have a family member at home who is immunocompromised, Chang says you would benefit from having your child wear a mask to school. Since there are no NIOSH-approved N95 masks for kids, that leaves KN95s (the Chinese equivalent of an N95), KF94s (the South Korean equivalent), and surgical masks.
To help you find the best masks your children will actually wear, we rounded up a bunch of effective and comfortable KN95s, KF94s, and surgical masks for kids that align with the recommendations of experts like Kullar, Chang, and Aaron Collins, a Minneapolis-based mechanical engineer with a background in aerosol science who conducts comparative testing of children's masks. Read on for their guidance on how to choose the best masks for your family, or use the table of contents to jump directly to our top picks.
The same guidelines regarding quality for adult KN95 and KF94 masks apply to kids: They should be made of at least two layers of nonwoven polypropylene plus a melt-blown inner-filter layer, and ideally, they should be independently tested by a third party to ensure proper filtration. A good way to know if you are getting legitimate KF94s is by checking that they are indeed made in South Korea. However, it is extremely difficult to tell a legit KN95 mask from a counterfeit one. In fact, Chang says that at this point in the pandemic, he suspects most KN95s are fakes since "there is no regulatory agency that ensures that a manufacturer actually meets the KN95 standard." He and Collins say the best way to avoid fakes is by buying exclusively from reputable sources. "In general, don't buy random brands from Amazon/eBay," Collins says. "My recommendation is ProjectN95, BeHealthyUSA, KollecteUSA, or, if using Amazon, verify that you are purchasing from the brand's 'official' store." The same goes for surgical masks, which Collins says he would skip if you have access to KN95s or KF94s because the standards for surgical masks "are much more loose, and the quality of them is all over the place." Collins uses a "total inward leakage" test to measure the filtration efficiency and breathability (or pressure drop) of different masks, which gives him more accurate results than other tests that don't factor in how fit affects filtration. He isn't an accredited lab, but his data has shown agreement with other published data, and his public Google spreadsheet and YouTube videos have become a lifeline for overwhelmed parents, teachers, and concerned citizens.
Many of the children's masks that Collins has tested (including the one he buys for his own son) go in and out of stock depending on case rates and timing of the school year. So while the highest-filtration mask on the market might be the ideal choice on paper, the one that performs almost as well but is consistently in stock is the one we'll prioritize since an out-of-stock mask can't help protect your child.
Pediatrician Dr. Brittany DiBardino says the best masks for kids are the ones that fit their faces best. They should fit securely, covering the nose and mouth completely and creating a tight seal at the edges with no leaks and without causing discomfort. Look for features that improve the fit of a mask such as adjustable ear loops and a flexible nose wire. DiBardino says children should be wearing masks only if they are able to remove them without assistance. That's important in order to ensure there is no suffocation risk. You may have to try a few before finding the right fit, but if you end up buying a pack of masks that are too big, Dr. Stacy De-Lin, a family-medicine specialist in New York City, says you can tie knots in the ear loops or twist them once before putting them on to ensure a tighter fit.
In addition to fitting well, Chang says masks need to be comfortable. "A mask doesn't do any good if it's at the desk or in a backpack rather than being worn," he says. It also won't work as well if it is hard to breathe through. You want a mask with some resistance to catch tiny airborne particles, but too much resistance will force the air to find another way in or out — usually around the sides. Lastly, most children have strong opinions about which masks they want to wear. The factors that drive those opinions can involve colors, patterns, or how soft the interior is against their face. If there is a high-quality mask that they willingly put on for school, that mask is probably the best. Dr. Sten Vermund, a pediatrician, infectious-disease epidemiologist, and dean of the Yale School of Public Health, says that making mask use fun and gamelike will increase the chances of children cooperating, especially younger children.
Best overall mask for kids
Powecom KN95 masks were among the very first non-fabric face masks we recommended, and they have consistently held a top spot on our mask roundups since the summer of 2021. Like other KN95 masks, they claim to filter out 95 percent of small particles. But when Collins tested the children's sized Powecoms, he found them to have a filtration efficiency of 97.3 percent. They are made of multiple layers of non-woven polypropylene with a melt-blown fabric-filter layer, flexible nose wire, and latex-free ear loops. The material is soft on the skin and creates a tight seal all the way around the mask from the bridge of the nose to the underside of the chin. The only difference between these and adult Powecom masks, which were on the FDA's emergency list of approved face masks for health-care professionals at the start of the pandemic, is the smaller sizing (about 15 percent smaller, to be exact). Collins recommends them for children ages 7 to 12, depending on face size. The adult-sized Powecom masks are what my husband, a fourth-grade teacher, wears to work everyday. He says they fit more snugly than the other KN95s he has tried and don't move when he is talking. I have worn them on the subway, on Metro-North, at the airport, and to countless doctors appointments, and they remain my go-to masks.
Best KF94 mask for kids
If the fit and shape of a KN95 mask isn't comfortable for your child, have them try a KF94 instead. They open up a bit like an envelope (Collins refers to the shape as a boat) and sit slightly off the face, giving the wearer more room to talk and breathe. These Dr. Puri KF94 masks come in three sizes, the smallest of which is recommended by Collins for children ages 6 through 9. Of the consistently in-stock KF94s he has tested, they have one of the highest filtration efficiencies: 99.4 percent.
Best KN95 mask with adjustable ear loops for kids
When Collins tested these child KN95 masks from 4C Air (a company co-founded by Yi Cui, a professor of materials science and engineering at Stanford University) he found that they provide 98.8 percent filtration of tiny airborne particles. Collins says they should fit children between 8 and 12 years old best. But they are also one of the few kids' KN95 masks with adjustable ear loops, which are especially useful when fitting smaller children.
Best mask for preschoolers
Collins features these preschooler-appropriate KF94s on his public Google spreadsheet, showing them to have a very high filtration efficiency of 99.3 percent. So when I found out that fellow Strategist writer Lauren Ro had bought them for her 3-year-old son, I asked her for more details. She heard about them through a parent at her son's preschool, who sourced a bunch of different KF94 masks directly from a Korean importer and tried them all on her 3-year-old. According to the friend, this mask was the clear winner and luckily was available on Amazon. "The XXS are perfectly suited for 2- to 3-year-olds, and they actually stay on my son's face. He doesn't seem to mind them as much as other masks and keeps them on instead of constantly pulling them down under his nose and chin. He's worn them on cross-country flights, all day at school, even outside, without complaining about them," Ro says.
Best mask for preteens
Though they are made to fit adults and children, Collins recommends Well Before Petite KN95 masks in size regular for kids between the ages of 10 and 14. After testing them, he found that they have a filtration efficiency of 99.1 percent. The masks are made of five layers of non-woven fabric including two melt-blown layers for extra filtration. They feature adjustable ear loops and a flexible nose wire and come in four colors.
Best colorful KN95 masks
Because Vida masks are made in the United States rather than in China, the brand refers to them as "masks with KN95 protection" rather than KN95s. But that shouldn't keep you from wearing them and feeling protected. Like Well Before masks, they are made with five layers of non-woven material (two of which are melt-blown filter layers) and a bendable nose wire for a snug fit. They are available in ten colors (plus multicolor packs) and are recyclable.
Since they are made by the same manufacturer, Collins lists the Vida masks alongside Lutema masks on his testing spreadsheet, finding them to be 98.6 percent effective. He recommends them for kids between 9 and 13 years old. Meanwhile, the adult Vida masks with KN95 protection come recommended by Kristy Drutman, host of the podcast Brown Girl Green, whom we spoke with for our article about sustainable face masks. Both the kid and adult masks can be shipped back to Vida for recycling using a prepaid envelope.
Photo: The Strategist; Photo: Retailer
As mentioned above, Lutema manufacturers these masks with KN95-level protection in the same facility as Vida's masks. When I asked Collins whether there is any meaningful difference between the two masks, he said the only difference is branding. "If you look on their page, you will see that they are manufactured in a FDA site that matches the same as Lutema," he says. He lists them as the same mask on his spreadsheet.
Best surgical masks for kids
We tested Evolvetogether's disposable adult masks after former Strategist director of audience engagement Stephanie Downes raved about them. Like the adult version, these kids' masks are made of three layers that block 95 percent of particles. We love them because they are tested by an independent laboratory and approved by doctors. Kids will love them because they're breathable and come with a sheet of funny and nontoxic stickers for customizing each mask. In addition, Evolvetogether sells a mask with KN95-level protection and KF94 shape. It has four layers of non-woven fabric and a bendable nose wire.
Children's-care brand Dr. Talbot's makes lightweight and breathable disposable masks. They are a good backup option to have on hand if one of your child's other masks gets dirty or lost. Each mask is made using three layers of soft non-woven material. The outer layer is moisture repellant, the middle layer is high-density melt-blown filter material, and the inner layer is soft against the skin. They come in two sizes and a variety of patterns, and they feature bendable nose strips and soft ear loops for a comfortable fit for kids ages 2 to 12.
• Dr. Ravina Kullar, an infectious-disease specialist, epidemiologist, and spokesperson for the Infectious Diseases Society of America
• Michael Chang, MD, an assistant professor of pediatrics with McGovern Medical School at UTHealth Houston
• Aaron Collins, mechanical engineer with a background in aerosol science; follow him on Twitter @masknerd
• Pediatrician Dr. Brittany DiBardino of Tribeca Pediatrics
• Lauren Ro, Strategist writer and mom to a 3-year-old
• Dr. Sten Vermund, a pediatrician, infectious-disease epidemiologist, and dean of the Yale School of Public Health
The Strategist is designed to surface the most useful, expert recommendations for things to buy across the vast e-commerce landscape. Some of our latest conquests include the best acne treatments, rolling luggage, pillows for side sleepers, natural anxiety remedies, and bath towels. We update links when possible, but note that deals can expire and all prices are subject to change.