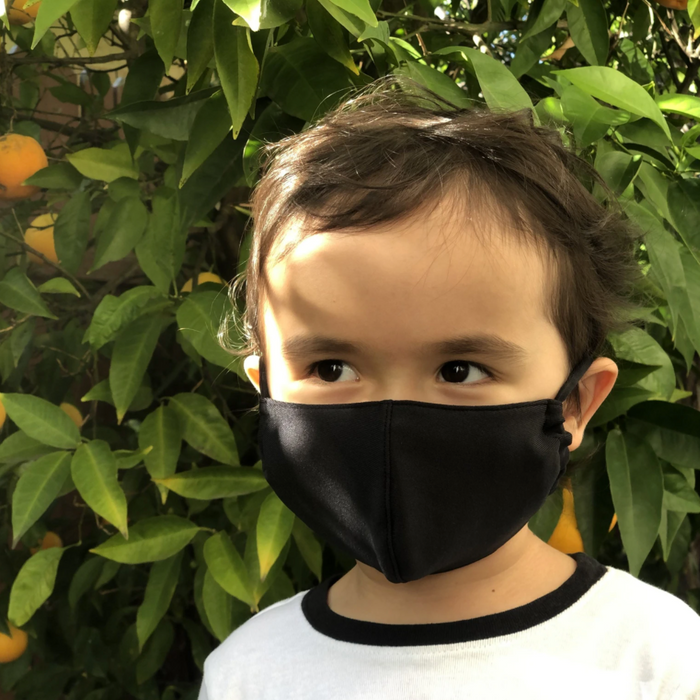 Photo: Courtesy of the vendor
We've written a lot about fabric and disposable face masks for grown-ups. But the CDC also recommends that children over the age of 2 wear face masks in public to slow the spread of the coronavirus. And with many elementary schools and, soon, summer camps open in-person despite high infection rates and new, even-more-contagious variants, making sure your kids have the best masks (and enough of them) is paramount. According to Dr. Brittany DiBardino of Tribeca Pediatrics, children are at low risk for severe illness when it comes to COVID-19, but certainly not at no risk. Furthermore, she says, "kids may be more likely to lack obvious symptoms, which just reinforces how important social distancing is for all ages." But at times when staying six feet away from other people is difficult — and because children with zero symptoms could unknowingly spread the virus — encouraging your kids to wear a face mask is a great idea.
Dr. Purvi Parikh, an immunologist with NYU Langone Health who was involved in two of the COVID vaccine trials, says, "As people get vaccinated and start developing pandemic fatigue, there is a tendency to want to relax mask use, but this is actually the worst time to do that because of the [new] strain that can spread more easily."
The same guidelines about fit and quality for adult masks also apply for kids' face masks: Masks should be made of at least two layers of tightly woven breathable fabric (or two layers of nonwoven polypropylene plus a melt-blown filter layer in the case of disposable masks) and should fit securely, covering the nose and mouth completely without causing discomfort. In addition, DiBardino says children should be wearing masks only if they are able to remove them without assistance. That's important to ensure there is no suffocation risk. Parents should instruct their children not to touch their face when wearing masks and should direct kids to wash their hands immediately after taking masks off. (You should also wash their masks regularly, ideally after every wear especially if they're wearing those masks to school. We have a guide on how to clean a face mask, if you want more details.)
If your kid refuses to put one on, Dr. Sten Vermund, a pediatrician, infectious-disease epidemiologist, and dean of the Yale School of Public Health, says that making mask use fun and gamelike will increase the chances of children cooperating, especially younger children. He adds that mask use should be intermittent, and that masks should be as comfortable as possible, so kids don't get turned off by the idea. DiBardino recommends choosing a mask with a bendable nose piece in the fabric. "They help form a tight seal," she says. She recommends getting at least two reusable face masks per child.
To help you find the masks both you and your children will like, we rounded up a bunch of cute and comfortable kids' masks that also follow DiBardino and Vermund's recommendations.
Baggu's adult face masks are some of our favorites because of the envelope-style design that keeps the mask off your mouth, giving you a bit more breathing room. The brand just launched masks for kids in five fun patterns and bright colors. Like their adult counterparts, these masks are made of 100 percent organic cotton. They also feature adjustable ear loops and a bendable nose wire for a snug fit.
Vistaprint's kids' masks are made with four layers to ensure proper filtration, breathability, and comfort. Their masks feature adjustable ear straps for a snug fit. Ten percent of every mask purchase goes to supporting local small businesses impacted by the coronavirus.
Hedley & Bennett has continued to update the design of its fabric face masks throughout the pandemic. Now it has added children's-size masks in the same chambray colors: red, light blue, and dark blue. Each mask has a pocket for adding a filter, adjustable ear loops, a metal nose wire, and a place to write your child's name to help keep track of whose mask is whose.
Crayola had the genius idea of creating five-packs of cloth face masks for kids (one for each day of school). The pack comes with a mesh laundry bag and name tags to keep track of everyone's individual masks. They're made of dual-layer fabric and feature a nose strip and adjustable ear straps. They also make a five-pack of Halloween masks.
Nordstrom is selling this set of six kids' masks. Each is machine washable, made of cotton knit, and easy to put on and take off.