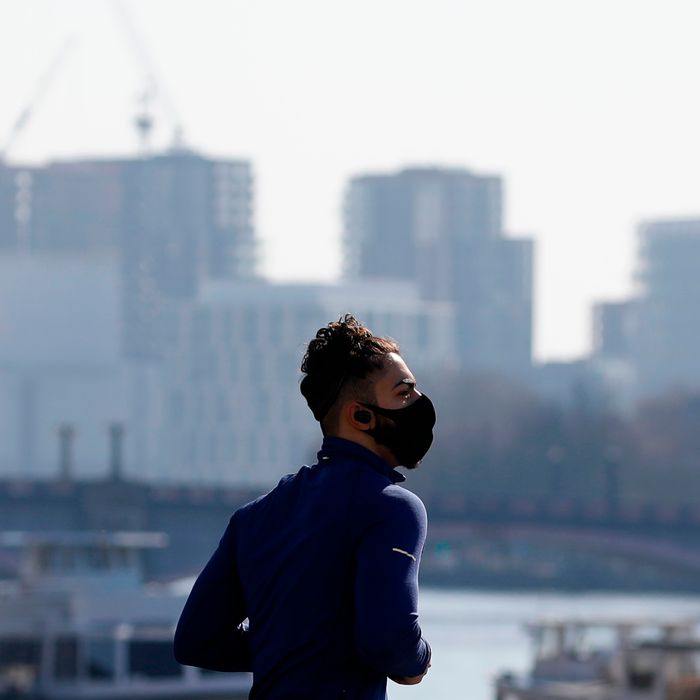 Photo: Getty/AFP via Getty Images
In light of the Omicron variant and at the urging of public-health experts, the CDC has updated its mask guidelines. The agency's new standards stress that fabric masks are the least protective against COVID-19, whereas well-fitting N95, KN95, and KF94 masks — which use special nonwoven materials with an electric charge to block tiny aerosol particles — do a much better job of stopping the virus's spread. Of course, any mask is better than no mask, but since this article was last updated in April 2021, we've talked to doctors, scientists, and public-health experts to help you find the best and most protective of the bunch. So whether you're looking for a comfortable N95 you can wear on a plane, a child-size KF94, KN95 masks your teenager can wear to school, or advice on double masking, we can help.
You've been dutifully wearing your fabric face mask in the grocery store and at the park to protect yourself and others from COVID-19, but do you need to cover up when you're running outside? The answer depends on where you live, where you'll be running, and your personal tolerance for risk. While some cities and states require face masks to be worn in public spaces, in many cities (including New York City) running and biking are exempt from the rule — as long as you remain at least six feet away from other people. This may be possible in less crowded areas or if you're running at unusual times, but it's often hard to maintain social distancing if you're jogging on a popular route.
As Strategist senior writer Liza Corsillo reported in her very thorough face-mask roundup, doctors say face masks made from thick, tightly woven cotton are best for blocking virus-containing particles. They recommend holding your mask up to the sun or another bright light and seeing how much light passes through. The less light you see, the more filtration your mask provides. Unfortunately for runners, however, the more effective a mask is at blocking particles, the harder it is to breathe through.
Some runners choose to bring a mask with them, but only pull it on when they're near other people. "We're advising people to have one on them while running, but not run with it on, unless your city or state says it's mandatory," says Jay Ell Alexander, owner and CEO of Black Girls Run. On the other hand, Amir Muhammad Figueroa, co-founder of Harlem Run and a senior research associate with Lyell Immunopharma, takes a more cautious stance. Figueroa says, "I act and proceed as if I actually have tested positive," always opting to wear a mask when he could come into contact with others. "If you're not around people, you could use your own discretion," he says, and take into consideration how likely you are to cross paths with another runner on your route.
Note: We removed the Buff neck gaiter from this story in August 2020 when early research suggested neck gaiters didn't offer sufficient protection against COVID. However, further studies have shown that a two-layer gaiter (or a single one folded up to make two layers) is adequate. A January 2021 joint study conducted by the CDC and the National Institute for Occupational Safety and Health (NIOSH) showed a single-layer gaiter to be nearly as effective at blocking small aerosol particles as a three-ply cotton mask, and a double-layer gaiter to be even more effective. The CDC now includes neck gaiters on its list of approved masks. 
Nearly every runner we spoke with recommended a Buff or similar neck gaiter that's made from breathable, moisture-wicking material. Already a staple in many outdoor athletes' wardrobes, Buffs can be worn multiple ways (as a headband, scarf, face covering, etc.) and are helpful for blocking wind and cold air. Their UPF fabric also protects against sunburn, and they come in a range of colors and patterns. "We've all run in multiple different masks and frankly, they are no fun at all," says Ashlee Lawson Green, CEO and co-founder of Rungrl, of her and her team's experiments with face masks. "The best route seems to be a gaiter around the neck that is pulled up when distancing isn't an option." Alexander agrees that "neck gaiters are the go-to," and Running Ruminations blogger Erin Mink Garvey likes them because they're "lightweight and can be very easily pushed up and down, off and on my face during my run." Lee Glandorf, head of communications at the running apparel brand Tracksmith, adds, "the team here has been swearing by Buffs, since they work so well to pull up and down easily." Figueroa recommends Buffs, too, and his club even has a custom-designed one that you can buy here.
"This is hands down my favorite sports mask, and I've tried a lot," says Figueroa. "I love that it sits off your face, you can breathe through it, and if you're running in the cold, it keeps your face warm, as well." As a runner, I've also experimented with a few running masks over the past year and have come to the same conclusion. The Under Armour mask stays tented over your mouth so you're not inhaling the fabric with every breath and it's comfortable on both hot and cold days. I've worn it during long, steady runs (up to 13 miles) and intense interval sessions, and it never felt suffocating. Unlike one-size-fits-all masks, it comes in five different sizes so you can actually get a good-fitting mask that won't bounce around when you run.
While it lacks the structure of the Under Armour mask, this one is still very breathable and lightweight and won't make you overheat on hot days. I like it for easy runs or even long walks when you won't be gasping for air, but still don't want something hot and sticky on your face.
As our resident mask expert, Corsillo has tested more than three dozen masks. She likes this one "a lot," she says. "It's a little hot, but it's moisture-wicking and the fit is really good." Plus, it passes the light test and has room to add a filter.
While Corsillo calls these masks "very breathable," they're also porous and allow light to pass through. Still, she says, "I do think they are better than nothing."
Specifically made for running, this mask allows for some light to pass through, but it also has two layers of fabric for an added bit of protection. It's soft, stretchy, and easy to breathe through, so it feels like it'd be a solid running option.
We haven't had a chance to test these Adidas masks out ourselves, but they look promising. They have a two-layer construction and come in two sizes (check out the extra small/small version here) for a snug fit.
The Strategist is designed to surface the most useful, expert recommendations for things to buy across the vast e-commerce landscape. Some of our latest conquests include the best acne treatments, rolling luggage, pillows for side sleepers, natural anxiety remedies, and bath towels. We update links when possible, but note that deals can expire and all prices are subject to change.