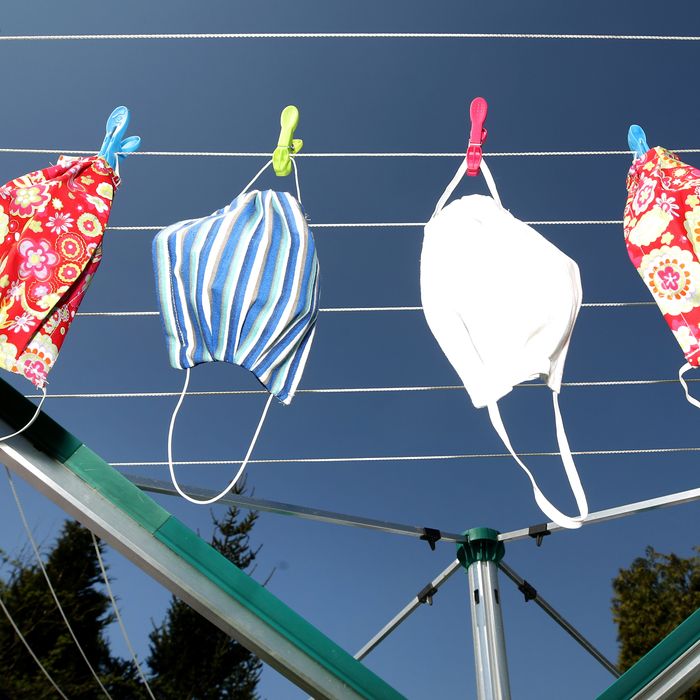 Photo: picture alliance/getty/dpa/picture alliance via Getty I
Protective masks have suddenly become an integral part of our daily wardrobe. In turn, we've been wondering about what the best methods for cleaning them are. Can you just throw them in the washer and dryer like a pair of socks, or do they need to be cared for like a more delicate item? What water temperature will actually get the mask clean? After all, if you're wearing a mask every day to prevent the spread and contraction of the virus, you want it to be sanitary. Not to mention that as the temperatures rise and we all get sweatier, the scourge of clogged pores and "maskne" (mask-induced chin and cheek breakouts) is ever nigh. So to find out how to keep our masks in their best, cleanest form, we reached out to three doctors to hear their thoughts. Below, their tips for washing masks — and the products they recommend you keep on hand for cleaning.
Cleaning your mask
First things first: All of the doctors we spoke to agreed that you should wash your mask daily. "We recommend cleaning the mask at least once a day," says Dr. Lindsey Gottlieb, director of infection prevention at Mount Sinai Morningside. "A reason for cleaning it more than that would be if it got really wet or dirty before the end of the day — for instance if you sneeze into it and it gets visibly wet, or if for some reason you walk by something that sprays on the outside of it, then I would clean it sooner. Otherwise, daily should suffice." Dr. Elizabeth Mullans, a dermatologist at Uptown Dermatology in Houston, agrees: "If someone runs a quick errand, then goes home and doesn't go out again, I recommend they wash the mask when they get home," she says. "If you're doing multiple errands at one time, then I wouldn't wear different masks into each store, just wash it when you are done with errands for the day." Gottlieb suggests having a few cotton masks on hand at home so that if you forgot to wash your mask at the end of the day (or simply don't feel like it) you'll have a clean one ready to go.
There are precautions to follow when removing the mask, too. As Janet Haas, the director of epidemiology at Lenox Hill Hospital, told us, after wearing the mask outside, "the fabric of the mask should be considered contaminated, and you should avoid touching it — when removing the mask, handle it by the straps or ear loops, and wash your hands for 20 seconds with soap and water, or use sanitizer after handling the used mask."
"Washing a mask by hand or with a machine are both fine," says Gottlieb. "Something to remember about this coronavirus is that it's killed pretty easily by most detergents, so the most important thing is just doing the cleaning — the exact approach isn't as important." Gottlieb says that if you're washing the mask in a washing machine, any standard detergent is fine. "You don't need to buy one that has any particular claims — anything like Tide that's sold at your local drugstore should do the trick," she says. Whether you're washing by hand or in a machine, she suggests using warm to hot water, noting that "the hotter the water, the better it is at killing organisms like this virus."
If your skin is on the sensitive side, Mullans suggests using a gentler detergent. "Detergents with fragrances can leave residue in the fabric, which can also cause sensitive-skinned people to get a rash," she says. "Use a hypoallergenic detergent. Arm and Hammer Sensitive Skin Free and Clear is great, as it also has no fragrances." (If you're prone to breakouts from wearing the mask, she suggests washing your face twice a day, before and after wearing the mask: "Acne-prone individuals may benefit from cleansers that contain salicylic acid," she says. "Avoid heavy moisturizers and makeup in the areas covered by the mask, and only use noncomedogenic products.")
There are a couple of ways to wash your mask in the sink. Haas points to the CDC's recommendation for handwashing, which is to make a bleach solution. "If handwashing, use a disinfecting bleach — bleaches that are color-safe may not have disinfecting properties — and make sure it's not expired," she says. "Soak the mask in bleach solution (four teaspoons bleach per one quart of water) for five minutes, then rinse thoroughly with cool or warm water."
If you don't have bleach at home, or prefer not to use it, Gottlieb says, "Honestly, any sort of detergent that's made for handwashing should be fine, as well." You could even use hand soap, though detergent will likely help the mask last longer. "The detergent is more for taking care of the fabric so that it holds up over time," says Gottlieb. "I'm not sure how well the cotton of the masks would hold up to hand soap, which is why I'd try to buy something that's made for fabric. One is not better than the other at killing the virus, however."
When it comes time to dry the mask, the doctors we spoke to said that you can either put it in the dryer on a high heat setting, or leave it out to dry on your regular clothes-drying rack. "If you happen to have a window with some nice sunlight, you could always put it by the window to get that little bit of sun, as well," says Gottlieb. "Though, I can't say that I've seen any data suggesting that putting it in the sun makes a difference [in killing germs]." How you dry the mask is less urgent of a concern than making sure it's clean in the first place. As Gottlieb says, "The most important thing is just getting it in soap or bleach and getting it clean."
The Strategist is designed to surface the most useful, expert recommendations for things to buy across the vast e-commerce landscape. Some of our latest conquests include the best acne treatments, rolling luggage, pillows for side sleepers, natural anxiety remedies, and bath towels. We update links when possible, but note that deals can expire and all prices are subject to change.