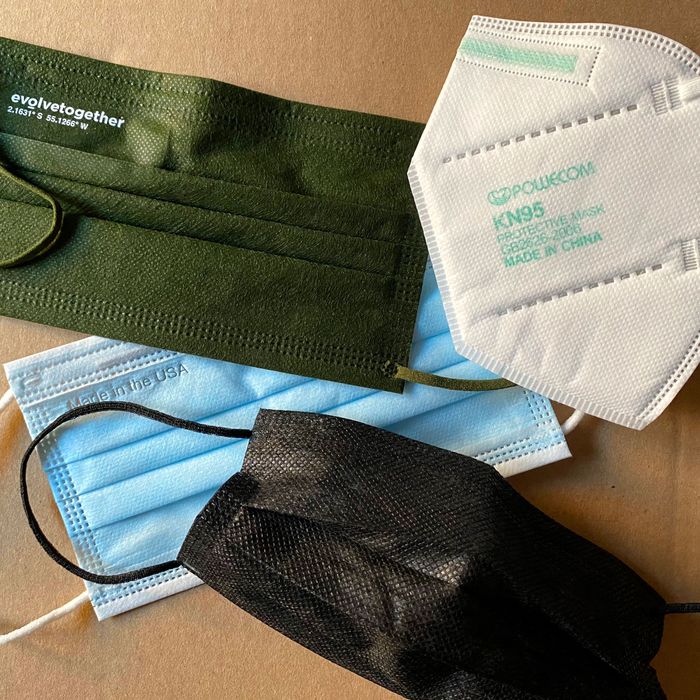 Although nearly half of Americans are fully vaccinated against COVID-19, it unfortunately looks like we aren't done with wearing masks quite yet. Cases are rising again as the highly contagious Delta variant spreads across the country, leading some areas, like Los Angeles, to reintroduce mask mandates. And masks are still required on most modes of public transportation (including New York City subways and any interstate travel).
If you're fully vaccinated, you are probably wearing a mask less often than you were a few months ago, but you'll likely run into situations in which masks are required. The CDC still recommends that unvaccinated people wear masks in all indoor public places and in crowded outdoor settings in areas with high numbers of cases. If you're ever unsure of what to do, Dr. Kagya Amoako, associate professor of biomedical engineering at the University of New Haven, recommends checking the CDC's mask-wearing guidelines for vaccinated and unvaccinated people. "It's a great resource to help the public quickly understand how to be safe," he says. While not as sustainable as reusable cloth masks, disposable masks are good to have on hand when the need for a mask does occur.
The very best disposable face masks, of course, are N95 masks — the gold-standard pandemic masks, approved by the National Institute for Occupational Safety and Health (NIOSH), which filter out 95 percent of airborne particles. These are closely followed by the disposable surgical masks worn by doctors and other health-care professionals, which are cleared by the FDA as meeting certain standards. Early in the pandemic, the CDC did not recommend that the public buy these masks in order to ensure a steady supply for health-care workers, but those restrictions have relaxed slightly now that such masks are more regularly available. So while it's still not a good idea to hoard N95 or medical masks, you can feel better keeping one or two around for especially high-risk occasions, like a plane ride or spending a long period of time in a crowded enclosed space.
The imported KN95 mask, considered the Chinese-made equivalent to the N95, is also a popular disposable option. Yi Cui, a professor of materials science and engineering at Stanford University who co-authored a study on the efficiency of various mask materials, says that, while the certification processes for KN95 and N95 masks are "nearly identical," many of the KN95 masks on the market today are counterfeit. There's no way for you to tell an authentic mask from a fake, but fortunately Cui and his lab have found that even counterfeit KN95 masks can have a filtration efficiency of 75 to 80 percent. (Cui's company, 4C Air, sells a KN95 mask that his research has shown can filter 95 percent of small particles.) The CDC has also tested a variety of KN95 masks, and you can see those results here.
Most of the rest of what you'll see are pleated disposable masks.Florida Atlantic University engineering professor Siddhartha Verma, lead author of a recent study on the efficiency of different mask materials, says the quality of these masks varies. At the start of the pandemic, consumers were mostly on their own in figuring out which ones offer the best protection. The CDC now says there are certain labels you can look for on masks that ensure they've been tested to meet specific standards. These labels are ASTM F3502, Workplace Performance, and Workplace Performance Plus. Otherwise, check for labeling that says the mask is made from "multiple layers of nonwoven material."
How should your mask fit?
Even the best masks can fail if there are gaps around the edges where potential viral droplets can enter or escape. "Look for a mask that fits your face well, assuring that it covers your nose and mouth and fits below your chin," says Ravina Kullar, an infectious-disease specialist, epidemiologist, and spokesperson for the Infectious Diseases Society of America. If you end up buying a pack of disposable masks that are too big, don't worry: Dr. Stacy De-Lin, a family-medicine specialist in New York City, says you can tie knots in the ear loops or twist them once before putting them on to ensure a tighter fit. (If you're no good at knots, there are lots of straps and accessories you can buy online to adjust the fit.)
The best disposable face masks for adults
We asked Kullar, De-Lin, Amoako, and Dr. Sten Vermund, an infectious-disease epidemiologist and dean of the Yale School of Public Health, to weigh in on which disposable masks are the best and why. Based on their advice, we ordered a handful to test on our own, subjecting them to the light test, where we hold the mask up to the sun or a bright lamp to see how much light passes through. (This was suggested to us by Kullar and by Dr. Scott Segal, chairman of anesthesiology at Wake Forest Baptist Health.) We also tried to blow out a candle while wearing them, a test that first became popular when Bill Nye used it on TikTok and which was explained more fully by NPR. Basically, if you can easily blow the flame out, it may be a sign that your mask isn't blocking enough of your breath (and whatever germs are in it).
ECOGUARD masks are made in the USA out of three layers of non-woven fabric. Each box comes with a scannable QR code to help consumers avoid counterfeit purchases.
What we think: 
These masks are very comfortable and fit pretty well without much need for adjustment. They let a small amount of light through, but their nonwoven construction means the light is diffused, rather than how it might shine through gaps between the woven threads of a fabric mask. No matter how hard we tried to blow out the flame of a lighter, it wouldn't even budge.
These MOCACARE masks are EUA-certified by the FDA. This means that, while they are not medical grade, they are certified for emergency medical use during the COVID-19 public-health emergency. They are made of three non-woven fabric layers and the middle filter layer is made of melt-blown non-woven fabric.
Both De-Lin and Vermund say that essential workers like teachers, grocery-store clerks, and bus drivers, all of whom spend long periods of time in enclosed spaces with others, should consider wearing KN95s. Also, "If you have a condition that puts you at an especially high risk and you have to be in public, go shopping, or whatever, you may want to go with the KN95 mask, too," Vermund says. In these cases, fit is even more important. "I think the biggest thing that I see with the KN95 masks is they're often not fitted well. It's supposed to collapse along your cheeks when you inhale so that no air can enter in through the sides," De-Lin says.
This particular KN95 comes specifically recommended by De-Lin. "The company's business model is such that it is able to provide large amounts of masks to medical organizations as well as provide smaller amounts to the public," she says. N95 Mask Co also sells three different NIOSH-approved N95 masks and a surgical-style disposable mask with ear loops, designed to help eliminate gaps on the sides.
What we think:
These particular KN95 masks are silky smooth inside yet solid with a snug fit all the way around that is helped by the bendable nose strip. The ear loops are lightweight, soft, and don't put pressure on the backs of the ears. That said, compared to other KN95 ear loops these are slightly bigger so people with small faces might need to adjust them by tying knots in the loops. They pass the light test and make blowing out a flame impossible.
Though they are technically nonmedical, Powecom KN95 masks are on the FDA's list of approved emergency PPE, and they claim to filter out 95 percent of small particles. We gave one to Jacob Cohen, a second-grade teacher in Brooklyn who has tried a lot of KN95s this fall. Cohen says they fit more snugly than the other KN95s he has tried and don't move at all when he is talking.
What we think: 
These masks are soft on the skin and create a tight seal all the way around from nose bridge to under the chin. They meet De-Lin's fit requirement, collapsing around the cheeks when you breathe. When worn with glasses, they did not cause much fog. It's impossible to blow out a flame while wearing one, and very little light passes through the fabric when it's held up to the sun or a lamp.
Where KN95s are the Chinese standard equivalent of N95 masks, KF94s are the South Korean equivalent. Dr. Ravina Kullar, an infectious-disease specialist, epidemiologist, and spokesperson for the Infectious Diseases Society of America, says the "KF" in KF94 stands for "Korean filter," and the "94" indicates a 94 percent filtration efficacy. Though that might make it sound like they're less effective than KN95 or N95 masks, which are purported to have 95 percent filtration efficacy, the truth is more complicated. Some studies seem to show that they are in fact better at blocking droplets than KN95s. And because there hasn't been any head-to-head testing between the two, the deciding factor comes down to which one fits your particular face better.
What we think: These LG Health Care KF94 masks are Strategist senior vice-president of e-commerce Camilla Cho's favorites because of their adjustable ear loops. "Pulling on the little front loop adjusts the tightness around the ears, nose, and sides," she says. After testing both these masks and the KN95s from Powecom, these were her clear winner because they were so much more comfortable. In addition to having a snug fit, they don't fog up her glasses like many other masks, Powecom included, do. They also pair well with Baggu's fabric masks for situations where double-masking makes sense, she says. Both the LG and the Powecom masks ship for free.
If there's one disposable mask we could call trendy, it's the all-black style we've seen on everyone from stylish Brooklynites waiting in line for coffee to a bunch of celebrities like Justin Bieber, Kaia Gerber, Cara Delevingne, Ariana Grande, Emily Ratajkowski, and even on Kanye West when he announced that he voted for himself on Instagram. According to Kullar, as long as they fit you well, these masks are suitable for nonmedical use, and because of their three layers made of nonwoven polypropylene and melt-blown fabric, they would help stop the spread of COVID-19. WeCare makes a wide variety of disposable surgical-style masks, from solid colors to prints like tie-dye and plaid. The inner layer is soft and absorbent for comfort and to trap droplets. The middle layer is melt-blown fabric to filter, and the outer layer is leakproof to further prevent droplet escape.
What we think: 
Each mask is individually wrapped and very lightweight, making these perfect for keeping in a bag or jacket pocket as a backup mask. They're soft against the skin, and the bendable nose strip helps with fit and when wearing with glasses — though there's still a fair amount of fogging. You can see a little bit of light coming through the mask when it's held up to the sun, but blowing out a flame isn't possible.
These disposable masks are a favorite of Strategist associate director of audience growth, Stephanie Downes (they've also been spotted on Hailey Bieber), who, as an immunocompromised person, has to be very careful about the masks she wears. She appreciates that they are independently tested and certified medical-grade type IIR by SGS, a world leader in consumer product testing, and that they stay put while still being comfortable enough to wear during outdoor workouts. They're made with three layers: a water-resistant outer layer, a melt-blown center, and a water-absorbing inner layer. Plus they're made in an FDA-registered PPE factory and come shipped in sterile 100 percent plant-based biodegradable packaging. Evolvetogether makes masks in black, gray, white, and forest green. After looking them up online, De-Lin says, "These do look like they're medical quality, given the material, so I think people could feel comfortable wearing them, and it would be protective." And they're one of the only disposable-mask brands donating masks and sale proceeds to a good cause. Sales of their green masks benefit One Tree Planted, a global reforestation nonprofit.
What we think: 
Of the three surgical-style disposable masks we tried, these are the softest inside. When held up to a window and a lamp, they let virtually no light through. However, when we tried to blow out the flame of a lighter while wearing it, even though the flame didn't go out, it did move slightly more than with the mask from WeCare.
Like N95 Mask Co, these two American companies make NIOSH-approved N95 masks. At the moment, however, they are all having a hard time selling their products because of the protections online retailers have put in place to try to block counterfeiters from selling fake N95s. In this case, we think buying them for yourself is a good idea. You get the best quality masks, while helping to support US manufacturers in need.
The best disposable masks for kids
With elementary-school kids' tendency to lose things or drop them (or cover them with glue on a whim), it's a good idea to pack a few extra masks in their backpack, just in case. "You never know when your mask is going to get soiled or damaged. So it's a good idea to have a backup," says Vermund. Mom of three Jodelle Reed stocks her kids' backpacks with individually wrapped disposable masks in case of emergencies.
These recyclable, FDA-registered KN95 masks from Vida are some of the only KN95 options we have seen for kids. The adult-sized ones come recommended by Kristy Drutman, host of the podcast Brown Girl Green, whom we spoke to for our article about sustainable face masks. Vida sends a prepaid return label with every order so you can send your masks back when you're done and the brand will properly recycle them.