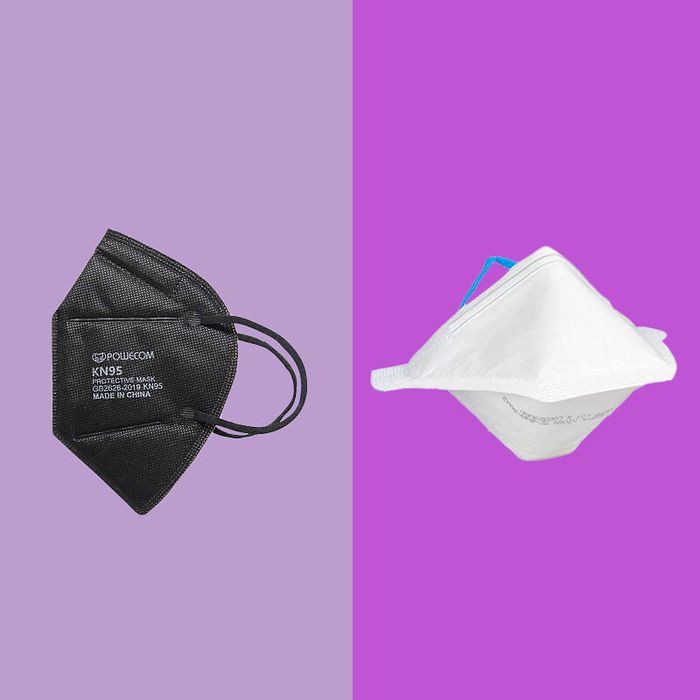 Photo-Illustration: The Strategist; Photos: Retailers
At this point, mask mandates and other COVID-19 mitigation policies in the United States are more or less nonexistent. But it's also clear that COVID-19 itself isn't going anywhere — as of late February, an average of 3,000 people were dying of COVID each week in the U.S. According to Dr. Bruce Y. Lee, professor of health policy and management at the CUNY Graduate School of Public Health, no significant scientific organization has declared the pandemic over. "Things are getting better, but we're definitely not out of the pandemic yet. We're in a transition period," he says.
For this reason, mask wearing and other infection-prevention strategies are still an important tool in many situations. As Dr. Ravina Kullar, an infectious-diseases specialist, epidemiologist, and spokesperson for the Infectious Diseases Society of America, explains, newer COVID variants like BQ.1 and XBB.1.5 are capable of substantial immune evasion. And masks can also help protect you against surges of other respiratory viruses, including RSV and influenza.
While masks are most effective at the community level, the health experts we spoke to stress that one-way masking is still an important tool in lowering your personal risk of infection. "Even if you are the only person wearing a mask or a respirator, you will still have protection that is pretty good," says Michael Chang, an M.D. and assistant professor of pediatrics with McGovern Medical School at UTHealth, Houston, adding that indoor public spaces with poor ventilation pose the greatest risk. And though more than half of the U.S. population is technically "fully vaccinated" against COVID-19, Lee says that less than 10 percent of the population has gotten the bivalent booster shot. "That's way below the levels that we would want at this stage," he says, noting that immunity from previous vaccines will have waned by now and the bivalent booster gives you the best protection against all new variants. In light of all this, every health official we talked to recommends choosing disposable masks that offer high filtration, such as KN95, KF94, and N95 masks, over less effective reusable fabric masks.
The very best disposable face masks are N95 masks, approved by the National Institute for Occupational Safety and Health (NIOSH), as they filter out 95 percent of airborne particles. They're especially good for high-risk occasions, like spending a long period of time in a crowded enclosed space. Imported KN95 masks, the Chinese-made equivalent to the N95, are also a popular disposable option. Yi Cui, a professor of materials science and engineering at Stanford University who co-authored a study on the efficiency of various mask materials, says the certification processes for KN95 and N95 masks are "nearly identical." The main difference is their shape and the fact that many of the KN95 masks on the market today are unfortunately counterfeit. Most of the rest of what you'll see on the market are KF94 masks, the South Korean equivalent of an N95 mask, and pleated disposable masks. Kullar says the "94" indicates a 94 percent filtration efficacy. Though that might make it sound like they're less effective than KN95 or N95 masks, which are purported to have 95 percent filtration efficacy, the truth is more complicated. Because there hasn't been any official head-to-head testing between the two, the deciding factor on which one is better at protecting you comes down to which one fits your particular face better.
To help you find the very best disposable masks for both kids and adults, we asked Parikh, Chang, Lee, Cui, Kullar, and three other mask and infectious-disease experts to weigh in what makes a good disposable mask. Based on their advice, we ordered a bunch of masks to test on our own, wearing them on the subway, into the New York Magazine office, to school, and even during lengthy doctor visits and acupuncture appointments.
While it's very hard to tell an authentic mask from a pretty good fake, some masks are more prone to counterfeiting than others. A good way to know whether you are getting legitimate KF94s is by checking that they are indeed made in South Korea. And a good way to vet an N95 mask is to check for NIOSH approval and other labels that ensure they've been tested to meet specific standards. Those labels are ASTM F3502, Workplace Performance, Workplace Performance Plus, and the code "TC-84A" followed by four more digits. Where things get sticky is with KN95 masks. Chang says that at this point, he suspects most KN95s are fakes since "there is no regulatory agency that ensures a manufacturer actually meets the KN95 standard." As a general rule of thumb, both Chang and Aaron Collins, a mechanical engineer with a background in aerosol science who has spent the pandemic testing hundreds of masks he purchased online, agree that the best way to avoid fakes is to buy exclusively from reputable sources. "Don't buy random brands from Amazon or eBay," Collins says. "My recommendation is ProjectN95, BeHealthyUSA, KollecteUSA, or, if using Amazon, verify that you are purchasing from the brand's 'official' store."
Otherwise, check for labeling that says the mask is made from at least two layers of nonwoven polypropylene plus a melt-blown inner-filter layer. The random arrangement of fibers in nonwoven materials does a better job at filtering tiny particles, like bacteria and viruses, than traditional woven fabrics like cotton. And ideally, they should be independently tested by a third party to ensure proper filtration. In addition, legitimate masks should come in tamper-evident packaging and should be marked with an expiration date. The same applies to surgical masks, though, Collins says he would skip them if you have access to N95's, KN95's, or KF94's because the standards for surgical masks "are much looser, and the quality of them is all over the place."
Counterfeit masks aside, the best masks are the ones that fit your face the best, and features that improve the fit of a mask such as adjustable earloops and a flexible nose wire can also improve its filtration efficiency. This is particularly true for children who range in size, even across age groups. To ensure you are getting the most protection out of your mask, Kullar says it should fit snugly, covering your nose and mouth, and should fit tightly below your chin. Any gaps around the edges will allow potential viral droplets to enter or escape. You may have to try a few before finding your perfect fit, but if you end up buying a pack of masks that are too big, Dr. Stacy De-Lin, a family medicine specialist in New York City, says you can tie knots in the ear loops or twist them once before putting them on to ensure a tighter fit. (If you're no good at knots, there are lots of straps and accessories you can buy online to adjust the fit.)
In addition to fitting well, Chang says masks need to be comfortable. "A mask doesn't do any good if it's at your desk or in a backpack rather than being worn," he says. It also won't work as well if it is hard to breathe through. You want a mask with some resistance to catch tiny airborne particles, but not so much resistance that it forces the air to find another way in or out — usually around the sides. Lastly, if you are buying masks for children, know that they will have strong opinions about which masks they want to wear. The factors that drive those opinions can involve colors, patterns, how the ear loops feel on the backs of their ears, or how soft the interior is against their face. If there is a high-quality mask that they willingly put on for a plane ride or school trip, that mask is probably the best. Dr. Sten Vermund, a pediatrician, infectious-disease epidemiologist, and dean of the Yale School of Public Health, says that making mask use fun and gamelike will increase the chances of children cooperating, especially younger children.
Oftentimes the highest-filtration masks with the most recommendations (from Collins and other experts) are the same ones that sell out first, especially as case rates begin to rise. So to make sure you have one to wear when you need it, we're prioritizing masks that are consistently in stock since an out-of-stock mask can't help protect you or your family.
Best N95 mask
Early on in the pandemic, N95 masks were in tragically short supply. So public health experts discouraged non-health-care workers from buying them. But now, they are readily available to the general public and many American companies have started making NIOSH-approved N95's in soft foldable shapes that are much more comfortable than the stiff cup styles. This one from Protective Health Gear is made in Patterson, New Jersey. Local manufacturing reduces any potential supply chain disruptions and ensures that each mask undergoes the strictest quality checks.
What we think: Though I definitely prefer ear loops to head straps (the latter really mess up my hair), this is the most comfortable N95 I have ever worn. Each mask comes individually wrapped and features the NIOSH label, the brand's logo, the TC-84A label, and even the mask's specific lot number. Because it is a bifold style mask, it fits and feels similar to a KN95. But in addition to a soft inner layer and nose wire, it also features foam nose padding to further seal any gaps and prevent air from escaping or getting in. This and the overall size and shape create a very tight seal all the way around so it feels like it was custom made for my face. When I breathe in the sides collapse slightly, but not so much that it's annoying. And best of all, this mask does not move one bit while I am talking, singing, or even shouting. As for the head straps, they are soft and stretchy but don't feel flimsy. They also don't put so much pressure on my head as to give me a headache. It's what I would reach for if I were a doctor or if I was going to an indoor concert at the height of a spike in infections.
Best KN95 mask
Powecom KN95 masks were on the FDA's list of approved face masks for health-care professionals back when that list was necessary. Like other KN95 masks, this one claims to filter out 95 percent of small particles. Indeed, Collins has tested the kid-size Powecom masks and found that they have a filtration efficiency of 97.3 percent. In September of 2020, I bought them for my husband, Jacob Cohen, to wear while teaching in person. He teaches fourth grade in Brooklyn and has tried a lot of KN95's over the last two years. They (along with some more colorful KN95's listed below) are by far his favorite masks for work, and he says that, in addition to making him feel safe in the classroom before vaccines were available, they fit more snugly than the other KN95's he has tried, and they don't move when he is talking.
What we think: When it comes to KN95 masks especially, De-Lin says the fit is extremely important. "I think the biggest thing that I see with the KN95 masks is they're often not fitted well. It's supposed to collapse along your cheeks when you inhale so that no air can enter in through the sides." I have worn Powecom KN95 masks on the subway, to the office, at museums, on Metro-North, at the airport, and to countless doctor's appointments, and they remain my go-to masks. They are soft on the skin and create a tight seal all the way around from the nose bridge to under the chin. They meet De-Lin's fit requirement, collapsing around the cheeks when you breathe. When worn with my glasses, they fog less than other masks I have tried.
Best KF94 mask
KF94 masks are a great option for people who have trouble finding a good KN95 fit or, like Chang, worry that most KN95s are counterfeit. They open up a bit like an envelope and sit slightly off the face, giving you more room to talk and breathe. In addition to being manufactured in South Korea and approved by the KFDA, these BOTN KF94 masks are featured on Collins's public Google doc containing filtration results for the masks he has tested. In his testing, he found them to have a filtration efficiency of 99.2 percent. They are also the only mask Chang recommended by name. Like the LG Airwasher masks favored by Strategist senior vice-president of e-commerce Camilla Cho, BOTN masks come with special adjustable ear loops. Simply pull on the little front loops to adjust the tightness around your ears and cheeks.
What we think: BOTN KF94 masks are made with four layers of electrostatic nonwoven material, including a melt-blown filter layer. Each mask comes individually packaged in a sealed tamperproof sleeve and the brand's logo is printed on the front of each mask. Right away, I noticed how light the masks are, far lighter than a Powecom KN95 or even other KF94's I have tried. So while Powecom's fit my face shape a little better, these are my favorite spring and summer masks. The adjustable ear loops are the easiest I have used throughout the pandemic. It's not that masks with little plastic sliders on the ear loops are difficult to use, but the double loop system on these masks allows me to adjust the fit in seconds while walking down the street wearing the mask. And once adjusted, the mask fits me well and creates a tight seal all the way around the edge. The inner layer is comfortable against my skin, but I would describe it as smooth rather than soft, another reason why I think this is a great warm-weather mask.
Best beak-style N95 mask
Like the Protective Health Gear N95s, these Kimberly-Clark N95 masks are NIOSH-approved and softer than traditional cup-shaped N95s, making them less likely to dig into your cheeks. They come recommended by Intelligencer editor Chas Danner, who has unusually high standards since he has spent the pandemic writing about COVID-19 and masks. He says this is the mask he wore to wait in line for hours to get a PCR test during the first Omicron wave. This beak-shaped style of the mask has also become popular with restaurant workers because of how comfortable it is for long periods of time. When he tested these masks, Collins found that they filter out 97 percent of airborne particles.
What we think: Danner says that despite looking "totally ridiculous," the Kimberly-Clark mask is super-secure. "I got them for travel, originally, but have now used them as my best mask for long periods indoors in public, like seeing a play. They don't feel as reusable as others I've worn, but the head straps are really comfortable, and I've gotten such a good seal on them, I've had condensation pool inside the mask. I felt like I was in Dune," he says.
Most stylish KN95 mask
These KN95 masks, available in a wide variety of colors and patterns, have quickly become some of my favorites for higher-risk situations. You can get them in neon hues with contrasting ear loops, desert neutrals, pretty pastels, and even this marbled-paper pattern inspired by the well-known Matches Fashion retail boxes. Because they come in so many colors, they are super-easy to match to any outfit, making the brand popular among a large swath of celebrities — including Justin and Hailey Bieber, Dua Lipa, Cardi B, and Offset. In addition to looking nice, Kaze masks are made of five layers of nonwoven material — including a melt-blown filter layer. They have been tested by Nelson Labs and certified by the Swiss lab SGS. The ear loops are adjustable, and a foam nose pad helps create a tight but comfortable seal. The brand makes kid-size masks and KF94-style adult masks as well.
What we think: In my experience, Kaze KN95 masks are comparable to Powecom masks in softness and breathability. The fit feels a tiny bit more snug around the edges — perhaps because of the foam nose pad — than that of the Powecom KN95s. Considering how much more expensive these are, I wouldn't say they're the best choice if you plan to wear them on a daily basis, but they are a nice "special occasion" option for more fashionable settings.
Best surgical-style mask
Depending on the infection and hospital occupancy rates where you live, you might be feeling like it's safe enough to wear a less constricting (and therefore somewhat less effective) surgical-style mask. Unfortunately, since most people now use at-home COVID tests and the United States doesn't have a cohesive surveillance strategy, you should assume that any kind of official case-rate statistics undercount the true number of cases by up to three times, according to Lee. While this type of mask tends to gap and leak at the sides, any mask is better than no mask at all. But since not all surgical-style masks are created equal, if you're planning on wearing one, we highly recommend this one from Evolve Together. Not only is it stylish, having been spotted in solid black and white on more celebrities than we can count, but it's also made from high-quality materials and independently tested and certified medical-grade type IIR by SGS, a world leader in consumer product testing. After looking them up online, De-Lin says, "These do look like they are medical quality, given the material, so I think people could feel comfortable wearing them, and it would be protective." Each mask is made using two non-woven water-resistant outer layers, one meltblown filter, and one non-woven moisture-absorbing inner layer. Plus, they come in tamper-evident and biodegradable packaging. Evolve Together also makes a KF94-shaped mask with KN95 level protection that Collins found to have a filtration efficiency of 98.64 percent.
What we think: 
Of the many surgical-style disposable masks I have tried, these have the softest inner layer and the lightest most comfortable feel. They are the masks I wore all the time (especially in hot weather) until the Delta, Omicron, and subsequent variants made me switch to better filtering KN95s and KF94s. They are also a favorite of former Strategist associate director of audience growth Stephanie Downes, who, as an immunocompromised person, has to be very careful about the masks she wears.
Some more disposable masks for adults we've written about
Best KN95 mask for kids
The only difference between these and the adult Powecom masks is the smaller sizing (about 15 percent smaller, to be exact.) Collins included them on his widely circulated Google spreadsheet of face masks for kids, showing them to have a 97.3 percent filtration efficiency. He says the sizing is best for children ages 7 through 12, depending on face size.
What we think:
Of the "bifold" masks we tested, these ones fit the best, even on our younger test subjects — namely, Strategist senior editor Jen Trolio's 4-year-old and 7-year-old daughters. Though the smallest, youngest kids may still get a better fit with an envelope-style KF94 mask, we noticed that the Powecom KN95s were a bit softer and more pliable than other KN95-level masks we tested, meaning they conformed to kids' cheeks better than stiffer options. Additionally, the nose wire was flexible enough to get a decent bend around smaller, shallower noses (we've found that if the nose wire on a bifold mask is too stiff, it's difficult to get rid of the center crease it has from being packed flat for shipping, and the mask is especially prone to tenting up and leaving an air gap on kids, as well as adults with smaller noses). The main drawback of this mask, at least from a kid's perspective, is that it only comes in white, but it offers a decent fit for this style of mask, even without adjustable ear loops.
Best KF94 mask for kids
The overall trifold-envelope style of KF94 masks offered the best fit on our kid testers by far. Because of the three different panels, the masks cover the nose and wrap under the chin while still sitting a bit away from their mouths, giving them space to talk and lick their lips without touching the mask. If you've witnessed the (honestly very gross) sight of a kid licking or sucking in and chewing the inside of their mask, lessening its efficacy, you already know how important this extra space is. Getting the absolute best fit out of a kid-size KF94, however, can still be a little bit tricky.
During our testing, we noticed a few universal challenges of fitting KF94s to different sized faces, which means you may need to try a few to find the best ones for your particular kid(s): First, if the strip of material above the nose wire is too wide, it can hit too high between the eyes, pushing down the entire mask and making it difficult to get the wire in the right place. This was especially true on our 4-year-old test subject. And second, many KF94's have a slight processing smell right out of the package, and our sharp-nosed testers were quick to comment on it every time; while we didn't find any KF94 masks that have no odor at all, we did find that any scent tended to dissipate thoroughly enough that we could usually convince the kiddos to stick it out. But if you are purchasing masks for an especially sensory-sensitive youngling, be ready. These KF94 masks from Korean company BK Healthcare (sold by Vida) are made from four layers of non-woven Polypropylene, including a melt-blown filter layer and a soft inner lining. They are labeled made in Korea and available in four colors and two kids' sizes, plus, they come wrapped in tamper-evident single mask sleeves.
What we think:
We tested and liked several options but gave a slight edge to these because they come in a few different colors, the nose piece fit our younger testers well, and the tamperproof, individually wrapped packaging, while not especially eco-friendly, is really handy (and though we haven't tried it, Vida does offer mask recycling if you take advantage of the included prepaid mailing label to return used masks back to the company).
Best mask for preschoolers
Finding high-quality masks small enough to fit children under 5 years old can be a real challenge — especially since they sell out so fast. But these KF94 masks are usually available and come recommended by Collins via his kids' mask Google spreadsheet. He found them to have a filtration efficiency of 99.3 percent. They are made with four layers of non-woven material.
What we think: When I found out that Strategist writer Lauren Ro buys these masks for her 3-year-old son, I asked her for more details. She heard about them through a parent at her son's preschool, who sourced a bunch of different KF94 masks directly from a Korean importer and tried them all on her 2.5-year-old. According to the friend, this mask was the clear winner and luckily was available on Amazon. "The XXS masks are perfectly suited for 2- to 3-year-olds, and they actually stay on my son's face. He doesn't seem to mind them as much as other masks and keeps them on instead of constantly pulling them down under his nose and chin. He's worn them on cross-country flights, all day at school, even outside, without complaining about them," Ro says.
Best surgical-style mask for kids
If you can't get your child to wear KN95 masks or KF94 masks, you might consider trying Evolve Together's kids' pleated masks alone or under a cloth mask for extra protection — double-masking can improve the fit and therefore the efficiency of surgical-style masks. These masks are made using the same process as the brand's adult masks: with medical-grade materials in an FDA-registered factory. The only difference is the size (they're also great for adults with smaller faces) — and they come in multiple colors with adorable sticker packs including unicorns, stars, astronauts, and hearts that may further entice kids to mask up.
What we think: While there's no denying that this style of mask tends to leave gaps along the sides, there's also no denying that color choices and stickers can go a long way when it comes to convincing resistant kids to wear a mask (just note that not all colors are always in stock). Because of the way they fit, these masks are more well-suited for less-risky circumstances, but our 4-year-old and 7-year-old test subjects were able to wear them comfortably without complaint. (One of them did comment on how they smelled right out of the packaging, and we did notice a slight papery odor, but it did dissipate over time.) In terms of the vertical measurement, these masks fit both girls fine, if a little big on the 4-year-old, but the pleats actually help with that, and because the material is flexible and soft, it doesn't hit her in the neck the way the too-big Vida KN95s we tested did. The ear loops aren't adjustable, but they can be knotted easily enough, which can also help close gaps at the cheeks to achieve a better overall fit.
Some more disposable masks for kids we like
Our Experts
• Bruce Y. Lee, M.D., M.B.A., professor of health policy Management at the CUNY School of Public Health
• Michael Chang, M.D., assistant professor of pediatrics with McGovern Medical School at UTHealth Houston
• Aaron Collins, mechanical engineer with a background in aerosol science; follow him on Twitter @masknerd
• Yi Cui, professor of materials science and engineering at Stanford University
• Dr. Purvi Parikh, immunologist with NYU Langone Health
• Dr. Sten Vermund, pediatrician, infectious-disease epidemiologist, and dean of the Yale School of Public Health
• Lauren Ro, Strategist writer and mom to an almost 3-year-old
• Jen Trolio, Strategist senior editor and mom to a 4-year-old and a 7-year-old
•Dr. Ravina Kullar, infectious-diseases specialist, epidemiologist, and spokesperson for the Infectious Diseases Society of America
The Strategist is designed to surface the most useful, expert recommendations for things to buy across the vast e-commerce landscape. Some of our latest conquests include the best acne treatments, rolling luggage, pillows for side sleepers, natural anxiety remedies, and bath towels. We update links when possible, but note that deals can expire and all prices are subject to change.