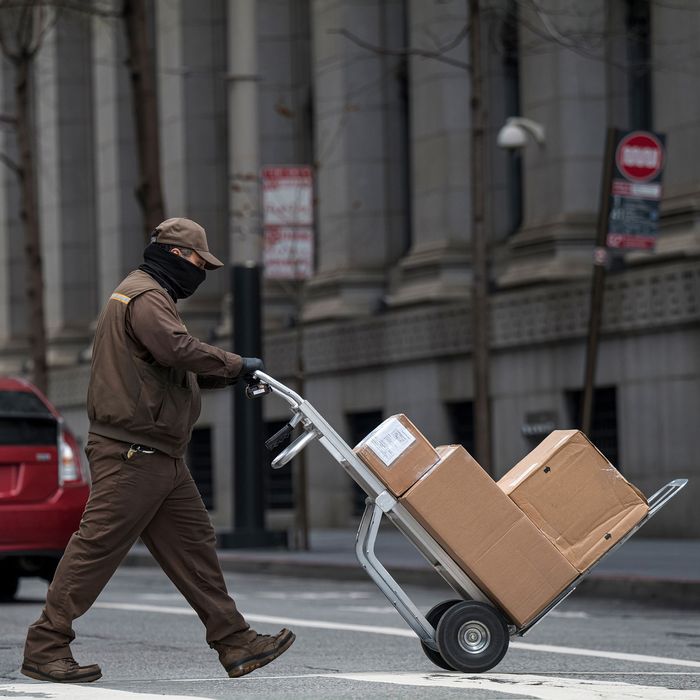 Photo: David Paul Morris/Bloomberg via Getty Images
If you feel like you're improvising your COVID-19-disinfecting routine every time you get a package delivered or bring home your groceries — do I spray everything with Lysol? Leave the Amazon box on the curb for 24 hours? Trick my roommate into doing it? — you're not alone. As Sharon Nachman, chief of the division of pediatric infectious diseases at Stony Brook Children's Hospital, explains, "No one has actually ever swabbed any of the grocery shelves, or any of the grocery items that you buy, or the boxes to show any evidence of any virus." Since there's no hard science to support measures beyond social distancing and standard hygiene (like handwashing and not touching your face), there are no "official" recommendations for unpacking your groceries or packages. But that doesn't mean we can't get some advice.
We asked six infectious-disease and public-health experts to describe their "order of operations" for safely bringing items into their homes in three common scenarios: putting away groceries (bought in person or through a delivery service); receiving a package; and ordering delivery. The amount of caution practiced by our experts ranges from the basic to the extremely thorough. Which makes sense: Back when we investigated how to shop safely during the COVID-19 crisis, Lindsey Gottlieb, director of infection prevention at Mount Sinai Morningside, told us the extent to which you go in disinfecting is also dependent on how at risk you are personally for COVID-19 complications. For example, if you or someone you live with is elderly, immunodeficient, or has any preexisting conditions, you may want to err on the more cautious side.
Putting away groceries
"Right from the very start, we made a decision that we would do the things that really have the most data behind them in supporting infection control," says Paul Sax, clinical director of the division of infectious diseases at Brigham and Women's Hospital, of the approach he and his wife, a pediatrician, take to disinfecting. "When we come back from getting our groceries, we put the bags down, wash our hands, and put the groceries away," he says. "Then we wash our hands again, and if a grocery bag's been on a surface that we're going to be using, we then wipe that surface down."
John McConnell, editor-in-chief of The Lancet Infectious Diseases journal, acknowledges that while the risk of transmission from groceries and packages is "not zero," it's also "not what is sustaining the epidemic," so he follows a similar protocol as Sax: "I bring the groceries into the house, put them away, then wash my hands and wipe down surfaces on which the groceries have rested — that's it," he says. Donald Schaffner, a food-science specialist and distinguished professor at Rutgers University, follows a very similar routine for both groceries and food delivery. After washing or sanitizing his hands, he says, "I will put the groceries away, or remove the packaging from the delivery item, and discard or recycle it as appropriate. If I'm worried about still having the virus on my hands I will wash and/or sanitize my hands again."
As for cleaning vegetables and fruits, Manish Kumar, an adjunct assistant professor in the Public Health Leadership Program at the University of North Gillings School of Global Public Health, says a simple rinse under running water — like you'd do in normal circumstances — is fine. He also washes his hands and wipes down surfaces after putting away his groceries. Jade Flinn, a nurse educator in the biocontainment unit at the Johns Hopkins Hospital, goes one step farther. She'll transfer some products out of their original packaging, like pouring a box of pasta into a glass or plastic container.
Receiving a package
"Right after handling packages," Sax says, "we wash our hands. And that gets rid of the surface virus if it's there, and it may not be there at all." He explains that even though studies show the virus can live on various surfaces for hours or days, the concentration of virus drops rapidly after initial exposure, and what's left may not be infectious. Flinn follows the same procedure, adding that if she brings the box into her home and puts it on a table or other surface, she'll then wipe that surface down. Kumar wipes down boxes before opening and will let them sit in a corner until he needs the items inside.
Getting food delivery
Whether you're looking to support a local restaurant or are just sick of cooking, experts agree it's safe to get food delivered. Flinn says there's real benefit to contactless delivery, as it minimizes the face-to-face contact you'd otherwise have with the delivery person. As for what to do when your food arrives, Nachman says, "I would take it out of the box [or other packaging] that it came in, put it in your own dish to warm it up, and then wash your hands." Flinn seconds the idea of transferring the food to your own plates and adds that she wipes down the countertop on which she first placed the delivery bag.
The Strategist is designed to surface the most useful, expert recommendations for things to buy across the vast e-commerce landscape. Some of our latest conquests include the best acne treatments, rolling luggage, pillows for side sleepers, natural anxiety remedies, and bath towels. We update links when possible, but note that deals can expire and all prices are subject to change.