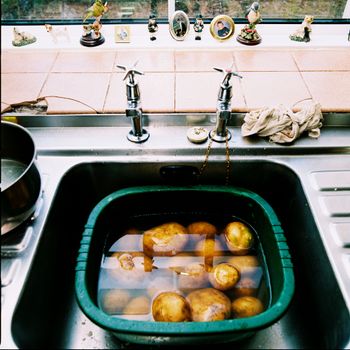 Photo: Tessa Bunney/Getty/Corbis via Getty Images
I'm not here to vibe your kitchen habits. (I've certainly picked up a peach at the farmer's market, rubbed it on my shirt, and bitten right in.) But when it comes to everyday practice, you should get comfortable washing produce even if it's not caked in dirt, especially now. The CDC says that it is possible for a person to contract the novel coronavirus "by touching a surface or object, like a packaging container, that has the virus on it and then touching their own mouth, nose, or possibly their eyes," though it is ultimately not thought to be the main way the virus spreads. And while you can wipe down a yogurt container with Clorox before popping it in the fridge, it's very unsafe to rub bleach all over an apple.
That doesn't mean you need to wash your fruits and vegetables with dish or hand-soap or a specific produce spray, though. To prevent foodborne illness caused by bacteria like salmonella , E. coli, and listeria as well as the potential of viral COVID-19, officials from the CDC and the FDA recommend nothing more than water and a good vegetable brush before drying it thoroughly.
As an avid produce-washer who's been known to pile my produce from the grocery store on the counter next to my sink and painstakingly wash each thing before putting it in my fridge, long before we entered a pandemic, I've gone through my fair share of brushes, scrubbers, and rinses. These are the tools I've found to be the most effective to rinse citrus, scrub potatoes and beets, spin salad, and more.
For general produce scrubbing
I originally purchased these silicone sponges as a replacement for my disposable dishwashing sponges, only to find them less than ideally suited for the job because they get extremely slippery when coated in dish soap. But they work wonders as a gentle vegetable-scrubbing tool. I use them for most fruit, including citrus, apples, peaches, plums, large tomatoes, avocados, pineapples, and melons as well as cucumbers, celery, radishes, scallions, and cabbage (after I tear off any wilty outer leaves). I also use my silicone sponge to gently wipe the florets, leaves, and stems of broccoli, cauliflower, and kohlrabi.
A quick note on onions and garlic: I don't typically rinse or scrub onions and garlic unless the skins are coated in dirt. I do, however, use a paring knife to peel them over a garbage bowl and then use my chef's knife to chop, because if there was anything lurking on the outer skins, I certainly don't want it on my cutting board.
For greens, herbs, berries, and other small produce
I look to my trusty salad spinner to rinse the grit off every leafy green and herb, from kale to arugula to cilantro. Some greens can be quite sandy and are often coated with soil, which isn't great to eat. A good soak in cold water for about a minute, a couple rinses under the sink, and a few good spins to dry does the trick. (You'll know you're done when you don't see dirt or sand in the bottom of the bowl. I'll wash blueberries, raspberries, blackberries, and strawberries the same way, but instead of spinning the delicate fruit, I let them dry on kitchen towels. A salad spinner is also ideal for washing other small produce, like Brussels sprouts, green beans, snap peas, cherry and grape tomatoes (actual cherries or grapes, too!).
Notoriously sandy leeks also take a bath in the salad spinner. I'll typically use my silicone sponge to gently remove outer dirt, then slice the leek on a separate cutting board (they're very sandy inside, too) before transferring to the salad spinner to soak and rinse. They can also simply be halved and soaked, but it's a bit harder to ensure all the grit comes out.
For dirt-caked produce
These tawashi brushes are made with superfirm hemp palm fibers, which are excellent for scrubbing super-dirty root vegetables like russet and sweet potatoes, beets, carrots, and parsnips. I've found that while my silicone sponges do work on these firmer items, nothing removes caked-on dirt like a tawashi brush — though they can be a bit too firm for some delicate produce. (These, unlike the silicone, make great replacements for sponges for dishwashing, too. And they've been recommended on the Strategist before as an excellent pot scrubber. Just keep a separate one to scrub vegetables.)
For added security
Though commercial produce washes were created to break down water-resistant pesticides and waxes that can coat produce before it arrives at the grocery store, it's suggested to use them along with a good, old-fashioned soak and scrub in water, not in place of. (The FDA says they're unnecessary if you're already washing with water.) Even so, the most common brand, Veggie Wash, and many others, are currently sold out everywhere. But if washing your produce with something a little stronger than water will bring you peace of mind, there's no harm in making your own: Combine 1 part white distilled vinegar to 4 parts water and add the juice of half a lemon in a spray bottle. Rinse and scrub all the dirt from your produce, then give it a spritz of the vinegar solution, then rinse again completely.
The Strategist is designed to surface the most useful, expert recommendations for things to buy across the vast e-commerce landscape. Some of our latest conquests include the best acne treatments, rolling luggage, pillows for side sleepers, natural anxiety remedies, and bath towels. We update links when possible, but note that deals can expire and all prices are subject to change.