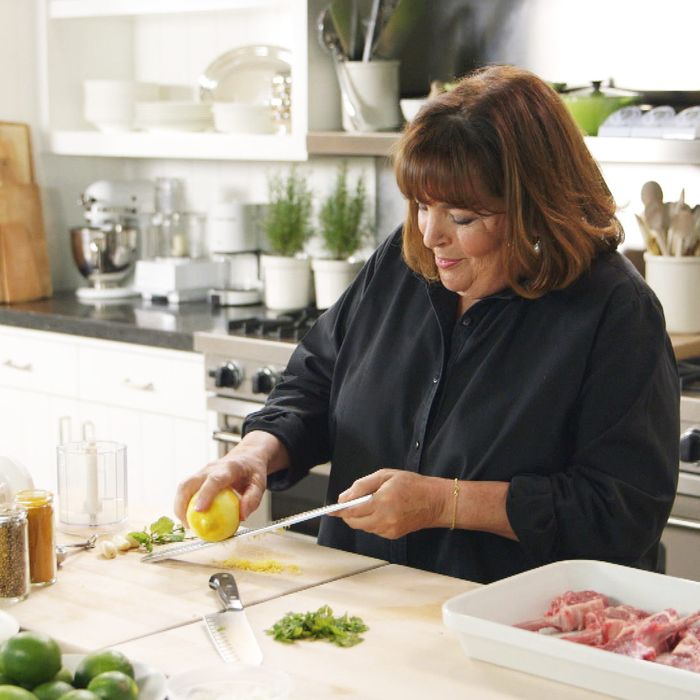 Photo: Courtesy Food Network
Whether you're julienning carrots or breaking down a full chicken, if you cook regularly, your kitchen arsenal probably includes a few good knives and cutting boards. No matter how advanced your knife skills are, there's one inevitability when it comes to cutting boards: you're going to have to clean them. Dishwasher-safe plastic boards are a quick fix, but if you're at all serious about cooking you've probably learned that wooden boards are more pleasant to use — and more difficult to clean.
"Although wood boards require a little extra care, they are the preferred material of many chefs and home cooks," says Kristina Wasserman, director of merchandising and product development at Food52. She should know; the brand's double-sided wooden cutting board has been selling out since it was first released. "Although plastic boards can be sanitized [and] dish-washed more easily, your knives can cut and mark a plastic board more, leaving more room for bacteria to hide. Additionally, wood boards are much gentler on your knives and help them stay sharper longer," she says. We asked Wasserman and four more experts — chefs, culinary school instructors, and kitchen supply store pros — how to clean and maintain your boards for years of slicing and dicing. (Everything here would work for plastic, too — minus the oils, of course — if the dishwasher isn't an option)
Best soaps for cleaning cutting boards
Unless your cutting board has come into contact with raw meat or fish (in which case experts say you can sanitize it with a mixture of one teaspoon of bleach and two quarts of water), you can usually clean your board with soap and water. "Never soak or put a wood board in the dishwasher," says Wasserman. "A quick wash with a mild soap is best." Chef Frank Proto, an instructor at the Institute of Culinary Education, explains that wood swells when it absorbs water, and then shrinks as it dries, causing splits and cracks — which is why it's important to never soak wooden boards. "The dishwasher dries with high heat so you're going from a very wet environment to a very dry environment very quickly, making it swell and contract too quickly," he says. For handwashing, Proto likes Palmolive and Chef Hervé Malivert, director of culinary arts and technology at the International Culinary Center, uses Dawn dish soap, but adds that "any antibacterial house dish soap with a clean, fresh smell" will do the job in a pinch.
If you're looking for a more natural option, Robyn Coval, co-owner and vice president of Bowery Kitchen Supplies, says this plant-derived soap with coconut extract and vitamin E is a favorite among her co-workers and customers. "We love it and we can't keep it in stock," she says. Along with the pleasant scent, Coval likes that it's just as effective at getting stuck-on food off cutting boards as more chemical-filled alternatives. She calls the lemon verbena scent "clean, bright, and fresh."
Best sponges and brushes for cleaning cutting boards
It's best to clean your cutting boards right away — "The sooner you clean them, the less work you have to do," says Proto — but depending on what you've used it for and how long it's been left uncleaned, you might need some elbow grease to remove food residue. Coval likes these sponges, which are great for cleaning boards, and easy to clean themselves. "If you feel like it's getting funky, you can throw it in the dishwasher," she says. "It makes it last a little bit longer because you can sanitize it." Plus, because it's black, it won't show as much staining as your standard, light yellow-hued sponge.
Coval acknowledges that an old-fashioned Brillo pad is the gold standard for removing caked-on food bits from your boards, but she personally prefers a natural, eco-friendly scrubbing sponge. Using abrasive walnut shells to break down food remnants, these plant-based sponges are a top pick of both Coval's and Tux Loerzel's, creative marketing and media manager at Whisk.
When a simple sponge won't cut it, Malivert says, "I use a small brush with firm, tough bristles that stay rooted in place." He likes this commercial-grade sponge that's tough enough for professional kitchens and also comes recommended by Coval. "If you really want to get down and dirty, this is a good thing to have," she says, and adds that it's perfect for heavy-duty jobs.
Best cloths for cleaning cutting boards
To prevent wooden boards from absorbing too much water, dry them as soon as possible after washing. As Loerzel says, "Water is the enemy of wooden cutting boards. It can cause them to warp or split at their seams. If a damp board is set down on the counter, the water on the bottom side has nowhere to go but up into the wood." Wasserman likes to use a 100 percent cotton cloth on her boards ("I find it just absorbs liquid better," she says) — like this one chosen by Loerzel — and then stand them upright to dry.
Additionally, Loerzel says quick-drying microfiber cloths are safe to use on wooden boards, and can also be used to oil your boards (more on that below).
Best oils and creams for treating wooden cutting boards
Like wooden furniture, treating your wooden cutting board with mineral oil maintains its outer seal to prevent cracks and prolong its life. "Once a month, I recommend generously sprinkling coarse salt over the surface of the board, letting it sit for an hour, and then brushing the salt off. This technique will absorb any moisture from the board," says Malivert. "After, you'll want to apply a small amount of mineral oil or beeswax to the board and rub it in with a lint-free cloth in the direction of the wood grain. Wipe off any excess and let the board dry overnight." Unlike vegetable or olive oils, mineral oil doesn't go rancid. If you use your board less frequently, you don't have to treat it as often. Loerzel says, "Generally if your board looks and feels very dry and pale, it could probably benefit from some mineral oil." He and Coval both pointed us to this food-safe mineral oil as one of the best for treating cutting boards.
From the makers of the chef- and home cook-beloved Boos Blocks cutting boards, this cream combines beeswax — which Proto and Malivert like for prolonging the life of wooden boards — and mineral oil. Coval likes that it seals and replenishes cutting boards and it's Food52 co-founder and CEO Amanda Hesser's choice for board care.
Coval also likes this moisturizing board butter, a proprietary blend of mineral oil and beeswax. "The Epicurean butter is amazing and it comes with its own sponge so it's more convenient," she says. "It's beautifully packaged so it's easy to deal with, and it works great."