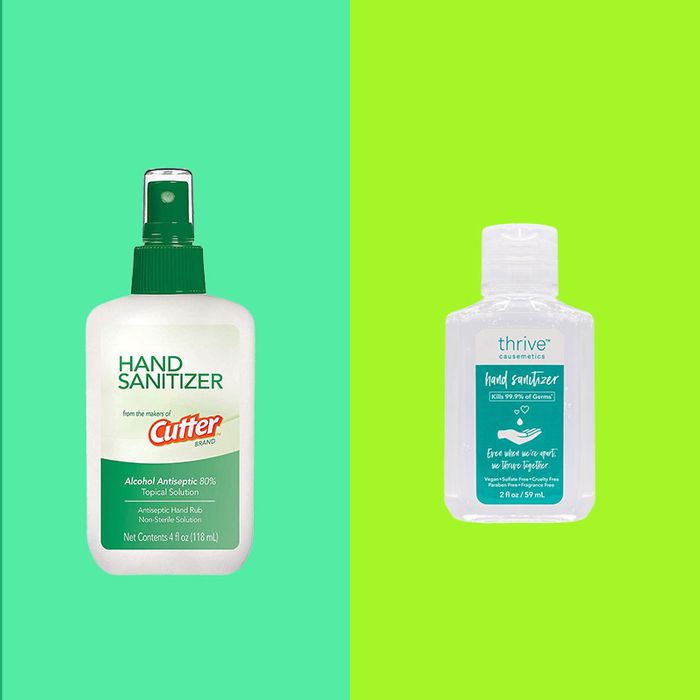 Photo-Illustration: Courtesy of the vendors
In addition to staying home and wearing masks while outdoors, keeping your hands (extremely) clean is currently crucial. And while washing your hands with soap and water is ideal, it isn't always possible. Which is where hand sanitizer comes in — hand sanitizer, that is, with at least 60 percent alcohol, per the CDC. But with hand sanitizers from the usual suspects scarce (bottles of Purell are being resold for hundreds of dollars on eBay and Craigslist), lots of unconventional brands have adjusted their production to meet demands. Distilleries, for instance, have been using excess alcohol from production to make hand sanitizers, and beauty brands have followed suit. While some bigger corporations, like Coty, are making hand sanitizer exclusively for first responders and hospitals, others are making theirs available for purchase through their sites. Here, we've rounded those up.
Editors' note: Given that hand sanitizer is extremely in demand, stock is constantly fluctuating. We'll be updating this post every day with new places to buy, so if you don't see an option you like, check in later for more.
Gel hand sanitizers
Known for its anti-chafing sticks, natural deodorant, and bust dust, Megababe also happens to make FDA-approved hand sanitizer (that means it's alcohol-based and has at least 60 percent ethanol or 70 percent isopropanol). The (vegan) formula kills up to 99.9 percent of germs using plant-based alcohol but is also formulated to be non-stripping, and it includes oils like marula and almond to lock in moisture. It's made without phthalates, parabens, and sulfates and has a pleasant, citrusy scent. The brand currently stocks two sizes — a 16-ounce bottle that comes with a pump and two-ounce bottle you can take on the go.
If you're on the hunt for an especially nondrying and soothing option, K-beauty brand Tonymoly is now selling hand-sanitizing gels, which incorporate aloe water and witch hazel, which moisturize and help calm any existing inflammation.
Inspired by local distilleries making hand sanitizer, Saie, a clean-makeup brand, has started manufacturing and shipping hand sanitizer with every order. Their formula, which is made with vitamin E and glycerin to offset the dryness of the alcohol, also contains tangerine oil, which gives it its citrus smell.
Another makeup brand making hand sanitizer is Nudestix, and for every purchase, it will donate a bottle to at-risk communities (in addition to the 20,000 bottles it's already committed to giving away). Made with 62 percent ethanol alcohol, it also contains glycerin, castor seed oil, and green tea extract to keep hands moisturized.
If you like the gel texture of a traditional hand sanitizer, then this quick-drying one from Maapilim is a good option. The high alcohol content (70 percent) is offset by a dose of aloe and it contains a blend of essential oils (bergamot, jasmine, cedarwood) which give it its pleasant scent.
Green Goo, an all-natural body-care brand, partnered with Colorado distillery Spirit Hound Distillers to produce hand sanitizer for first responders and recently launched hand sanitizer available for purchase on its site. The two-ounce squeeze bottle has an alcohol content of 63.5 percent and is an affordable $4.
In addition to donating $1 million worth of hand sanitizer, CHI — as in the hair-tool company — is manufacturing hand sanitizers for sale, formulated with aloe grown in the company's organic gardens. In has soothing aloe plus glycerin and amino acids to help lock in moisture. This sanitizer is currently stocked in four sizes, ranging from a portable two ounces to a more substantial 26 ounces.
CHI is also making hand sanitizer for its sister brand BioSilk, which has an identical formula and is available in similar sizes. The biggest difference is the packaging — this one comes in a squeeze tube (similar to its cult-favorite hair serum) instead of a pump.
AG Hair's version is available in both spray and gel form. This one is vegan, cruelty free, and uses ethyl alcohol to kill germs. It also contains vitamin E, glycerin, and aloe vera to help with dryness.
Skin-care brand Clark's Botanicals has shifted all of its production to making hand sanitizer. The brand is donating sanitizer to Northwell Health and Montefiore. Right now, for every full-size product purchased on its website, the company will send customers a bottle of hand sanitizer for free.
Another beauty brand making hand sanitizer is Thrive Causemetics, known for its ultra-lengthening mascara. This hydrating sanitizer is formulated with plant-based ethyl alcohol and coconut oil, so your hands feel moisturized without being sticky. 100 percent of the profits from the sanitizer will be going to the Black Women's Health Imperative, a nonprofit that promotes health and wellness for Black women and girls.
This reloadable hand sanitizer comes in sleek, palm-size packaging and is packed with humectants (which help lock moisture into the skin). You can purchase refills, too, along with an air-free pump option in a slightly larger size.
Another fragrance-free option is this hand-sanitizer gel from clean-baby-care brand Pipette, which has an alcohol content of 65 percent and contains sugarcane-derived squalane oil. The brand is also donating 32,000 bottles of their sanitizer to medical communities in New York and California.
CBD brand Highline Wellness's sanitizer contains alcohol (70%), aloe vera (to offset the dryness of the alcohol), along with (of course) 100mg of CBD oil.