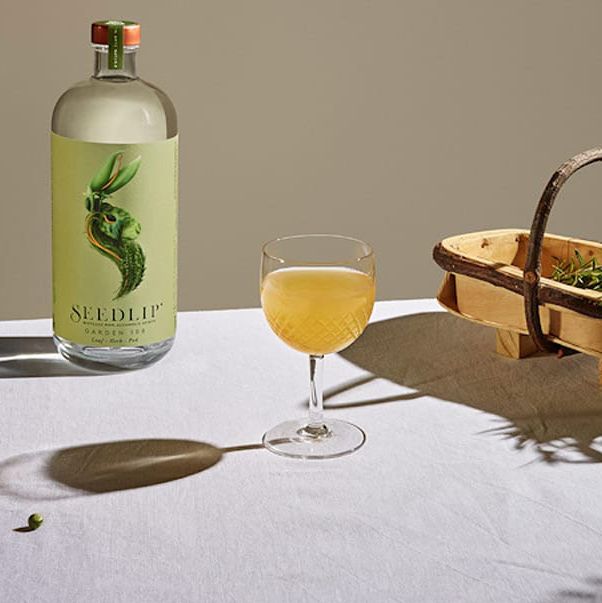 Photo: Courtesy of retailer
Whether you're having a Dry January or just want to dip your toe into the (ever) growing alcohol-free spirits market, there's now a bevy of bottles to choose from to keep your bar cart stocked. According to Sam Thonis, a co-owner of alcohol-free bar Getaway in Greenpoint, this latest nonalcoholic wave is definitely part of our current wellness-obsessed times, but "there have always been people who choose not to drink, or want to drink less, and what we're doing is finally catering to that existing market." (To support its business due to the ongoing pandemic, Getaway is selling gift cards you can redeem when it reopens; you can also donate to its staff fund here).
The movement to cater to that market has birthed a host of new nonalcoholic products that offer something a little more sophisticated and special than a seltzer-lime. And some nonalcoholic spirit companies even claim their products deliver unique buzzes that range from feeling more relaxed to elevating your energy level — without having to nurse a hangover the next day. Much like a proper home bar with alcohol, "a great alcohol-free home bar is a combination of some of the new and exciting products, like spirits, with some at-home tinkering," according to Lorelei Bandrovschi, the founder of Brooklyn's alcohol-free Listen Bar. (To support its business during the pandemic, Listen Bar is collecting funds here and selling merchandise or gift cards). Since alcohol-free cocktails are typically some combination of spirits, shrubs, fruit juices, syrups, and bitters, you should feel free to experiment. Thonis says crafting alcohol-free cocktails is less about attempting to make an alcohol-free martini or old-fashioned and more about creating new drinks using flavors you love. Below, he, Bandrovschi, and five other experts tell us about their favorite essentials for any booze-free bar cart.
Editor's note: In addition to Gateway and Listen Bar, we've noted if other businesses mentioned in this story have set up initiatives to support them amid the coronavirus pandemic. If you want to support service industry workers who have been impacted by the coronavirus, you can also donate to the Restaurant Workers' Community Foundation, which has set up a COVID-19 Crisis Relief Fund, or One Fair Wage, which has set up an Emergency Coronavirus Tipped and Service Worker Support Fund. Or, if you prefer to donate to restaurants directly, our friends over at Grub Street are keeping a running list of ones with individual funds here.
Best alcohol-free spirits
Every expert mentioned Seedlip as an essential part of any alcohol-free home bar. Seedlip is a U.K.-based spirits company that burst onto the nonalcoholic cocktail scene a few years ago and can now be found on a variety of bar menus. "Seedlip makes a beautiful line of nonalcoholic spirits" that "add flavor and viscosity" to nonalcoholic drinks, according to Bryan Dayton, the founder and beverage director at Colorado-based Half Eaten Cookie Hospitality, which counts three restaurants with nonalcoholic-drink menus in its portfolio, including OAK at fourteenth, Corrida, and BriDer. One of his favorites is Garden 108, which he describes as "herbaceous, bright, and spring-y," due to its notes of hay, spearmint, rosemary, and thyme. Dayton suggests using it as a base for light, floral cocktails, and Bandrovschi agrees, adding that it's perfect at home with a splash of tonic or ginger ale.
In addition to Garden 108, Seedlip makes other spirits, including Spice 94, another favorite of Dayton's. With notes of allspice, cardamom, and bark, he describes it as "echoing the flavors in a Manhattan or Negroni." Thonis also uses Seedlip Spice 94 in his bar's mixed drinks, as well as its citrus-y spirit, Grove 42. If you want to sample all three of Seedlip's offebrings, this gift set will do the trick (and, for the right person, it would also make for a very nice hostess gift).
Several of our experts also recommended Kin Euphorics spirits as ones that should be stocked in any nonalcoholic bar at home. Unlike Seedlip, Kin adds adaptogens and nootropics to its blends, which the brand claims can have positive effects on your body and mood. Jeremy Mustakas, the director of restaurants for ABC, particularly loves High Rhode, which he calls a "must-have for any at-home nonalcoholic bar." It features a combination of rhodiola, gentian root, licorice root — which Kin claims will relax and energize you — as well as botanical flavors like citrus and hibiscus. Purported mood-enhancing benefits aside, the spirit has great flavor, according to our experts, who also pointed out that Kin Euphorics products have excellent packaging (which is important if your bar cart doubles as décor). While High Rhode can be added with a mixer of your choice, Mustakas loves his with black-currant juice and lime.
Bandrovschi is also a big fan of Kin Euphorics and loves its earthy, slightly spicy Dream Light blend, which contains reishi mushroom and melatonin (ingredients that the brand claims can deliver a deeper, sounder sleep). She mixes it with a splash of oat milk for a nightcap before bed.
Two Strategist staffers — including the writer of this story — keep their home bars stocked with bottles of alcohol-free Ghia, a bitter-tasting aperitif made with elderflower, yuzu, fig, rosemary, and ginger. "I really love the bitterness and that it doesn't feel one-dimensional," explains Strategist director of audience growth Stephanie Downes, its other fan. "Even though there's no alcohol, it still feels like a special cocktail." Downes likes to build a Ghia spritz by mixing it with some sparkling water and throwing in a big rock of ice and an orange twist.
While technically spirits, Douglas Watters, the founder of New York City's booze-free spirits store Spirited Away, describes Proteau's Ludlow Red and Rivington Spritz as "complex and delicately balanced, like wines," with both having "notes of berry, herbaceous flowers, and tart vinegar." (According to the brand, Rivington Spritz has flavors of hibiscus and chamomile flowers, Chinese rhubarb, gentian, strawberries, and champagne vinegar, while Ludlow Red has flavors of blackberry, chrysanthemum, black pepper, dandelion, and fig vinegar.) He suggests chilling and sipping either one as is, telling us both are ideal for anyone in the "mood for a non-alcoholic glass of wine who has maybe had bad experiences with alcohol-free wines in the past."
Watters says that Rasāsvāda's line has "flavors that are bold, complex, and defy description." The Rose Bergamot's floral and citrus notes make the spirit reminiscent of an Italian amaro, he explains, while his favorite Black Ginger spirit from the brand combines "an assertive blend of herbs, mushrooms, and spices."
According to Bandrovschi, Lyre's alcohol-free Italian Orange spirit has a similar flavor profile to Campari. She suggests pairing it with sparkling water and lemon juice — ingredients you probably have in your fridge — for a refreshing, easy-to-make cocktail.
Watters calls Aplós a "favorite new release" because it contains full-spectrum hemp extract, which he says "is great for those who want to enjoy a calm, relaxed feeling without the negative effects of alcohol." But he warns that the spirit's "robust citrusy tartness and ginger and rosemary notes are potent" and suggests mixing it with a splash of tonic water or club soda and a wedge of lime to balance it out.
London-based elixir company Three Spirit is a brand Thonis features on his menu at Gateway. Its non-alcoholic Nightcap spirit is made using tree saps and aromatics like black pepper, vanilla, and hops, giving it what he calls a woody, bright flavor. If you're looking for ideas on what to mix it with, Three Spirit has a helpful recipe section on its website.
"Bold, bitter, and electric" is how Watters describes the flavor of Bonbuz, "a beautiful and unique spirit that's casual, animated, and fun." In addition to being alcohol-free, it is also sugar- and gluten-free, according to Watters, who adds, "It always puts me in the mood to party."
Best shrubs