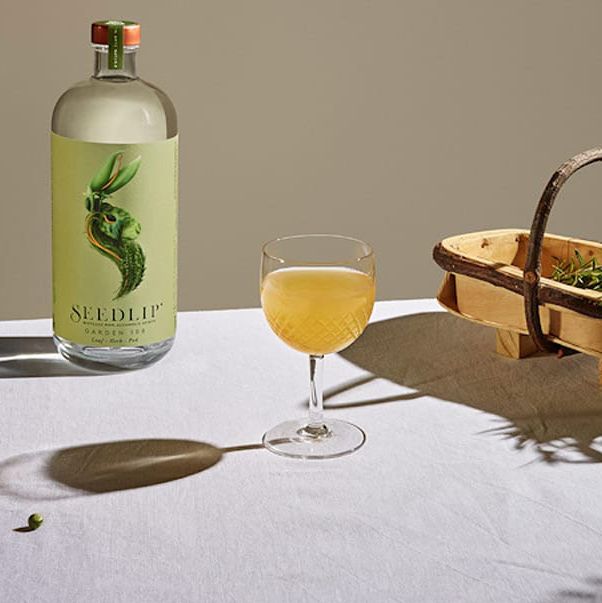 Photo: Courtesy of retailer
Whether you're having a Dry January or just want to dip your toe into the (ever) growing alcohol-free spirits market, there's now a bevy of bottles to choose from to keep your bar cart stocked. According to Sam Thonis, a co-owner of alcohol-free bar Getaway in Greenpoint, this latest nonalcoholic wave is definitely part of our current wellness-obsessed times, but "there have always been people who choose not to drink, or want to drink less, and what we're doing is finally catering to that existing market."
The movement to cater to that market has birthed a host of new nonalcoholic products that offer something a little more sophisticated and special than a seltzer-lime. And some nonalcoholic spirit companies even claim their products deliver unique buzzes that range from feeling more relaxed to elevating your energy level — without having to nurse a hangover the next day. Much like a proper home bar with alcohol, "a great alcohol-free home bar is a combination of some of the new and exciting products, like spirits, with some at-home tinkering," according to Lorelei Bandrovschi, the founder of Brooklyn's alcohol-free Listen Bar. Since alcohol-free cocktails are typically some combination of spirits, shrubs, fruit juices, syrups, and bitters, you should feel free to experiment. Thonis says crafting alcohol-free cocktails is less about attempting to make an alcohol-free martini or old-fashioned and more about creating new drinks using flavors you love. Below, he, Bandrovschi, and five other experts tell us about their favorite essentials for any booze-free bar cart.
Best alcohol-free spirits
Every expert mentioned Seedlip as an essential part of any alcohol-free home bar. Seedlip is a U.K.-based spirits company that burst onto the nonalcoholic cocktail scene a few years ago and can now be found on a variety of bar menus. "Seedlip makes a beautiful line of nonalcoholic spirits" that "add flavor and viscosity" to nonalcoholic drinks, according to Bryan Dayton, the founder and beverage director at Colorado-based Half Eaten Cookie Hospitality, which counts three restaurants with nonalcoholic-drink menus in its portfolio, including OAK at fourteenth, Corrida, and BriDer. One of his favorites is Garden 108, which he describes as "herbaceous, bright, and spring-y," due to its notes of hay, spearmint, rosemary, and thyme. Dayton suggests using it as a base for light, floral cocktails, and Bandrovschi agrees, adding that it's perfect at home with a splash of tonic or ginger ale.
In addition to Garden 108, Seedlip makes other spirits, including Spice 94, another favorite of Dayton's. With notes of allspice, cardamom, and bark, he describes it as "echoing the flavors in a Manhattan or Negroni." Thonis also uses Seedlip Spice 94 in his bar's mixed drinks, as well as its citrus-y spirit, Grove 42. If you want to sample all three of Seedlip's offebrings, this gift set will do the trick (and, for the right person, it would also make for a very nice hostess gift).
Several of our experts also recommended Kin Euphorics spirits as ones that should be stocked in any nonalcoholic bar at home. Unlike Seedlip, Kin adds adaptogens and nootropics to its blends, which the brand claims can have positive effects on your body and mood. Jeremy Mustakas, the director of restaurants for ABC, particularly loves High Rhode, which he calls a "must-have for any at-home nonalcoholic bar." It features a combination of rhodiola, gentian root, licorice root — which Kin claims will relax and energize you — as well as botanical flavors like citrus and hibiscus. Purported mood-enhancing benefits aside, the spirit has great flavor, according to our experts, who also pointed out that Kin Euphorics products have excellent packaging (which is important if your bar cart doubles as décor). While High Rhode can be added with a mixer of your choice, Mustakas loves his with black-currant juice and lime.
Bandrovschi is also a big fan of Kin Euphorics and loves its earthy, slightly spicy Dream Light blend, which contains reishi mushroom and melatonin (ingredients that the brand claims can deliver a deeper, sounder sleep). She mixes it with a splash of oat milk for a nightcap before bed.
Strategist senior writer Liza Corsillo also loves Figlia's canned cocktails, which adds effervescence to Fiore's signature spirit. "I find a lot of alcohol-free bevvies too bitter and not all that fun," she says, adding that Fiore Frizzante is a little bit sweeter thanks to hints of lemon. "These are the perfect thing to bring to a picnic or a party, so I don't feel sad I'm not drinking a beautiful orange wine."
If you love Champagne, I recommend Töst, a sparkling beverage with notes of white tea, ginger, and cranberry. The bottle feels festive and is nice to have on hand for toasts (or New Year's Eve). When I poured glasses for my family to try, my mother — who generally avoids alcohol — was impressed with how complex the flavor was. They also sell four-packs of smaller bottles to take on the go. 
Two Strategist staffers keep their home bars stocked with bottles of alcohol-free Ghia, a bitter-tasting aperitif made with elderflower, yuzu, fig, rosemary, and ginger. "I really love the bitterness and that it doesn't feel one-dimensional," explains Strategist director of audience growth Stephanie Downes, its other fan. "Even though there's no alcohol, it still feels like a special cocktail." Downes likes to build a Ghia spritz by mixing it with some sparkling water and throwing in a big rock of ice and an orange twist.
While technically spirits, Douglas Watters, the founder of New York City's booze-free spirits store Spirited Away, describes Proteau's Ludlow Red and Rivington Spritz as "complex and delicately balanced, like wines," with both having "notes of berry, herbaceous flowers, and tart vinegar." (According to the brand, Rivington Spritz has flavors of hibiscus and chamomile flowers, Chinese rhubarb, gentian, strawberries, and champagne vinegar, while Ludlow Red has flavors of blackberry, chrysanthemum, black pepper, dandelion, and fig vinegar.) He suggests chilling and sipping either one as is, telling us both are ideal for anyone in the "mood for a non-alcoholic glass of wine who has maybe had bad experiences with alcohol-free wines in the past."
Watters says that Rasāsvāda's line has "flavors that are bold, complex, and defy description." The Rose Bergamot's floral and citrus notes make the spirit reminiscent of an Italian amaro, he explains, while his favorite Black Ginger spirit from the brand combines "an assertive blend of herbs, mushrooms, and spices."
According to Bandrovschi, Lyre's alcohol-free Italian Orange spirit has a similar flavor profile to Campari. She suggests pairing it with sparkling water and lemon juice — ingredients you probably have in your fridge — for a refreshing, easy-to-make cocktail.
Watters calls Aplós a "favorite new release" because it contains full-spectrum hemp extract, which he says "is great for those who want to enjoy a calm, relaxed feeling without the negative effects of alcohol." But he warns that the spirit's "robust citrusy tartness and ginger and rosemary notes are potent" and suggests mixing it with a splash of tonic water or club soda and a wedge of lime to balance it out.
London-based elixir company Three Spirit is a brand Thonis features on his menu at Gateway. Its non-alcoholic Nightcap spirit is made using tree saps and aromatics like black pepper, vanilla, and hops, giving it what he calls a woody, bright flavor. If you're looking for ideas on what to mix it with, Three Spirit has a helpful recipe section on its website.
"Bold, bitter, and electric" is how Watters describes the flavor of Bonbuz, "a beautiful and unique spirit that's casual, animated, and fun." In addition to being alcohol-free, it is also sugar- and gluten-free, according to Watters, who adds, "It always puts me in the mood to party."
Best shrubs


If you've seen a shrubs list on your local bar's menu and wondered what exactly you might be ordering, you're not alone. According to Thonis, "shrubs are drinking vinegars" that combine fruit, sugar, vinegar, and sometimes herbs and spices. Most bars will create their own versions from scratch, but for a perfectly premixed shrub, Thonis recommends Som cordials, which Getaway features on its menu. He says Som's shrubs "have that vinegar, which gives it a kick, and some sugar, which gives it a pleasant mouthfeel and a little more viscosity than more watery spirits." The Pineapple Szechuan-Pepper Cordial is the most popular among his customers, but Thonis's favorites are Oregon Berry and Cranberry for their "rich, deep flavors." Because shrubs are typically highly concentrated like syrups, Thonis says they should be mixed with seltzer in a one-to-three-part or one-to-four-part ratio. While you can mix them with spirits like those above, the bartenders we spoke to say to let shrubs be the focal point, since they have a strong flavor.
This set of Som shrubs features five flavors that will allow you to experiment with your nonalcoholic cocktails, as our experts suggest. It includes Cranberry and Oregon Berry, as well as Thai Basil, Tangerine, and Ginger.
Best bitters


Bitters are also an easy way to add more depth and flavor to nonalcoholic cocktails, much like they do in alcoholic ones. To keep your drink alcohol-free, though, Thonis says it's important to look for glycerin-based bitters, like these from Dram Apothecary, which they use at Getaway. Dram Apothecary is a Colorado-based company that focuses on herbal blends, and their bitters line includes palo santo, citrus, lavender lemon, "black" (which contains notes of black cardamom and black tea), and "hair of the dog" (which includes notes of ginger, fennel, cinnamon).
"Fee Brothers bitters go a long way — just a few dashes adds a ton of flavor and depth to your cocktail," says Dayton, adding that his personal favorites include black walnut and cardamom. "They have a great variety of flavors, but I like grapefruit and black walnut especially," adds bartender A-K Hada. For a simple recipe you can make at home, Dayton suggests mixing two-and-a-half ounces of Seedlip Spice 94, half an ounce of cranberry juice, a quarter-ounce of simple syrup, and two dashes of Fee Brothers black-walnut bitters. Thonis is also a fan of Fee Brothers, but notes that while it is glycerin-based, some of its flavors can contain trace amounts of alcohol. The levels are similar to what is found in mouthwash or vanilla extract, but if you are aiming for 0.0 ABV, he suggests sticking with Dram.
Best syrups
For even more versatility, you can also stock up on store-bought concentrated syrups as well. To add a spicy kick, Thonis loves Pickett's ginger syrup. Because the concentrates can be quite sugary, he recommends using no more than two ounces, so it doesn't overpower the other ingredients.
"Jack Rudy's small-batch tonic syrup has a hint of lemongrass and orange peel and is great for your at-home bar," says Mustakas. Thonis also keeps Jack Rudy stocked at Getaway and uses both the classic tonic syrup and its elderflower tonic syrup, which adds a bright, floral dimension to your cocktails. The handsome glass bottles will also look super nice displayed on a bar cart.
Best (non-basic) mixers
Having different mixers on hand is of course also helpful when creating an alcohol-free cocktail at home. Unsurprisingly, our experts recommend having standards like grapefruit juice, tonic water, and seltzer on hand, but they also told us about a couple more specific mixers they say work particularly well in alcohol-free drinks. "Aloe-vera juice is a really fun ingredient and another way to add viscosity to your nonalcoholic drink," says Dayton. When using it, Dayton says you can leave the pieces of aloe in the drink to add texture, or double strain the juice to remove them, depending on what you prefer. While the bars within the Half Eaten Cookie portfolio usually use the basic aloe-and-honey flavor in most of their drinks, Dayton says ALO offers plenty of different flavors of its aloe-vera juice to play with, including wheatgrass, cranberry pomegranate, grapefruit lemon, and mango.
Another unexpected mixer comes to us from Bandrovschi, who loves using yerba-maté sodas in her drinks. Yerba maté is an herbal tea that she says will add a little "caffeine kick," as well as a "more grown-up bitterness" and complexity to drinks. "When I first started going out without drinking, that would be what I would instinctively look for at a regular dive bar and club," Bandrovschi told us.
The Strategist is designed to surface the most useful, expert recommendations for things to buy across the vast e-commerce landscape. Some of our latest conquests include the best acne treatments, rolling luggage, pillows for side sleepers, natural anxiety remedies, and bath towels. We update links when possible, but note that deals can expire and all prices are subject to change.