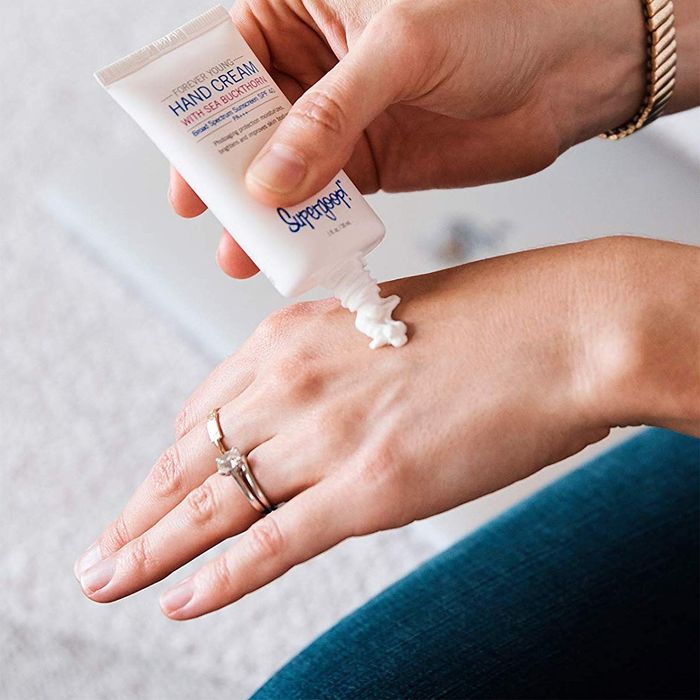 Here at the Strategist, we like to think of ourselves as crazy (in the good way) about the stuff we buy, but as much as we'd like to, we can't try everything. Which is why we have People's Choice, in which we find the best-reviewed products and single out the most convincing ones. (You can learn more about our rating system and how we pick each item here.)
And while we've written before about products for dry hands — including a nail cream meant for horses and a hand cream that comes in a fruit-shaped container — here, we've rounded up the best hand creams as praised by the most enthusiastic reviewers on Amazon.
Best-rated hand cream
Reviewers who struggle with extremely dry and cracked hands say this hand cream is a "miracle worker." As one happy purchaser puts it, "I just hope they never stop making it. It works where nothing else did." One of the over 6,500 five-star reviewers adds, "Does this need another five star review? Nope. But I had to. This is truly a miracle product! I have the driest skin in the winter. To the point I will look down at my hands to notice they are bleeding from all the various cracks. This made a major difference after just one use! Here I am weeks later and my hands have no cracks, look younger and are no longer red. Can O'Keeffe's fix potholes too?!" Another writes: "Do you want to know how a lumberjack's hands feel after he's run his fingers through an angel's hair? USE THIS AND WONDER NO MORE. I've been using this stuff for a few weeks, and it's helped my hands out drastically. I've gotten compliments about how soft my hands are from men and women, through handshakes of course (a lot of hand shaking at work)." And while the jar container might not be for everyone, it does come in tube form for $2 cheaper.
Best-rated (less-expensive) hand cream
If you have severely dry skin, reviewers say this is the cream for you. It's so moisturizing, one reviewer wouldn't even recommend it "if you don't have very, very dry skin," because, "It's very thick, full of coconut oil and shea butter." However, 80 percent of reviewers who give this cream five stars like that. One says, "I've been using it nightly and my hands are no longer dry and rough." Another says "I get VERY dry, cracked hands in these lovely Michigan winters and this hand cream is now my fav." Plus, it's gentle enough for those with other skin conditions. "This helps greatly with my psoriasis and eczema when either flares up out of control," one writes, while another says "This product really helps with seasonal dry eczema prone skin." The scent, which is described by one reviewer as a "coconut/almond-ish scent," is also praised by more than a quarter of reviewers. And while one says "It's a tad greasy," they add, "A little bit goes a long way."
Best hand cream for dry and cracked hands
Reviewers with extremely dry, damaged, and cracked hands say that Burt's Bees Ultimate Care hand cream offers healing relief. "Love this lotion! Helps my dry hands and cracked cuticles like no other hand cream," one writes. Another purchaser calls it "a must for dry weather and winter months" and adds, "This cream absorbs pretty quickly, doesn't leave that sticky/tacky feeling on your skin, and has a pleasant fragrance (the best way I can describe it is as green and lightly grassy). It's not offensive, smells natural, and keeps my hands from looking horrendous." Another writes: "This is the ONLY thing that works on my dry, cracked hands. I tried everything. Coconut oil, lotions, etc. Nothing worked. I worked in a bakery and was washing dishes a lot. This saved my hands!"
Best hand cream for dry cuticles
"Since using this hydrating formula, I've noticed my cuticles to be smoother and the skin around is also stronger/more taut," writes one five-star reviewer, while another says "My cuticles and fingernails look better after this cream than they do with the oil I use for manicures." And though many call it a miracle for cuticles, nearly 20 percent of reviewers also think this cream works well to moisturize the rest of their hands, too. "My hands are as smooth as a baby's butt," writes one reviewer. "I love that is goes on creamy and then it's gone, leaving my hands and cuticles soft and smelling yummy," another says, referencing the praised coconut scent. One goes as far as comparing this to our top-rated pick: "Frankly, I rate it up right up there with O'Keeffe's, or better, with the bonus points for the awesome smell."
Best hand cream with shea butter
"I first discovered this hand cream at a little shop in Paris, long before there were L'Occitaine stores in the US. It was much less expensive back then (in the 80's!) and every time anyone I knew was headed to France I would hand them $100 and say, 'Get as much of this as you can!' If memory serves, that would buy 10 tubes," writes one longtime reviewer who's still using it: "I have tried other Shea Butter moisturizers but none get close to how great this one is!"
And though several reviewers note that this hand cream is expensive, they say it's "worth it" because the "giant-size tube" will last a long time. "This is the best hand lotion I've ever owned. I've been using this product now for over a year, and this is only my second tube as a little goes a long way," one satisfied customer writes, adding, "Living in the dry climate of Colorado, a good lotion is essential, and this product fits the bill perfectly! It doesn't leave an oily residue, and rubs in effortlessly. As a bonus, my husband loves the scent as well!"
Best hand cream with SPF
Reviewers say this is a great hand cream, especially if you're looking for something with added sun protection. "It does smell like SPF for a few minutes," admits one reviewer, who adds, "but the scent goes away. I'd rather smell that for a couple minutes than have wrinkly hands!" Another purchaser writes, "I wear this lotion every single day on my arms and hands. I put it on in the morning as I am getting ready for work. I also wear it year round, as sun damage happens not only in the summer but also in fall and winter. It goes on very nice and rubs in easily. I've tried other lotions with sunscreen and they just don't apply as easily as Eucerin." A third uses this hand cream especially when driving: "I like to keep one in my car to apply before driving because this has sun protection and I try to avoid getting sun spots on my hands and arms. It absorbs into the skin so nicely and doesn't leave it greasy while moisturizing so nicely."
Best nighttime hand cream
About 15 percent of reviewers comment on the texture of this hand cream. "This absorbs nicely, leaving hands soft but not greasy," one writes. "Even after washing your hands the softness remains." Other reviewers also attest to how hydrating it is. One Midwestern customer calls this a "hand saver" for cold winter air. And while this comes comes in a few different scents, the lavender is a standout among reviewers who use this as a nighttime cream. One says, "I put it on as I crawl into bed and let the scent take me off to lala land."
Best fast-absorbing hand cream