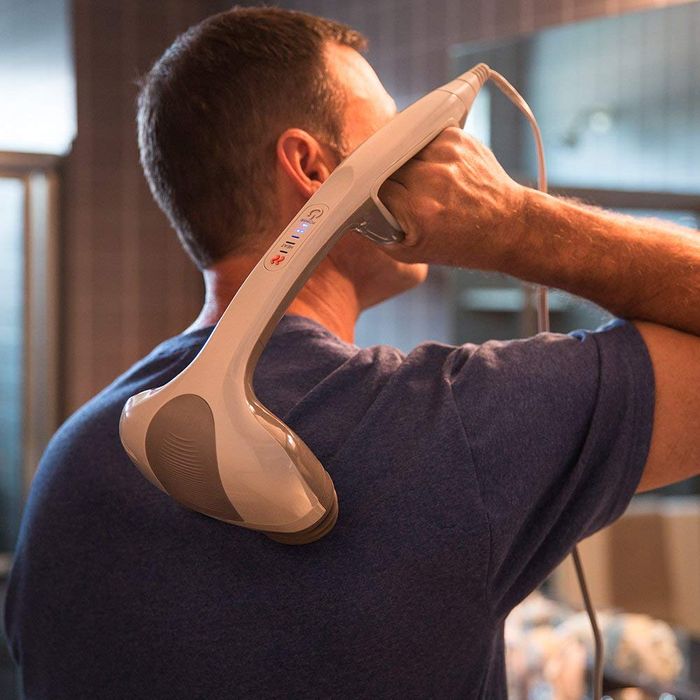 We've covered massage chairs and recliners, foot massagers (both manual and electric), and a percussive massage device beloved by professional athletes, but here, we've rounded up the best electric back massagers, as praised by the most enthusiastic reviewers on Amazon.
Related Articles: All The Best Massage Tools | A $13 Theragun Alternative
Best-rated electric back massager
A favorite of both Amazon reviewers and Strategist readers (it's been one of our best-selling products after appearing in several gift guides), this shiatsu massager relieves back pain with heat and kneading. One reviewer calls it "maybe my best Amazon purchase of the year! Bought it for my husband for Christmas but everyone in our family fights over it. The massage pressure is perfect and the heat option takes it over the top!" Another writes, "This little massager is incredible in working out the pain for me. It has helped every area of my back — and in between my shoulder blades, which is so difficult to get to."
Lots of reviewers like how it's cheaper and more convenient than getting regular massages. "While I thoroughly enjoy full-body massages, my massage therapist moved to another state about a year ago and since then I haven't found the 'right' one for me yet," writes a reviewer. "So, with pain in my shoulders, neck and upper back, I resorted to spending some of my Christmas money and get this massager as a gift for myself. First let me say, I wasn't expecting much, but boy was I pleasantly surprised. It works so well that it has become my nightly ritual to sit with this massager on my back and shoulders for 30 mins as I settle down before bed. I feel like a noodle when I get done, often so relaxed I sometimes catch myself dozing off while this thing is on." And this reviewer adds, "this product has been amazing in helping me with my sleep and general quality of life — not to mention the money I would pay for a professional massage therapist."
Best-rated (less expensive) electric back massager
Nearly one-fifth of reviewers affectionately describe this massager as "little," and they appreciate the controlled and targeted massage experience. "This helps to push out the tight spots and provide some comfort," says one reviewer recovering from knee surgery, adding, "Good handling operation. Three prong but can use one at a time to concentrate on a troublesome spot or all together for the greater area covered." And due to its size, it provides a mild vibration, which makes it "Comfortable in the hand and gives a nice vibration enough to ease kinks and sore muscles but not so hard that it beats you up," according to another reviewer. And while people find this provides comfort on their neck, back, and legs, some have found more creative uses for it. One reviewer who swears they aren't a crazy cat lady writes, "Believe it on not I bought this for my cat. He enjoys it when I run it up and down his spine and especially behind his ears."
Best over-the-shoulder electric back massager
This massager is specifically designed to target your neck and shoulders, and more than 70 percent of reviewers think it does a great job. "I have used this daily in the evenings, and it has really helped to relieve the neck and upper-shoulder strain that has contributed to my headaches," one writes. "The variable speeds are welcome (I like a slower movement, as it feels more relaxing), and the feature where you can use the weight of your own arms in the sling to pull it into deeper and more consistent contact with the muscles is an unexpectedly good feature." And although it is specifically designed for the neck and shoulders, it can be positioned on other parts of the body, including "hips, butt, calves, hamstrings, feet, neck, back — which is super-easy to do with how it's shaped," according to another reviewer. It even gets the approval of a massage therapist, who admits, "It doesn't access the rhomboids exactly how I'd like (hits the surrounding bones and spine a bit), but for the cheap price it is very good for working on the neck, mid-lower back, thighs, quads, and calves."
Best electric massage pillow
With a heating feature and kneading massage nodes, this more affordable massager is very similar to our top-rated model, and many reviewers are impressed by how strong it is for the price. A reviewer says, "I don't know what I ever did without this in my life! I was afraid to buy it thinking it may not be strong enough because I prefer deep tissue massage but it gets in there and feels just like real hands kneading your muscles. I really love this massager and it has done wonders for my sore muscles after working 12 hour shifts," and another raves, "this is the deepest massage I think I have ever had and for the price I'm honestly amazed!"
Best handheld percussion massager
"This thing is the best. I have renamed it my boyfriend," writes one reviewer. Many others have also taken a liking to this percussion massager, even though "it's basically like a jackhammer with vibrations," says one. But that also means it's strong enough to get out some gnarly knots. One reviewer gets "knots in my shoulder blades, and they work all the way up to my ears. The pain is enough to knock me off my feet, but this thing pulverized the knots and released that pain pressure." A waitress says, "This thing got me through a 75-hour week and made me feel very refreshed." And about 10 percent of reviewers appreciate the various massage heads that let them dial in the pressure further. "The large, flat disk is effective for areas where you don't need pinpoint massage — like hamstrings or your back," one user explains. "The pinpoint massage head is great for getting under the shoulder blade. The round head is a good general purpose for over clothing — smooth and doesn't grip. The four-prong fingertip head has grip so must be used on skin (still grips skin so should be used with massage lotion), but it is not effective over clothing as it will not slide."
Best handheld electric back massager with heat
"I have bought moist heat pads, inversion table, lumbar braces, etc., but this is by far the best item for relieving discomfort," writes one experienced shopper. "I started using this every night on my buttocks and hips and sides and obtained so much relief that it was unbelievable." Another reviewer, who gave this to a "nun with leg cramps," says, "Along with potassium and some sodium, she loves this massager for eliminating the leg cramps." One reviewer thinks this is effective because the device itself is heavy: "The weight of the product seriously helped with the pressure, and I was able to roll out my muscles easily and with a lot of comfort." Another praises the handle, which lets them "grip it from two different angles because of the oval handle," so it offers a little more versatility. This massager also has a number of modes, and the heat setting is praised my more than 10 percent of users. Many note it's not as intense as they expected it would be, but it is a nice touch. And overall, "The massaging is like vibrating your muscles into total meltdown," especially with the heat.
Best handheld deep-tissue electric back massager