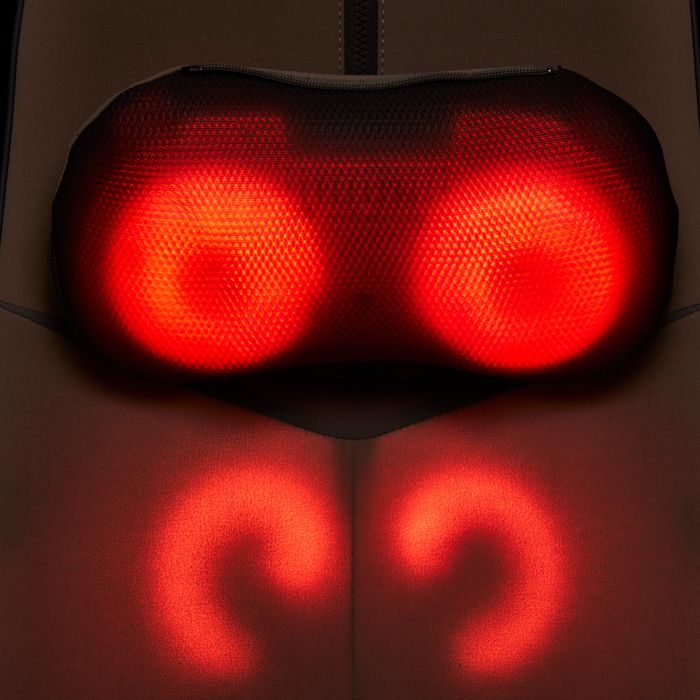 If you don't have the budget for regular massage treatments — or your partner gets easily bored working out your shoulder knots — an electric back massager is a great stand-in. Whether you're using a Shiatsu-style massage pillow, a percussive massage gun, or a full-on massaging chair cover, the benefits are mostly the same as a traditional hands-on massage. Meera Watts, founder and CEO of Siddhi Yoga, says that a good electric massager will relax your tense muscles and provide immediate comfort, and it may also keep you from developing future strains since tense or injured muscles often create a feedback loop of awkward postures and overcompensation in other areas. But not all electric back massagers are created equal.
As with any other piece of technology or medical device, you should look for a high-quality product that you can use often and will last for a very long time. Kevin Cronin, owner of ARC Physical Therapy, says that in general you get what you pay for. He also cautions that improper use and overuse (especially with percussive massagers) can lead to injuries, including bruising and nerve damage. His advice is to avoid any areas close to the bone and go for an off-and-on type of application to avoid injury — "20 to 30 minutes is adequate." To help you find the very best electric back massagers, we talked to eight experts, including Watts and Cronin, about the back massagers they recommend and use themselves.
If you already know what you're looking for, use our clickable table of contents to skip ahead. But if you need a bit more guidance, read on for all of our experts' electric back massager recommendations.
Electric back massagers come in a bunch of different styles and configurations — including pillow-shaped Shiatsu massagers, percussive massage guns, scarflike Shiatsu massagers that drape around your neck and shoulders, long-handled wand-style massagers, and massage chair covers that work all areas of the back, neck, and shoulders. Before making your pick, think about how and where you'll use a back massager most, what area of your back needs relief, whether you prefer a strong pounding massage or a slower kneading massage, and if you have a friend, roommate, or partner who'd be willing to help.
"I really like massage pillows or massage chair covers for people who are in pain or have an injury," says Dr. Kimberley Maugeri, chiropractor and founder of Skōp. "Instead of twisting and turning to use a handheld massage gun on your back, you can stay neutral by sitting against or on the pillow or chair cover." Cronin prefers Shiatsu-style massagers in any form because the rotating segments inside the device help to move fluid around and relax muscles in a similar way to traditional hands-on massage.
According to Jakob Roze, founder and CEO of RozeFit, massage guns use high percussive force to access deep knots and tension in your muscles just like a massage therapist would do with deep-tissue massage. This makes them very effective at relieving intense stiffness in the back muscles, but using them requires knowledge and care to avoid injury — as well as a lot of flexibility, long arms, or a second person to help you reach certain areas.
Wand-style back massagers typically have long ergonomic handles that help you reach your own lower or upper back easily. Most wands use percussive force to relieve deep muscle tension.
Multispeed and multifunction
"More than one speed is really important when looking for a back massager," says Maugeri, adding that she also really likes massagers that include different-shaped heads so you can customize the experience. Most massage guns and wands will come with different attachments and should offer multiple speeds or intensities (the faster the speed, the more intense it will feel). But when it comes to pillows, chair covers, and other passive massagers, they should include at least a few speed and direction options. These extra features let you tailor your massage to your exact needs — slower or faster, not too hard or not too soft, and up and down or side to side.
Both Cronin and Melissa Kotlen, a lactation consultant, labor and delivery nurse at Mount Sinai Hospital, and manager of the Boram Postnatal Retreat, recommend choosing a back massager with a heat option because adding heat to massage helps to relax muscles even more and will increase blood flow to the affected area. Because her focus is on postpartum women, Kotlen explains, she looks for one that is heated, durable, and can be used on "those stressed/painful areas that affect new mothers, particularly the upper back and neck as they tend to hunch while breastfeeding."
For the most part, massage guns do not offer this feature, but many pillow and chair-cover massagers do. Cronin notes that people should always be careful not to leave the heat on for extended periods of time, especially if you are prone to falling asleep while using your device. Some pillow and chair massagers may also have an auto-off function to prevent this.
Best overall electric back massager
Type of massager: Shiatsu chair cover | Speeds and functions: 3 speed settings, 4 massage zones, 4 massage types | Heat option: Yes
If you're looking for an all-in-one type of back massager, this Renpho Chair Massage Pad is designed to target multiple zones, including your neck and shoulders, upper back, and lower back. It even has a vibrating seat cushion to relax the backs of your thighs. The main portion of the massager features multidirectional nodes that combine Shiatsu, kneading, and rolling functions with or without heat. For the neck and shoulders, the massager has a removable massage pillow, the position of which can be adjusted to match your height. Cronin gave his wife a Shiatsu massage chair cover like this one for her birthday and told us she loves it. When deciding which one to purchase, he looked for one from a reputable company that provides many different types of heated massage and wouldn't look like an eyesore.
The Renpho brand in particular was mentioned by several of our experts, including professional ballet dancer Kate Byrne of My Ballet Coach, who has struggled with muscle pain and back spasms her whole career. Though neither Byrne nor Cronin singled out this particular chair massager, it meets both of their criteria, comes in black or taupe easy-to-clean faux leather, and has over 1,700 five-star ratings on Amazon.
Best (less expensive) overall electric back massager
Type of massager: Percussive wand | Speeds and functions: Variable speed dial, 6 massage heads | Heat option: No
For a less-expensive option that takes up less space, Watts recommends the Mighty Bliss Deep Tissue Cordless Back Massager. She uses it before bed to help relax her muscles and get a good night's sleep, and appreciates the versatility you get with six different massage heads. Because of its long ergonomically designed handle, this massage wand is easy to use alone without having to twist awkwardly to reach different areas of the back. To increase or decrease the speed or intensity of your massage, simply turn the dial in either direction.
Best cupping electric back massager
Type of massager: Cupper | Speeds and functions: Five modes and intensity levels | Heat option: Yes
The Achedaway cupper works a little bit differently from percussive massagers such as Shiatsu massagers and massage guns. Aly Faber, massage therapist and founder of The Stretch Lady, explains, "Your tissue has layers. You have the skin, then you have what's called the fascia underneath, and then you have the muscle and bone." The cup's suction, which comes in five different intensities, helps lift and decompress these layers that may be tight and knotted up. Massage therapist Audrey Kosclski owns about 20 of these cuppers that she uses in her practice; she prefers the Achedaway ones over other options since they are outfitted with microcurrent stimulation, which relaxes the muscles, and red light, which helps heal the skin. Kosclski does note that you may encounter what looks like bruising after using the cupper — "You may see shades of red or purple when you take the cup off, but all that means is that area was really tight and didn't have good blood flow," she says — which is completely normal. Still, she recommends taking a "less is more" approach by only using the cupper for short periods at a time and using it on different areas of the back until the discoloration fades.
Best electric back massager pillow
Type of massager: Shiatsu pillow | Speeds and functions: One speed, 4 rotating nodes change direction every 60 seconds | Heat option: Yes
Massage pillows are best for use on the neck and shoulders or lower back, and they offer the convenience of being hands-free. This massage pillow is a Strategist favorite and comes recommended by Kotlen as well as former Strategist senior editor Casey Lewis, who bought one to help her aching work-from-bed back. Lewis convinced a handful of her fellow Strategist staffers to buy one, including me. Personally, I find it's most effective as a lower-back massager, and I use it sandwiched between me and a bunch of propped-up pillows while watching TV in bed. Kotlen recommends it for relieving lower-back pain in new moms. "As babies get older and heavier, the lower back tends to feel the effects," she says. "I find the Zyllion massager most helpful because it is very portable, versatile, and ergonomic." That said, if you are looking for something with lots of different speeds or massage styles, this particular pillow may not be your best choice. It has just one speed, and the rotating Shiatsu nodes change direction automatically after 60 seconds. I bought mine thinking I would be able to use it for my low back, neck, and shoulders. It works wonders on my low back, but it doesn't fit my neck in a comfortable position and the nodes actually dig into my shoulder blades rather than targeting the muscles.
Best (less expensive) electric back massager pillow
Type of massager: Shiatsu and vibration pillow | Speeds and functions: One speed, circular kneading combined with 3-D in-and-out motion | Heat option: Yes
Byrne says that, aside from seeing a physiotherapist, using an electric back massager is what has helped most with her recurrent muscle pain. In addition to the two she has at home, she uses this massage pillow from wellness brand HoMedics at her physiotherapist's office. Like the Zyllion pillow above, it offers multidirectional Shiatsu massage and heat in one speed. In addition, the nodes on this massager move in and out as well as rotate, and it features optional vibration to further relax stiff muscles.
Best electric back massager for the neck and shoulders
Type of massager: Scarf-style Shiatsu massager | Speeds and functions: 3 speed settings, circular kneading nodes that change direction automatically | Heat option: Yes
Former Strategist senior writer Karen Adelson also purchased an electric back massager to sort out her aching back while acclimating to working from home. She went for this scarf-style model that you wrap around your neck and shoulders and hold in place via ergonomic hand/wrist loops at each end. The design allows you to use the massager mostly hands-free so you can work or read a book at the same time, and the harder you pull down on the ends, the more intense your massage becomes. Back in 2021, Adelson called it the best thing she bought all year and said she used it several times a week to relax muscles and stop tension headaches in their tracks. Four buttons on the side of the massager let you turn it on and off, toggle heat on and off, and change the speed and direction of the massage — though it also changes direction automatically every few minutes and turns off after 15 minutes.
Best electric back massager for the lower back
Type of massager: Wrap-style compression massager | Speeds and functions: Periodic compression and release | Heat option: No
To target the lower back, hips, and glutes, Faber recommends this air-compression machine that "looks like a really bad pair of shorts." A pair of adjustable buckles ensures a snug and secure fit around the lower body and, when engaged, will "expand and contract and give you a little mini-massage" to help alleviate tension and dispel lactic-acid buildup. Though it's certainly pricey, Faber says her clients have vouched for its pain-relieving capabilities and likes that it can be self-administered at home, though it does render you rather immobile — "It's impossible to move in it because you're basically the Michelin man," she says. You can plug it into the wall, or go wireless by charging up a battery.
Best wrap-style electric back massager
Type of massager: Wrap-style Shiatsu massager | Speeds and functions: Variable speed settings, 3 levels of vibration | Heat option: Yes
If you're looking for a hands-free massager that you can wear as you as you go about your day, Hyperice's portable massager, which you can strap around your torso, contains "four little square nodes that heat up and vibrate," says chiropractor Dr. Grant Radermacher. A digital touch screen allows you to control the temperature and vibration patterns, and a rechargeable battery means you can walk around while you wear it without having to stay near a power outlet. The nodes don't perform "back-and-forth oscillation, so it's not super-effective in actually breaking up knots in the muscle," Dr. Radermacher caveats — for that you'll want something like the Hypervolt massage gun below — but if you're simply craving some instant relief, the feel-good sensation "can override some pain signals that the nerves are sending."
Best electric massage ball
Type of massager: Vibrating massage ball | Speeds and functions: 3 levels of vibration | Heat option: No
Faber says that although this Hypersphere massage ball requires a bit more active involvement on your part, it can be highly effective. "You have to use the weight of your body to hold it in place. You can sit on it or lay on the floor and roll on it to get all the different parts of your back," Faber says. "The only challenge is that you can't pinpoint quite as accurately." Still, the ball's three vibration speeds will help release muscle tissue and promote blood flow, and its compact size means it's travel-friendly. Faber will often throw it into her gym bag and use it "in lieu of a foam roller." It's also relatively inexpensive.
Best electric massage gun
Type of massager: Percussive massage gun | Speeds and functions: 3 speed settings, 5 massage heads | Heat option: No
This Hypervolt massage gun comes recommended by Maugeri as well as professional surfer Kelly Slater and drag queen Katya Zamolodchikova. "I love my Hypervolt. I use it in my office, at the gym, and at home. The different speeds are great for different parts of the body and I love how quiet it is," says Maugeri. Zamolodchikova calls the Hypervolt "a great splurge," saying it has paid for itself in just four tries because getting a massage is expensive. Although you can do it yourself, she says she gets her trainer to help reach her glutes and lower back. "There are various levels of intensity and also different attachments to target different things. There's a flat one, a round one, and a prong that looks torturous — and is — to accommodate the different shapes of the musculature. I use the big round ball the most. It's like a catchall. It's good for everything," she says. According to Slater, massage guns are really big at surf competitions. But he uses his Hypervolt anytime his body needs some loosening up: after surfing, after sitting for hours on a plane, or after a hot bath. "I had a Theragun before this, but I found it to be really loud — and if I'm being honest, too expensive. The Hypervolt is half the price and much quieter," he says. Because percussive massage is more intense than vibration or Shiatsu, several of our experts recommend starting on the lowest setting and using caution around sensitive areas like the neck.
Best (less expensive) electric massage gun
Type of massager: Percussive massage gun | Speeds and functions: 5 speed settings, 7 massage heads | Heat: No heat option
In addition to the Zyllion pillow massager, I have this Turonic G5 massage gun at home. I originally bought it with my fiancé in mind because he bikes to work every day and has been wanting to try a massage gun on his tired legs and feet. It's great for that, but I have also started using it (or asking him to use it) on my lower back and shoulders. It comes with more heads than any of the other massagers on this list and even includes a flat metal one that's meant for use with massage oil. I haven't tried that yet, but I'm curious. I like the soft round-ball head best, and I only ever use it on the lowest or second-lowest settings — both are plenty intense for me. It's very quiet and comes with a zipper case that conveniently fits the massage gun and all the massage heads, as well as the charger. But I hardly have to use the charger because the battery lasts for such a long time. Best of all, the Turonic G5 lets me and my fiancé give each other massages that are actually effective, without getting bored or wearing out our hands.
Some more tools for back pain we've written about
• Meera Watts, founder and CEO of Siddhi Yoga
• Kevin Cronin, physical therapist and owner of ARC Physical Therapy
• Dr. Kimberley Maugeri, chiropractor and founder of Skop 
• Dr. Grant Radermacher, chiropractor at Ascent Chiropractic
• Aly Faber, massage therapist and founder of The Stretch Lady
• Audrey Kosclski, licensed massage therapist
• Jakob Roze, founder and CEO of RozeFit
• Kelly Slater, professional surfer
• Drag queen Katya Zamolodchikova
• Melissa Kotlen, lactation consultant and labor and delivery nurse at Mount Sinai Hospital, and manager of the Boram Postnatal Retreat
• Professional ballet dancer Kate Byrne, of My Ballet Coach
The Strategist is designed to surface the most useful, expert recommendations for things to buy across the vast e-commerce landscape. Some of our latest conquests include the best acne treatments, rolling luggage, pillows for side sleepers, natural anxiety remedies, and bath towels. We update links when possible, but note that deals can expire and all prices are subject to change.
Every editorial product is independently selected. If you buy something through our links, New York may earn an affiliate commission.