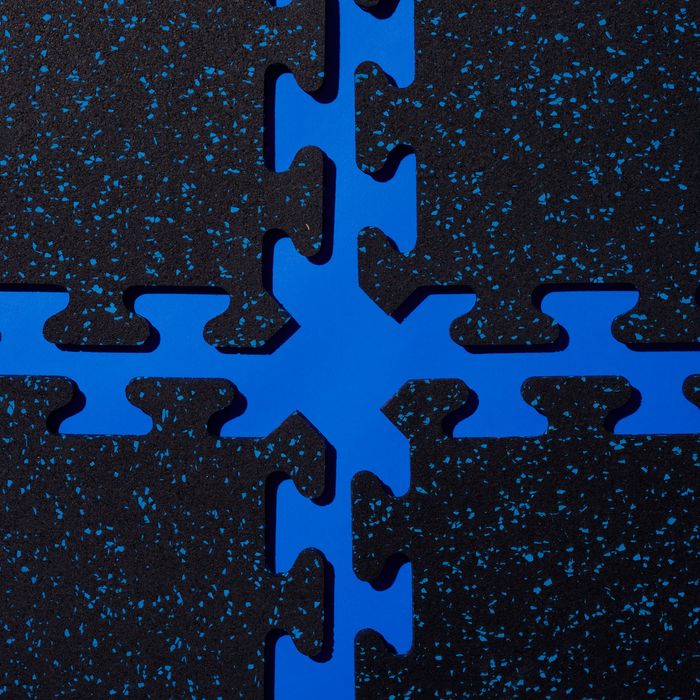 When it comes to your home-gym setup, a good mat is just as crucial as your workout tools. It provides a dedicated surface to work out on and serves as the foundation for your equipment and machines. "Good gym mats protect your floors, dampen noise, and give you grip and some cushion for floor exercises and plyometrics," explains strength and conditioning coach Hayden Carpenter. Yoga mats can meet those needs to a degree, but generally they're too narrow and thin, and not as durable as mats designed to handle heavier weight and more activity. At its best, a good gym mat could encourage you to have a solid workout without leaving the house. I've been working out on all kinds of gym floors ever since my "intro to weight lifting" class in high school, so I've gotten a feel for what kinds of surfaces create the optimal setup, from thick rubber tiles to foamy roll-up mats. To get the best expert recommendations, I spoke to personal trainers, strength coaches, professional home-gym installers, and fitness enthusiasts about the mats they prefer for their sweatiest sessions.
There are two main types of gym mats to look for: ones made of thick rubber and ones made of foam. Rubber mats are more durable than foam, but might not be as plush. They're great for workouts that involve lots of movement, weights, or gym equipment. Carpenter has a continuously evolving home gym setup, but he swears by rubber gym mats for most activities. "Foam mats get beat up superfast — even doing a simple plank with shoes on can chew up a foam mat," he explains. "I've had foam tiles disintegrate within six months and leave gray flecks all over my body." While lighter foam mats are less durable, some users might find them to be a better choice if they're doing lighter workouts, bodyweight exercises, or stretching. And because they're so light, foam options are generally more affordable, too.
Grip is one of the most important things to look for in a gym mat — you want sure footing when moving, jumping, pushing, or carrying anything heavy. By nature of their rubber and foam surfaces, the mats included in this list will provide solid grip for both shoes (best on rubber) and bare feet (best on foam; the soles of your shoes can rip and tear some fragile foam mats). I note the mats' surface quality as well as the textures on the bottom. Some mats will be flat on both sides and lay flush against the floor, while others will have a textured or ribbed side. Mats with studs or raised tread will provide more grip, but those features can trap dirt more easily and might be harder to clean than a flat surface.
A mat's thickness goes hand in hand with your intended activity. If you're looking to do any kind of weight training where dumbbells and plates will be hitting the ground, you should opt for a thicker mat to protect the floor. If you'll be laying down a mat each time you work out, you might want a thinner mat that you can roll up and store easily. Note that a mat's thickness doesn't correspond to its level of cushioning. Some mats that go underneath stationary bikes, for example, are thinner and meant to sit on top of hard floors to limit movement that would cause the bike or machine to wobble or tip over, while thicker, rigid mats can serve the same purpose on top of carpet. A squishy thicker foam mat, on the other hand, could cause a bike trainer to dip and move around. While the ideal thickness will come down to your preference, most of the mats recommended fall between three-eighths to one-half-inch thickness, which seems to be the sweet spot for rubber mats, according to Carpenter.
Marc Dern, CEO of Carter's Home Gym, specializes in setting up home-gym spaces. He'll always ask new customers who are looking for gym flooring if they're seeking a more permanent gym installation or one that's more versatile, because that decision will inform the type of mat they want. There are three main ways mats can be stored. Flat, rigid sheets can be heavy (up to 100 pounds per mat) and are better suited for a more permanent installation. The more pliable kind can be rolled up, like a yoga mat, while a third type consists of interlocking puzzle-piece tiles.
The size of your gym space will depend on what kind of activity you do — and how much available space you have. If you're setting up a new gym space, make sure to leave room for movement. "Another common mistake I see my customers make is they overstack their room with equipment, forgetting that some of these machines need room to actually function," Dern notes. "And you need room to move in between the equipment too."
Best overall gym mat
Material: Rubber | Grip: Flat and grippy on both sides | Thickness: 3/8 inch | Storage: Puzzle-piece tiles | Overall size: 2-by-2-foot tiles, up to a 20-by-40-inch set
These tiles offer the versatility of puzzle-piece mats, but also the sturdiness and durability of a large, sheet-style mat. "I use these rubber tiles for my indoor gym space and love them," strength-and-conditioning coach Carpenter says. "The seams all but disappear, and I've never had a tile separate or move an inch, even with lateral bounding." The tiles' grip is ideal for weightlifting and can be used for supporting heavier machinery. Colin Gray, the general manager and master trainer at EVF Performance, recommends this flooring, which lines EVF's CrossFit space. He says when you're weight training, you want to feel the floor, and the close-to-the-ground feel of these tiles creates a strong, stable base for your feet. I've worked out in gyms that have this flooring throughout, including in areas with heavy machines and in open spaces for body-weight workouts and stretching, and I liked how seamless the overall space looked and felt, even though the tiles have a puzzle-piece design. American Floor Mats makes a rolling version (below), but these two-foot-by-two-foot tiles make it easy to accommodate different spaces and rooms. "I first bought six tiles (to fill a 6-foot by 4-foot space), and then later bought two more to extend the mat to 8 feet," Carpenter explains. "And if we eventually move and have a house with a garage, I can keep expanding, so it's a good investment."
Best less expensive overall gym mat
Material: 100 percent recycled rubber | Grip: Grippy on both sides, one raised button surface, one flat surface | Thickness: 3/4 inch | Storage: Single flat sheet | Overall size: 4 by 6 feet
Nearly every expert I spoke to recommended rubber "horse stall" mats for a home gym space. While originally designed for livestock and barns, many home-gym builders buy these mats to put under power racks and machinery. "Horse stall mats are the easiest option for gym flooring," says certified Olympic weightlifting coach Paolo Galang. "They're easy to trim to fit any space. They're absorbent (for dropping barbells loaded with bumper plates), sturdy, and stable. Plus, they're easy to clean and mop," he adds. Marc Dern of Carter's Home Gym says that horse-stall mats are ideal for garages. Because they're rock-solid and three-quarters of an inch thick — thicker than any of the other mats on this list — they're ideal for heavy weights and functional movement. When working out on them, I have found them extremely stable for weight lifting and body-weight exercises. If you do choose to use stall mats, be sure you want them for the long term; each mat weighs 94 pounds. Some customers have noted that the rubber smell is overwhelming at first, so it might help to air these out before installing them indoors.
Best gym mat to put under exercise equipment


Material: Rubber | Grip: Flat and grippy on both sides | Thickness: about 1/4 inch | Storage: Single, rollable flat sheets | Overall size: 2.5 by 5 feet
For placing exercise equipment like stationary bikes on hard floors, this thin option from Supermats is ideal. "These are meant to protect your flooring. It's a good preventative measure to take," says Dern, who frequently uses Supermats for his clients' home-gym spaces. "These are great for treadmills, ellipticals, and rowing machines." For use on top of carpet, some customers say that this mat works well, while others note that their stationary bikes still feel wobbly on it and say it would work better with a harder surface underneath. If you're putting it on top of a carpet, it will generally feel more stable if the carpet is on the thinner side.
Best rolling gym mat
Material: Rubber | Grip: Flat and grippy on both sides | Thickness: 3/8 inch | Storage: Single, rollable flat sheet | Overall size: Available in 4-feet widths, up to 100 feet in length
This rolling version of the Fit-Lock rubber tiles is a more stowable option for all types of workouts and gym spaces. "I bought the three-eighths-inch-thick four-by-six-foot Rubber Roll for my front porch four years ago now, and it hasn't shown any signs of wear," Carpenter says. It's made from recycled rubber and weighs about 50 pounds, so unlike the foam mats he used to use outside, this one isn't going anywhere when a strong wind blows. Multiple sheets could be used to line a big gym floor, or you could use a single sheet as a heavy yoga mat. Like the American Floor Mat Fit-Lock model on this list, this mat is a breeze to clean. "It can get wet, and it's easy to wipe down if it gets sweaty or dirty," Carpenter says. Plus, the mats come in a handful of different speckled colors, which hide dirt, dust, and chalk well.
Best gym mat for light workouts
Material: EVA foam | Grip: Flat and grippy on both sides | Thickness: 1/2 inch | Storage: Puzzle-piece tiles | Overall size: 2-by-2-foot tiles, up to 144 square feet
When Strategist contributor Jason Stewart built his home gym for under $700, he used these mats: "They're easy to clean and give enough cushion for jumping rope, squat jumping, or the dreaded burpee," he writes. "The pieces come in thicknesses ranging between half an inch and an inch; if you need more support, layer them on top of each other like a stack of flaxseed pancakes." Keep in mind: While these tiles are thick, they're still made of foam and have more potential to tear than a rubber mat would, so we'd recommend these tiles for lighter workouts and not Olympic weightlifting. I've worked out on these tiles and found them ideal for stretching, at-home HIIT workouts, and exercises without weights. Any workouts involving weights over 30 pounds would be too intense for these mats; I would prefer something thicker.
Best rolling gym mat for light workouts
Material: Closed-cell foam | Grip: Flat and grippy on both sides | Thickness: 5/8 inch | Storage: Single, rollable flat sheet | Overall size: 2 feet by 6 feet
This plush, five-eighths-inch thick foam mat from Harbinger is one of the cushiest mats on this list, and that comfort has made it the go-to exercise mat of freelance writer and home-gym enthusiast Joe Jackson for more than seven years. "Technically I have a home gym … one out of every eight months. And then my garage gets busy and cluttered, and I no longer have that space," Jackson explains. "I've been looking into horse mats, but they're a pain to install and reinstall if I'll be moving everything in my garage around. That's why I like the versatility of this simple foamy roll-up mat." Jackson uses it for bodyweight workouts, yoga, and stretching, and he recommends it as an all-purpose gym mat. He admits that it feels "really cushy," which is what Jackson prefers for his barefoot workouts, and that the foam has gotten beaten up after countless sessions. But after seven years, the mat holds a special place in his heart — even if it gets rolled up and tucked away in the garage corner for the majority of that time.
Best rolling gym mat for barefoot workouts
Material: Cork | Grip: Grippy on one side, soft and grippy (when wet) on the other | Thickness: 0.15 inch | Storage: Single rollable mat | Overall size: 2.2 feet by 6 feet
This cork yoga mat has been my main home-workout surface for the past four years. As I mentioned in our guide to the best yoga mats, cork is a great option for barefoot workouts — like yoga or body-weight exercises — because cork is naturally antimicrobial, so it won't develop an odor. I prefer working out barefoot on cork mats over rubber ones because cork feels smoother and more forgiving on the skin but becomes grippier when it gets wet (i.e., the more you sweat). I also like heavier mats (this one is three pounds) because the corners lie flat against the floor and don't curl up, something that can get in the way of your workout.
Some more gym mats we've written about
The Strategist is designed to surface the most useful, expert recommendations for things to buy across the vast e-commerce landscape. Some of our latest conquests include the best acne treatments, rolling luggage, pillows for side sleepers, natural anxiety remedies, and bath towels. We update links when possible, but note that deals can expire and all prices are subject to change.