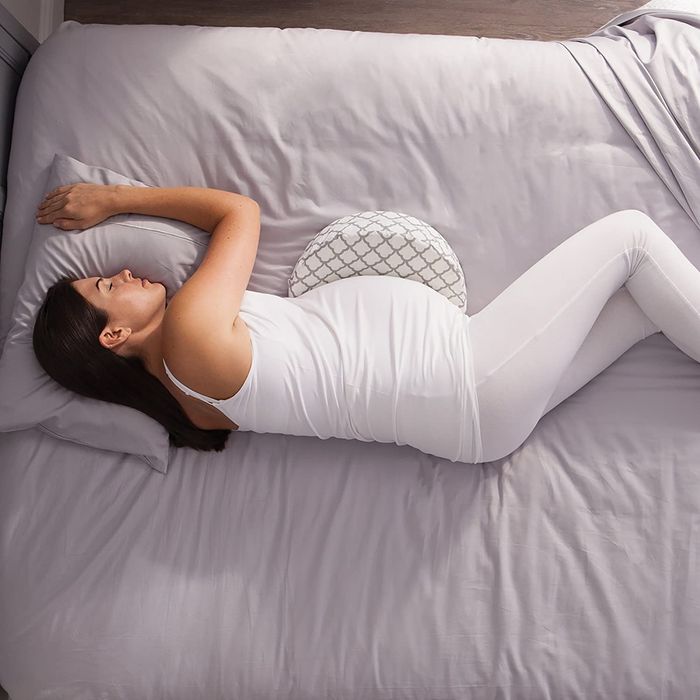 And while we've covered other maternity must-haves — like pregnancy-safe skin-care products, stretchy leggings, and non-hideous winter coats — here we've rounded up the best pregnancy pillows, as praised by the most enthusiastic reviewers on Amazon.
Related Articles: Gifts for New and Expecting moms | Pregnancy-Safe Skincare
Best-rated pregnancy pillow
"I am now in my third trimester. I got this pillow in the beginning of my second trimester. I can't rave enough about it," writes one reviewer, and almost 6,000 others, in four- and five-star reviews, agree. "This design eased the pressure on my lower back and tailbone, as well as keeping me in a position that is ergonomically correct for the latter stages of pregnancy," one says. A shopper reports his wife is "obsessed with this gargantuan pillow" that he bought for her during pregnancy. "She says it supports her back and is so comfortable that she can't sleep without it now even though our son is a month old. I think the worst part is we moved across the country, and I was stuck lugging this massive pillow from hotel to hotel with my little 4-foot-11 wife running after me yelling that her goliath pillow was dragging on the ground."
A reviewer who's pregnant with her seventh child writes, "My poor body has obviously taken quite a beating. First night with this pillow, I literally passed out as though the angels came from the heavens and rocked me to sleep." Multiple reviewers call this total body pillow a "lifesaver," with one explaining, "I can comfortably sleep on my back, side, and even stomach (for now, before I get too big I'm sure) by rolling and bending this pillow in any way that I need."
Best-rated (less expensive) pregnancy pillow
"I was shocked at how small this pillow was, and I almost returned it," writes one reviewer, but her mind changed after she used it. In fact, "I have used it nightly for the last 4 months, and I love it." Lots of reviewers also thought this pillow was too firm at first, but one pregnant reviewer says, "I find this to be the perfect size to support my bump without taking up too much bed real estate, and the perfect firmness to support without being uncomfortable." And reviewers say this wedge pillow works for all stages of pregnancy. "Early on, I kept it at my back to nudge me from falling asleep flat on my back, and later, under my belly for a little extra support," one reviewer writes. And another reviewer even says it is nice to have postpartum: "Very useful as a wedge when I sleep on my side to alleviate pressure on my breasts (due to breastfeeding engorgement)."
Best U-shaped pregnancy pillow
There are a lot of letter-shaped pregnancy pillows on the market, but reviewers find that the U shape offers them the most flexibility. "I preferred the U-shape over the other C-curve pillows because I typically like to change positions at night and this one lets you do exactly that," one says, while another writes, "It helps me get to sleep easier by giving support for my back as well as having the other side to support my belly and go between my legs." This AngQi U-shaped pregnancy pillow, specifically, is "breathable so it doesn't make me sweaty," says one reviewer. Another says "It's not super thick which I like, but it's super comfy and the fabric is soft and not scratchy at all." In terms of size, it's compact enough that reviewers say it's tight but not overwhelming in a queen-size bed. Reviewers also like that the cover is washable — and that this can be used throughout their pregnancy and beyond, "in different ways sitting up, and also as a nursing pillow when baby arrives."
Best C-shaped pregnancy pillow
"I love this pillow. My only regret is that I didn't get it sooner," writes one reviewer who also calls it a "godsend," and says she "used it LITERALLY every night until the day I gave birth." This large, C-shaped pillow has lots of other fans, including the reviewer who writes, "All of my pains have gone away," and another who says, "It's comfortable, the right amount of firm, and provides the support I need for my head, neck, and back to remain aligned while on my side." Since you can sleep facing either side of the pillow, this reviewer says, "I love having the option to use the closed side or the open side depending on how I want to sleep," and another loves that, thanks to the C-shape, "it's comfortable to lie in facing either direction."
Best two-sided pregnancy pillow
A compact, wedge-style pillow, this one is another reviewer favorite for helping support growing pregnant bodies. "This beautiful little wedge might look like a simple pillow, but really it is the greatest creation known to man (and pregnant women)," writes one, and another says, "This little wedge was a game changer for me. I've been sleeping muuuuuch better." Moms-to-be also like that this pillow is double-sided, offering both a firm and a soft option. This reviewer explains: "At the moment the softer side is perfect but I am likely to need to more solid side as I get bigger."
Best adjustable pregnancy pillow
Though many of the pregnancy pillows on this list can be used throughout pregnancy and even postpartum, this one has even more flexibility because it "has a zipper so stuffing can be taken out, added or arranged." That means the pillow can basically be customized, and as a result, "It cradles all the right places and it's easy to turn over and change positions." One reviewer who wasn't even showing says they found relief with this pillow, writing, "At first I wasn't able to sleep comfortably and I thought I was just being complicated since I'm only 11 weeks pregnant but that all changed once I got this pillow and I sleep like a baby." Another turned to this late in their pregnancy: "Sleep has been evasive in the third trimester with constant turning sides and having to roll my pillows from side to side … I just got this pillow but just laying down to test it out it's already the most comfortable I've been in months."
Best side-sleeper pregnancy pillow
Designed to help pregnant women sleep on their side more comfortably, this little pillow has many satisfied customers. "Since purchasing this pillow a couple of weeks ago, I only turn over perhaps once during the night from one side to the other," writes a reviewer, "and it keeps me from rolling onto my back." Another says, "It keeps me from rolling onto my back in my sleep, but it gives nice support in the front without being too bulky," and finally one pregnant reviewer calls it "way better for support and way more practical" than a body pillow.
Best contoured pregnancy pillow
This "Mercedes-Benz of body pillows" is beloved by reviewers because, as one writes, "it makes sleeping on my side so much easier, and natural. The pillow conforms right to your body, providing perfect support on both sides for back and belly." Another reviewer says it's "God's greatest invention" for banishing pregnancy-related hip pain. "If you're looking for a very full and comfy pregnancy pillow, this one is for you," advises one reviewer, and others describe it as "plush and fluffy," "squishy and soft," or "very comfy [with] excellent belly support."
Best oversize pregnancy pillow
For many pregnant women, this jumbo-size pillow eliminates the need to use multiple smaller pillows. "This thing is huge, it's like three body pillows in one. It forms a cocoon around you," writes one. "It's a dream cloud. It's magnificent," says another. "It's my most prized possession at the moment. My husband bought me this ridiculously large pillow a few months back and I have cuddled the crap out of it every single night." And yet another pregnant reviewer says, "I don't go anywhere overnight without it."
Best pregnancy pillow if you're not pregnant
Sure, this pillow is technically made for pregnant people, but plenty of reviewers who aren't pregnant get relief from this body pillow. "Using this pillow and I am neither pregnant nor a woman," one reviewer says, before calling it "simply amazing. It feels like you have 6 pillows in your bed, with the added benefit that they don't run away as you lean against them." Another not-pregnant reviewer writes, "This pillow can be used by anyone who finds it difficult to get a comfortable night's sleep." Reviewers dealing with everything from back surgery recovery to fibromyalgia and inflammatory arthritis also find comfort in this pillow. And even though many people have found a use for this, so have actual pregnant people, whom it was made for: "This pillow is just what I was hoping for going in to my second trimester of my second pregnancy," one says. "With some developing hip pain, this brought some welcome relief." One does say that the suede cover is cozy but "a little hot in the summer when you're big and pregnant," but it's removable and the company makes covers in other fabrics.
The Strategist is designed to surface the most useful, expert recommendations for things to buy across the vast e-commerce landscape. Some of our latest conquests include the best women's jeans, rolling luggage, pillows for side sleepers, ultraflattering pants, and bath towels. We update links when possible, but note that deals can expire and all prices are subject to change.
Every editorial product is independently selected. If you buy something through our links, New York may earn an affiliate commission.