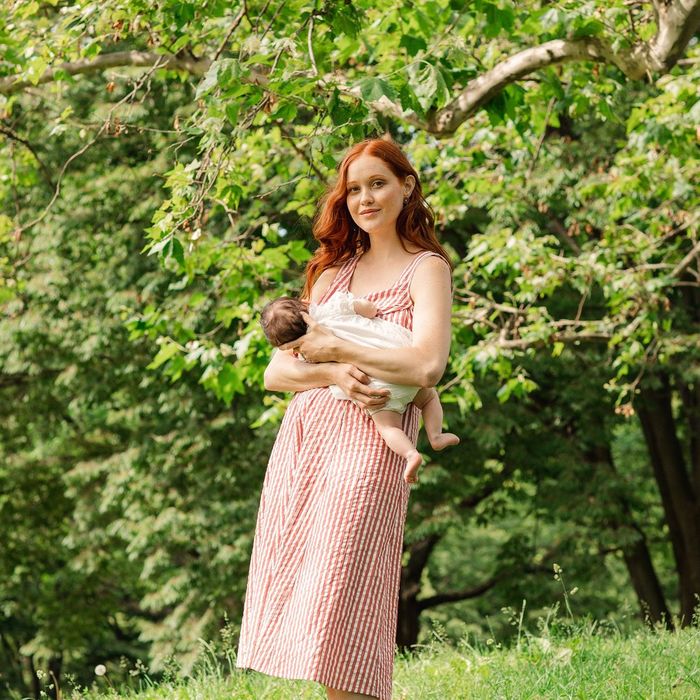 Photo: Courtesy of retailer
I love clothes, but I'm a lazy dresser. My go-to outfits are almost always dresses because they involve only one item to put on and are more comfortable than pants. (I am generally anti-pants, except during the colder months, when tights under dresses just won't cut it.) This worked well when I was pregnant, as most of what I owned already looked like maternity wear: Sacklike, roomy, easy. But after I gave birth, I realized dressing my postpartum body was more challenging than when I had a big round belly to contend with.
All my flowy one-pieces still fit, more or less, but none of them worked for breastfeeding — or pumping, for that matter — unless I wanted undress completely every time my baby was hungry or I needed to express myself. Still, after going my entire pregnancy without buying maternity clothes beyond a pair of over-the-belly jeans and a jumpsuit, I didn't necessarily want to start after the birth, so I tried to work with what I already owned. Wearing separates was really my only option, but my jeans were still too tight to be comfortable, and my slim-fit button-ups were too slim-fitting to accommodate my fleshier frame. I was able to cobble together four outfits that worked, but after wearing them continuously during my first weeks back at the office, I felt particularly schlubby.
So when a couple of nursing-friendly brands promising stylish clothes that offer discreet (a.k.a. easy) access to your boobs reached out to me about trying their stuff, I jumped at the chance. Looking at the clothes, they actually seemed like things I'd wear regardless of my new identity as a mom. And more crucially, some even had really cute dresses! After calling in a bunch of pieces in to test, I found that many of them cut out a lot of the stress associated with breastfeeding in public and allowed me more freedom — particularly the ability to ditch my nursing apron, which is honestly a pain to use and very loudly broadcasts "I'm breastfeeding" to anyone who glimpses it. Read on for my favorite nursing-friendly clothes I tried, including a blouse, romper, bathing suit, and three (!) dresses (one of which I wore three times in one week because it is that good).
Dresses
Photo: Elena Mudd Photo
Launched last spring, Madri Collection "is inspired by Italian culture, which both holds the mother on the highest pedestal and unapologetically celebrates style." Some fancy marketing lingo for sure, but it still sounded pretty good to me. In addition to this dress, the brand sent me a pair of pants and a romper — but I haven't even really worn the other stuff yet, because if it were socially acceptable to wear the same outfit every day, I would never take the dress off. Made of 100 percent-cotton seersucker that doesn't wrinkle, it features a crossover top whose flaps lift for nursing or pumping. It's a one-piece, but the dress is detached in the front, where an elasticized waistband offers some give while keeping it in place. The silhouette is a classic A-line and feels breezy for the summer. Bonus: The brand manufactures everything in New York City.
But back to why I love this dress so. On a recent Saturday (after wearing it to work earlier in the week), we took our 5-month-old all over Brooklyn to run errands. The first stop was Red Hook. We brought sandwiches to the waterfront and had an impromptu picnic. Augie was hungry too, so I picked him up, plopped him on my lap, lifted a flap of my dress, and nursed him right there. I didn't feel self-conscious at all, as neither my breast nor my stomach was exposed; the flaps act as a kind of shield without getting too much in my baby's face. I later repeated all this at Ikea, where he started to fuss again. While my husband stood in the checkout line, I found a seat on a discounted patio set and nursed him. Nobody seemed to mind. After a stop at Fairway, we drove to a frame shop in Bushwick. We were nearly finished there when he started whimpering for food. I fed him again while the proprietor of the shop rang us up. I felt totally comfortable doing this in front of a stranger thanks to this dress. All I had to do was flip the flap up and pull down my nursing bra. Too easy. I wore it again the next day. (I will say that $300 is a lot for a dress, but to me the price seems justifiable given how often I wear it and how easy it is to breastfeed in.)
Teat & Cosset was launched in 2016 by Peggy Economou, a former investment banker who says she was frustrated by the subpar breastfeeding clothes that were available at the time. The line, which includes tops, dresses, and sleepwear, is all made in Italy, and as soon as I took the clothing out of the box I could tell it was high quality. Again, I was drawn to the brand's dresses, some of which looked like clothes I already owned. The Elissa dress was my favorite of the items I tried. (Teat & Cosset also sent me a couple of tops, including its signature Gemma sweatshirt in blush, and a short-sleeve knit top, both of which I'm excited to try in a couple of months when the weather cools down.) The Elissa is a drop-waist dress made of the lightest-weight cotton poplin with a ruffled hem and adjustable bow-tie shoulder straps. Narrow grosgrain ribbons run down each side (kind of like on a tuxedo pant) and hide zippers that open for easy nursing. It's a little more formal than the Madri dress but still unfussy. I could imagine wearing it for date night or to a weekend brunch.
I wore it to a Fourth of July house party where I fed Augie on a sofa in front of mixed company. While it was super-easy to pull the zipper down and unlatch my nursing bra, I felt a tiny bit exposed in the moment between opening the dress and getting the baby to latch. But once he was happily eating, everything was covered, and I could continue carrying on my conversation with people. I wore it to work, too, and it was also great for pumping.
Teat & Cosset also sent me this dress, whi