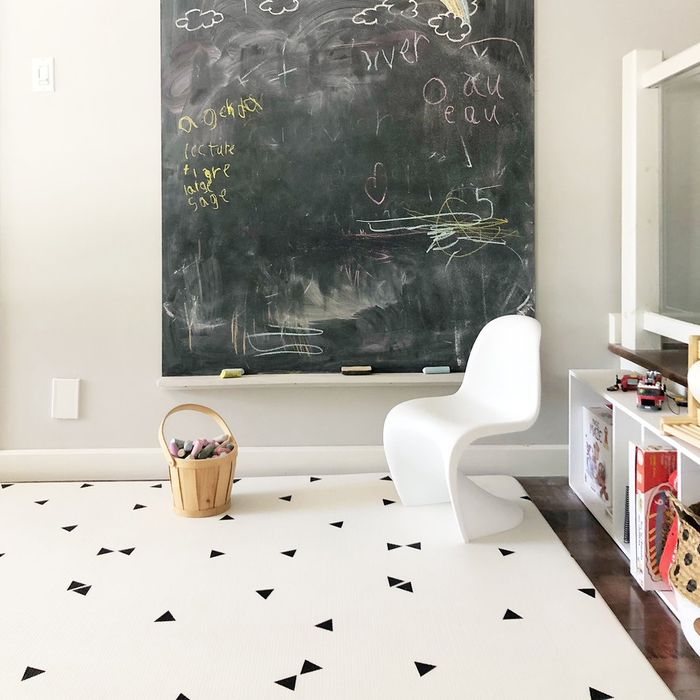 Photo: Courtesy of the retailer
A lot of baby gear can be garish — bright colors and eye-popping designs stimulate a child's development but might not fit your more sophisticated design scheme — and baby play mats can be some of the primary offenders. For those looking for play mats and floor mats that are both padded and good-looking (and safe for your child to spend a lot of time on), we spoke to editors, bloggers, and parents about the ones they use. Below, their 14 favorite (aesthetically pleasing) kids' play mats — which are not to be confused with activity gyms, though we did include two recommended styles of those that come with non-offensive play mats for good measure — any of which would look great not only in a nursery but also in your living room.
Best nice-looking play mats for babies
Best overall play mat for babies
Those looking for a play mat with a playful (but still tasteful) design may want to consider this circular one from Pehr that we heard about from two folks. One is Fatherly deputy editor Matt Berical, who says, "This is a very plain, design-friendly play mat with no bells and whistles," noting that "it has a really nice hand-screen-printed design" of sea creatures on one side, while the reverse is patterned with stripes. Berical adds that the quilted cotton mat is very gentle and available in a few styles, telling us, "A lot of parents like it because it fits in everywhere." Ashlee Neuman, the Bump's deputy editor, also recommends Pehr's play mat — she likes the Noah's-ark pattern, which has colorful animals on one side and stars on the other.
Best (less expensive) play mat for babies
A lot of play mats for babies include a fabric base with an overhead "gym" attached (and are commonly known as play or activity gyms). But for those looking for just a mat, Berical recommends this extra-large one from Tiny Love that features built-in activities and a variety of textures. "It's a large, quilted mat that works as a portable play space for kids," he says. "It's made to help kids move around and interact, and it folds up really small so it's easy for parents to pack in a bag whenever they go somewhere. It's also machine-washable."
Best foam play mat for babies
While the above two mats are made of fabric, if you're looking for a baby-friendly one made of foam, former Babylist editor-in-chief Rebekah Otto told us about this reversible option that looks like a rug on one side and has bright, stimulating graphics on the other. "It's a big roll-out mat that's pretty well-cushioned and is completely BPA-free," she explains. The mat is made of multiple layers of foam that's water-resistant and easy to clean. Its rug-style side features a simple design of interlocking circles, and the baby-friendly side has a vibrant pattern of yellow circles with little scenes and characters that's still muted enough as to not be distracting.
Best activity gym with play mat for babies