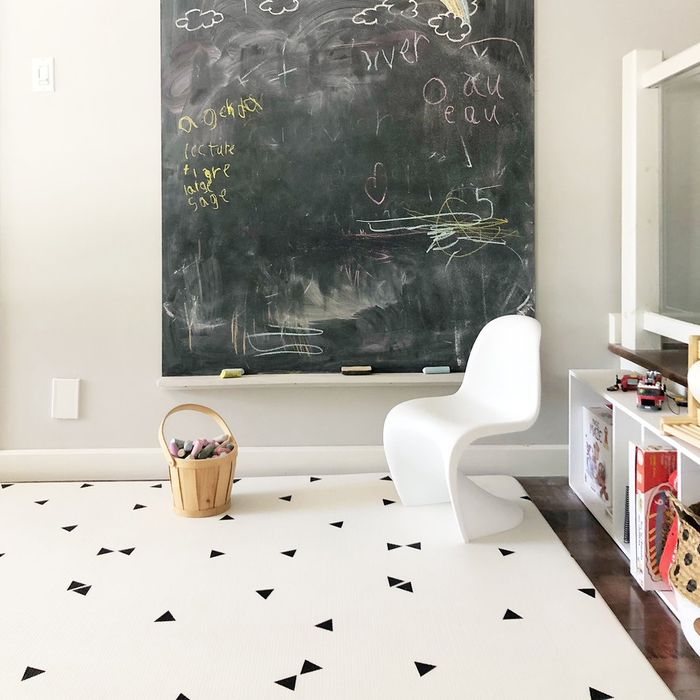 Photo: Courtesy of the retailer
A lot of baby gear can be garish — bright colors and eye-popping designs stimulate a child's development but might not fit your more sophisticated design scheme — and baby play mats can be some of the primary offenders. For those looking for play mats and floor mats that are both padded and good-looking (and safe for your child to spend a lot of time on), we spoke to editors, bloggers, and parents about the ones they use. Below, their 14 favorite (aesthetically pleasing) kids' play mats — which are not to be confused with activity gyms, though we did include two recommended styles of those that come with non-offensive play mats for good measure — any of which would look great not only in a nursery but also in your living room.
Best nice-looking play mats for babies
Best overall play mat for babies
Those looking for a play mat with a playful (but still tasteful) design may want to consider this circular one from Pehr that we heard about from two folks. One is Fatherly deputy editor Matt Berical, who says, "This is a very plain, design-friendly play mat with no bells and whistles," noting that "it has a really nice hand-screen-printed design" of sea creatures on one side, while the reverse is patterned with stripes. Berical adds that the quilted cotton mat is very gentle and available in a few styles, telling us, "A lot of parents like it because it fits in everywhere." Ashlee Neuman, the Bump's deputy editor, also recommends Pehr's play mat — she likes the Noah's-ark pattern, which has colorful animals on one side and stars on the other.
Best (less expensive) play mat for babies
A lot of play mats for babies include a fabric base with an overhead "gym" attached (and are commonly known as play or activity gyms). But for those looking for just a mat, Berical recommends this extra-large one from Tiny Love that features built-in activities and a variety of textures. "It's a large, quilted mat that works as a portable play space for kids," he says. "It's made to help kids move around and interact, and it folds up really small so it's easy for parents to pack in a bag whenever they go somewhere. It's also machine-washable."
Best foam play mat for babies
While the above two mats are made of fabric, if you're looking for a baby-friendly one made of foam, former Babylist editor-in-chief Rebekah Otto told us about this reversible option that looks like a rug on one side and has bright, stimulating graphics on the other. "It's a big roll-out mat that's pretty well-cushioned and is completely BPA-free," she explains. The mat is made of multiple layers of foam that's water-resistant and easy to clean. Its rug-style side features a simple design of interlocking circles, and the baby-friendly side has a vibrant pattern of yellow circles with little scenes and characters that's still muted enough as to not be distracting.
Best activity gym with play mat for babies
If you want the dual functions of an activity gym and a play mat, Berical also told us about Lovevery's play gym, which was designed by child-developmental experts. It features a removable overhead gym made of sustainably sourced wooden legs and accessories like an organic cotton Montessori ball, a wooden batting ring, and a teether — all of which are washable. "It's comfortable for the baby and there's a lot of clever developmental aspects to it," he says. "It's just a good-looking and well-designed piece of equipment for your child."
Best (less expensive) activity gym with play mat for babies
For a more affordable option, Berical recommends Skip Hop's Baby Treetop Friends Activity Gym, which he says is another popular choice among parents. It features a round, padded, machine-washable surface with a couple of activities as well as an overhead gym with dangling toys that can be set up and removed in two minutes. "It's a really nice padded activity mat with additions that everyone really likes. The consensus is that even after kids have passed that stage, there's still a use for it," he says. "It packs up really small, is comfortable, and is made with friendly materials."
Best nice-looking play mats for toddlers
Best overall play mat for toddlers
For older kids who simply need a protective surface to play or learn to crawl on, foam floor mats are your best bet. House of Noa makes play mats that resemble rugs. Instead of being one piece, though, they are made of two-foot square jigsaw tiles that seamlessly interlock and are also expandable. The brand's mat comes recommended by several experts and parents, including Otto and Neuman, who describes it as "a durable foam mat that has the look of a beautifully patterned rug." In other words, it's a great option for parents who want a more subtle mat in their living spaces. According to publicist Alisa Richter, "It's aesthetically pleasing, and there's a great selection of patterns and colors that blend in with most decor." She adds that it's also lightweight and thus portable: "When we traveled, we often brought some of the squares so our son had a safe place to play." Speech-language pathologist Ellice Kim Lacerda also used the Noa mat for her kids. While she admits it on the pricier side, she says it looks nice and that the customer service is top notch. "We had a few squares start peeling. When I contacted them, they sent us free replacements quickly," she says. (She adds that the mats may not necessarily be great for households with dogs or cats, as their claws can scratch up the surface). For publicist Sonya Li Casino, it's the mat's adaptability and expandable nature that won her over. "I found it practical and I have since ordered two more sets because I keep wanting to cover more spaces," she says. Like the other foam mats on this list, it's made with premium quality, non-toxic foam.
Best (less expensive) p