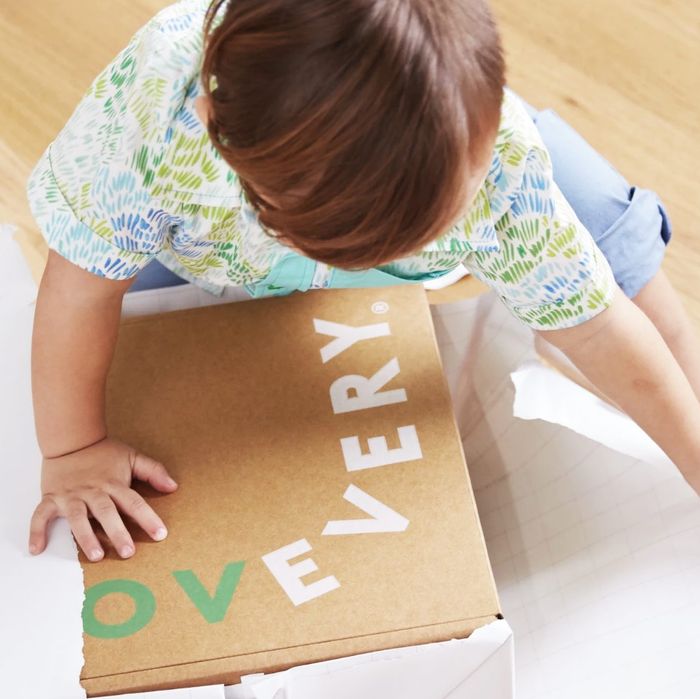 Photo: Courtesy of the retailer
As a new parent, there's so much to figure out. On top of making sure your baby is fed, sleeping, and clean, you want to help them explore the world around them as best as possible and reach development milestones like a pincer grasp (in nonparent speak, that's using the index finger and thumb to grasp at something). But it can be hard to know exactly what they need at every stage of their development. Over the past year or so, a new crop of toy-subscription boxes promising to help in that regard has emerged, offering parents and caregivers tools (a.k.a. toys) to encourage their little one's brain development through research-backed, stage-based play.
As a new mom myself, these kits intrigued me: Would their toys actually make a difference in my son Augie's interaction with the world? To find out, I called in boxes from four companies that claim the stuff they send is all development-focused and chosen in consultation with experts (in other words, not just a collection of the most popular toys on the market). Those four companies — Lovevery Play Kits, Monti Kids, Hoppi Box, and Nido Box — are all based in some way on the Montessori method of education, which promotes learning through hands-on, self-directed activities. Monti Kids and Lovevery are explicitly Montessori–based; Hoppi and Nido, while not explicitly Montessori–based, still employ some of its philosophies. We began our tests after Augie had just turned 4 months old, so I requested boxes encompassing that age and beyond — up to 10.5 months — from each company, to get a sense of the changes in toys that occur at each stage. While it's impossible to know if the boxes made Augie "smarter" or helped hone his cognitive and fine motor skills, it was clear when he liked a toy or was engaged by something and kept coming back to it.
By the end of the testing period, we had amassed a lot of toys — more than enough, I imagine, to keep a child (or two) occupied for an entire year. That's not necessarily a bad thing, though, because even though the toys we received are tailored for a specific developmental moment, I found that they can be used in new ways beyond that age. Still, if you do commit to a subscription, you might want to hold off on buying other toys (and politely ask friends and family members to refrain from gifting them if clutter is a concern). Another thing I should note: Even though the boxes came from four different companies, there were some overlapping toys and concepts. But that actually reassured me, because it suggests the brands are all kind of on the same page development-wise. That's why I'd generally recommend all of the toy-subscription boxes we tried — but each for different reasons that I'll get into in my specific reviews, below.
Most fun-to-play-with toy-subscription box
Who it's for: Lovevery offers boxes for ages up to 24 months.
What you get: Each box, which covers 2 months of age until a child turns 1 (and then 3 months of age until a child turns 2), comes with 8 to 13 items (some with multiple components) that are mostly toys but can include an everyday tool like a cup or spoon, depending on the child's stage. Everything is made in-house from sustainably sourced wood, organic cotton, and other materials that have been tested for safety, according to the brand. A research-backed play guide on how to use each toy is included, and everything comes neatly packaged.
What Augie and I thought: Lovevery sent me two boxes: the Charmer (3 to 4 months), and the Senser (5 to 6 months). Overall, I was impressed with the quality, design, and thoughtfulness of each box, which came with in-depth instructions and suggestions for use, as well as a breakdown of what you can expect your baby to do in that two-month span. The Charmer focused on the fact that the baby is beginning to recognize familiar things, and included a wooden rattle, tactile soft book with high-contrast image cards, framed mirror, teething rings, a crinkly envelope, disc toy, and rolling bell. The Senser was all about the baby exploring things around him and getting closer to the things that look and sound exciting to him. This box included a board book on body parts, a Montessori ball, socks with fun attachments on them, a wobbler toy for tummy time, a tissue box with cloth tissues you could connect and pull out, a bib, and a spoon.
Augie took to some of the items right away, while others were a little bit advanced. The soft book, crinkly bag, teething ring, and framed mirror from the Charmer box were some of his favorites and became constant companions. It was so fun to see him reacting to the crinkle sounds when he clutched at the bag, or watching himself in the mirror. From the Senser kit, the Montessori ball, which is a cloth ball with graspable, faceted sides, was also a hit. When seated in a bouncer, he loved "catching" it with his feet and bringing it up to his hands. The wobble toy, which was meant for tummy time, was also great as a tabletop toy. Other things, like the tissue box, took a little more time for him to figure out and weren't easy for him to play with until he was much older.
The fine print: Lovevery offers a pay-as-you-go option: If subscribing to boxes for children aged 0 to 12 months, each box costs $80; for children aged 13 months to 2 years, each box costs $120. (That's a total of six boxes for the first year at $480, and four boxes for the second year at $480.) But for a flat fee of $432 each, you can also purchase annual subscriptions for years one and two (that's roughly 10 percent less than you'd spend on each year's worth of pay-as-you-go boxes). If you pay the flat fee, you can cancel your subscription and receive a refund on boxes that have not yet shipped, but you will forfeit any prepaid discounts. If you pay-as-you-go, you can cancel three days before the next shipment is set to go out. Returns are accepted within 30 days of purchase and must be in their original packaging, and customer service is available through email support, according to the company.
TL;DR: As a parent, I appreciated Lovevery's focus on play, and I think Augie did too. While everything was in service of encouraging skills like grasping at objects and eye-tracking, it was all in the name of fun. If you're looking for something educational that's not didactic but still somewhat structured, then this is for you.
Most uniquely curated toy-subscription box
Who it's for: Nido Box offers boxes for ages up to 12 months.
What you get: Each box covers two months of age and comes with a curated mix of five to seven toys and practical items, like a hairbrush and utensils, that the company says are sourced from artists and merchants from around the world. Everything is made from materials that are safe for babies to put in their mouths, and the stuff comes packaged in a box padded with a muslin swaddle. A card outlining that stage's developmental markers with descriptions and guidelines about how to use each product is also included.
What Augie and I thought: Nido Box sent me two boxes: one for 3 to 4 months, and one for 5 to 6 months. Both felt charmingly homemade compared to the other subscription boxes we tried, and that's because they were, in some ways. Nido Box was started by Laura Bogert, a fashion stylist and art director, who was looking for simple and safe things for her baby that are also developmentally focused and beautiful to look at. Knowing this, I could imagine her packing everything up and sending it to me, like a friend would.
That DIY factor made Nido's boxes some of the more practical ones we tried. While the boxes from Lovevery and Monti Kids were chock full of toys, Nido's came with a good balance of playthings and day-to-day essentials that I actually found myself reaching for — and grateful to have on hand — when the moment came. For instance, in the 5 to 6 months box, the silicone toothbrush and the set of baby utensils we received were just as appropriate for "development" as the Montessori ball that encouraged wrist strength and hand-eye coordination. But the toothbrush and utensils proved far more useful in the long run. Augie's teeth were coming in, and although it wasn't necessary for me to brush his two tiny teeth before bed, I was able to try it because I had the tools to do so. Even now that he's 1 year old, we are still reading the books that the boxes came with, and the German hairbrush inside one of them was another sweet product I wouldn't have thought to buy on my own, but turned out to be an important part of Augie's bedtime routine. Practicality aside, the toys that were included are quite beautiful and meant to appeal to "the minimalist parent." Among Augie's favorites are a silver rattle that made a 16-tone chiming sound when shaken, and the large, soft Montessori ball that also rattled. Another thing I appreciated: Nido included a complimentary $40 gift card to Yumi, an organic baby-food delivery service.
The fine print: Each Nido Box costs $150 pay-as-you-go, which is almost double the price of each pay-as-you-go Lovevery box for the same age. (A full year's worth of six pay-as-you-go boxes costs $900.) The company also offers a flat fee of $850 for an annual subscription, a $50 savings. Pay-as-you-go boxes also require an extra shipping fee; annual subscriptions purchased up front come with free shipping. As far as customer service, there's an email form you can use to contact the company, which does not list information about returns or cancellations that I could find on its website. When asked about cancellations or returns, Bogert told us, "If something were to be damaged we are happy to send a replacement for that item."
TL;DR: Opening each Nido Box was like unwrapping a gift that was handpicked by my most stylish and thoughtful mom friend. I think Augie agreed, too, considering the way he delighted in the tinkling sounds of the silver rattle, and seemingly looked forward to getting his teeth brushed every night after his bath. But $150 is quite expensive for a collection of items that you could probably source on your own (with some effort), though the curation is part of the appeal of a box like this.
Most educational toy-subscription box
Who it's for: Monti Kids offers boxes for children up to 3 years.
What you get: Each box covers 3 months of age until age 1, and between 5 and 8 months until age 3, and comes with six or more premium Montessori "materials" (a.k.a. toys). Each item is manufactured in-house from sustainably forested wood and nontoxic paint, and comes in 100 percent recyclable packaging, according to the company. Each toy (all of which look vaguely Scandinavian and would not feel out of place in a more modern home) comes packaged in its own box, all of which fit together like Tetris blocks inside the larger package, which also includes a quick start guide and timeline for when to introduce the toys (additional video tutorials and personalized support are available on the company's website).
What Augie and I thought: Monti Kids sent me one box: the Level 3 Montessori Box, which covers ages 7 months to 10.5 months. It was the most integrated and educational of the boxes I tested, which makes sense considering that the company promises an authentic at-home Montessori program and was founded by Zahra Kassam, an internationally certified Montessori teacher with degrees in psychology and education from Harvard. Each box's program was developed by a team of Montessori–certified child development and early education experts "to meet your child's developmental milestones and to provide just the right amount of challenge, without being overstimulating," according to the company. Our Level 3 box included a spinning drum, rolling drum, a basket with four different textured balls, an object permanence box, rocking stacker, and shape fitting toys. Its printed quick start guide provided a timeline of when to introduce each toy (every week or two, depending on the object), and video guides that showed best practices for how to use each item were available in my online account.
As someone who attended Montessori schools through elementary school, I found Monti Kids to be familiar and welcoming. I will be honest, though: I did not necessarily follow the guidelines for toy introduction (mostly because I am impatient), but Augie still seemed to benefit from them. His favorite was the object permanence box, which has a hole through which you insert a ball that then rolls out. It was fascinating to see Augie catch on after showing him how to do it a couple of times. He also loved the spinning toy drum, which would occupy him for minutes at a time (at this age, "minutes" is all you can ask for). Because we received Monti Kids when Augie was older, these are the toys that I see him still playing with. (In fact, the company says it designs each toy to grow with your child.) The various balls, for instance, are great now that he's intentionally throwing things, and their size is perfect for him to grasp with one hand. And he's now finally able to confidently and easily play with the shape fitting toys in a way that he couldn't before.
The fine print: Each "level" box in the subscription program costs $297 and is billed and delivered every three to eight months, depending on your stage. Shipping is free with adjustable timing and you can cancel anytime. If you don't want your items anymore, Monti Kids has a donation program for used toys. Customer support is available through email and a contact form.
TL;DR: Price-per-box, Monti Kids is the most expensive service we tested, but as far as I can tell, its box included the toys that challenged Augie the most (in a good way). I could see him work quite deliberately to manipulate each thing and figure it out, and that was really rewarding to witness. If you're looking for an at-home classroom experience with a real Montessori curriculum, I would say go with Monti Kids.
Most affordable toy-subscription box
Who it's for: Hoppi Box offers boxes for children up to 3 years.
What you get: Each box, which covers 3 months of age and is sent out quarterly, comes with four to five toys selected by a team of childhood experts and customized for your child's gender and developmental stage. Everything is sourced from high-quality merchants like San Francisco–based Petit Collage and PlanToys (a sustainable toy company out of Thailand), according to the company, and the stuff comes packaged with an outline of that development phase's milestones and descriptions of each toy.
What Augie and I thought: Hoppi sent me one box, for 6 to 9 months, that came with four toys: A set of black-and-white animal art cards, a set of three sensory tumbler toys, a soft block, and a soft, squeaking fox toy. It was the most straightforward of the four boxes we tested (and the one with the fewest toys), but I actually appreciated that. The box came with a simple overview of what milestones to expect during this developmental phase, a few tips on how to help your baby through them, and a bit about how to use each toy. While each toy we received promotes certain skills — the tumbler toys, for instance, stimulate auditory, visual, and textural senses — all were also just toys that Augie could can play with without having to be guided to do so.
Augie especially loved the squeaker, which we would hand him when changing his diaper. While it was admittedly a little hard for him to squeeze by himself, he loved it when we did it for him. I also really liked the black-and-white cards. They're double-sided, made of durable card stock, and got his attention when he was younger. But I can also imagine using them again when he starts to learn words and identify animals. Another thing I found convenient: Hoppi tells you the retail price of each toy, which at the very least made me feel like I was getting my money's worth.
The fine print: Each quarterly box costs $75 if you pay-as-you-go. You can also pay a flat fee of $264 for a year's worth of boxes, which breaks down to $66 a box (or a $9 savings on each). Shipping is free to the continental U.S. (it's $7 to Alaska and Hawaii), and you can cancel at anytime, but for annual subscriptions purchased up front, you must cancel one month before the end of your yearly plan so that your subscription does not renew the next year. Returns are not accepted, but the company says you can contact it via email about problems or customer-service issues.
TL;DR: If you're unsure about committing to a toy-subscription box — whether you're concerned about the amount of new stuff coming into your home every couple of months, or the effort to keep up with everything — then Hoppi is the one to start with. The guidance that comes with its toys is low-key, nothing is too precious, and although it sends the fewest toys, we found those few to be worthwhile.
The Strategist is designed to surface the most useful, expert recommendations for things to buy across the vast e-commerce landscape. Some of our latest conquests include the best acne treatments, rolling luggage, pillows for side sleepers, natural anxiety remedies, and bath towels. We update links when possible, but note that deals can expire and all prices are subject to change.