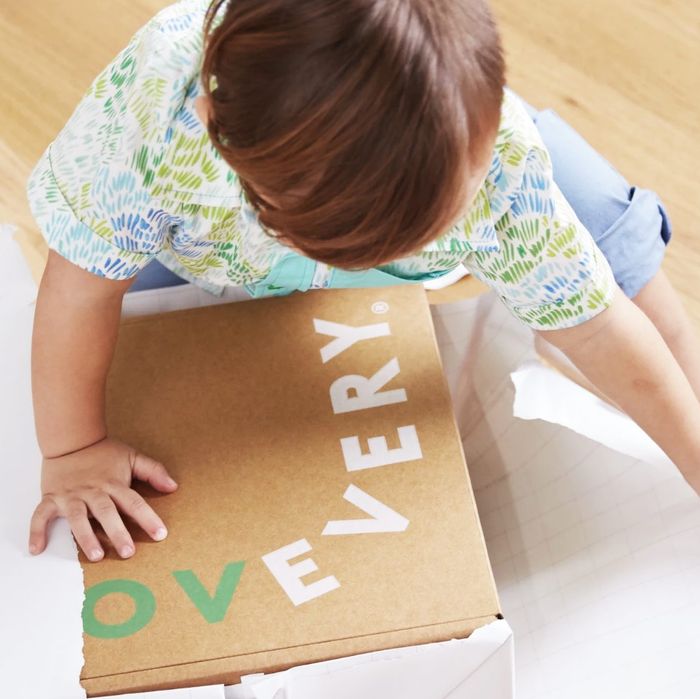 Photo: Courtesy of the retailer
As a new parent, there's so much to figure out. On top of making sure your baby is fed, sleeping, and clean, you want to help them explore the world around them as best as possible and reach development milestones like a pincer grasp (in nonparent speak, that's using the index finger and thumb to grasp at something). But it can be hard to know exactly what they need at every stage of their development. Over the past year or so, a new crop of toy-subscription boxes promising to help in that regard has emerged, offering parents and caregivers tools (a.k.a. toys) to encourage their little one's brain development through research-backed, stage-based play.
As a new mom myself, these kits intrigued me: Would their toys actually make a difference in my son Augie's interaction with the world? To find out, I called in boxes from four companies that claim the stuff they send is all development-focused and chosen in consultation with experts (in other words, not just a collection of the most popular toys on the market). Those four companies — Lovevery Play Kits, Monti Kids, Hoppi Box, and Nido Box — are all based in some way on the Montessori method of education, which promotes learning through hands-on, self-directed activities. Monti Kids and Lovevery are explicitly Montessori–based; Hoppi and Nido, while not explicitly Montessori–based, still employ some of its philosophies. We began our tests after Augie had just turned 4 months old, so I requested boxes encompassing that age and beyond — up to 10.5 months — from each company, to get a sense of the changes in toys that occur at each stage. While it's impossible to know if the boxes made Augie "smarter" or helped hone his cognitive and fine motor skills, it was clear when he liked a toy or was engaged by something and kept coming back to it.
By the end of the testing period, we had amassed a lot of toys — more than enough, I imagine, to keep a child (or two) occupied for an entire year. That's not necessarily a bad thing, though, because even though the toys we received are tailored for a specific developmental moment, I found that they can be used in new ways beyond that age. Still, if you do commit to a subscription, you might want to hold off on buying other toys (and politely ask friends and family members to refrain from gifting them if clutter is a concern). Another thing I should note: Even though the boxes came from four different companies, there were some overlapping toys and concepts. But that actually reassured me, because it suggests the brands are all kind of on the same page development-wise. That's why I'd generally recommend all of the toy-subscription boxes we tried — but each for different reasons that I'll get into in my specific reviews, below.
Most fun-to-play-with toy-subscription box
Who it's for: Lovevery offers boxes for ages up to 24 months.
What you get: Each box, which covers 2 months of age until a child turns 1 (and then 3 months of age until a child turns 2), comes with 8 to 13 items (some with multiple components) that are mostly toys but can include an everyday tool like a cup or spoon, depending on the child's stage. Everything is made in-house from sustainably sourced wood, organic cotton, and other materials that have been tested for safety, according to the brand. A research-backed play guide on how to use each toy is included, and everything comes neatly packaged.
What Augie and I thought: Lovevery sent me two boxes: the Charmer (3 to 4 months), and the Senser (5 to 6 months). Overall, I was impressed with the quality, design, and thoughtfulness of each box, which came with in-depth instructions and suggestions for use, as well as a breakdown of what you can expect your baby to do in that two-month span. The Charmer focused on the fact that the baby is beginning to recognize familiar things, and included a wooden rattle, tactile soft book with high-contrast image cards, framed mirror, teething rings, a crinkly envelope, disc toy, and rolling bell. The Senser was all about the baby exploring things around him and getting closer to the things that look and sound exciting to him. This box included a board book on body parts, a Montessori ball, socks with fun attachments on them, a wobbler toy for tummy time, a tissue box with cloth tissues you could connect and pull out, a bib, and a spoon.
Augie took to some of the items right away, while others were a little bit advanced. The soft book, crinkly bag, teething ring, and framed mirror from the Charmer box were some of his favorites and became constant companions. It was so fun to see him reacting to the crinkle sounds when he clutched at the bag, or watching himself in the mirror. From the Senser kit, the Montessori ball, which is a cloth ball with graspable, faceted sides, was also a hit. When seated in a bouncer, he loved "catching" it with his feet and bringing it up to his hands. The wobble toy, which was meant for tummy time, was also great as a tabletop toy. Other things, like the tissue box, took a little more time for him to figure out and weren't easy for him to play with until he was much older.
The fine print: Lovevery offers a pay-as-you-go option: If subscribing to boxes for children aged 0 to 12 months, each box costs $80; for children aged 13 months to 2 years, each box costs $120. (That's a total of six boxes for the first year at $480, and four boxes for the second year at $480.) But for a flat fee of $432 each, you can also purchase annual subscriptions for years one and two (that's roughly 10 percent less than you'd spend on each year's worth of pay-as-you-go boxes). If you pay the flat fee, you can cancel your subscription and receive a refund on boxes that have not yet shipped, but you will forfeit any prepaid discounts. If you pay-as-you-go, you can cancel three days before the next shipment is set to go out. Returns are accepted within 30 days of purchase and must be in their original packaging, and customer service is available through email support, according to the company.
TL;DR: As a parent, I appreciated Lovevery's focus on play, and I think Augie did too. While everything was in service of encouraging skills like grasping at objects and eye-tracking, it was all in the name of fun. If you're looking for something educational that's not didactic but still somewhat structured, then this is for you.
Most uniquely curated toy-subscription box
Who it's for: Nido Box offers boxes for ages up to 12 months.
What you get: Each box covers two months of age and comes with a curated mix of five to seven toys and practical items, like a hairbrush and utensils, that the company says are sourced from artists and merchants from around the world. Everything is made from materials that are safe for babies to put in their mouths, and the stuff comes packaged in a box padded with a muslin swaddle. A card outlining that stage's developmental markers with descriptions and guidelines about how to use each product is also included.
What Augie and I thought: Nido Box sent me two boxes: one for 3 to 4 months, and one for 5 to 6 months. Both felt charmingly homemade compared to the other subscription boxes we tried, and that's because they were, in some ways. Nido Box was started by Laura Bogert, a fashion stylist and art director, who was looking for simple and safe things for her baby that are also developmentally focused and beautiful to look at. Knowing this, I could imagine her packing everything up and sending it to me, like a friend would.
That DIY factor made Nido's boxes some of the more practical ones we tried. While the boxes from Lovevery and Monti Kids were chock full of toys, Nido's came with a good balance of playthings and day-to-day essentials that I actually found myself reaching for — and grateful to have on hand — when the moment came. For instance, in the 5 to 6 months box, the silicone toothbrush and the set of baby utensils we received were just as appropriate for "development" as the Montessori ball that encouraged wrist strength and hand-eye coordination. But the toothbrush and utensils proved far more useful in the long run. Augie's teeth were coming in, and although it wasn't necessary for me to brush his two tiny teeth before bed, I was able to try it because I had the tools to do so. Even now that he's 1 year old, we are still reading the books that the boxes came with, and the German hairbrush inside one of them was another sweet product I wouldn't have thought to buy on my own, but turned out to be an important part of Augie's bedtime routine. Practicality aside, the toys that were included are quite beautiful and meant to appeal to "the minimalist parent." Among Augie's favorites are a silver rattle that made a 16-tone chiming sound when shaken, and the large, soft Montessori ball that also rattled. Another thing I appreciated: Nido included a complimentary $40 gift card to Yumi, an organic baby-food delivery service.