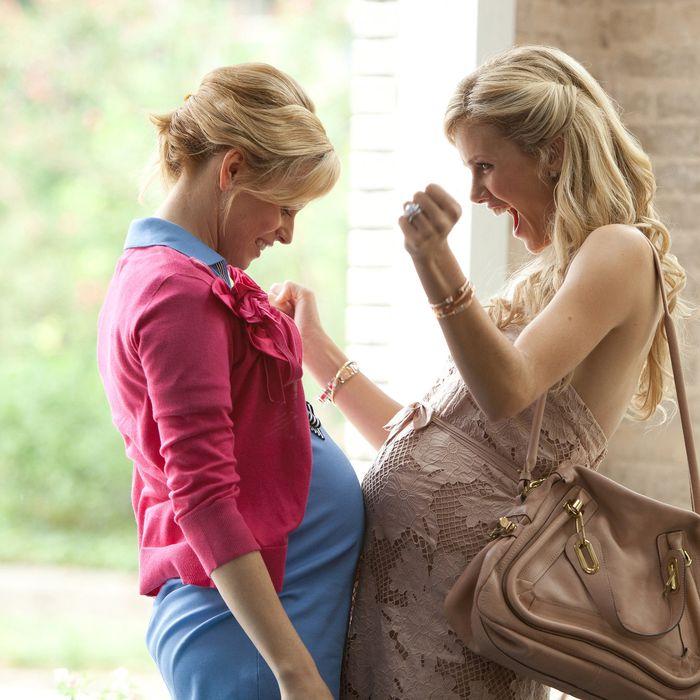 When you're a new mom, everything can feel overwhelming, from late-night feedings to the seemingly never-ending dirty diapers to your own physical recovery (to, as of late, the added stress of a pandemic). Plus, since the "baby industrial complex" — as Sadie Stein, a writer, Strategist contributor, and new mom, puts it — is so vast that there's a "specialized product for anything you've thought of and have not thought of," it can be easy for new moms to become further overwhelmed by well-intentioned but unnecessary baby gifts (which is why Stein says that, despite her philosophical aversion to it, she "broke down" and made a baby registry on Amazon). So to find things that new moms actually want, we surveyed new and seasoned mothers about the stuff that they say really helps make the transition into motherhood a little smoother, including lots of things for her and a few things for kids that, in turn, will make her life easier.
For moms
"As a new mom, you will find yourself sleeping in the weirdest positions with your baby or because you're watching your baby," explains style blogger and new mom Jennifer Jean-Pierre. For that reason, she thinks this neck massager would make a great gift. Her daughter is now 9 months old, and as a new mom, "shoulders and neck need all the love," she says.
Photo: retailer
It seems you can't talk about comfortable maternity clothes without these Lululemon leggings coming up. We previously named them the best maternity workout pants because of how beloved they are by expecting mothers for being supportive yet not tight. Jean-Pierre even calls them "the softest, comfiest pants I have ever had" and can attest to their supportive — but not constrictive — nature after wearing them post C-section. She says "these are great for not rubbing on the incision." If you wear these throughout your pregnancy and worry about how they'll fit afterward, don't. Strategist contributing editor Jessica Silvester says they snap right back. "My proportions have more or less returned to normal, and the fabric has snapped back, too; it continues to conform to my shape," she promises.
Another athleisure brand that makes comfortable maternity wear, according to new and expecting mothers, is Girlfriend Collective — a Strategist-favorite for sustainably made, comfortable, size-inclusive, and actually nice-looking activewear. The brand's new maternity line includes leggings, bike shorts, and bras, including this crossover nursing bra. All of the clothing is available in sizes XXS to 6XL, and as developer Caláh Jones — who is currently eight months pregnant with her first child — puts it, it's "easy to throw on" when little else fits correctly.
Photo: reatiler
Since Jessica is now breastfeeding her second child, she's spent months searching for an everyday tank top to replace the (now discontinued) Spanx bra tanks that she used after her first pregnancy. And thanks to Bethenny Frankel, she found one that's even better: the Skinnygirl Cami, from Frankel's new line of shapewear. Although Silvester almost can't believe it, she says that the "genuinely reversible" camisole "holds me in without choking me out" and "lifts up my breasts even without the built-in bra." Plus, it's cheaper than her old nursing tank top from Spanx.
Photo: Retailer
For the days when new-mom duties take priority and your hair is (yet again) put on the back burner, Miriam Cohen, the mom of two behind the Very Best Baby Stuff, recommends a shower cap to preserve your 'do. "This shower cap comes in fun prints, seals out moisture, and feels infinitely more luxurious than a disposable shower cap," she says. "I got mine while pregnant and even packed it in my hospital bag. I've used and machine-washed mine countless times over the past 2.5 years, and it still looks and works like new."
Photo: Retailer
Give mom an easy fix to her hair woes with a stylish headband. "Most new moms don't have time to style their hair and tend to wear the same comfy items on repeat," she says. "These headbands are beautifully embellished and instantly elevate any outfit. They also come in handy during the awkward postpartum hair-regrowth phase." She says you'll catch her wearing one of these most days to dress up her T-shirts and leggings.
If you ever do get time to wash your hair, Gena Kaufman, who gave birth to her first child in June, says to do it with Olaplex. "Postpartum hair loss is a bummer," she says. "Just when you're getting over the pain and many bodily indignities you suffered during childbirth, your hair starts falling out all over the place." And even though Olaplex hasn't exactly solved her hair-loss issue, she says, "My hair feels softer and air-dries nicely after using these treatments."
Model Ashley Graham also recommends this serum from Kérastase for postpartum hair loss. "I tried a lot of different remedies — I even made stuff at home — but this scalp serum from Kérastase has been a true saving grace. I spray a little bit of castor oil and canola oil on my hair first, then apply the Kérastase," she says. It doesn't prevent the hair from falling out — nothing does — but it will help the new growth stay healthy and even grow a bit faster.
Cohen says she's been recommending these pouches for years. They help organize your bag — whether it's a real diaper bag or otherwise. This set comes with three pouches, including a diaper pouch that has a matching diaper pad and can hold diapers, wipes, creams, powder, and more; a wet bag for dirty clothes; and one for clean clothes. "The bags are nearly weightless,
flexible, machine washable, travel friendly, and easy to pack," Cohen adds. "You can use them to organize your diaper bag or handbag. I also toss mine into my stroller basket or hang them from my stroller hooks. The wristlet on the diaper pouch is especially convenient — I can easily wear the pouch on my wrist while holding my baby and avoid bringing my entire
diaper bag into a public restroom."
This manual silicone breast pump is at the top of the list for Bethany Barnes, who, when we interviewed her, lived in Brooklyn with her husband, Gary, and 8-month-old daughter, Poppy. "I probably recommend this item the most to new and expecting mamas. It was so helpful, especially in the beginning," she said. "It suctions onto your breast and collects milk while you are feeding on the other side. It's hands-free, easy to clean, and I've collected a freezer full of milk without really trying." It's a great alternative to an electric pump when you don't feel like getting the whole setup going but still want to express a little milk.
If you are looking for a more high-tech option, this electric pump is a favorite of blogger, author, and mom of two Laura Izumikawa. "I ended up using this pump the most during my last nursing experience," she says. "It's powerful, compact, and has an in-built rechargeable battery via USB, which is all I was looking for in a pump."
Photo: retailer
Graham also recommends this hands-free breast pump for any multitasking mom. It's pretty inexpensive, so you could add this to the gift of a good pump. She had "no idea" these were a thing, but now she couldn't imagine pumping without it. As she explains, "I'm a multitasking mom, so this bra was exactly what I needed to get emails and phone calls done while I'm pumping. It doesn't matter what kind of bra I'm wearing — a nursing bra or not — I just pull my boobs out, wrap this thing around me, put the suction-cup things on, then pump."
"The one thing you constantly hear while you're pregnant or nursing is 'Don't forget to drink water.' I wanted something that would keep me accountable; before the baby, I used to set alarms to remind me to drink water, but I'm not trying to do that anymore; I don't have time," says leadership speaker Jovian Zayne when she told us how she'd redo her baby registry. She says this one reminds her to drink water, but in a very fun yet effective way.
Florist Grace McDonald, who gave birth to her second child a couple of months before we talked to her, told us that she's "a V-neck mom, so I need stuff to help cover the top of my boob when I'm breastfeeding." But instead of a nursing bib, she likes using this linen scarf to cover up. McDonald likes linen because "it's a lighter material that's good for indoor and outdoor wear." And, of course, when you're not nursing, you can just wear it as a scarf.
Kelli Shepard, the design director for Ralph Lauren's women's collection, who was expecting her second daughter when we spoke, told us that she wanted to make the postpartum phase a priority. "I vow to really luxuriate in the sweet lying-in time with so many newborn snuggles the second time around," she said. To that end, she recommends this collection of luxury hospital essentials from Hatch, which includes a pair of underwear, a robe, and nightgown — all made of organic bamboo — as well as a pair of cozy socks.