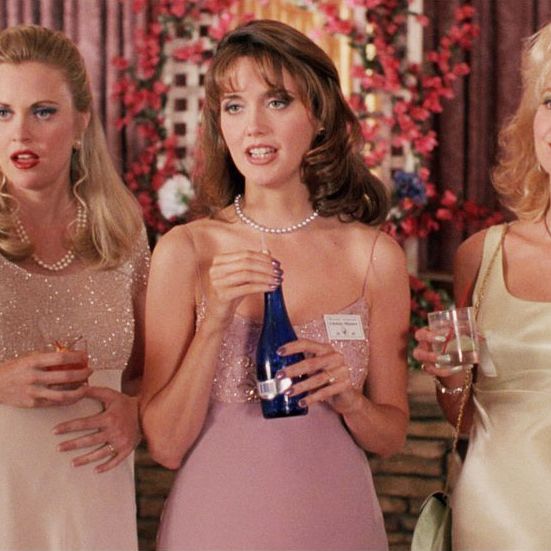 Photo: Courtesy of Touchstone Pictures
When you're a new mom, everything can feel overwhelming, from late-night feedings to the seemingly never-ending dirty diapers to your own physical recovery. Even the tiniest bit of pampering can do wonders in helping you feel a little more comfortable (and a little more like yourself). To find things that new moms actually want, we surveyed new and seasoned mothers —including this Strategist writer (Lauren Ro) who had a baby earlier this year — about the stuff that they say really helps make the transition into motherhood a little smoother. Below, the 29 best holiday gifts that our moms think any new (or expecting) mother will appreciate, including lots of things for her, and a few things for kids that, in turn, will make her life easier. (If you're looking for more gifts for all types of mothers, head here.)
Best gifts for moms
This manual silicone breast pump is at the top of the list for Bethany Barnes, who lives in Brooklyn with her husband, Gary, and 8-month-old daughter, Poppy. "I probably recommend this item the most to new and expecting mamas. It was so helpful, especially in the beginning," she says. "It suctions onto your breast and collects milk while you are feeding on the other side. It's hands-free, easy to clean, and I've collected a freezer full of milk without really trying." It's a great alternative to an electric pump when you don't feel like getting the whole setup going but still want to express a little milk.
Florist Grace McDonald, who recently had her second child, told us that she's "a V-neck mom, so I need stuff to help cover the top of my boob when I'm breastfeeding." But instead of a nursing bib, she likes using this linen scarf to cover up. McDonald likes linen because "it's a lighter material that's good for indoor and outdoor wear." And, of course, when you're not nursing, you can just wear it as a scarf.
When Kelli Shepard, the design director for Ralph Lauren's women's collection, was expecting her second daughter, she told us that she wanted to make the postpartum phase a priority. "I vow to really luxuriate in the sweet lying-in time with so many newborn snuggles the second time around," she said. To that end, she recommends this collection of luxury hospital essentials from Hatch, which includes a pair of underwear, a robe, and nightgown — all made of organic bamboo — as well as a pair of cozy socks.
Shepard also likes Hatch's cashmere robe: "Not sure how cashmere and spit-up mix, but who would turn down a cashmere robe wrapped up under the tree?"
Here's an everyday bathrobe from Parachute that's a little more practical. It comes recommended by Sonya Li Casino, a senior account director in public relations and the mother of a 7-month-old boy. "I wanted a robe that I would look forward to putting on, and this makes me feel like I'm heading to the spa every time I wear it," she says. "Pre-baby, I never used to spend that much time in my pajamas, but now I live in those suckers." If you want something a little more plush, Parachute's classic bathrobe is a Strategist favorite.
For something to wear underneath, Joanna Muenz, a photo editor and mother of two, recommends these super-soft pajamas from Eberjey — one of our favorite brands for all things comfy. "I get tired of milk-stained, stretched-out tanks and feel more put-together and classy in some swanky loungewear," she says. "Button-down shirts are my new best friend for breastfeeding."
When I was pregnant last year, I could never figure out what to wear, especially since I didn't really want to spend money on maternity-specific clothes. That's why this basic bundle set from Storq was such a lifesaver. It includes everything you need to layer or wear on its own: leggings, a pencil skirt, a T-shirt dress, and a white tank — all of which, thanks to their durable but stretchy material, are supportive without being constrictive. I loved that I could also wear everything postpartum, too.
For something comfy for your feet, Grace Lim Premvaree, a sales consultant who recently had her second daughter, loves Birkenstock's rubbery Arizona sandals. They're supportive enough to wear while running around with toddlers, she says, while being "great for comfort." Another thing they're great for, according to Lim? "Spills — because they are waterproof." Writer Alison Freer agrees that Birkenstock's EVA sandals are super easy to keep clean: "Dirt literally refuses to stick, no matter how long you wear them," she told us.
Photo albums make fantastic gifts, especially for doting grandparents. Premvaree's favorite service is Artifact Uprising, which she and her husband used to create their wedding album. She loves the company for its "great quality and minimalist and sleek aesthetic," and the fact that it's "very user friendly." She adds that "their customer service is impeccable, so they keep me coming back. We made baby photo books for each set of parents and they LOVED it." She plans to make more albums, and this writer actually just ordered a couple for her parents and mother-in-law for Christmas.
Here's a simple way to customize an album of baby's first year — a convenient solution for a busy mom. Says Shepard: "The app makes recording memories and attaching photos super easy, and then they design and deliver it."
This prompted journal makes it easy to track all of your child's milestones. "This journal is great because it follows you from pregnancy to when your baby is 18 years (hard to imagine that she'll ever be that big!)," says Barnes. "It has questions for each month as well as space for just thoughts and moments. I love journaling and so this was a great way to keep it all in one place, and I can't wait to share it with her one day."
This very splurgey face cream has a bit of a cult following, according to the Cut's beauty director Kathleen Hou (who wonders if it isn't the secret to "rich-person skin"). It has been on Premvaree's wish list for a while. She hopes to feel "fresh and hydrated" after using this, and admits that it would be "a nice way to treat myself" — or any new mom, for that matter.
For less expensive skin care, Premvaree also recommends this serum that she says "helps rejuvenate your face with just a few drops." She adds that it's great for when you want a little pick-me-up if you're running short on time (and sleep). "It lasts a long time and feels like getting a mini facial in your very own bathroom."
If you're looking for a stocking stuffer, Shepard recommends Earth Mama's organic lip balms. "I love the whole Earth Mama range and feel great knowing that these are 100 percent kiss-approved — safe for baby and mama both," she says. This giftable set includes the lip balm, as well as belly oil, deodorant, and a body wash.
At the Strategist, we're fans of jade rollers for de-puffing your face, and here's a next-level one involving ice. Casino first eyed it on the Instagram of Because I'm Addicted blogger Geri Hirsch: "I bought one for myself and like three other people I know. It's VERY, VERY addicting and makes me feel so refreshed."
For the no-fuss mom, try this Olio e Osso balm that Casino has had bookmarked for a while. "I'm very low maintenance with makeup, but I think at times this would come in handy and help me look more alive."
Here's another beauty-gift idea for the short-on-time mom that comes recommended by writer, editor, and digital consultant Lindsey Unterberger, who has a toddler. When "a full face of makeup is out of the question," Unterberger says that she "can almost always manage the 30 seconds it takes to brush on foundation." She loves the way that this liquid foundation from La Mer "covers all manner of dark circles and blemishes but still manages to feel soft, not caky, and makes skin look luminous." Unterberger admits it is expensive and not something she would necessarily buy herself — two things that make it an ideal gift, she thinks.
Less expensive (but no less indulgent) is this Aesop face oil that's on the wish list of therapist Elizabeth Antoon-Walsh, who is also the mom to a toddler. "I've been obsessed with this light but hydrating face oil since getting a sample; it feels divine to rub my face with two of my favorite smells, ylang-ylang and jasmine," she says. "It's a luxury that is hard to justify buying for myself, as the price tag equals about 250 diapers, but it would be a perfect gift to find under the tree." Experts like Dr. Anna Karp, a dermatologist at the Skin Institute of New York, agree that face oils are great for moisturizing, "because they absorb fully into the skin with no greasy feeling afterward."
Schlepping diapers, bottles, and whatever else you need to prepare for the worst (a.k.a. a poop explosion) can get tedious. But having the right bag — like this weekender from Baggu (a brand that we love for everyday wear and organizing tote bags) — can make all the difference. "I love this travel bag that also doubles as a diaper bag," says Premvaree. "It has plenty of space for a mama of two under 2 who has to lug a ton of goods around." She especially loves the dual straps: "The long straps fit comfortably over the shoulder, while the short top handles can easily clip into your stroller so that the bag isn't dragging on the ground." We're also partial to diaper bags that aren't actual diaper bags.
Or, if you're like Casino, you might want something a little daintier. "To be honest, I am so sick of carrying around a giant diaper bag and have been wistfully remembering the days when all I needed was a small crossbody." she says. "I saw this pop up in my email the other day, and I want it."
For babies and kids
For a mom who wants a little more from a baby monitor, the Owlet sock and monitor might be a good option. It not only streams audio and video of your baby while it's sleeping to your phone, it also tracks your baby's heart rate and oxygen. "This has provided so much peace to my husband and I while we sleep," says Barnes. "It was a gift from our friends and one of the most thoughtful gifts we received. We love that the sock and monitor are both connected to an app, making it super easy to use."
A sling can be a convenient alternative to a structured carrier, according to Shepard, who says slings work especially well when the baby is past the newborn stage. When she was pregnant with her second child and had a toddler at home, she told us she "wanted to up my baby-carrying game" and that a sling like this would "be an essential." Shepard told us that WildBird has "a cult following," adding that its carriers are made with "luxurious fabrics and are really easy to get the baby in and out quickly once you've got it mastered."
If the mom in your life might want to upgrade her high chair for baby number two, like Shepard did, she suggests this model from Spanish brand Micuna Ova. "With our first, there was such a high volume of 'gear' to amass, but with the second baby, I wanted to upgrade our high chair," she says. This one is definitely pricey, but it has that Scandinavian-cool look — an aesthetic Shepard simply calls "swoon-worthy." For more (and more affordable) high-chair options, check out our roundup of the best-reviewed ones on Amazon.
And to place under that high chair, Shepard loves these mats from Gathre, which come in an array of colors and patterns (and are available in leather and vegan leather options, too). "These PU leather high-chair mats are a huge upgrade to the tablecloth eyesore I have under my daughter's high chair," she says, adding that they would make it "a cinch" to clean up spills and food.
Here's another mat from Gathre — it's smaller and meant to be used as a changing pad, according to Barnes, who suggested it. "I love all their mats and find myself wanting one in every color and size, but this micro mat is definitely a staple," she says. "It folds up small and is easy to wipe down, making it the best travel changing pad." It's available in a slew of patterns and colors.