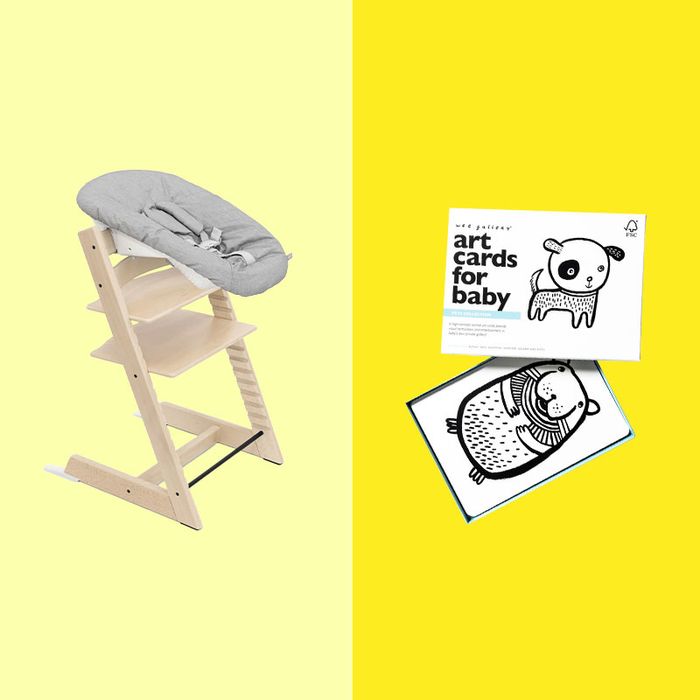 Photo-Illustration: The Strategist; Photos: Retailers
Registries are often wasted on soon-to-be-parents. In this series, cool new(ish) moms and dads tell us about the stuff that's actually worked for them in the time since they had a kid. In other words: If they could do their baby registry all over again, here are the items that would top the list.
Babies can leave even the most hard-core minimalists wading in a sea of gear, but Lauren Snyder, owner of the Primary Essentials and mother of a 3-year-old with another on the way, took parenthood as an opportunity to really pare back. "I try to not impulsively buy — which is hard, especially with kids," she says. "We look for things that are going to be around for longer than a week before getting donated, but it takes some restraint."
Still, even if you're mindful about what's coming in, it's easy to get caught up in a spiral of finding the absolute best version of the thing. But Snyder warns that you can make yourself sick over all the reviews and research. "I try to stick with natural materials, and when you start there, it's more tightly edited," she says. "And after that, just have a few sources, a few friends you ask, a few stores you check out." Besides, as she points out, we live in a world where it's very easy to find things. "Don't stress about it before, you just don't know what you need. Here in Brooklyn, the baby listservs are amazing. I recommend looking at your local ones. People are always selling things, like the used running stroller I just bought for the second baby."
The items that have worked best are the ones that have adapted as her daughter has grown, like a modular shelf system that functioned as a changing table early on and now serves as her daughter's desk. She also downsized her diaper backpack this time around — turns out her old Patagonia Dopp kit will hold everything the baby needs. "When I'm bogged down by all these physical things, that's when I feel stress in parenting."
I got a couple of these two months ago and they've been really comfortable. I'm hoping I can wear them when I'm breastfeeding. Anything maternity-related just makes me cringe. I have some nursing bras from the last time, but they always make me squirm a little. They're so bulky and gross — I just don't feel like myself. These are really comfortable, they're all organic cotton. Let's just see if I can use these moving forward so I don't have to wear those horrible bras again.
The first time around with my daughter we used multiple wraps. We live in New York, and I think there's such a freedom to be able to carry your baby and not have to carry a bunch of crap. I had three wraps — the Solly Baby, one from Sakura, and an Ergobaby for when she got bigger. I really liked the Solly one in the beginning days; she really liked it, too, it calmed her. It was so easy to throw in the car with you. I'm very into baby-wearing as opposed to a stroller if you can. This one just works really well and made it so easy when she was really little.
For my first, when we were putting together her room — and I'll give credit here to my husband, who's an architect — we wanted something that would work as a changing table early on but that we wouldn't have to throw away as she got older. Some of these items that you buy for a newborn, they grow out of so quickly. It just feels wasteful. We bought two pieces of Vitsoe shelving and a desk shelf, put a wool changing pad on top and it functioned as a changing table for the first two years. Now that she's potty trained, we moved the shelf down and it's the desk in her room. It felt like a nice way to buy a piece of furniture that she can use for a long time. It didn't feel disposable. It's nice to see it in use in the different phases of her life.
I try to be as minimal as possible with my daughter, plus it just makes life easier as a mom in the city because you're always schlepping. I already had one of these Dopp kits, so the second time around, I've decided to try to fit everything for the baby in here instead of having a separate diaper bag. I put it together the other night; I was able to get five diapers, wipes, a pad, hand sanitizer, poop bags for the diapers, and three changes of clothes. I was like, Perfect, this is all we need. Throw it into the stroller, throw it into a tote bag. The idea of carrying bags for the toddler, the baby, yourself — it's just too much. If you want a bag, I would suggest a backpack. I used a really small one that I already owned with my first. I didn't buy something new; you just need something easily washable. I like a tote bag, too.
This attachment was just a nice easy place to put the baby so she could be at eye level with us when we ate dinner. I bought one of those Snuggle Me Organic pillows and we never used it. We just schlepped it around — it was on the floor, hard to reach. Everyone spends so much time in their kitchen so having her higher up just worked really well for us. And it grew with her. She still likes sitting in that chair, but we've moved her to a normal dining chair. We're not buying another one! It'll be ready for the next child.
Babies love a crinkle. My first daughter was on the more intense side, and these crinkle toys and art cards were the only thing that worked for her in the early days. They would distract her for hours. They were always with us, we didn't really need much else. In the beginning, understanding what babies need can be sort of confusing. There are no toys for newborn babies. My daughter was a really alert newborn, so we were always looking for ways to entertain her. If not, she was really cranky. I ordered a couple of these and she really took to them.
This is definitely a splurge and a luxury, but I would consider foregoing so many other things. This actually makes your life easier, especially in those early days when you're tired and confused and reaching for takeout, which makes you feel gross. If someone was registering for the first time, I would ask for money toward something like this because it just helps you out in so many ways in those very beginning days. I've used both of these services. The Ipsa stuff comes frozen, but it's so easy to heat up and prepare. I loved their soups. The Culinistas is fancier. They have a special postpartum program: Someone comes to your house and cooks meals, puts them in containers to store in your fridge, then cleans everything up. We did that for two weeks when we had our first child. Everything was delicious and felt really nourishing. And it was helping me out way better than any baby item, you know?
The Strategist is designed to surface the most useful, expert recommendations for things to buy across the vast e-commerce landscape. Some of our latest conquests include the best acne treatments, rolling luggage, pillows for side sleepers, natural anxiety remedies, and bath towels. We update links when possible, but note that deals can expire and all prices are subject to change.