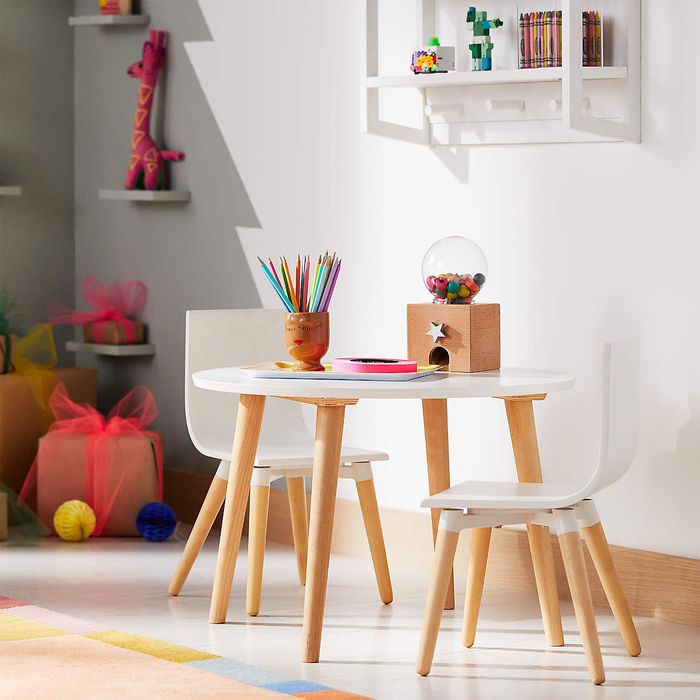 At the center of any workspace is of course a desk. And whether you're looking to upgrade your child's homework space or fully deck out their school-from-home spot, picking a desk that fits their size and needs is essential. But one piece of advice: Don't discount your child's preferences. "They should have a say and perhaps even design or create the desk or work area," says Laurie Block Spigel, a writing teacher and homeschooling parent who runs the website Homeschool NYC. "A personalized desk that has room for the things they need, and is also inspiring, is best."
To help you find the best desk for your kid, we spoke to 12 experts — including teachers, educators, and parents — about their favorite desks for kids at every price point. Read on for their picks, which we've organized by age group from preschoolers through high-schoolers.
Best for preschoolers and kindergarteners | Best for elementary-school students | Best for junior-high and high-school students
What we're looking for
Age appropriateness: Julia Niego, a certified educational therapist and a consultant at Organizational Tutors, says that anyone looking to buy a desk for their child should start by considering "the age and development of the child, and the work they're going to be doing in this space." Dr. Sanam Hafeez, a neuropsychologist and a member of the faculty at Columbia University's Teachers College, agrees. "A younger student will likely be focused on places to store crayons, markers, and some toys," she says, "while an older child will need a surface area for laptops, other electronics, and a place to plug in." Because the needs of a preschooler are so different from those of a high-schooler, we're not naming a best overall pick for all ages and instead picking a best overall for each age group: preschoolers and kindergarteners, elementary-school students, and junior-high and high-school students.
Dimensions: Size matters. "The desk that my 16-year-old likes to work at is a different size than what my 9-year-old is using," says Andrea Thorpe, a 12-year homeschooler of three and the founder of website African-American Homeschool Moms. The dimensions are important for you, the parent, to understand too, so you can make sure there's enough space in your home.
Best desks for preschoolers and kindergartners
Best overall desk for preschoolers and kindergartners
26.6"L x 16"H x 20"W
Even the youngest of learners need a place to do their work. Tze Chun, the mother of a 3-year-old and founder/CEO of online gallery Uprise Art, chose this bentwood table-and-chair set from ECR4Kids for her daughter. As it happens, Chun says she actually found it on the Strategist, where contributor Laura Perciasepe wrote about how it looks like a much more expensive piece from Herman Miller. "We were looking for a desk-and-chair set for our living room that could live alongside our other furniture without sticking out like a sore thumb," says Chun. Because the middle of her living room was the best spot for her daughter's workspace, Chun says the desk's super-discreet look, coupled with the fact that it can transform into a coffee table and two ottomans (or small side tables) at night when her kid isn't using it, made this a no-brainer. Importantly, she adds, it's a more-than-serviceable substitute for her daughter's at-school desk. "It's a great height for her to put puzzles together, either sitting or standing, and the past six months she's been using it as her 'work station' while her Montessori school has been closed."
Best (less-expensive) desk for preschoolers and kindergarteners
24.8"L x 18.9"W x 17.8"H
Rose Aka-James, a homeschooler and member of mater mea, an online community for Black moms, chose this set from Ikea for her 3-year-old son who loves to do arts and crafts and different types of hands-on activities. "I needed a desk that was durable, easy to set up, and, most importantly, easy to clean," she told us, adding that the Lätt checks all her boxes. "I knew I'd be homeschooling and we would be spending a lot of time at this desk, and this is cost-effective and simple for our needs."