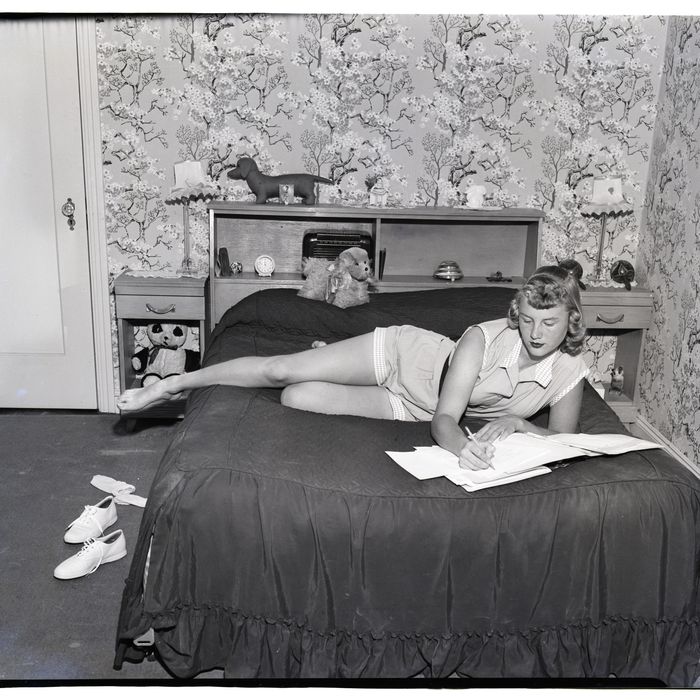 Photo: Bettmann/Bettmann Archive
In the wake of the coronavirus crisis, prom is canceled, graduation is postponed, and millions of students have been forced to do their schoolwork at home in an attempt to keep up with their studies. Even with technology at their fingertips, remote learning isn't always easy — but like many adults who are newly working from home, students are suddenly forced to figure it out.
We spoke to a handful of high school and college students about their new routines and necessities for surviving school from home — SFH — amid these uncertain times. And while the stress of adapting to an altered reality is undeniable, there's always a silver lining. "The one thing that is helping me get through this new school situation," says 11-year-old Ella Ehrlich, "is now I can text my mom to bring me food whenever I want, and I couldn't do that before." Beyond on-demand snacks, here's everything else helping young people SFH.
Planners
Despite studying going completely digital, students are trying to maintain a somewhat normal school schedule. In order to stay on top of their workload, many of the students we spoke to are turning to paper notebooks and planners. Thirteen-year-old Sophia Paley and her sister both recently ordered Ban.do planners to get them through the rest of the school year. (They're also fans of the brand's vibrant desk supplies, they say.)
Twenty-year-old Wen Hsiao is fond of her Moleskine Classic 12 Month 2020 Weekly Planner. "What I've been struggling the most with schooling from home is finding motivation," she says. "The lack of routine really throws me off my game — even when I try to plan out my day each morning, I always find myself wasting the day away on endless episodes on Netflix. By writing down each task, it gives me something tangible to refer back to, and I love the feeling of checking off each task at the end of the day."
Tech stuff
When you're multitasking between Zoom calls, homework deadlines, and unloading the dishwasher for mom, wireless headphones can be a lifesaver. "Usually I'm not a big headphones fan, but schooling from home and enduring classes on Zoom calls for a pair of good-quality headphones," says Hsiao. "Wearing wireless headphones means I don't have to worry about them falling out of my ears like AirPods, and it allows me to do minor chores at home while still being 'wired in' for school."
Don't feel like splurging? Nineteen-year-old Jane Minor recommends some good ol' Apple originals with the single attachment, "as it's a lot easier to switch from laptop to phone than carrying two pairs!"
When you're stuck inside doing schooling from home, it can feel a little suffocating to be tied to your phone and laptop 24/7. For Hsiao, Chromecast, Google's streaming device, has been a game-changer for making her feel less confined. "By having [schooling] on a larger screen, I am not restricted to my desk and chair and can move around my room and stretch a little," she says. She does warn that "if you don't have the best internet connection, it will fail on you from time to time, so keep that in mind."
"I use this app because it helps me keep up with French," says 15-year-old Ava Paley, Sophia's sister. Now that she's transitioned to online learning, "I'll be using this for practicing reading, writing, and speaking," she says. Duolingo's quick lessons are intended to make learning a foreign language feel interactive, as if you're actually in an IRL class.
Art supplies
When she's not working on homework, Sophia says "something that's keeping me occupied is drawing." She likes drawingnow.com, "because the website shows how to draw whatever you want, from cartoons to doodles to animals," and there are step-by-step pictures with explanations. But when she wants to go analog — and take a break from screens — Sophia likes to draw with these Caran D'ache colored pencils.
Study music
When you're trying to focus on your studies (and tune out your little sister), students agree that good music is a must for productivity. "SFH is something that nobody is used to, so to help with stress, I go to music," says 15-year-old Cole Thompson. "I collect vinyls, and I also listen to music on Spotify hours upon hours every single day."
Makeup